Try these lasagna stuffed bell peppers for a twist on the original stuffed bell peppers comfort food you love to bake in the oven but filled with lots of cheese.

So we really like stuffed bell peppers in this house, but also love thinking outside of the box too. So since we love lasagna too it just made sense to try and combine the two, and might I say these lasagna stuffed bell peppers came out amazing!! (post may contain affiliate links, originally published 6/16)
Lasagna Stuffed Peppers
If you've only cooked lasagna in the oven you're missing out! We cook lasagna in the crockpot all the time and it is SO much easier because there is NO boiling required!
These lasagna bell peppers require you to boil noodles but smaller ones so you don't have to worry ripping the long lasagna noodles.
Burning your hands transferring them to a baking pan and they cook faster since they are already portioned out….and yes even my kids love these.
I'm sure you know, but this is how to cut bell peppers if you need some tips. For this one you don't need a technique. You just want to slice off the tops and I like to cut them in half as well. You could stuff standing up as the traditional method does. I think you can add more cheese this way.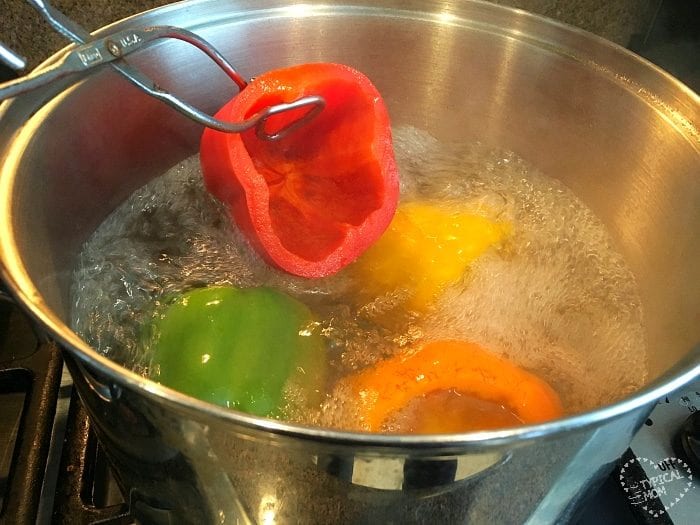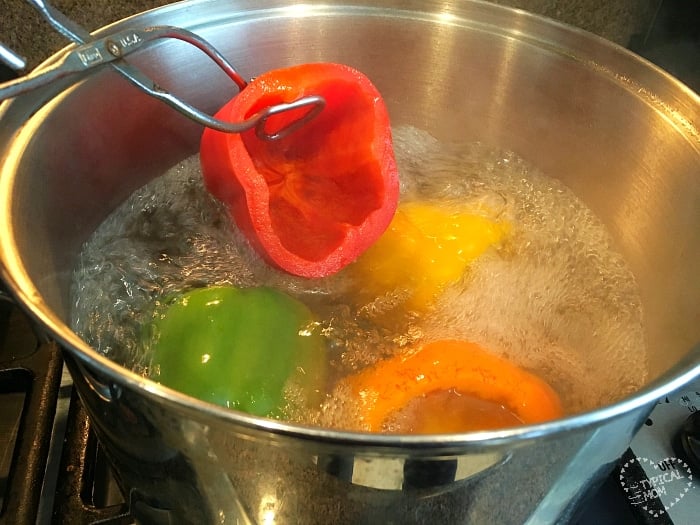 First you will cut the top off your bell peppers. Remove the seeds and cut them in half so they become cups. Then boil a pot of water and once it boils submerge them and blanch bell peppers for about 10 minutes. This will take some of the bitterness out of them and soften them up.
Stuffed Peppers with Noodles
I cook my ground beef and noodles at the same time I am blanching my bell peppers. Once your meat and farfalle noodles are done and peppers are blanched you will mix your filling. Start to fill your lasagna bell peppers now!
It really is quite easy and once they are done. You just serve 1-2 per person and they are already portioned out. If you love our lasagna stuffed peppers idea use this same lasagna mixture to make lasagna cups. Or make our traditional & easy stuffed bell peppers at 400 recipe too!
Stuffed Peppers with Mozzarella and Ricotta
The ingredients you'll need to make lasagna step by step normally can vary slightly based on personal preference and regional differences. There's a basic list for a traditional Italian style though such as;
Lasagna noodles – we will use small or medium size shells or farfalle instead
Ground beef, sausage or a mixture of both – same goes for this version
Tomato sauce or spaghetti sauce – I like to use the latter for both
Ricotta cheese or cottage works too for dairy free – same goes for both
Mozzarella cheese (shredded) – same, some like to add parmesan cheese too or a mixture of the two
Seasonings of your choice both ways
You're going to want to prep all the things like meat in a skillet over medium high heat until browned. Boil noodles until al dente, about 20 minutes start to finish. Drain and mix together with marinara sauce to make a meat mixture. Fold in cheese to make a ricotta mixture. Then once peppers are softened, set inside baking dish or on a pan.
Cheesy Lasagna Stuffed Peppers
Then you will be ready to spoon in your meat sauce, noodles and add cheese on the top. Bake for about 15 minutes so that the cheese can melt and lightly brown on the top. I line the pan with aluminum foil just for an easier cleanup. Whole prep and cooking time will be about 30 minutes start to finish.
Types of Bell Peppers
Green peppers are the most common and are picked when they are still immature. They have a slightly bitter flavor and are slightly more firm than the other colors.
Red bell peppers are the sweetest and most mature of them all. They have a bright red color and are fully ripe, giving them a sweeter, milder taste.
Yellow peppers are slightly sweeter than green, but not as sweet as red. They have a bright yellow color and are milder.
Orange peppers are sweeter than yellow but not as sweet as red. They have a bright orange color and a mild, slightly sweet flavor.
Purple bell peppers also known as black or chocolate peppers have a deep purple color and a slightly sweeter taste than green. They are less commonly available than the other colors.
What Can You Add to Stuffed Peppers
Rice or quinoa can be a fun change to add texture and flavor to the filling. The meat can be swapped out too. Instead of using ground beef or turkey make chicken stuffed peppers instead! All meats add protein and a hearty flavor to the filling but can be left vegetarian too.
Black beans, kidney beans or chickpeas can be added to the filling for additional protein and fiber. Vegetables diced and precooked to tender like yellow onion, garlic, mushrooms, zucchini, spinach or corn into the filling can add nutrition.
Shredded cheese is a must for us but you can switch it up with different types like cheddar, mozzarella or parmesan. Include some into the filling and then on the top for a cheesy topping. A simple spaghetti sauce can be added to the filling for a lot more flavor than canned tomato. Adds additional moisture and flavor.
Different herbs and spices added into the filling such as cumin, paprika, chili powder, oregano, basil, parsley or thyme for additional flavor. Chop up some pine nuts or almonds to add some crunch and flavor to the filling.
Want an even easier prep without having to blanch those babies at all? Try Crockpot stuffed peppers recipe another night and see which you like best.
Want to see a few of my favorite things that I am totally obsessed with?? Take a peek and see how many you might already have…twinsies!
Looking for more easy family recipes and tips? LIKE The Typical Mom Facebook page?
Then sign up for my free newsletter, and follow me on Pinterest! 😉
***** If you LOVED this recipe give it 5 Stars below and let everyone know what you thought about it. 😉
Lasagna Stuffed Bell Peppers
Try these lasagna stuffed bell peppers for a twist on the original comfort food you love to bake in the oven but filled with lots of cheese.
Instructions
Blanche your peppers as explained above, cook ground beef, and 2 cups farfalle noodles until done. Add meat, ricotta, sp. sauce and shredded mozzarella cheese in a bowl.

Lay blanched bell peppers in a pan and layer a few noodles, meat mixture, noodles, meat mix and then a slice of mozzarella (I sprinkle the top with oregano.

Put in the oven at 350 degrees for 10-15 min. or until cheese is slightly browned or not, your choice.
Nutrition Facts
Lasagna Stuffed Bell Peppers
Amount Per Serving (3 oz)
Calories 347
Calories from Fat 180
% Daily Value*
Fat 20g31%
Cholesterol 88mg29%
Sodium 928mg40%
Potassium 797mg23%
Carbohydrates 14g5%
Protein 26g52%
Vitamin A 4065IU81%
Vitamin C 134.6mg163%
Calcium 328mg33%
Iron 3mg17%
* Percent Daily Values are based on a 2000 calorie diet.