Knott's Berry Farm Spooky Farm is a great time to visit this Southern California theme park. Halloween trick or treating throughout the park while still enjoying shows with the Peanuts gang makes it fun!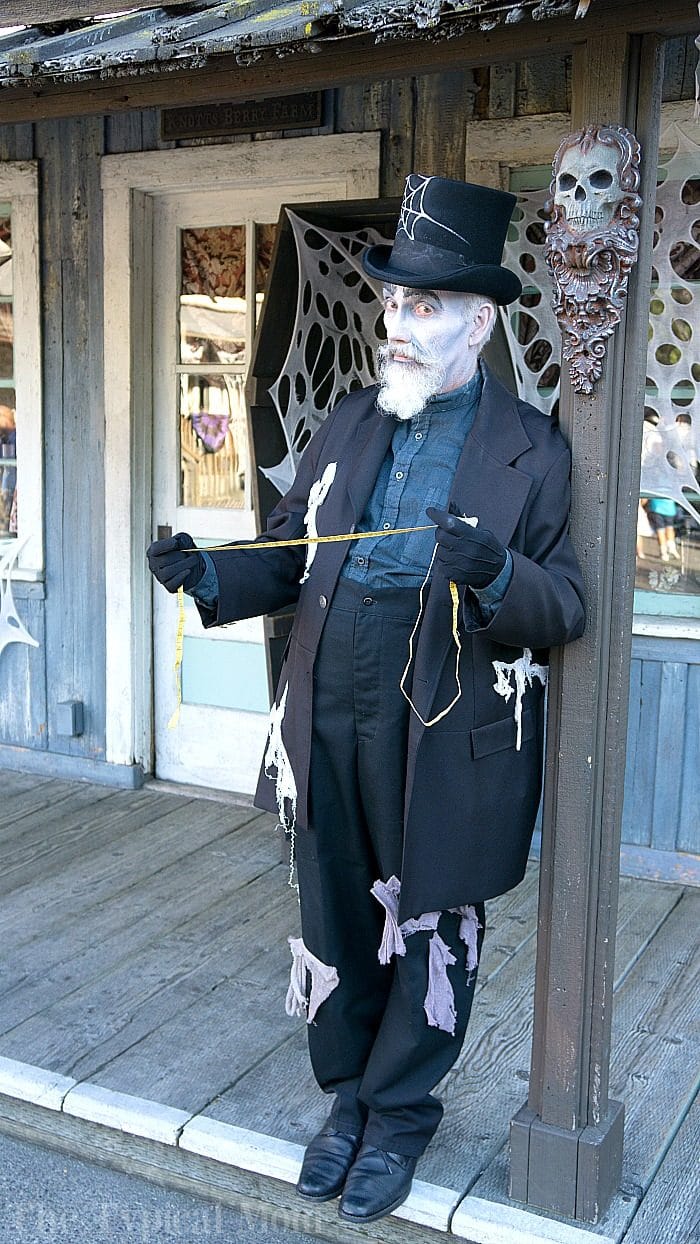 If you are looking for an honest Knott's Berry Farm Spooky Farm review, we have it. It is a really fun time of year. Of course this fun Southern California theme park is always changing things up and adding new decorations and live shows according to the seasons, which makes Halloween so much fun! Special thanks goes out to Knott's for sponsoring our visit. (originally published 10/19)
Knotts Scary Farm Pictures
If you have kids you might want to head out to Spooky Farm as opposed to the night time which turns into Knott's Scary Farm. Still fun, but as it says it is quite scary. There's no scaring during the day during Spooky Farm, just fun and trick or treating!!
It really is an entire day long celebrations with lots of Halloween events going on. For little ones camp snoopy is incredible. With little rides and appropriate scare zones for tiny ones, they can still see Charlie Brown and say hi in their Halloween costumes. Only time you're allowed to enter not looking like yourself.
Knotts Berry Farm Halloween
Yes…included in your admission is trick or treating where they hand out candy at several different stations throughout the theme park too. You don't have to but Knott's Spooky farm is the only time they do this type of Halloween hootenanny with a costume cavalcade all around too.
Visit the pumpkin patch, buy one there and spend some time carving or pumpkin decorating with stickers and markers. That can take some time in the afternoon as you're relaxing or waiting for the next family friendly event to begin.
Many fun stops are along Ghost Town. They give you a map when you enter so you can find them throughout the day. They give children a yellow bag too to hold their goodies…mine ate them along the way. 😉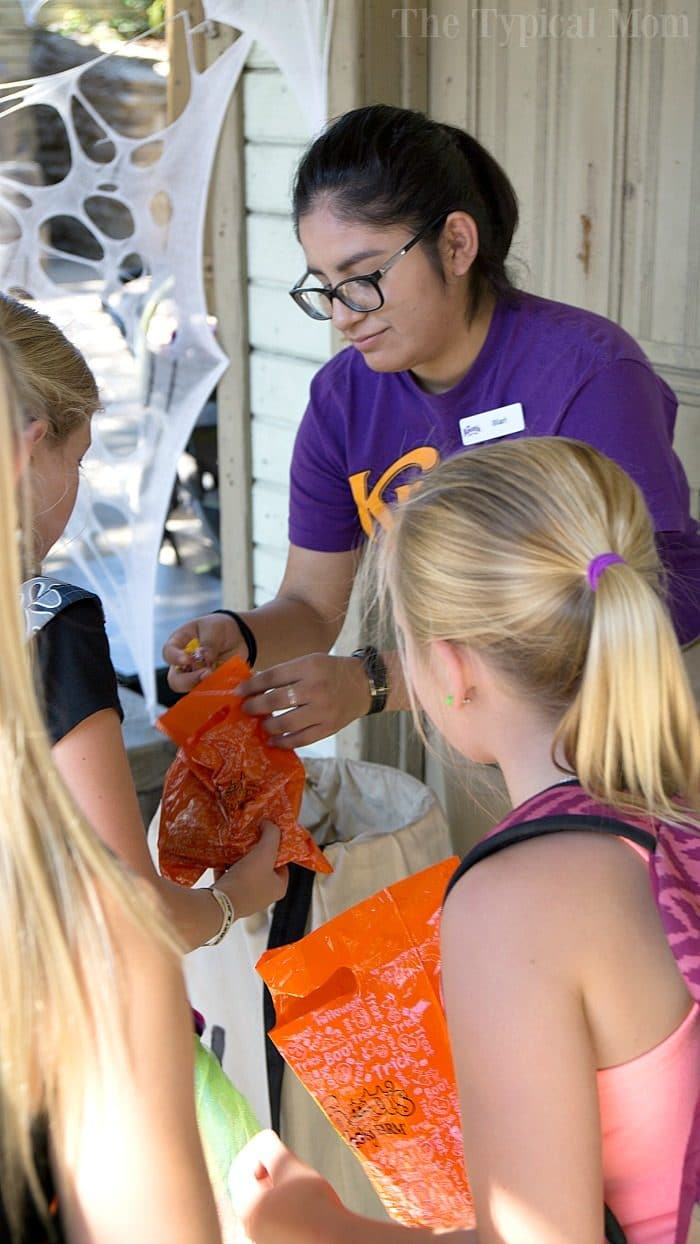 Halloween Events in Orange County California
As always, Knott's Berry Farm always has the entire place decorated in cobwebs, skeletons and scarecrows hanging by your favorite rides. Visit Timber Mountain log ride and you may get a skeleton sitting next to you. Have lunch and a witch may want to join you at the table. 😉 Don't forget Ghostrider…I even think this one is pretty fun!
There are lots of characters like the one you see at the top of this post, witches, and they are ready to snap a picture with your bunch. You're free (and encouraged) to wear your costume to the park too. My group of girls dressed up as rainbow as they could this year which was fun…any excuse to dress up really.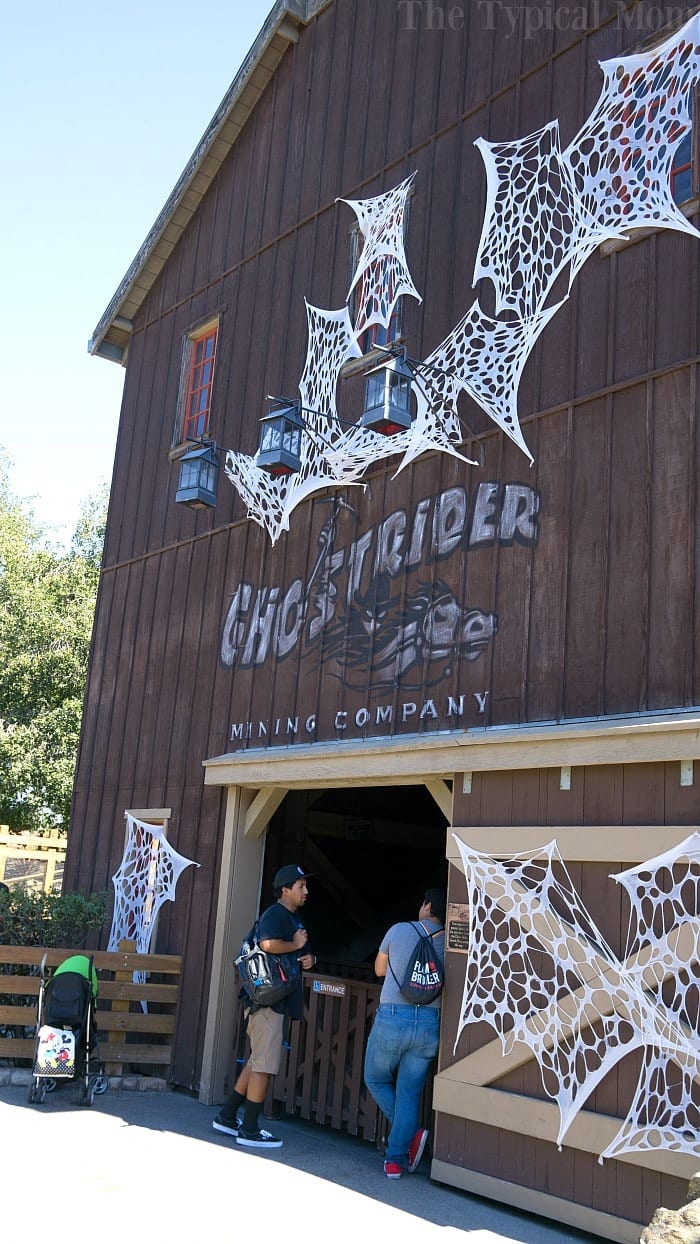 Knott's Berry Farm Spooky Farm Review
Throughout the park were several booths with great Dia De Los Muertos souvenirs and games for kids to play, activities to do, coloring stations and more in honor of the upcoming holiday. They hadn't heard of this much so it was fun to talk about it's origin and see all the traditional decorations.
They even have free activities here and there like you see below. Near the lunch area we found drawing, coloring activities and a magnet activity where they met new friends too. You are sure to meet someone new while enjoying your day, we always do.
With families throughout the area everyone tends to be quite friendly and you may find a dance floor with music to spend some time at too. Always a great time and perfect for all ages, not just kids. Get out there y'all!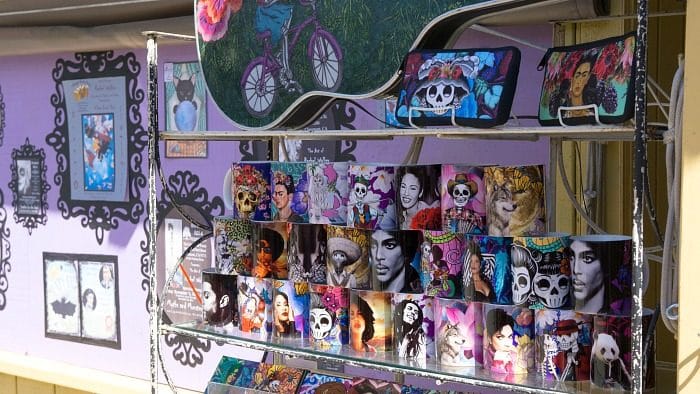 Is Knotts Scary Farm Worth it?
Totally. At night you have to be okay with a little adrenaline rush as characters do tend to jump out at you. If you aren't into that then you may just want to enjoy the day and exit before the night time events begin. Teens and early twenties tend to prefer just the night fun, you can take your pick.
Make sure to go into all the buildings even if you aren't planning on buying anything. They are decorated nicely and may give you ideas on how to be festive at your house. I got the idea to make burlap garland there. Didn't buy it but got the drift. Bought everything at the craft store and under $10 later I made one.
Inside the horse stables the horses were striped as though they were wearing a costume too and there were several animals the kids could touch like this snake!! There was a rat, worms, a possum, and other fun creatures too.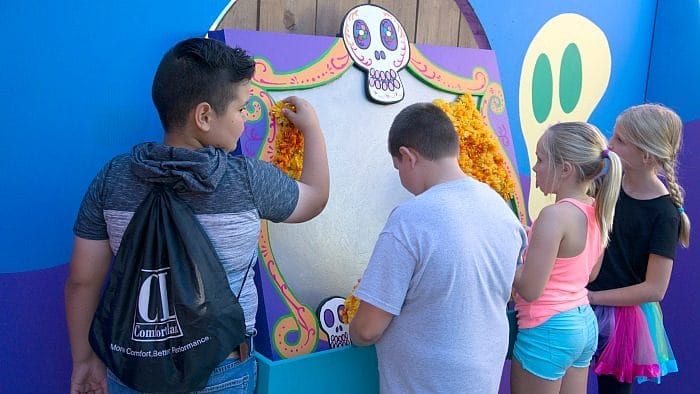 Knott's Spooky Farm Review
Once you see how they really amp up the park for the holidays you will likely want to go again later in the year when Santa comes. Once we went there for that my kids asked for it year after year. Both really get you in the mood for extra time with family and what is to come.
Shows change every occasion too so don't just go to the Snoopy ice show once. It is totally different every single time and incorporates costumes on the characters too. I will tell you that that show is amazing. The talent they bring in to do ice skating tricks with Charlie Brown even amazes me.
If you've never been to Knott's Berry Farm Spooky Farm it's a really fun time of year to visit. You can find more information about the shows and what is offered during this time of year on their website. This, Boysenberry Festival, and Knott's Berry Farm at Christmas are our favorite times of the year!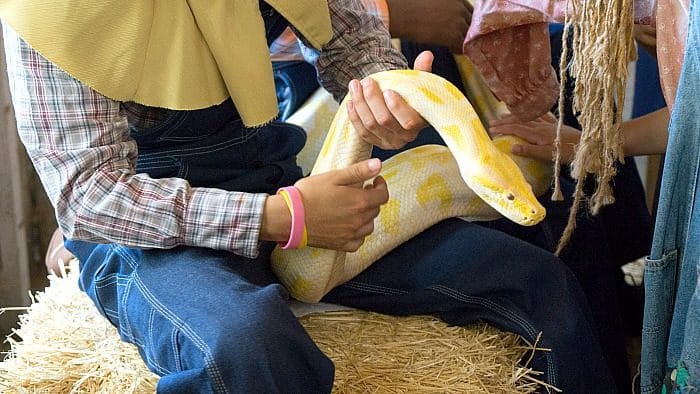 What time does Knotts spooky farm start?
It begins the end of September and continues until Halloween night. This event is meant for younger guests who are not ready to be scared at night for scary farm. Start in the morning to see shows that feature your favorite Snoopy characters in costume, and leave before 7pm when it gets scarier.
Want to see a few of my favorite things that I am totally obsessed with?? Take a peek and see how many you might already have…twinsies!
Looking for more easy family recipes and tips? LIKE The Typical Mom Facebook page?
Then sign up for my free newsletter, and follow me on Pinterest! 😉
***** If you LOVED this recipe give it 5 Stars below and let everyone know what you thought about it. 😉