Have you visited Knott's Berry Farm at Christmas time? It's called Merry Farm and they transform this fun theme park into everything Christmas….it is pretty fun. Special thanks goes out to Knott's for sponsoring our trip so we could share photos and video with you.
Here's a deal for tickets to Knott's Merry Farm
We visit Knott's Berry Farm fairly frequently because they are always changing things up throughout the seasons, and my kids love the rides there! During Christmas time they bring in many thing, including snow this year, to make it feel like the holidays!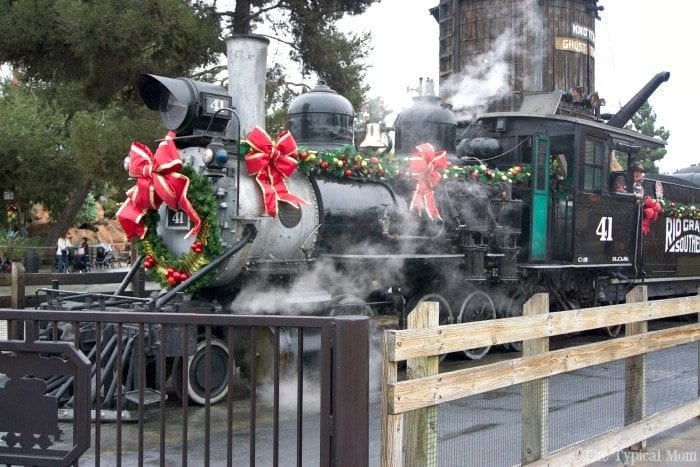 All throughout Calico Ghost Town there are bows, garland, wreaths, and inside the stores they are filled with Christmas trees and decorations. Of course we had to ride our favorite rides in between Snoopy's Ice Show where everyone was dressed in Christmas attire (a must see), crafts, and holiday themed shows, but we find it fun to see things around the park that only show up during Knott's Merry Farm, like carolers!! See the full schedule of Merry Farm events at Knott's here.
It was sprinkling a bit when we were there but that didn't stop the carolers from "singing in the rain", literally, and there was snow in the evening too after the tree lighting ceremony….the most fun for my SoCal babes!! One of the things we look forward to each year during Merry Farm is Santa and all the treats in his "cabin". Full of loaded cups of hot chocolate, cookies, milk, egg nog, roasted nuts, and more….it's a great place to sit/relax and meet other families there.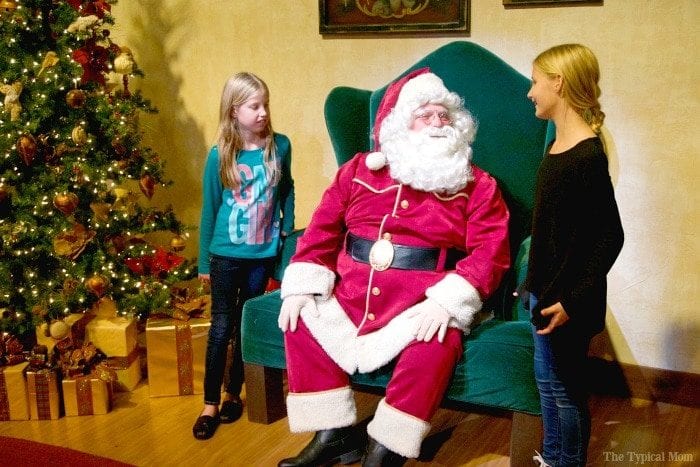 For the last few years this is where we get pictures with Santa to put in their memory books. If you haven't experienced Knott's Berry Farm at Christmas time it really is a great and different experience you will get at any other time during the year. You can find more information about Merry Farm here.