What there is to see at Knott's Berry Farm Ghost Town. Wild west shows, food and activities that are family friendly and free with ticket admission.
They are having their 75th anniversary and there is a lot going on!
This is just a peek, but just from one snapshot. Doesn't this look like a fun show??!! This is just one of the live shows in Ghost Town you can see, and you can sit inside a covered wagon to watch it too!
Knott's Berry Farm Ghost Town
There are several shows like the Wild West Stunt Show, Ghost Town Alive!, Circus of Wonders, Blockbuster Beagle! and many more.
I suggest taking a peek of their entire show schedule here before you arrive so you can see what time each one is and plan accordingly.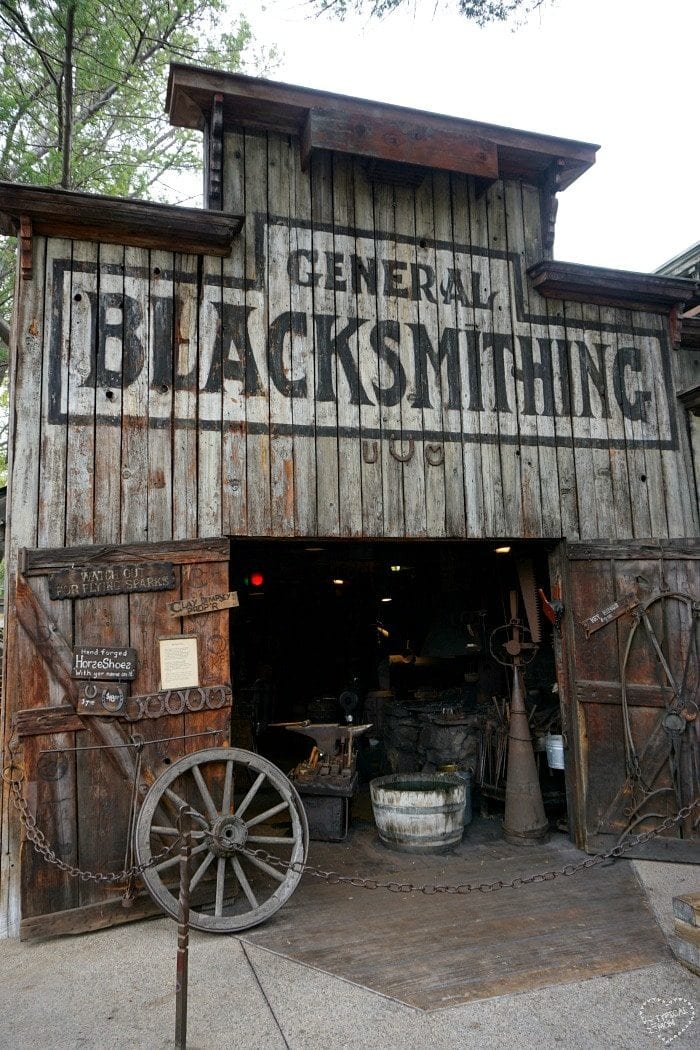 While you're strolling thru Knott's Berry Farm Ghost Town make sure to look around. There is SO much to see.
The Blacksmith does incredible work and will make you a personalized horseshoe as a souvenir, and across the way at the Sheriff's office you just might find a prisoner asking to be released. 😉
There's a fun dress shop too you should stop by and see the old fashioned looks they once loved.
These were probably their favorite parts of Ghost Town though. We ran into a fun guy with a four legged friend my girls could pet and take a picture with.
Then we found a stable with horses and they were able to pet several of them…the best! We were treated this visit with all-day dining which was great!
This is how it works. You purchase the bracelets and it allows each person to eat a meal as frequently as every 90 minutes throughout the day!
We visited two different restaurants there, and returned to Grizzly Creek Lodge inside Camp Snoopy again for dinner. There are a lot of things to choose from and you get BIG portions so you will stay quite full all day long.
10 reasons to visit Knott's Berry Farm
Wild West Stunt Show
Blacksmith – order a personalized horseshoe
Ghost Town Alive!
Circus of Wonder
Blockbuster Beagle!….on Ice
Hoedown
Ghost Rider (new and faster than ever, see my experience here)
Shops in Ghost Town
Rides
All-day dining pass…yum
Shows and attractions change throughout the year at Knott's Berry Farm like their Boysenberry Festival which is a must see.
These are just 10 things but there are so many more things where you can do. Like a knock knock knock from someone buried beneath the surface and more! Visit Knott's Berry Farm for year round celebrations and shows, see you there!