Here are a bunch of easy Valentine treats for kids that are cheap, easy, and on the healthier side of things. Lots of free printables for Valentine's Day for kids to take to school too.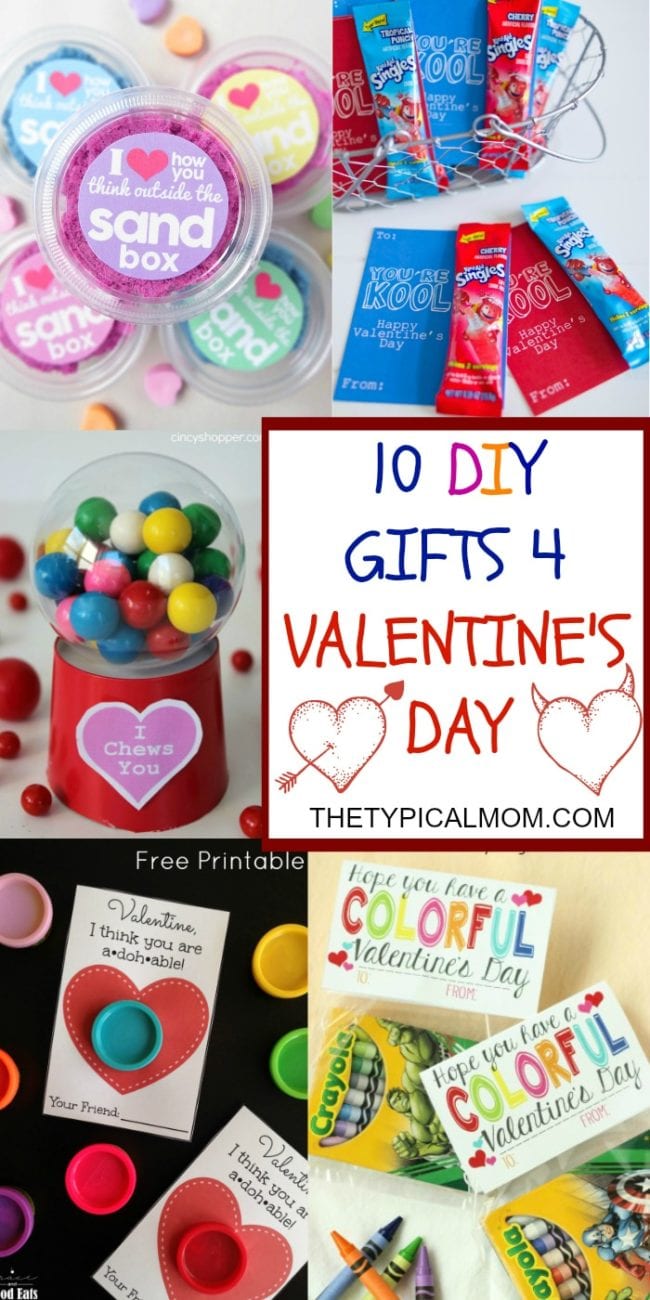 I am always looking for inexpensive and fun ways to celebrate each holiday! Valentine's Day is fun to celebrate, and I love creating creative Valentine treats for kids that they can take to School and pass out to their friends. As a teacher myself it was tough sometimes to come up with candy free, cheap, have free printables I can download, and easy snacks to give out to my students. As a mom I struggle to do the same thing as I send my 3 girls off to School. Here are a few ideas I (and a few other bloggers) have for inexpensive, easy, and creative things you can put together with your kids. (originally published 1/16)
Here are some of our favorite Valentine treats for kids
Tic Tac Toe kids Valentine Cards
Tic Tac Toe Rocks from Balancing Homemade
EXTRA special printable perfect for a gum giveaway
DIY Valentine's Gum Ball Machine from Cincy Shopper
You're The WRITE Valentine's For Me from Life With Finger Prints
You Make My Heart Pop from Crazy Little Projects
You're Such a Smartie from Catch My Party
Hope You Have a COLORFUL Valentine's Day by My Frugal Adventures
I Think You're A DOH ABLE by Grace and Good Eats
You're ExSTRAW special by It's Always Autumn
You're KOOL by My Name is Snickerdoodle
I Love How You Think Outside The Sand by Smart School House
Here is a LEGO Valentine I created with a free printable!
If you're looking for some free Valentine printables these can be fun too:
Now here are a few Valentine treats for kids I've created that my kids have taken to School that are candy free!
The "treat" above is a really easy and inexpensive one to create, you just need this cereal (called Whole Hearts by Quaker – affiliate link) and colored mini marshmallows (I picked out just the pink ones in the bag). To hand out just make a mixture of this in a big bowl, use the nonzip sandwich bags ( I didn't have any of those so I cut the zip part of the ziploc off and tied) and a ribbon at the top to tie it closed (grab that leftover red xmas ribbon you have).
Here is another Candy free Valentine idea I came up with! I found these applesauce squeezers – affiliate link -on sale in January and a lightbulb went off! Kids love these things, and all I would have to do is come up with a cute phrase, use supplies I already had at home and created this cute Valentine for my kids to pass out at school (instructions here). I just had them sign their name on the back of the tag, they loved it!
Another cute idea for a candy free "treat" to pass out to classmates is this one using Goldfish crackers! You can see how I made these here as well as getting a free printable for the tags…these were a hit!!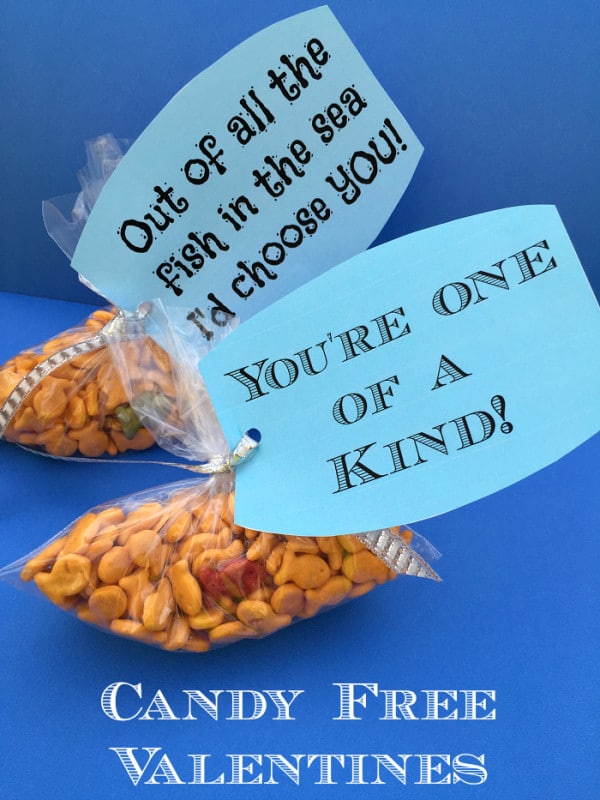 Here is an awesome post from A Mom With a Lesson Plan featuring Candy Free Valentine cards for you & your kids to enjoy!
For more great tips, recipes, and crafts please sign up for my free weekly newsletter & follow me on Pinterest!