Free Harry Potter Pixel Art coloring pages are here. If you're throwing a birthday party these Harry Potter color by number sheets are fun and cost you nothing out of pocket. Great for all ages.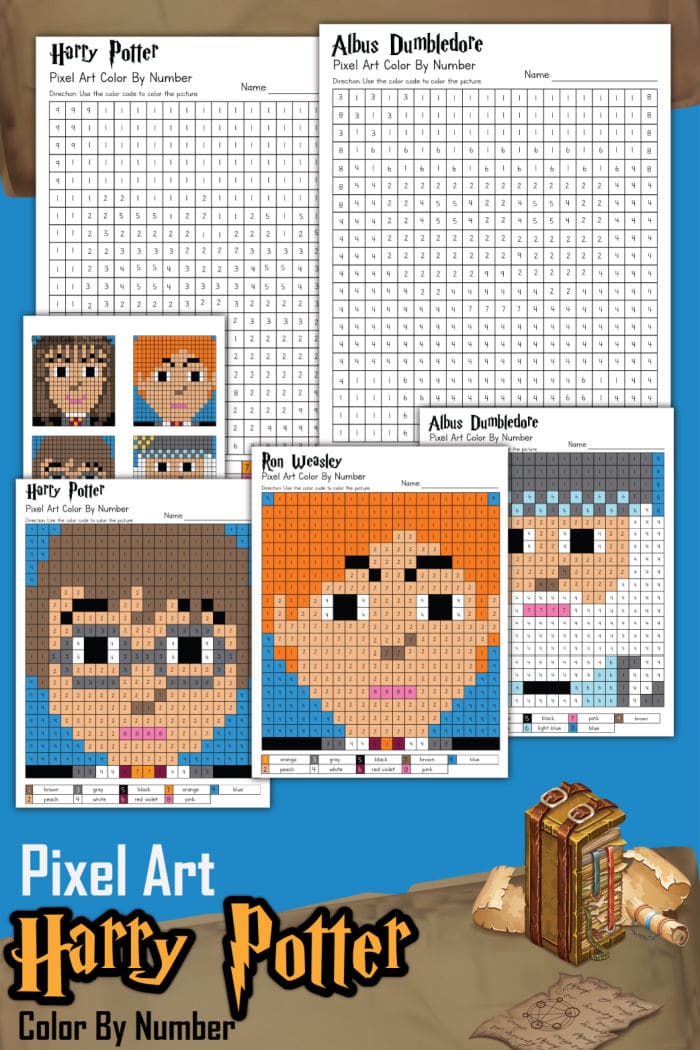 Harry Potter pixel art is so fun for boys and girls. We shared Mario pixel art with you a few weeks ago. It was so popular this new one was created. Actually there are 4 characters featured like Dumbledore and Weasley too. (affiliate links present)
Harry Potter Color by Number
We have a lot of color by number free printables on our site because my girls have always loved them. When I was a teacher I had a hard time finding activities for down time that didn't cost me anything so when I started blogging I created them.
If you are throwing a boys or girls birthday party you may want to find all the freebies possible. I know I always did first so I could stretch my dollars for other activities. If you have a large group of kids it is fun to create stations where they can do a different craft or coloring page, then switch to another.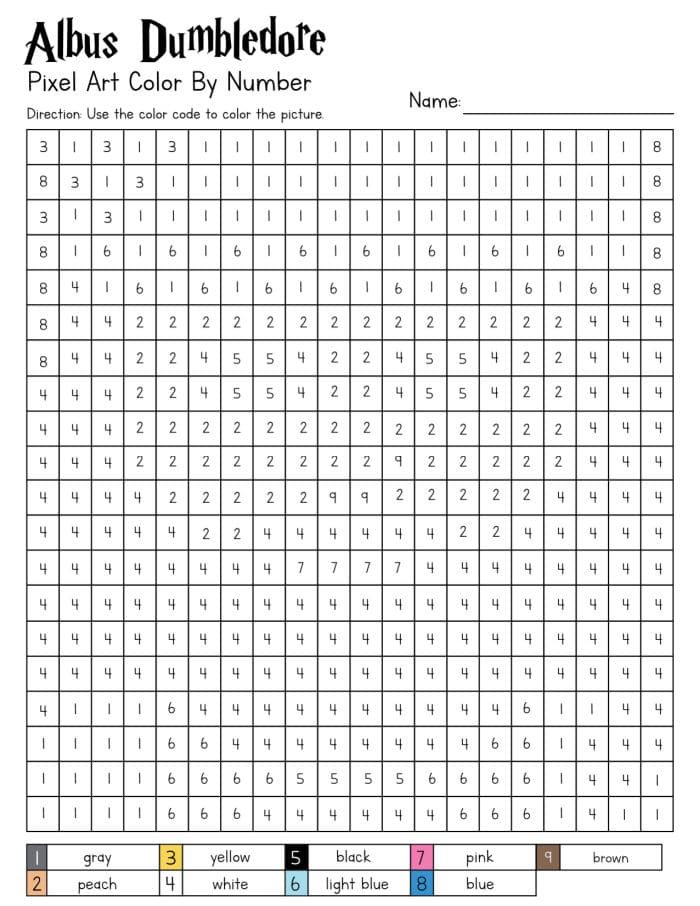 Harry Potter Coloring Sheet
These essentially are just number recognition worksheets. There is a color key at the bottom of each one that coincides with a color. You match the number and for all the number 3s for instance, you would shade in those areas with yellow. I would suggest crayons or colored pencils so it doesn't bleed thru.
Also the boxes on this Cute Pixel Art are rather small so pencils are usually best. You can even find some with erasers at the end in case your child may make mistakes and need to try and correct them. For younger ages I might only give them the colors necessary so they aren't overwhelmed with all the various shades of blue let's say.
These are appropriate for really all ages from most Preschoolers, to a great Kindergarten color page, and even adults get a kick out of them. Since it starts off as a blank page you could add to the excitement by cutting off the top. Then there is no way anyone would know what is supposed to appear.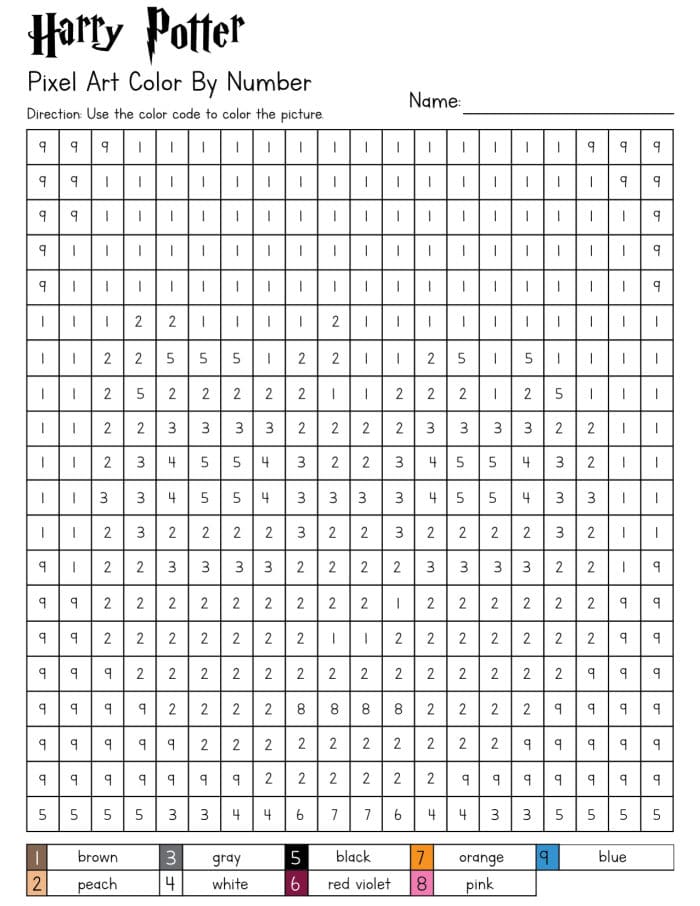 Let everyone go to town and maybe create a Harry Potter game where the first one to identify the character on the sheet that appears wins a small prize?? Just an idea. You could also add another game to the back by creating a word search or scrambled words they can try to figure out when done with this.
Easy Harry Potter Coloring Pages
Just like our Pokemon pixel art, there are many different pages. In this case, 4 different sheets to choose from. If you wanted them all just click on the link below. You could staple them into a coloring book of sorts or if you wanted just Harry, choose that page specifically. Print as many copies as you like and design away.
Time needed: 5 minutes
Pixel Art Harry Potter
Print

First you should print all or one of the free harry potter coloring pages

linked here. If you just want one of them, click the link and let it pop up in a new tab. Hit file on your computer, then print, and switch all next to pages to custom and choose the page you want.
Color

Use colored pencils ideally to match the number to the color on the page and watch the picture appear. Crayons work too but they should be very narrow in size. Markers will likely bleed over into the next squares and on to the back as well.
Free Pixel Art
If you have never done one of these they are quite fun, especially if the hidden image isn't identifiable until the coloring is complete. You could in fact create your own using graph paper too. We did that back in the day of my childhood when there was no such thing as an internet, blogs, or what you see here today.
Want to see a few of my favorite things that I am totally obsessed with?? Take a peek and see how many you might already have…twinsies!
Looking for more easy family recipes and tips? LIKE The Typical Mom Facebook page?
Then sign up for my free newsletter, and follow me on Pinterest! 😉
***** If you LOVED this recipe give it 5 Stars below and let everyone know what you thought about it. 😉