A great way to connect with your kids is having family dinner table talk! Conversations to have & the importance of why we have dinner together every night.
You may think I am crazy when I say this, but we eat together at the family dinner table at least 5 days a week. How and why do we do this with our crazy work, school, and sports schedules? We do it because family dinner table talk the most important time of day for us. Let me tell you why. 😉
Let me start by saying that we didn't do this from the time my first daughter was born 14 years ago. It took some time to develop and solidify into what it looks like today (so don't panic).
With 3 daughters and both my husband and I working it is hard to coordinate all the schedules. My teenager plays the flute, my middle daughter plays soccer, and my "little" one swims so yes we are all going in different directions during the week.
Here's how to start:
Eat early – Now of course this depends on when everyone comes home from work but with kids it is best to catch them before the late evening snacking begins so they will actually sit down and eat dinner.

If you are able to stay at home and your husband comes home at 6:15 each night, then try to make sure that everything is done and ready to set on the table at 6:20.

Serve something "fun" – Of course you want to serve your family a healthy meal, but make one of the things "kid friendly". Something they will be excited to eat like Ore-Ida® air fryer french fries as a side or to jazz up a burger. 😉
I find it helps them try the other items on their plate. Better yet, incorporate the "fun food" into the main dish like we did here with our hamburgers (mine love that)!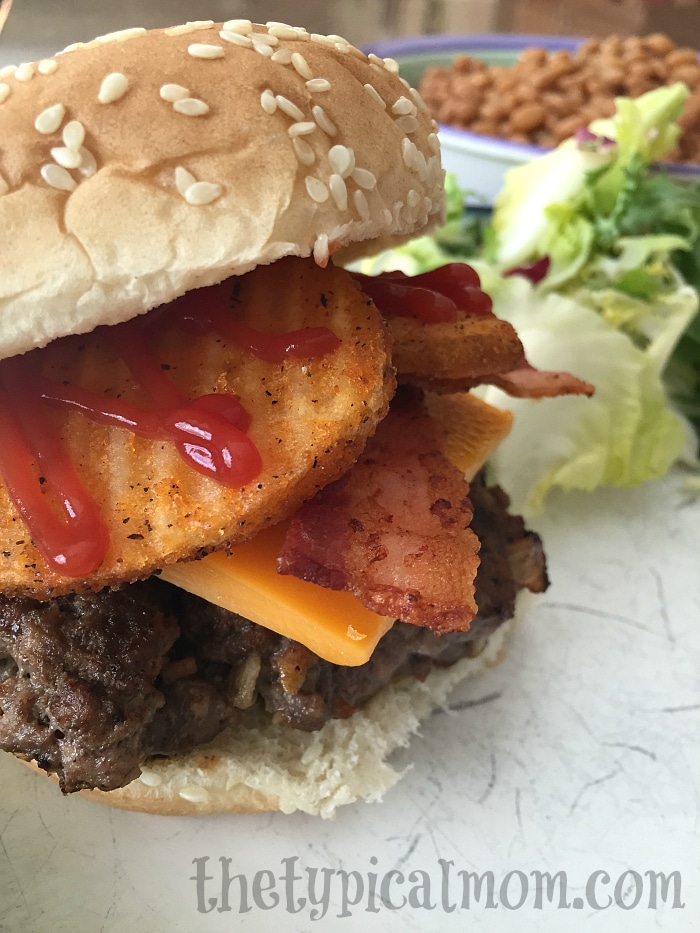 Ask open ended questions – Kids are much more likely to talk to you when they are doing something else…like eating (especially teens). At first they may just give you quick one word answers.

Over time it will become more engaging and you will find that your kids enjoy not only talking about their days.
Once everyone is settled and eating go around the table and ask "what was the best thing that happened to you today?"

Make it a priority – Of course you can't start out with the goal that 7 days a week. Start slowly and you will get closer to your goal.
We sit together 5 days a week on average and eat together. With that being said, the meal is not always home cooked and every single person is not always present.
On Fridays we have "whatever nights" which means Mom is not cooking. You can eat when you want that day.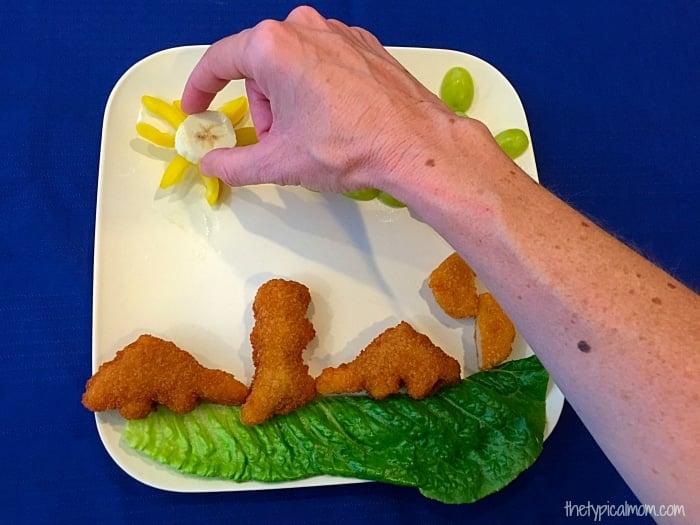 Have "go to" meals – If your goal is to eat together 3 days a week let's say, you need to make sure that you have some quick "go to" meals. We like my hamburger, salad and tater tots meal here. To make things easier choose a salad that comes in a bag ready to serve.
I hope these tips helped and you too will see family dinner table talk is important and how to do it.