How to find more time to spend with your family & have great conversations at dinnertime with good open-ended questions for kids!
Ok so parenting is hard. Period. I work at home full time, and sometimes in the evenings. I vowed a few years ago to slow down and ask open ended questions for kids when they returned from school. #1 thing I new I could control was how much time I was taking in the kitchen making dinner, and found a solution for that too!
This post is sponsored by Tyson Foods, Inc. All comments and opinions are my own.
Your kids can help you prepare Tyson® Fully Cooked Dinner and Entrée Kit for two, AND it is done in less than 20 minutes flat!
That is my number one time saver!!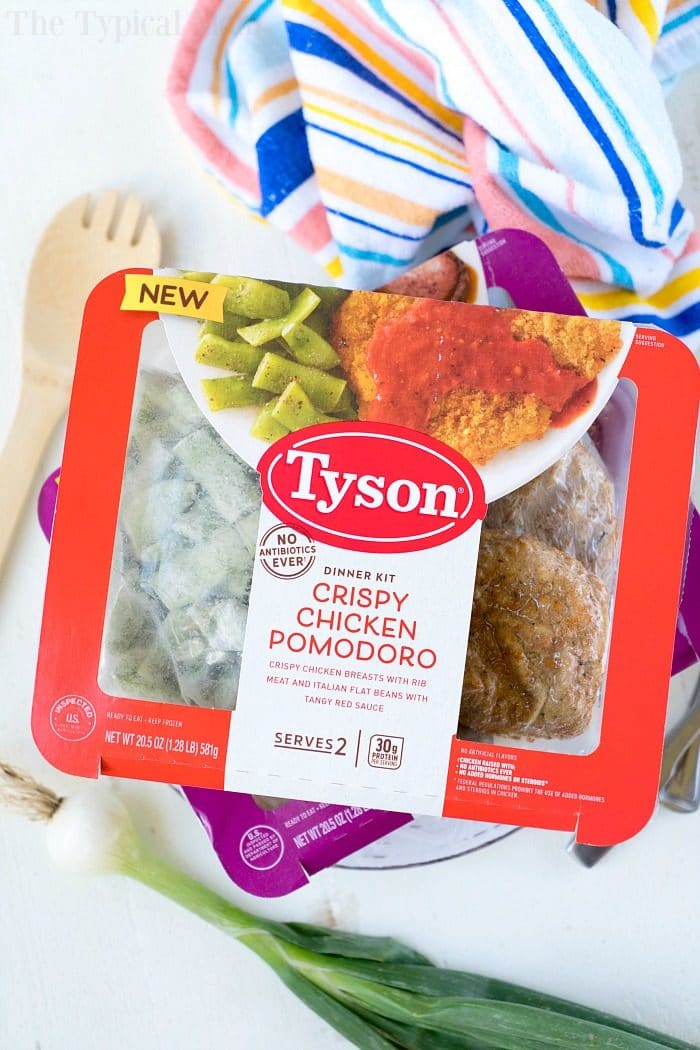 This is the Tyson Fully Cooked Dinner Kit. Just a short trip in the oven for their chicken, and a few minutes of bubbling for the vegetables that are picked and frozen at the peak of freshness…still have a snap to them!
As always, Tyson all natural* chicken is raised with No Antibiotics Ever (minimally processed and no artificial ingredients added) and when drizzled with the tangy red sauce inside this vacuum-sealed into tray it's delicious and is a favorite with my girls…especially my youngest. 😉 The dinner kits are my favorite since they come with vegetables.
Perfect portions for two, and since many times one child is off to work or sport practices two of these meal kits are perfect for our family.
Time saved = Delicious meal = More time to connect with each other at the dinner table……
#2 on my way to connecting more when my kids are home is involving them in the cooking/preparing process, this is easy with Tyson Fully Cooked Dinner and Entrée Kits.
It's a great way to teach them how to cook. It teaches them that some things need to be baked, while others need to be cooked on the stovetop. Have them help you put each item where it belongs, show them how to put the tinfoil on the pan, explain why you need to put a lid on the beans to have them cook properly, etc.
This is a great way to improve your communication and get them to love cooking too!
#3 and lastly, I thought coming up with some questions to ask at the dinner table would be another great way to connect.
If you haven't had much luck it may be because they're able to answer with a "uh huh" or no….. with these that isn't possible.
Open ended questions for kids
Who did you hang out with today on the playground? Great question, right? Kids love to talk about the fun aspects of school. They want to tell about the games that they played on the playground or who they hung out with. This question also can produce a spin-off of following questions such as "What games did you play at recess?" or "Where do you spend the majority of your time when you are outside at recess?"
What was your favorite thing that you learned today at school? Be prepared, they may say nothing and if so, nudge back a little bit. Make it more specific, such as "What did you do in PE today?" or "What project are you working on in art class?"

Understand that, by nature, kids are going to answer with minimal response. As a parent, ask deeper questions to open those lines of communication! Don't settle for the one-word responses. You owe more to yourself and to them!

Who do you think is the class clown? While being the class-clown isn't always a good thing, it is typically something memorable that kids notice. Use it as a question to start a potential conversation about observations and appropriate behavior in the classroom as well!
What book is you're teaching currently reading to you? If your child doesn't want to talk about their day and their workload, ask what their teacher is reading or teaching them. Maybe it's a book that you have read and can contribute to the excitement and conversation regarding it and its contents!
Will you teach me tonight how to do the math lesson that you learned today? Think back to your childhood. Was there ever a point where you wanted to be a teacher and couldn't wait to grow up and teach others? What if your child feels the same way?

Give them the opportunity to teach YOU something, make them feel as if their day, and what they learned, are valuable and important, and of interest to you.

What were the food options today at lunch? Basic, right? Simple question, but each and every time I ask my kids have a HUGE opinion about what their food options are for lunch.

In fact, it can be used as a learning time to discuss the positives of bringing lunch from home versus eating lunch at school.

Do you have any brain teasers for me that you learned today? Kids are full of so much interesting information! Just ask them!

They have jokes, riddles and puns ready to go at any point in time…and given the chance to fool their parents? Take 'em up on it and give that question a go!
Other ideas…..play a game together or read jokes for kids while you're eating dinner!
That always evokes conversation naturally, and you can keep it going with these questions above!
Swap them out each week and maybe bring out a game you loved as a child…they'll love that.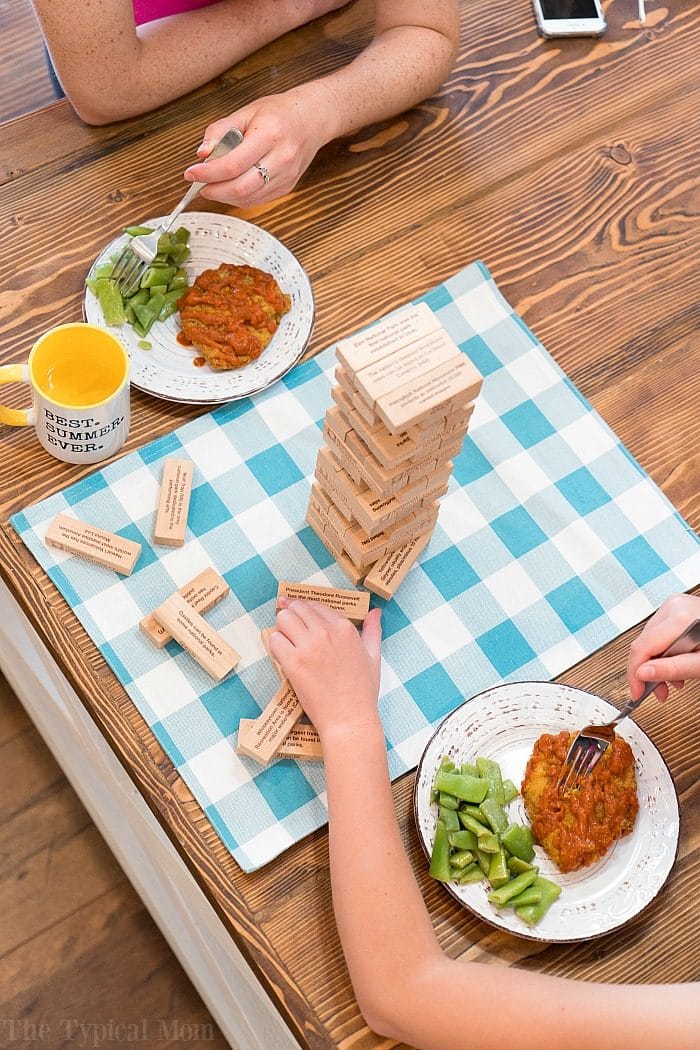 No matter what question of the day for kids you choose (and how short their answers may be), don't give up on trying to open those lines of communication.
Don't get frustrated if they don't reciprocate in the conversation in the beginning. Family dinner table talk takes time.
Try it yourself. Ask some of our open ended questions to your kids and give them time to process.
Once they open up, enjoy the wonderful conversations to follow!