Crafts using mason jars for kids are great. Inexpensive gift ideas for Teachers and fun crafts for kids using mason jars in the classroom or at home.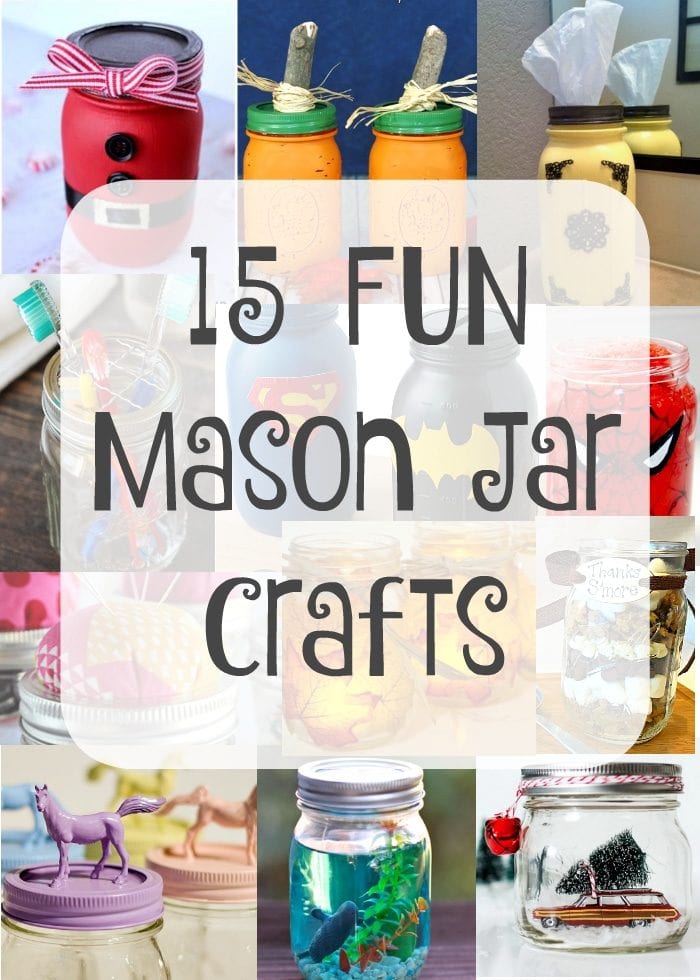 Let me show you a few fun gifts and crafts using mason jars so you can try them at home too. I love mason jars. I just don't know what it is about them but they are just so cute and practical. When creating a craft or gift I like to think of something inexpensive that you can make that you can put your own personal touch on, that is what makes it special! If you love holiday printables too, we have a bunch. (originally published 1/17, affiliate links present)
Mason Jar Crafts for Kids
Tell me Grandma or Grandpa wouldn't just love this simple craft for kids??!! Really inexpensive to make, and you can forever remember how little your little one once was. Grab these large diy mason jar for crafts and get started with this!
Large Mason Jar Crafts
Mason jars come in various sizes, allowing for versatile storage and presentation options. Here are some common sizes of mason jars:
Half Pint (8 oz or 240 ml): This smaller size is great for individual servings, small portions, and condiments.
Pint (16 oz or 473 ml): The pint-sized mason jar is a popular choice for canning fruits, jams, jellies, and sauces. It can also be used for storage, crafts, and as a drinking glass.
Quart (32 oz or 946 ml): The quart-sized mason jar is commonly used for canning larger quantities of fruits, vegetables, and pickles. It's also suitable for storage, organization, and crafting projects.
Half-Gallon (64 oz or 1.9 liters): The half-gallon mason jar is a larger size, suitable for storing bulk ingredients, fermenting vegetables, making large batches of drinks or infusions, and creative craft projects.
Gallon (128 oz or 3.8 liters): The gallon-sized mason jar is the largest commonly available option. It's typically used for bulk storage, pickling large quantities of produce, and showcasing decorative items.
These are general size classifications, and it's important to note that the actual capacities may vary slightly between different brands or styles of mason jars. When purchasing mason jars, check the product specifications or labels to ensure you have the desired size for your specific needs.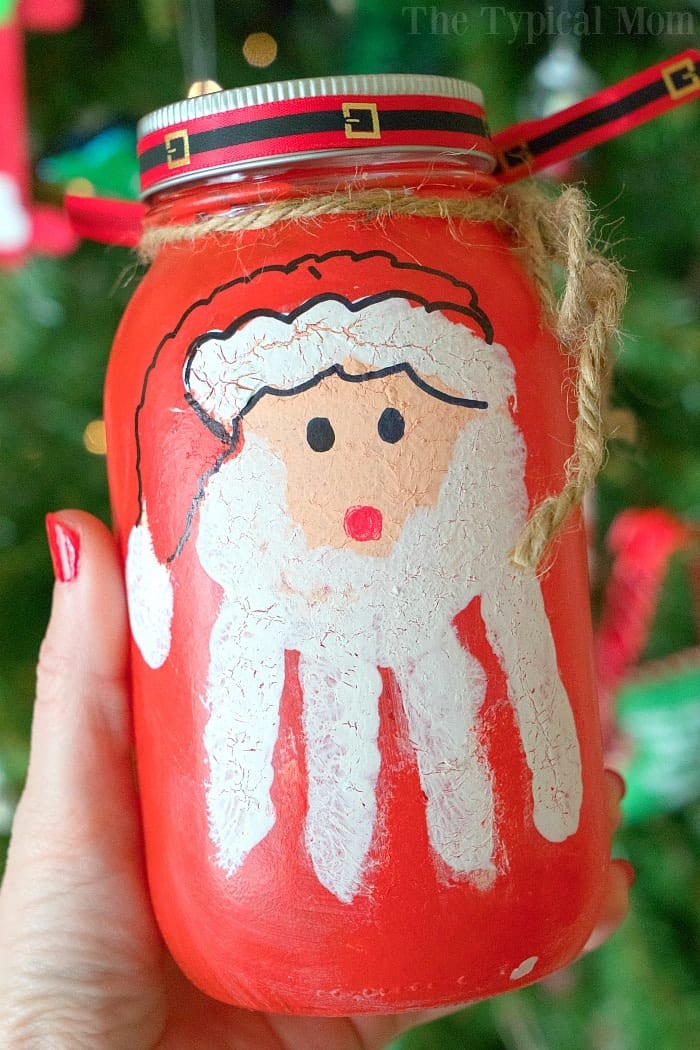 What can I do with old blue mason jars?
Now let's start off with repurposing mason jars because that won't cost you anything really if you have them already on hand. Old blue styles can be repurposed in creative and decorative ways. Here are a few ideas for what you can do with them:
Vases: Use the blue mason jars as unique and vintage-inspired vases for fresh flowers or dried arrangements. Their blue tint adds a charming touch to any floral display.
Candle holders: Place candles inside the blue mason jars to create cozy and atmospheric lighting. You can use regular candles, battery-operated candles, or even make your own homemade candles.
Storage containers: Utilize the jars for storing various items around your home. They can be used to hold kitchen utensils, craft supplies, office supplies, or even bathroom essentials like cotton balls or Q-tips. A mason jar filled with craft store supplies can keep them organized for the next diy project too.
DIY soap dispensers: Transform the blue mason jars into stylish soap dispensers for your bathroom or kitchen. You can purchase pump dispenser lids designed for mason jars or create your own using a soap pump from an old dispenser.
Centerpieces: Arrange a cluster of blue mason jars as centerpieces for special occasions or as decorative accents. Fill them with water and float candles or flowers inside, or use them to hold small decorative objects like shells or stones.
Drinking glasses: Clean the blue mason jars thoroughly and repurpose them as charming drinking glasses. They can add a vintage touch to your table settings or be used for serving beverages at parties or gatherings.
Gifts and crafts: Get creative and incorporate the blue mason jars into DIY gifts or craft projects. Fill them with homemade jams, preserves, or infused oils to create personalized gifts. You can also turn them into decorative lanterns, terrariums, or snow globes.
Remember to clean the old blue mason jars thoroughly before using them for any new purpose. These ideas provide a starting point, but feel free to let your imagination run wild and come up with unique ways to repurpose the blue mason jars based on your own preferences and needs.
Crafts Using Mason Jars
Now here are a few mason jar gifts that are great for Teachers too! Each one comes with free printables too which I love and are easy enough for young children to put together. This first one is S'mores in a jar from me.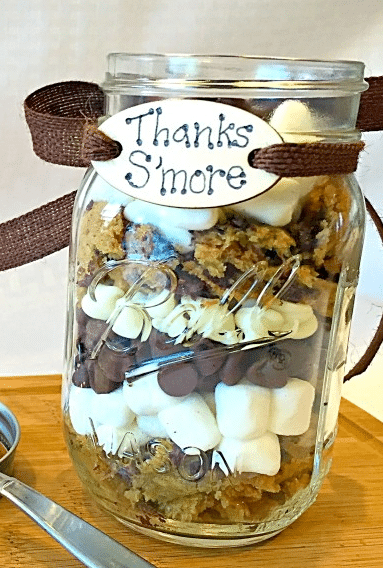 Glass Jar Crafts
Hello, Wonderful made mini aquariums using mason jars, super cute party idea. Mason jars are the perfect containers to make a terrarium with plants or make a peek a boo glass jar filled with toys to make an ocean maybe. Turned upside down you can make a light fixture out of it like we did with our farmhouse decor.
With a little spray paint on the outside you can make frosted mason jars so the light bulb inside isn't quite as bright. Kids can use mod podge to decorate the outside so the light comes out in different colors too. Make a mason jar candle like we did at the top with santa on the outside but decorated for year round.
Another cute idea is to use a free printable (found in this post), fill it with goldfish and give it to a Teacher.
Creative DIY Jar Ideas
LOVE this animal topper idea for mason jars from Mason Jar Crafts Love blog. You can make a tissue holder out of mason jars following the instructions from The Happy Housewife, super cute.
Make a cute Easter bunny jar filled with candies and gift to your neighbors if you like, it is so cute during the Spring.
Making these as Christmas gifts are the best too. Just paint mason jar or bird feeder can be created with a few holes in the lid so the seeds can fall out into a dish below.
This is a really cute gift from The Gunny Sack where you can make "caramel apples in a jar"!
Mason Jar Upsycle Ideas
You can make cute Fall luminaries using mason jars for decor in just about any room, or outside during the holidays along the walkways.
For boys this "car in a jar" from Mason Jar Crafts Love is a really cute craft idea.
There are some really cute crafts like this one from Fireflies and Mudpies where you can make a toothbrush holder out of mason jars!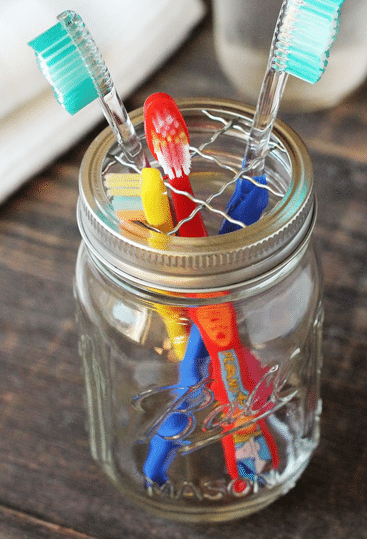 Make mini mason jar pin cushions is another idea from The Seasoned Homemaker.
Repeat Crafter Me uses easy mason jars as a playdough holder and puts a holiday spin on it!
Another clever way to craft using mason jars comes from Fireflies and Mudpies again….make a coin bank!
Here's a fun one to make Spiderman cake in a jar from Messy Little Monster. The Scrap Shoppe Blog has a cute Fall pumpkin idea using mason jars.
Lastly, here is a fun project where you can make a lantern or mason jar wall lamps to illuminate your room.. These all make great homemade Teachers gifts.
LOVE, love mason jar crafting and using them to put just about any snack mix in. They are so inexpensive but are a great way to put a spin on something ordinary…great for gifting and crafting.