Best water parks in Southern California are here! Where to visit and which ones have splash pads so young and older kids can enjoy themselves.
What is California Known For?? They're many water parks are great! There are many great water parks in Southern California , and since Summer is here I decided to check out all of them in order to visit them soon. Here are all the water parks, tide pools, and many splash pads in Southern California. Stay cool my friends. (originally published 4/16)
Water Parks in California
There are a lot more way beyond these if you want to know all of them in the entire state. We are focusing on San Diego, Orange County and the Inland Empire here though. You likely are only going to one area if you are visiting, or live here.
These are the ones we have visited since living in SoCal my entire life, and took my own children to when they were old enough to enjoy them. Determining the "best" water park in Southern California can be subjective, as it depends on individual preferences and what you value most in a water park experience. However, here are a few water parks in Southern California that are highly regarded and popular among visitors:
Water parks in Southern California
While there are no water parks in Los Angeles or around its city limits, there are a few options in the greater Los Angeles area.
Southern California is home to several popular water parks that offer a refreshing escape from the heat and provide fun-filled experiences for visitors of all ages. Here are some well-known water parks in Southern California:
Raging Waters in San Dimas
The Wave in Vista
The Cove Waterpark in Riverside
Buccaneer's Cove at Castle Park in Riverside
Knott's Soak City in Buena Park, just outside of Garden Grove. Soak city is Orange County's largest park the area with dry thrill rides across the street at their other park.
Aquatica Sea World's water park
Great Wolf Lodge has a great speed tube and body slides as well as a wave pool and toddler area for little ones too. If you don't stay at the hotel you can still buy day passes for your group.
Hurricane Harbor at Six Flags Hurricane Harbor
Splash! in La Mirada
Splash Kingdom in Redlands
Wet N Wild in Palm Springs
Splash Pads in Southern California
Lake Skinner in Temecula
Margarita Park in Temecula
Dos Lagos in Corona
Canyon Hill Community Park in Lake Elsinore
Adventure Playground (below), like NOTHING you've seen before, a MUST do!!
Largest Water Slide in California
The largest water slide in California is typically considered to be the "Tidal Wave" at Raging Waters in San Dimas. Tidal Wave is a massive slide that stands at over six stories tall, offering an exhilarating and thrilling experience for riders. It features a steep drop and sends riders down at high speeds, providing an adrenaline-pumping adventure.
Raging Waters is known for its extensive collection of water slides, and the Tidal Wave is often considered one of its standout attractions. However, it's worth noting that water parks may introduce new slides or attractions, so it's a good idea to check with the park directly or their official website for the most up-to-date information on their offerings.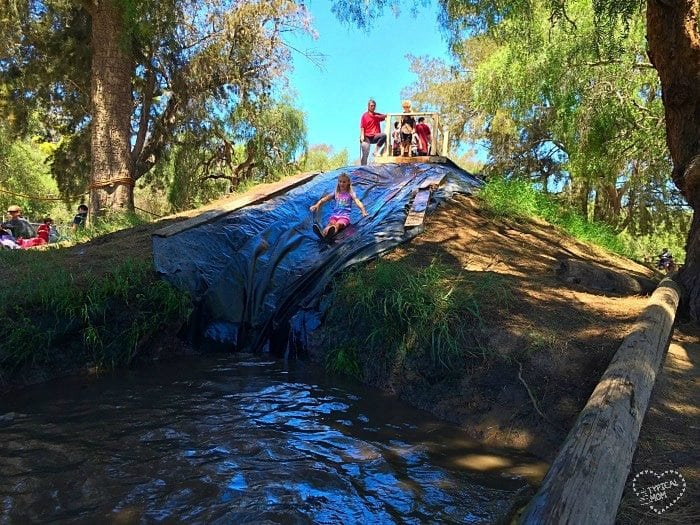 Largest Water Park in California
The largest water park in California is typically considered to be Raging Waters in San Dimas. Raging Waters covers over 50 acres and offers a wide variety of water attractions, including water slides, wave pools, lazy rivers, and interactive play areas.
It is one of the most popular water parks in the state and attracts a large number of visitors each year. With its expansive size and extensive selection of rides and attractions, Raging Waters holds the distinction of being the largest water park in California.
Celebration Park in Moreno Valley has a great body slide at their theme park
Palm Desert Aquatic Center in Palm Desert
Waterfront Park in San Diego
Hilton Head Park in El Cajon
Sigler Park in Westminster
Heritage Park in Irvine
Newport Dunes in Newport
Ocean fun on the coast
Ocean Institute Aquarium & tide pools in Dana Point
Tide Pools in Laguna Beach
La Jolla tide pools in La Jolla
Point Loma tide pools in San Diego
Top 10 swimming holes in Southern California are here!
These are just a few examples of water parks in Southern California. It's always a good idea to check their websites or contact them directly for up-to-date information on operating hours, ticket prices, and specific attractions.
What to Bring to a Waterpark
When visiting a water park, it's important to come prepared to ensure you have an enjoyable and comfortable experience. Here are some items you may want to consider bringing:
A proper swimsuit is essential for enjoying the water attractions. Make sure to wear one that is comfortable and appropriate for the park's rules and guidelines.
Bring towels for drying off after water activities. It's a good idea to bring extra towels if you plan to spend an extended period at the water park.
Protect your skin from the sun's harmful rays by applying a waterproof sunscreen with a high SPF. Reapply regularly throughout the day to maintain protection.
Water parks often have concrete or hot surfaces. Consider wearing water shoes or flip-flops to protect your feet from burns or injuries.
It's a good idea to bring a change of clothes for when you're ready to leave the water park. Pack dry undergarments, clothing, and footwear for your comfort.
To keep your phone protected from water damage, consider bringing a waterproof pouch or case to store it while enjoying the water attractions. This allows you to capture memories without worrying about your phone getting wet.
Some water parks allow visitors to bring their own food and beverages. Packing some snacks and a reusable water bottle can help keep you hydrated and energized throughout the day.
Have some cash or credit cards on hand for any additional expenses, such as locker rentals, food purchases, or souvenir shopping.
Bring some sealable plastic bags for storing wet swimwear or any other items that may get damp during your visit.
Don't forget essentials like your wallet, sunglasses, hats, and any necessary medications.
Remember to check the water park's specific rules and guidelines before your visit, as some may have restrictions on what you can bring into the park.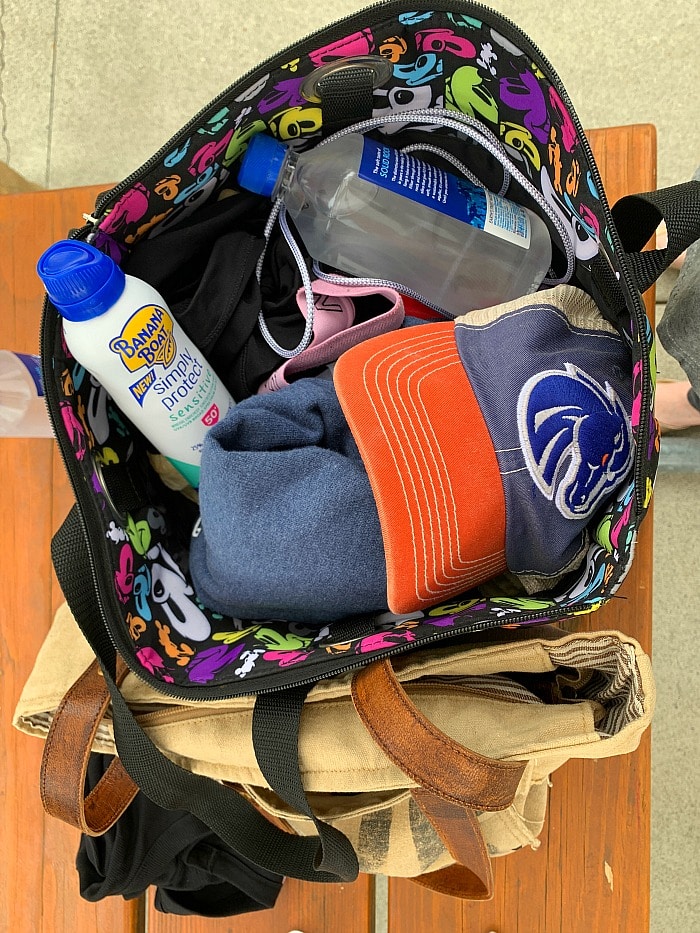 Is Soak City or Raging Waters Better?
Determining whether Soak City or Raging Waters is better depends on personal preferences and what you are looking for in a water park experience. Both parks offer a range of water attractions and have their own unique features. Here are some factors to consider when comparing the two:
Size and Attractions: Raging Waters is generally considered larger than Soak City, with more expansive grounds and a greater number of water slides and attractions. Raging Waters often offers a wider variety of slides, wave pools, lazy rivers, and play areas, which can be appealing for thrill-seekers and visitors seeking a diverse range of water activities.
Location: Soak City is located in Buena Park, adjacent to Knott's Berry Farm, while Raging Waters is situated in San Dimas. The location factor may come into play depending on your proximity to these areas and the convenience of travel.
Theme and Atmosphere: Soak City has a family-friendly atmosphere with a laid-back, Southern California beach theme. Raging Waters, on the other hand, focuses more on a traditional water park experience with a vibrant and energetic atmosphere.
Crowd Size: Crowd sizes can vary depending on the day and time of your visit, as well as factors like holidays and events. It's worth considering the popularity of each park and how crowded you are comfortable with.
Price: Ticket prices, discounts, and promotions can influence your decision. Check the pricing and any available deals for both parks to see which offers the best value for your visit.
It's recommended to review the websites of both water parks, read visitor reviews, and consider your own preferences when making a decision. Ultimately, the "better" water park is subjective and depends on what you prioritize and enjoy in a water park experience.