This Mud Play park area called Huntington Beach Adventure Playground is so much fun. Cheap things to do in Orange County with kids at Adventure Playground.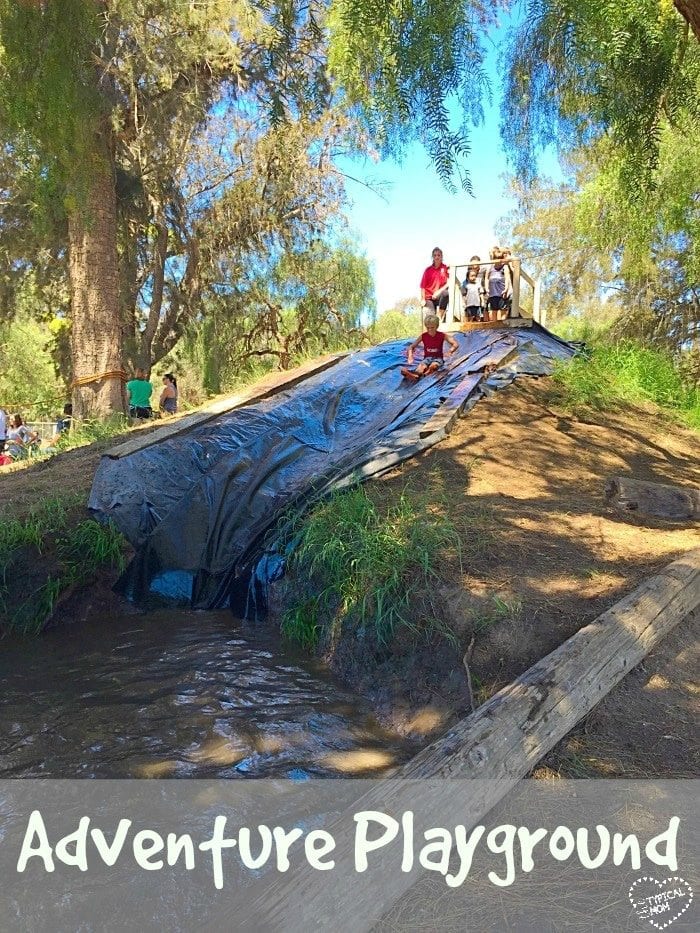 I had heard about the Huntington Beach Adventure Playground for a few years now, but we hadn't made it over there until this Summer. The kids had a BLAST!!! I couldn't even remember the name of it other than it was the mud play place in Huntington Beach. 😉 (originally published 7-15)
Why you should visit Huntington Beach Adventure Playground
I knew it was full of old school fun like we had "back in the day. It turned out to be more fun than I had imagined it to be. Watch our adventure playground video here.
It is right by the Huntington Beach library, who knew??!! A path right across from the entrance of the library led by a long fountain. That brings you to the entrance. There's an arrow on a fence so you don't get lost. 😉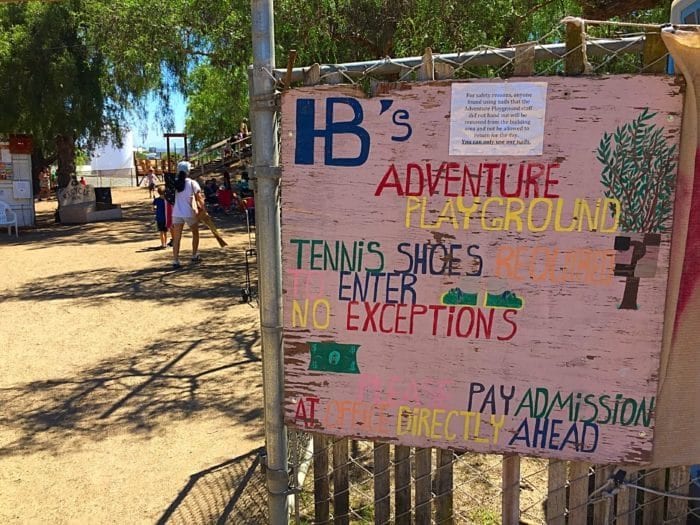 Mud Playground Huntington Beach
It is just $3 per child paid inside their "office". Adults are free! I laughed when we walked in but thought the huge pile of dirty shoes to borrow was genius.
I had them wear their "dirty shoes" so I didn't care whether they got ruined. BUT for those who didn't have any you could borrow a pair to use for the day and return them here before you left….so cool.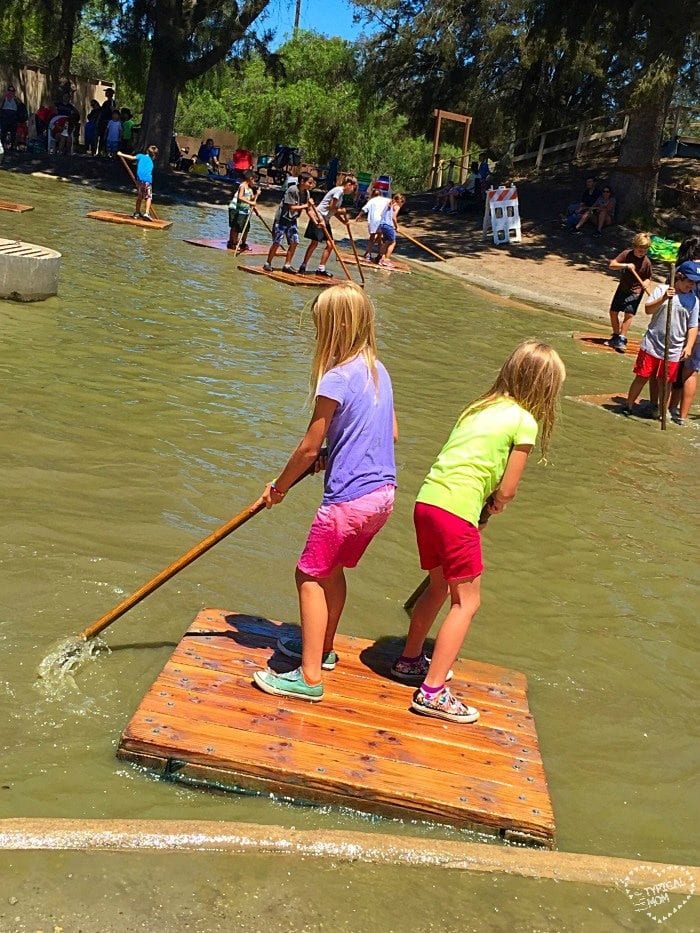 Mud Play Huntington Beach
As we headed inside there were a few fun things to choose from. My kids chose to hop on a raft first!
We went on a Saturday, mid day, and it wasn't busy at all. Several families but less than 5 minutes to wait for a turn on anything there.
Everyone gets 3-5 minutes out there on a raft. They can go with a partner or alone. Then it is someone else's turn to try. Just pick up a stick, find a raft and go!!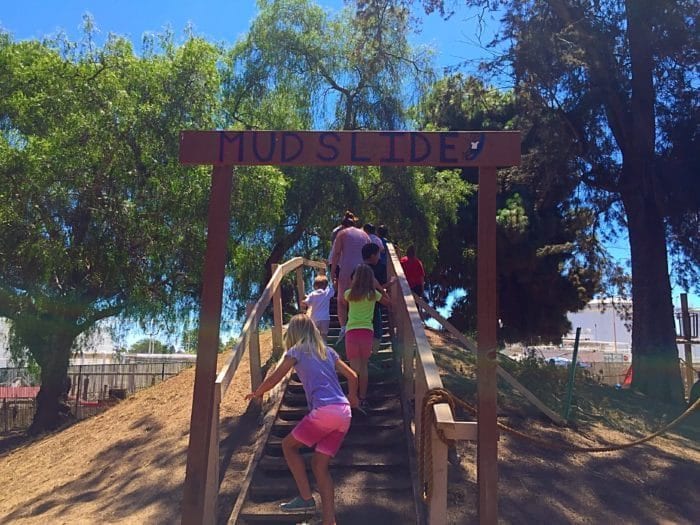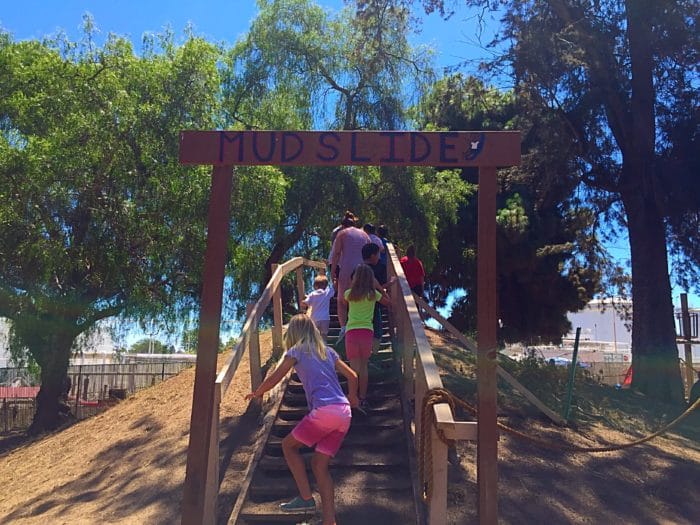 Next to that is a mud slide area where kids can slide down a sort of trash bag lined hill of sorts with a pool.
Well, very muddy water at the bottom. A gal was at the top squirting the hill with a hose to make it slipperier. My girls loved it and reminded me of "slip n slide" from my childhood.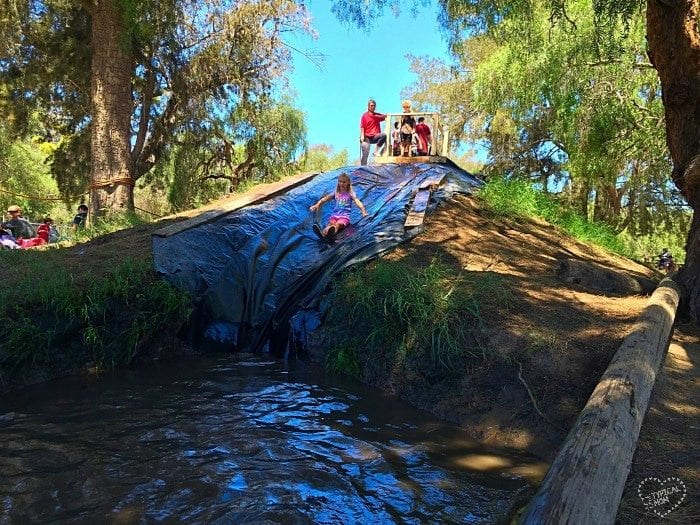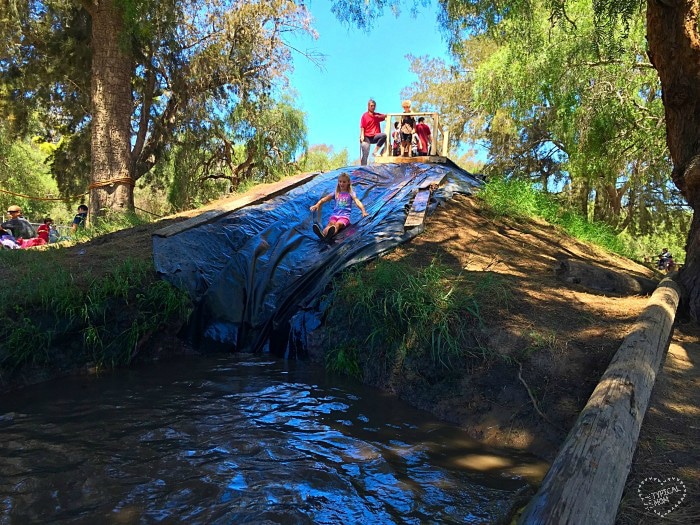 Huntington Beach Mud Park
The third area at Huntington Beach Adventure Playground is for building!! Kids choose a saw or a hammer and nails, choose a makeshift treehouse to work on and start working.
They provide a glove for those using a saw (they are a bit duller than normal), and 2 nails for each child to experiment with building.
We brought a lunch. There are a few picnic benches and benches to sit down too. Many people brought lawn chairs (we will next time) and spent the day there.
I would suggest bringing chairs, a cooler with lunch/drinks, and a change of clothes (even a change of shoes and underwear).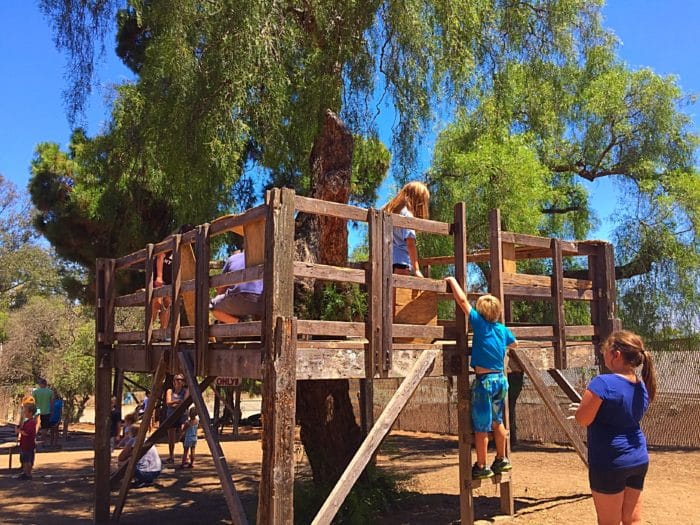 There are changing areas so you can rinse off a bit to help when you're done.
Adventure Playground is located at 7111 Talbert Ave. in Huntington Beach and you will want to park in front of the front entrance to the library there.