Easy Valentine marshmallow candies you can make at home with just a few ingredients. Great little truffle like desserts that are perfect little gifts or treat for a Valentine's Day party!
Valentine's Day is approaching and what's more fun than creating yummy treats to share….and eat ourselves. What goes better with pink chocolate than marshmallow, I can't think of a better combo myself. Here is a recipe for some easy Valentine marshmallow candies you can make at home and they will be a hit at any party you bring them to! (originally published 1/16)
You will need a few items to make these, and they are great to use for other holidays too! The candy mold you will need is a Wilton stack n melt candy mold, or you can find another style here. Personally the silicone molds work best but it if your preference, there are tons of varieties of looks and sizes.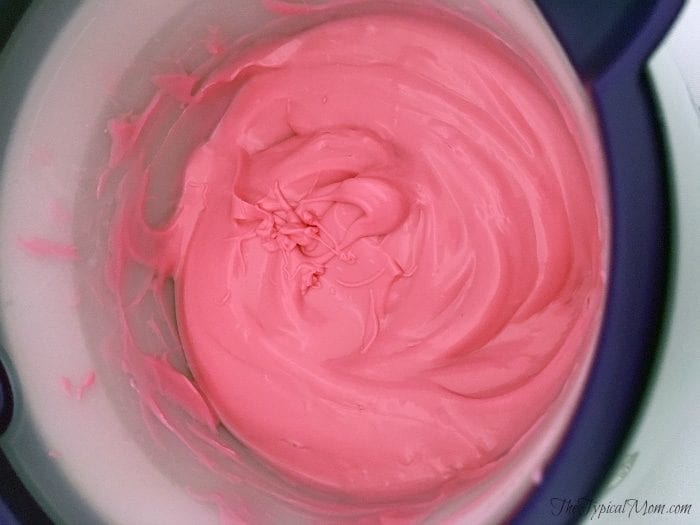 To melt the candy melts I do it the easy way…..use the microwave. I use a disposable bowl to eliminate clean up mess and microwave it for 30 seconds, stir, 30 more seconds, stir, and sometimes an additional 30 until it is smooth and melted.
Using a spoon, slowly pour candy melts into each circular or square cavity. Move the mold from side to side, making sure all sides are coated. Dip out any excess. The goal is to create a thin shell so you can put your marshmallow filling in. Tap mold onto countertop to remove air bubbles. Place mold in freezer for 30 minutes or so so it hardens.
Mix marshmallow creme and cream cheese in a bowl with some food coloring and stir until it if the color you desire. Remove mold from freezer and add marshmallow creme mixture to each hole. Then pour more of your pink chocolate on top of the center filling and remove any excess on sides. Place in freezer again for 30 minutes.
The fancy swirl is automatically made by the mold and you can add a conversation heart or these red hot hearts on the top….or leave them plain. Put a few in a cellophane baggie with a bow and it makes a great Teacher's treat! Easy Valentine marshmallow candies recipe. 😉 If you're looking for other cute Valentine ideas try this dinner idea.
For more great tips, recipes, and crafts please sign up for my free weekly newsletter & follow me on Pinterest!