Easy St. Patrick's Day crafts for kids are here! Lots of rainbow arts and crafts for children of all ages in Preschool Kindergarten and older.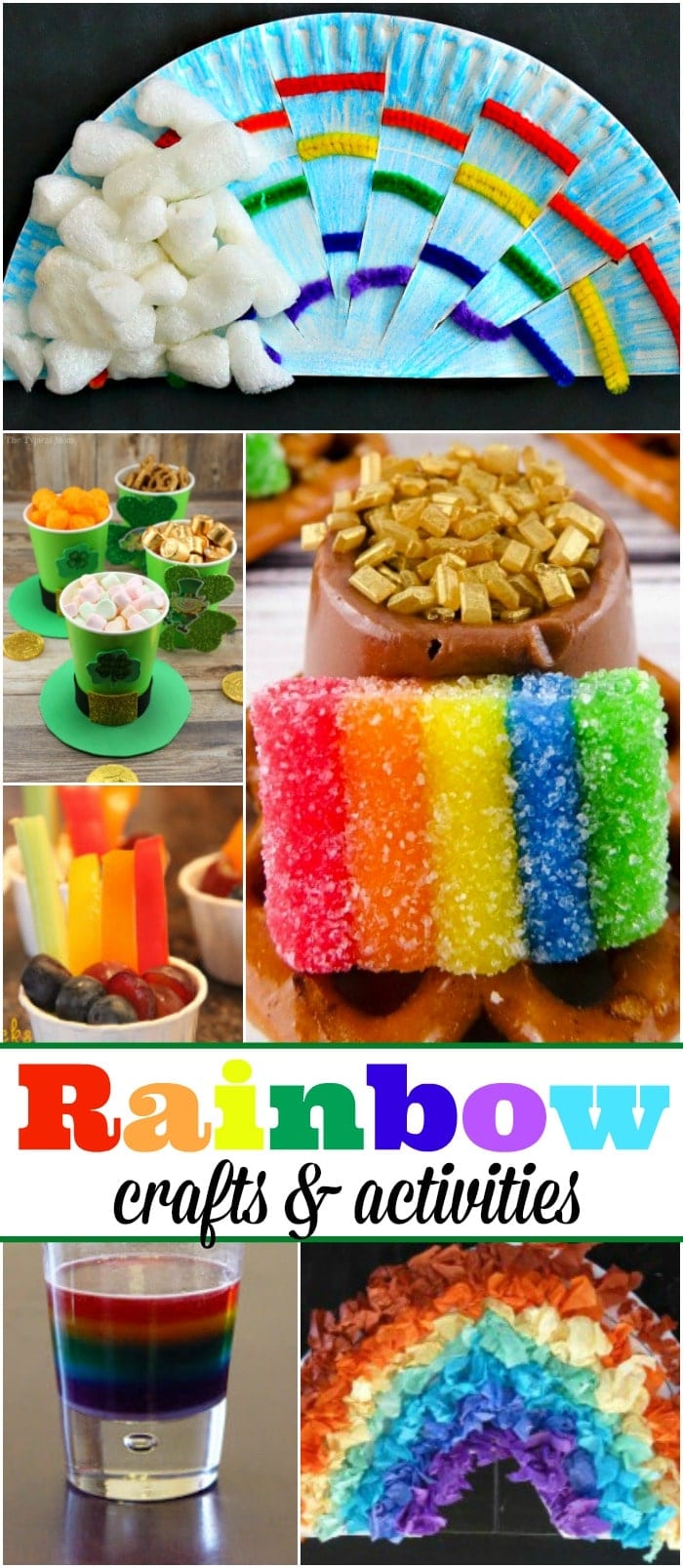 St. Patrick's Day crafts are fun! It's the day of leprechauns and rainbows right…what child doesn't love that??!! We have a few fun rainbow crafts ourselves and a few from bloggers. Whether you're a teacher looking for Preschool crafts or a parent looking for rainbow birthday party ideas, there are plenty of crafts to choose from here. (originally published 1/14, affiliate links present)
Do it Yourself St. Patrick's Day Crafts
1. Rainbow Tray – I used what I had at home to create a healthy array of "treats" that were rainbow themed and used the ROYGBIV colors! It is perfect in an egg crate because it is easy to separate the foods/colors, fun for little hands to see and grab.
It is terrific for this because not only is it free but it has just the right # of slots for the Red, Orange, Yellow, Green, Blue, Purple (let's lump the indigo and violet together shall we for the sake of little ones) color scheme!
You could use other foods for the colors such as blueberries for blue, or green grapes instead of the pickles, but it is also a good time to have them try something new. They are more likely to try it here since it is in a FUN activity tray than maybe another occasion, so take advantage of it. 😉 Use a plastic egg container if you prefer.
2. Rainbow Snack Cups – This creative post is from sugaraunts.com and features little snack/taste cups that are perfect for little fingers! See her entire post here and have a second day of healthy rainbow snacks using this great idea as well. There are plenty of great ideas here to keep you busy with rainbows all week long!
Rainbow St. Patrick's Day Crafts
3. Rainbow Cupcakes – Here are some yummy cupcakes with the rainbow theme from kidsactivitiesblogs.com. Here are the entire directions on how to create them. What a fun and tasty creation!!
4. Rainbow Mobile – This clever mobile uses tissue paper, glue and paper to create a wonderful decoration to enjoy this time of year. Read the full instructions on how to create this rainbow mobile by craftulate.com here……great for the classroom or an at home project!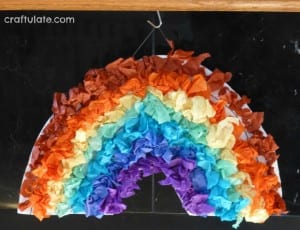 Popsicle Stick St. Patrick's Day Crafts
5. Craft Stick Rainbows – This great activity incorporates crayons, tongue depressors and a lot of imagination (great for preschool age kids). Draw the rainbow, mix them up and it is a puzzle too! See the instructions and 11 other rainbow related activities here at teachpreschool.org, her site is incredible!
6. Rainbow weaving art – This activity is fun, creative and perfect for learning how to weave! Rainbow weaving is perfect for just about any age and creates a fun rainbow you can hang on the wall or hang from the ceiling.
Homemade St. Patrick's Day Crafts
7. Rainbow Marble Paints – Bring out a mat and let the kids get a little Rainbow messy today! Using marbles, different colored paints (tempera paints wash off well, used in schools), a flat bottomed bowl and paper.
This activity is sure to be a hit. See it is it's entirety here from suzyhomeschooler.com, they will love you for it!
8. St. Patrick's Day Treats – How cute are these pots of gold you can eat and are an edible craft kids can make! Perfect activity for you and your kids that doesn't take much work at all and is oh so yummy to eat.
Edible St. Patrick's Day Crafts
9. Rainbows & Science – Here is a fun experiment to create a rainbow right at home! Using just water, cups, food coloring and sugar you can create this great rainbow effect.
Of course you will have to help more with this one). Wemadethat.com has cleverly figured out how to do this and you can see the full set of instructions here, but it would be a really fun way to round up the St. Patrick's Day week!
To top off your week you have to find the gold at the end of the rainbow right??!! Well if you're having trouble finding chocolate gold coins you can grab some right here.
If you prefer plastic gold coins they are here too) it wouldn't be St.Patrick's day without those! I hope you enjoy our St. Patrick's Day crafts and activities.