Here are some cute St. Patrick's Day activities for Kindergarten and elementary students to make! From treats to rainbow crafts fit for any little leprechaun these are easy to make and don't cost a lot of money either. Let us know which rainbow craft is your favorite!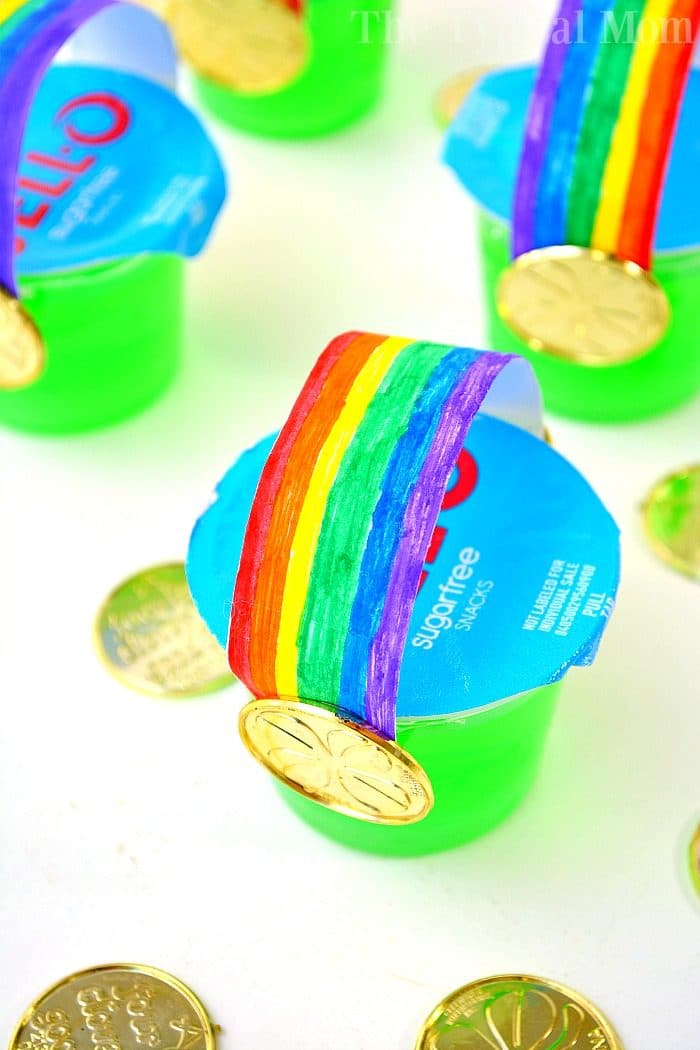 When March rolls around it is fun to come up with rainbow crafts for the holiday! Well, rainbows are just fun any time of year, but pair them with a cute little leprechaun and now that is fun!! All ages can enjoy this tasty Jello treat but we're focusing on St. Patrick's Day activities for Kindergarten students in the particular post. I will share how you can make these cute rainbow pots of gold and give you other ideas below. (affiliate links present, originally published 2/18)
St. Patrick's Day craft
Green jello cups – find them by the pudding (fridge section) at the grocery store, or make green cupcakes and use these gold cupcake liners and attach to sides
Glue
Paper
Markers or colored pencils or crayons – use what you have on hand really
Scissors
Heavy packing tape
If you are a teacher this is a great little craft because they can make it in a center with a parent helper, and then take it home as a little treat. Many times you can find sugar-free cups as well if you'd rather buy those.
If you are buying for a larger class you may need to visit a few stores, or start early and grab all the green Jello cups your store has. Then the next week grab a few more sets until you have enough.
When I was a teacher I taught Kindergarten for several years myself and I loved making crafts during the holidays for my students. St. Patrick's Day was fun. Every year I would get a tiny pair of shoes. I'd spray painted them bright green, sprinkled them with glitter and let them dry.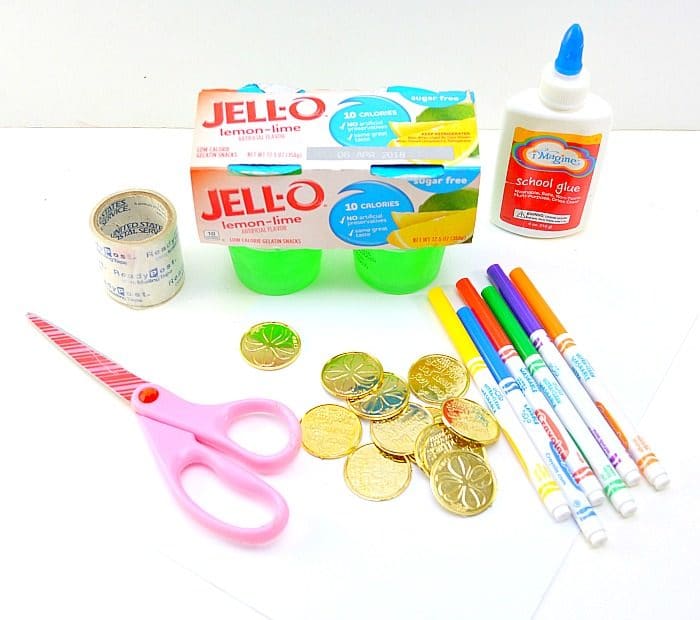 Kindergarten St. Patricks Day
I bought different types of glitter and brought all of it into my classroom. I would make the room in disarray with chairs everywhere, glitter strewn about, and coins here and there.
It would create a trail to the other exit door in the room with the shoes at the end of the coin trail. As if the leprechaun "was scared out of his shoes when we entered the room!" Seriously…it was so fun, I miss those days.
If you're not a teacher but a parent throwing a rainbow party or otherwise this is just fun to make with your kids at home. It doesn't cost a lot and since there is no hot glue gun or anything required it is perfect for Preschool children or even toddlers as well. Of course a perfect St. Patrick's Day activities for Kindergarten too.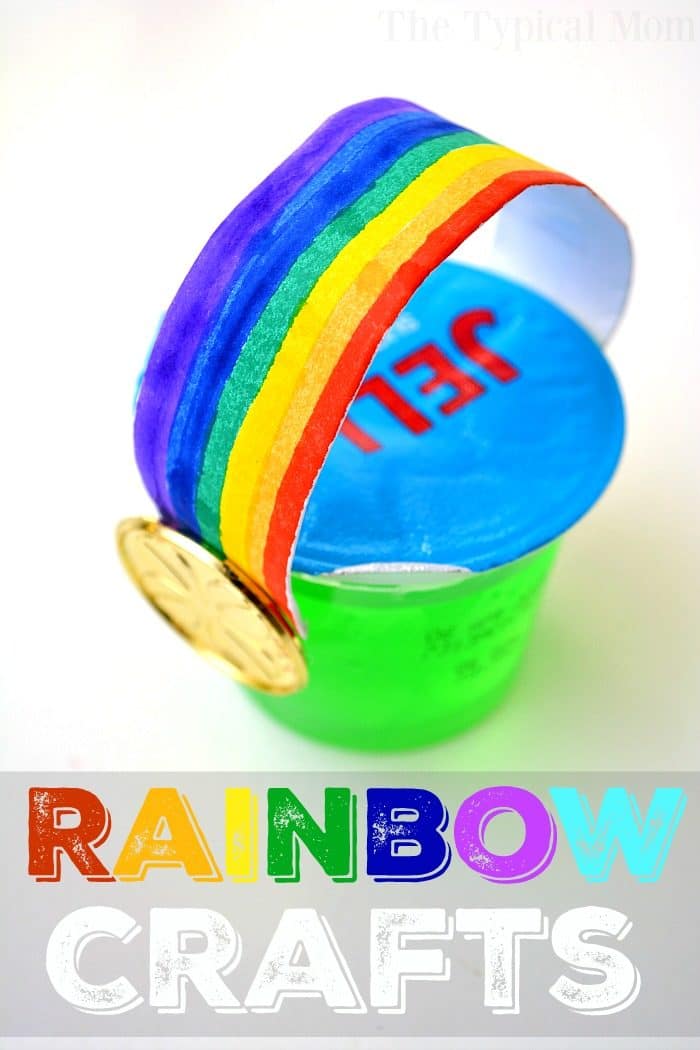 St. Patricks Day Activities
If your kids are at the latter stages of the year they can likely complete our St Patricks Day Color by Number sheets too. Here's how you make them:
Begin by cutting a white piece of paper in half length wise.
Fold each end of one half of the paper into the center of itself lengthwise.
Fold the entire paper over again lengthwise and secure closed with some clear tape (basically you're making a thick piece for the rainbow/handle).
Use markers to color a rainbow pattern on the front of this folded strip of paper where there is no tape.
Cut the strip of colored paper in half.
Use one half of the colored strip of paper, and glue one side to each side of a green Jello snack cup.
Glue a plastic gold coin to the end of each side of the rainbow you attached to the snack cup.
Looking for other fun St. Patrick's Day Activities for Kindergarten age kids?
For more easy recipes, tips and free printables please LIKE The Typical Mom on Facebook and follow me on Pinterest! You can also sign up for my free weekly newsletter which is packed with goodies I know you'll love. 😉