The LeapFrog Word Whammer spelling practice toy is a fun way for kids to practice their skills and have fun at the same time. Whammer Word is great for all.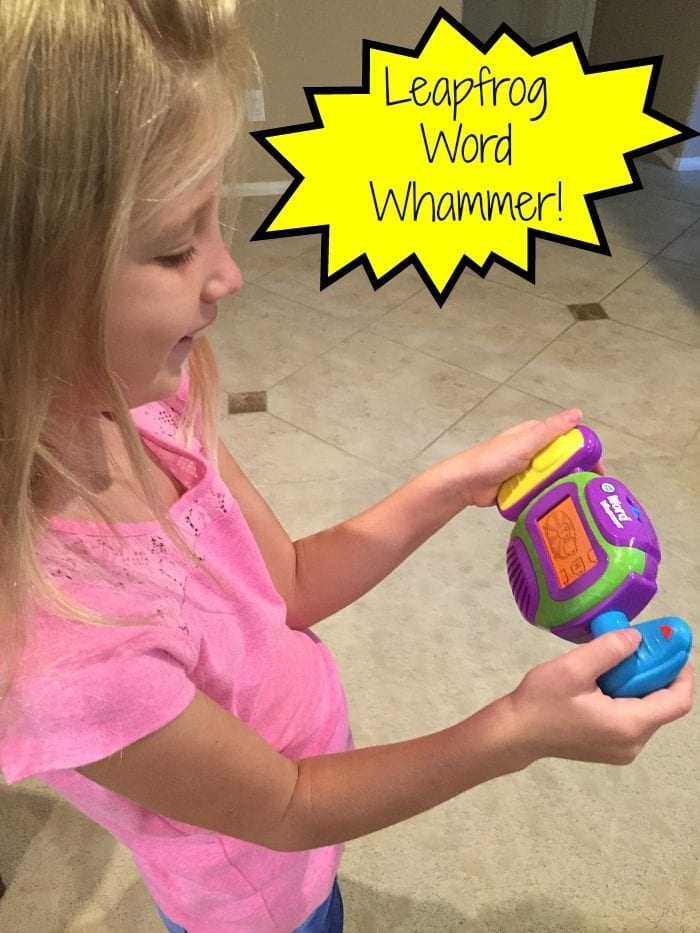 Ok so I LOVE LeapFrog and all the great learning products and games they offer….my kids agree!! I was lucky enough to be chosen as a #leapfrogmom recently and got to try out some of their fantastic learning games including their LeapPad Platinum, Imagicards, and their Leapfrog Word Whammer here. Special thanks goes out to LeapFrog® for sponsoring these posts so we could share our love for their products with all of you. 😉
Leapfrog Spelling Game
From learning their letters and sounds while watching the Letter Factory, to playing learning games on their Leapsters, to now enjoying their new LeapFrog Word Whammer™….they never get tired of all that LeapFrog® has to offer (and I appreciate that they have such a variety that makes learning FUN).
Spelling Games for Kids
When my 7 year old got her hands on the LeapFrog Word Whammer she played with it for quite some time right away.
She is in the 2nd grade. Even though this learning toy is primarily aimed at children getting ready to start Kindergarten, she still had fun with it.
She loved being able to spell all the words that she was challenged with. You can never get too much practice with spelling games as far as I'm concerned I say. There are 3 action-packed games and 5 learning levels that adapt to each child as they play.
LeapFrog Whammer Review
This is how she played it the majority of the time because "it's a spelling steering wheel Mom"! Super cute. 😉
The LeapFrog Whammer Word toy has more than 100 words to spell. It challenges them to match upper and lowercase letters. They spin the handle to bump a car into the right answer. Now that's fun.
Matching letters to the sounds they make is made into a game involving teacups. A sound is given. Then they twist the handle fast to spin the teacup into the correct letter that makes that sound.
Like I said, toys like LeapFrog number lovin oven helped all 3 of my girls learn their letter/sounds before they even hit Kindergarten. Since there are 5 levels she had fun moving thru them conquering each one. The positive affirmations she got once she completed each level/game were great.