Review of Leapfrog's Number Lovin' Oven is here with pictures and a video showing you all it's learning functions.
We were lucky enough to have an opportunity to try LeapFrog's Number Lovin' Oven this month and would love to show you all that it does! I am a Leapfrog Mom Ambassador and have been provided these items in order to share them with you, we thank them for choosing our family this year to be a part of this program.
My kids were overjoyed when a big box arrived that said it came from LeapFrog!! I have three girls. My oldest being 14, and all 3 of them have grown up with several learning toys from this amazing company.
We couldn't wait to see what new goodies were inside! First was the new EPIC tablet which they love, next they found Scout's Build & Discover Tool Set.
The last thing that they uncovered was this fun Number Lovin' Oven. Since it was bedtime we couldn't really dive in. She wanted to show you (herself) how it worked the next day. 😉
It is really cute! My girls are always playing pretend with their dolls. This gives them an opportunity to have their animals and figures "bake with them" too!
It is designed for ages 2 and up but at 7 she still had/has a lot of fun with it. It not only talks and sings but it teaches number skills through 30+ songs and phrases as well.
The pizza that comes with it is a perfect opportunity to introduce; parts of a whole, counting, and the idea of sharing.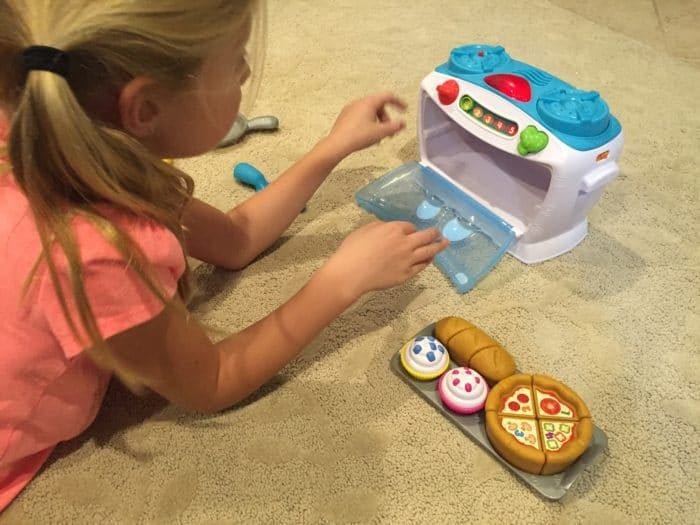 It comes with several fun baking pieces and functions such as; the Sizzzzzzle of the stove top, the frying pan on the top, and counting down until the food is done.
It all fits conveniently inside so it's easy to transport. Bring with you too, which is helpful when going to Grandma's.
Designed to prepare children for Preschool, it still offers lots of fun for kids well beyond that age too. Great learning toys are always offered by LeapFrog and this is a great new addition.