Our LeapFrog Epic tablet review will share with you why we love it. It is a great learning tablet with Wi fi in it that is great for kids. The best tablet for kids out there with educational games in it.
We are truly a Leapfrog family! We started with their Letter Factory DVD series, have had several Leapsters, a LeapPad, now have a LeapPad Platinum. Recently were able to try the newest LeapFrog Epic™! We thank LeapFrog for choosing us a LeapFrog home and gifting us with this to review. (affiliate links present, originally published 10/15)
LeapFrog Epic Tablet Review
With every new learning product and game(s) LeapFrog designs we are always amazed at how fun they are!
Take a look at the tablet allows her to bring a new town to life. Using various art styles and a drag and drop feature she can create the perfect city during the day. Then she's able to switch it to night as well.
You can create up to 3 different profiles on the LeapFrog Epic which is great so each one of my girls can keep track of their own progress.
This allows them to each have "their own" account which is a must when you have siblings, and a bit of rivalry at times.
LeapFrog Tablet
There are tons of kid-favorite apps such as Fruit Ninja Academy (one of their favorites), Math Master, and there are NO in-app purchases. This means you're guaranteed that no money will be spent unless you input your password and allow that.
This learning tablet provides access to kid-safe content and has:

a 7″ LCD screen
Wi-Fi
a camera
stylus
20+ apps included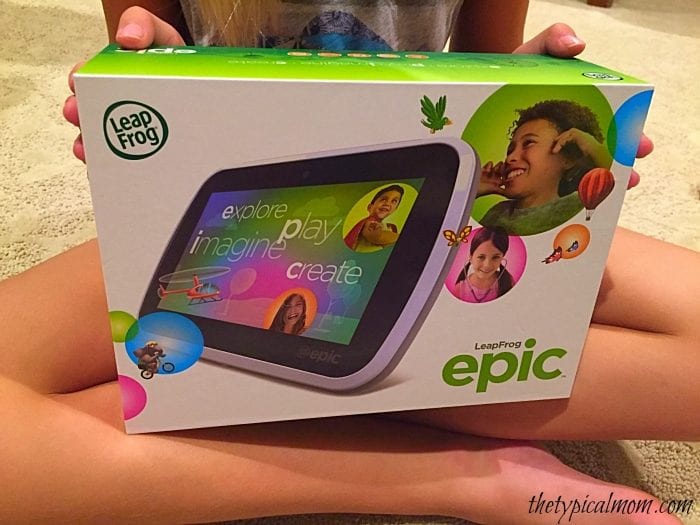 Educational Tablet for Kids
Want to find other great educational games for your kids?
Mine love their LeapFrog LeapTV system that is like a video game but each one has learning to it. When they were younger we started with this Scout's build and discover tool set