How to gift wine bottles in a scarf makes this a fun and useful wine gift idea! Step by step instructions of how to wrap 2 bottles in a scarf to create a unique gift.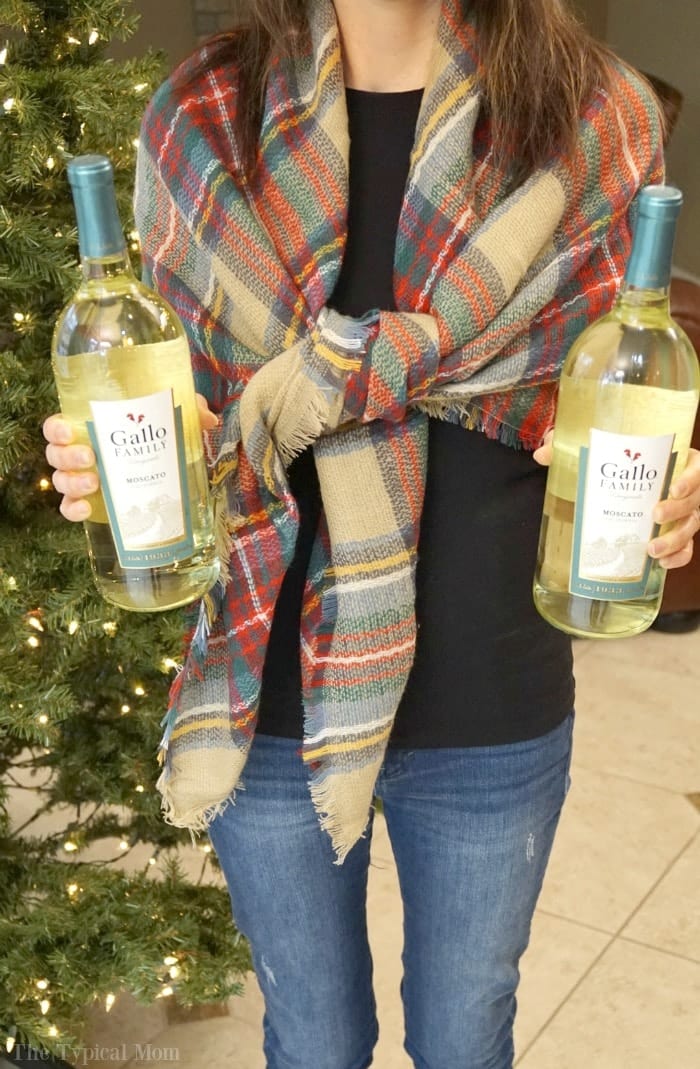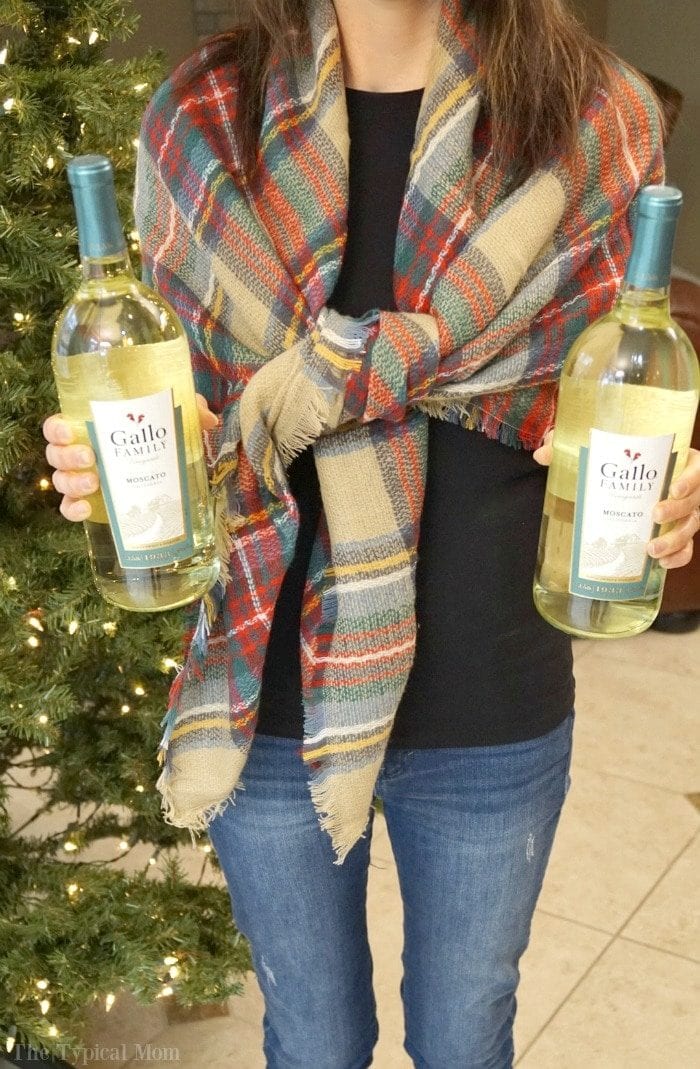 This is a great way to gift wine. You not only give that special person two bottles of wine, but a great scarf to wear throughout the year too! Do you know how to gift wine bottles in a scarf?? This is so fun!! I got this unique gift wrapping one year and when my friend showed me how I had to share it. Everyone will think you're a genius when they see it, seriously. Let me show you how it's done. This is a sponsored post written by me on behalf of Gallo Family Vineyards. (affiliate link present, originally posted 11/16)
Wrapping wine like this is easy, all you need are three things (four if you want a gift tag).
Here's a step by step of how to gift wine bottles in a scarf.

Lay 2 bottles of wine bottom to bottom in the middle of the scarf near one end with 2″ or so in between them.
Roll them in the scarf until you reach the other end.
Grab both ends and pull up sitting the wine bottles flat on the table.
Tie the 2 ends of the scarf together at the top.
Add a small card or tag to the top.
Carry it like a bag to your party.
Gift away!
Here's a quick tutorial!
I know it's a hectic time of year and shopping isn't always top on your list when you're invited to a Christmas party or birthday, that's why this idea comes in super handy.
There are SO many cute scarves out there, and they're perfect to dress up any outfit no matter what season it is. This one is perfect for winter time but a lighter option is great to pair with a blouse for work too, so this wine gifting technique can really be used year round!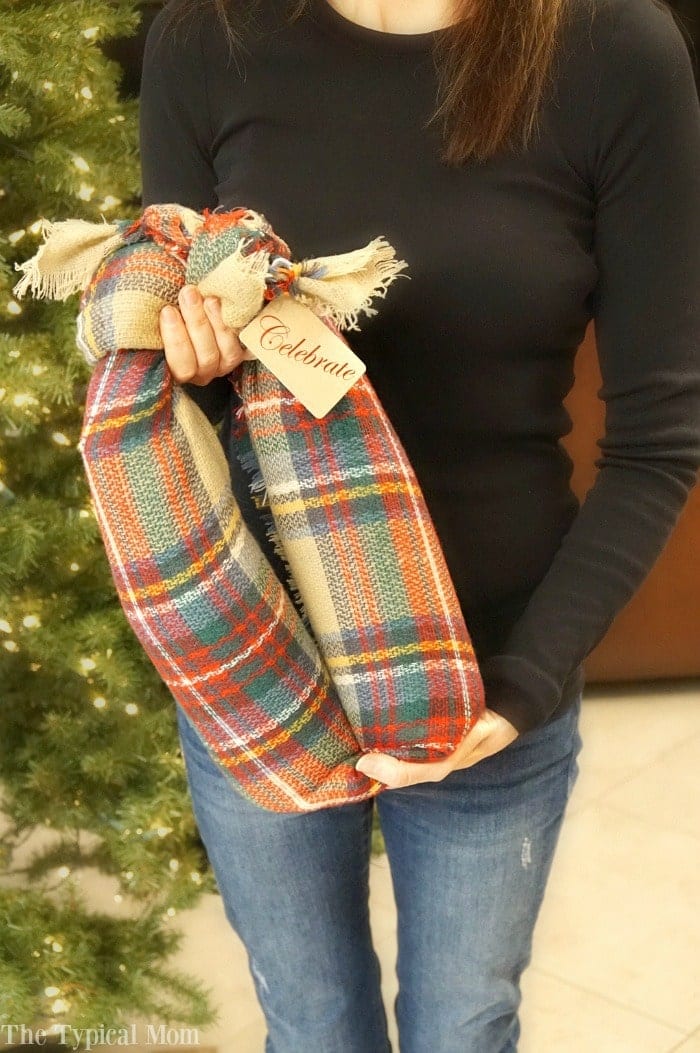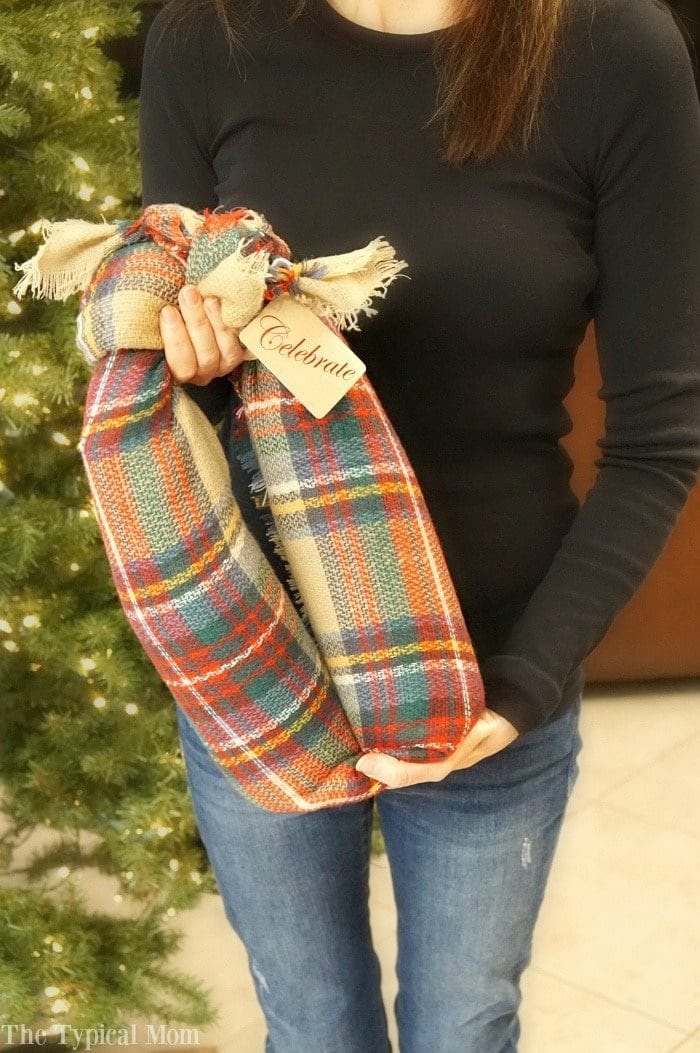 Choose your favorite varieties of Gallo Family Vineyards wine (my favorite is the Moscato), a cute scarf, and you're set. Find out more info and new varieties coming out on Gallo Family Vineyards Facebook and enjoy!