This is how to print using freezer paper so you can customize anything right at home. Create personalized t shirts, wood signs, pillows and more using freezer paper and your printer. Here are step by step instructions of how you can do it too and make gifts everyone will love.
I know…you're probably wondering what the heck I am talking about when when you see how to print using freezer paper. Using your printer, freezer paper, and a hard surface you can transfer anything you print out on to a piece of cloth or even wood! Here is how we did it and a roundup of other clever ways from other bloggers at the bottom of this post too! (originally published 9/15, affiliate links present)
Here is step by step directions and pictures showing you how to do it right at home (we used a wood cutting board).
This is how to print using freezer paper
Let me show you how easy it is.

The first thing you need to do is find a picture you want on the computer, or create one in Word.
Once you have the image and/or wording done you need to do a 3D rotation option of 180 degrees on the image. That way when it is put on it goes on the correct direction.
If you don't know how to do that just google the instructions (since different operating systems and computers are different just find how to do it on yours) but if you have a Mac you can do it in the printing stage by clicking this button.

Now get your freezer paper ready ( if you can't find it locally you can order some freezer paper here) ready.
You want to cut the freezer paper sheets to the same size as a regular printer paper sheet. Use a razor or scissors to do this, if it's slightly larger it will get clogged.
You need it to be on a harder surface so we are going to use a glue stick and glue the shiny side UP and glue it on to a piece of paper.
Then you will need to feed your piece of freezer paper into your printer. Feed it thru so that it prints on the shiny side of the freezer paper. Printing on the wrong side won't let it transfer on to your piece of fabric.

You must use an inkjet printer!
A laser printer will not work.

Allow the ink to dry now.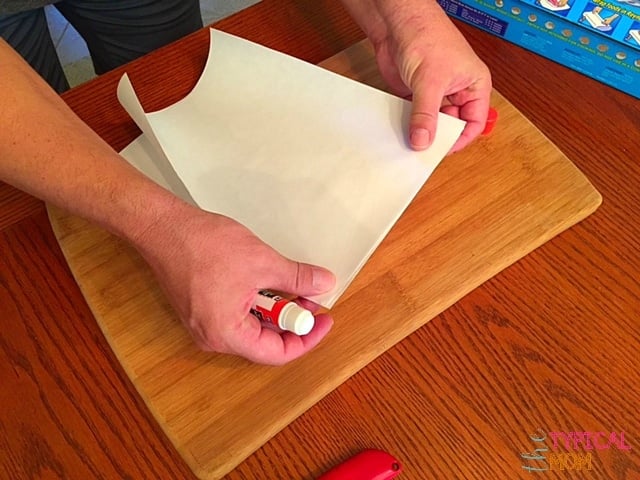 The print will come out on your freezer paper, now you need to find a piece of cloth, pillow, t shirt or cutting board similar to what we used. Use whatever you want it to transfer on to.
Cut off loose threads on any fabric and freezer paper should be ready with the design from your ink jet printer on it.
Find something hard and flat like a credit card, side of a school type eraser, etc… These will allow you to scrape the image off.
It will come out of your printer looking like this.
Yes it is backwards on your paper but that is correct.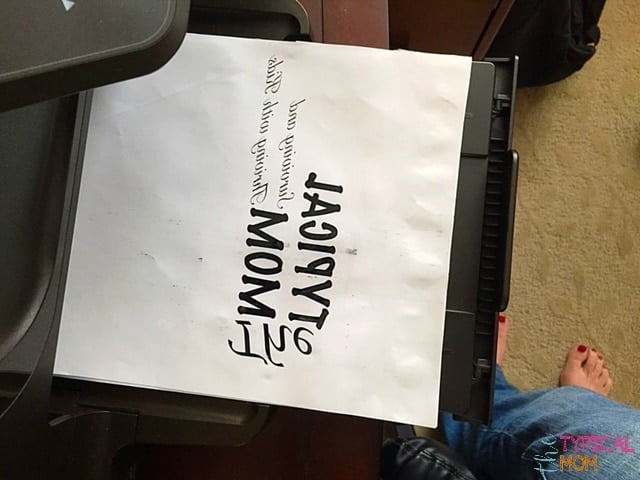 Scrape from the top to the bottom and every inch of the design so that it rubs off on to your desired piece.
Some say a hot iron transfers it too but I haven't done that
Once you are done you will have a customized piece that you can give away or keep for yourself. 😉
It works on wood as well as you can see below, or material like the pillow.
You can use the freezer paper design multiple times or until the ink wears out too.
Make sure you get it really scraped off before lifting up your freezer paper to ensure all of your wording/picture comes off.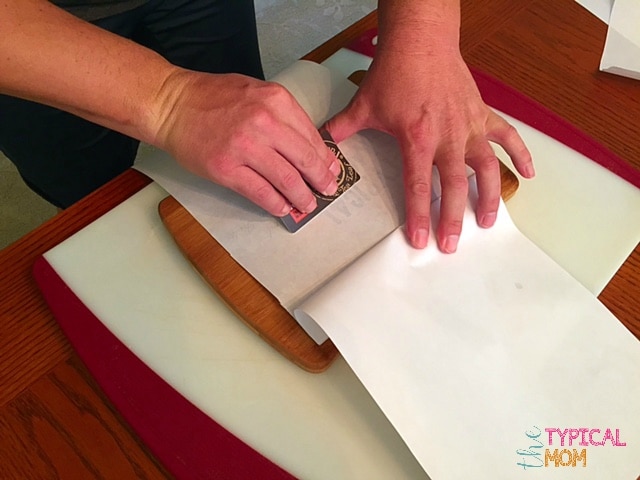 Fun DIY project right. Great to customize a cutting board like this that you could use as a gift or a project for a Boy or Girl scout troop too….just perfect it beforehand.
Inexpensive way to jazz up things and make them customized.
You can have a name printed or later I added flowers around The Typical Mom to embellish it…..use your creativity. 😉
As for materials I found it harder to do this on cotton, seems to run a bit. I would use something a bit stiffer.
Customizing a plain table runner or piece of material that you later turn into or recover a pillow that isn't a cotton t-shirt like material works best.
Here is a great video from Easy Sewing for Beginners on how she prints on fabric using freezer paper, great demonstration.
How to print using freezer paper
Here are a few other great ways on how to print using freezer paper from other crafters!
If you loved finding out how to print using freezer paper please LIKE The Typical Mom on Facebook, sign up for my newsletter, and follow me on Pinterest!