We were lucky enough to have an opportunity to try Scout's build and discover tool set by Leapfrog this month. Let us show you all that it does! I am a LeapFrog Mom Ambassador and have been provided these items in order to share them with you. We thank them for choosing our family this year to be a part of this program.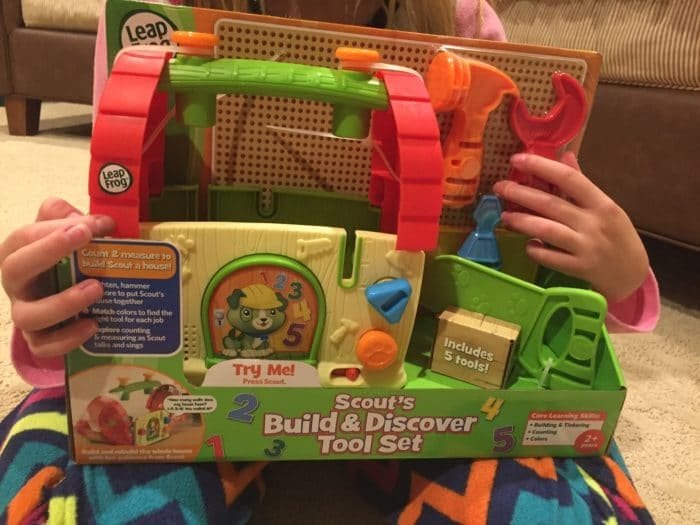 I received the box late in the evening and they were excited to dig right in! One item was their new EPIC tablet which we love, another was LeapFrog's Number Lovin' Oven, and the last item was Scout's Build & Discover Tool Set.
Just because I have all girls doesn't mean they aren't interested in taking apart. Hammering, and putting back together just about everything (believe me) made them so excited to see what this did! She wanted to show you in her own words the next day. 😉
It is designed for toddlers ages 2 years and up, but as you can see at 8 she still finds it pretty fun! It includes 5 tools and playful guidance from their puppy pal Sout!
Learning about counting, color matching and more it is integrated with lots of songs, phrases and build-along fun that kids of all ages would enjoy.
The best part about this toy is how easily it comes completely apart. You know how kids love to disassemble things. Putting it back together is pretty simple as you can see in the video. However it is a great sense of accomplishment for little ones knowing they can "fix" it themselves!
If you're looking for a learning toy I've always recommended anything in the LeapFrog line of toys, but for little ones Scout's build and discover tool set is a great addition to their "learning family".