Here's your free February cleaning checklist to keep you organized and purge your house! Focusing on one area in your home each month is key to your overall success. Here is a deep cleaning house checklist for this month as well as a link to my free monthly cleaning schedule ebook too.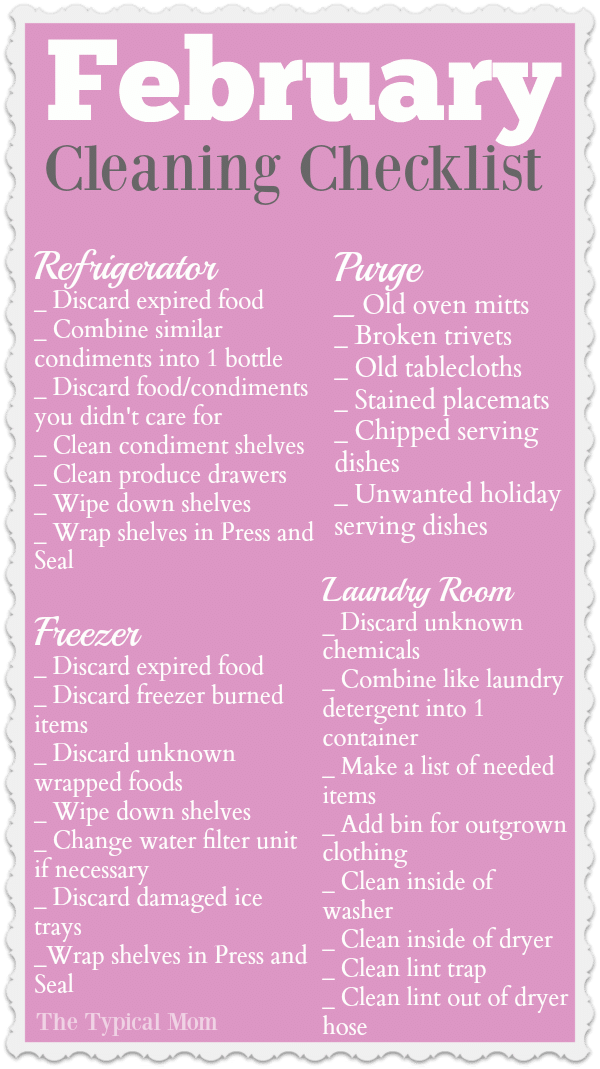 I decided to do a February cleaning checklist this month since last month's was so popular! I hope you enjoy this free printable cleaning list. You can find all the other organization printables for each month here too so you can get ahead. 😉 (originally published 1/17, affiliate links present)
What Should be Cleaned Monthly
I created a January purge checklist a few weeks ago and it was so successful, people asked me to create others for each month throughout the year,
I focus on one room / area this month to really dig in deep to clean and purge those areas.
Next month I will focus on another room and/or area so it's broken down a bit and may include some things you might forget otherwise.
They can all be found on my organization printables tab to print out
I focused on cleaning the kitchen in February, mainly the fridge/freezer and a bit in the laundry room as well.
A bit of purging is always useful as well. Getting rid of the outdated, stained, and damaged things around the house is a must.
I'm sure I am not the only one who gets overwhelmed and does not have a good time scrubbing everything down.
Sometimes having a list of things to do and check off when done is helpful as well as cathartic with all those checks meaning "done"!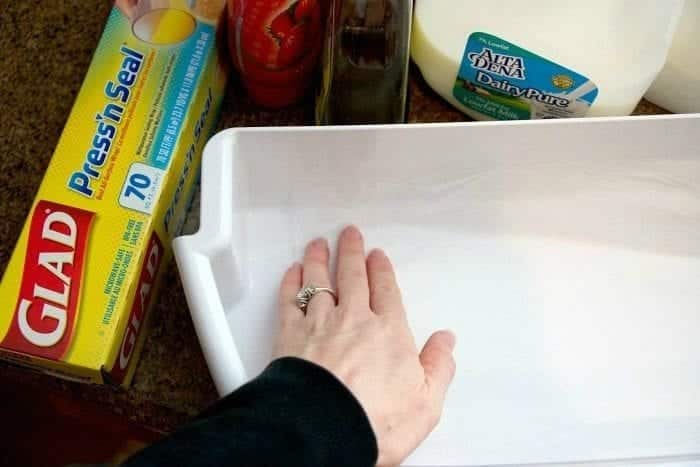 February Cleaning checklist
Wrap shelves in Press N Seal – If you've never done this it is helpful! After you clean and dry your shelves use a sheet of Press N Seal to cover the top.

If your shelf will allow you to wrap the whole thing and still slide it back in, do that. Make sure it sticks flat without air pockets and around the sides.
This will make it nice especially if there are spills. Just empty the shelf, pull the Press N Seal wrap off, replace, and you can eliminate or really prolong scrubbing the shelf again!
Clean the shelves on the inside of your fridge door. Then put it on the bottom of those too so milk spillage etc…
Cleaning your refrigerator – Take this time to do an extensive refrigerator clean out using our checklist to purge purge purge!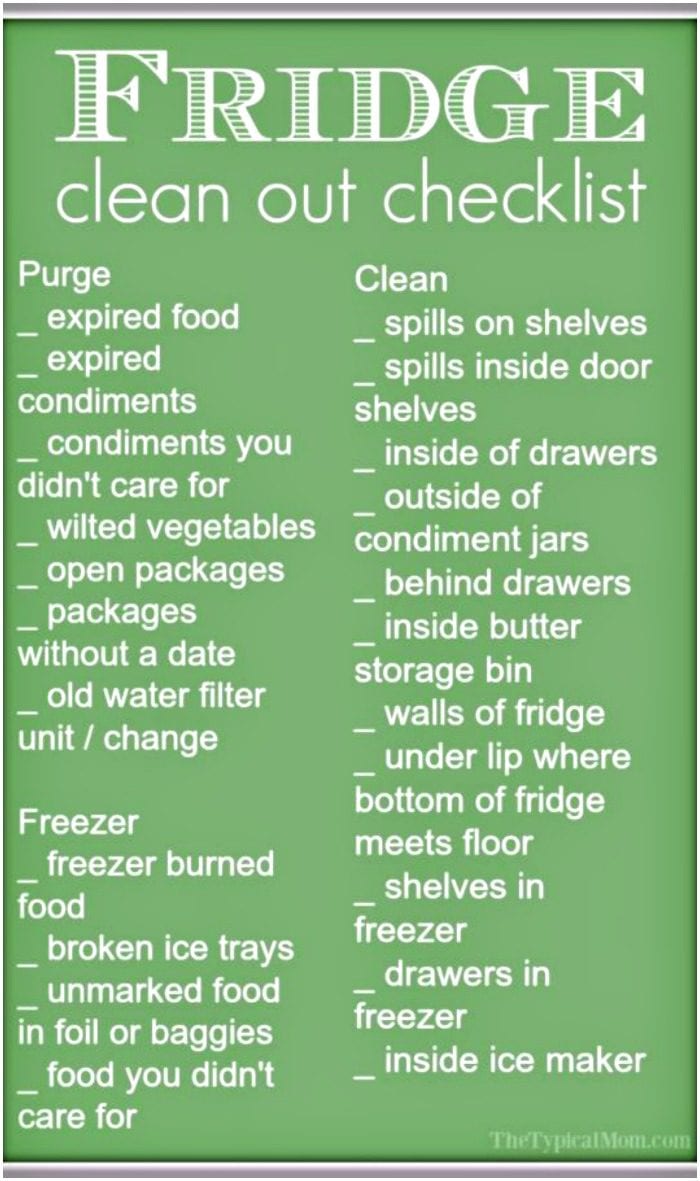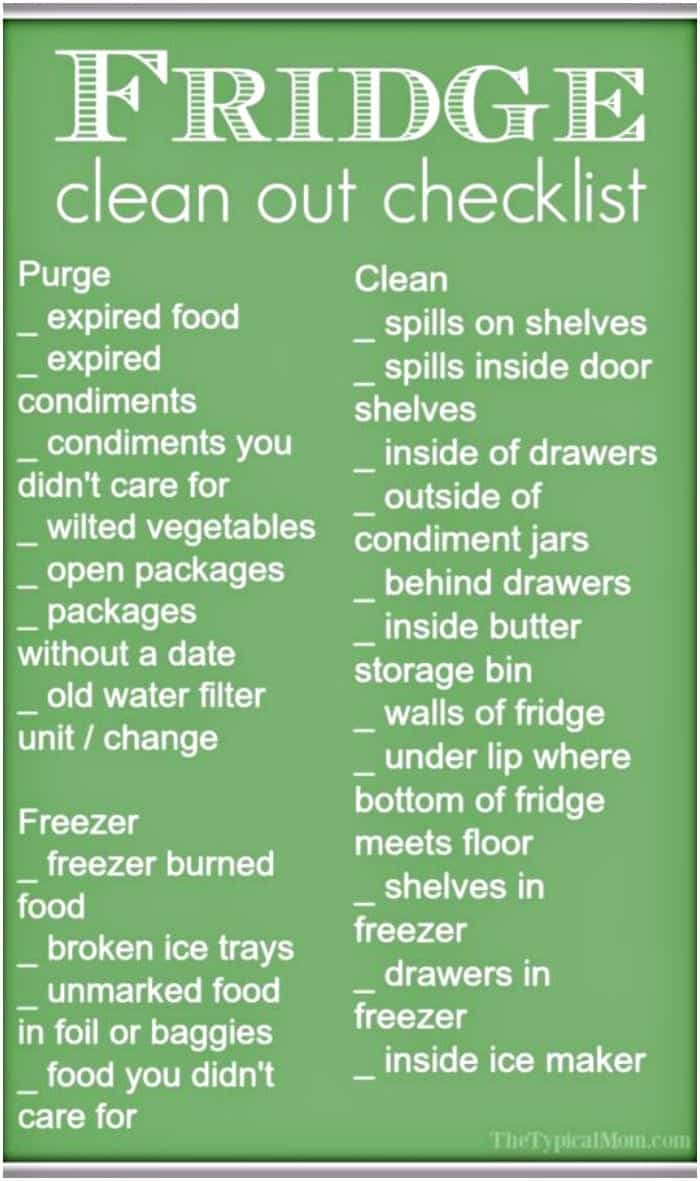 What Should a Cleaning Checklist Include
A box you can check off so it keeps you on track. Categories that cover each area you want to tackle and specific areas to clean during that month.
Clean lint out of dryer hose – You should always empty the lint trap inside of your dryer with every load. The hose in the back needs to be emptied too though!

Did you know you could start a fire if that hose got completely filled will dryer lint? It's actually pretty easy to clean out.
My husband used our leaf blower to clear the hose out and it was amazing how much came out! Just detach the dryer hose from the back of the dryer and blow the air in. The lint will fly out of the dryer vent on the side of your house.
Then just clean it up from there and discard. Good to do at least once a year.
Here's a video explaining the ——-> best way to clean your dryer vent: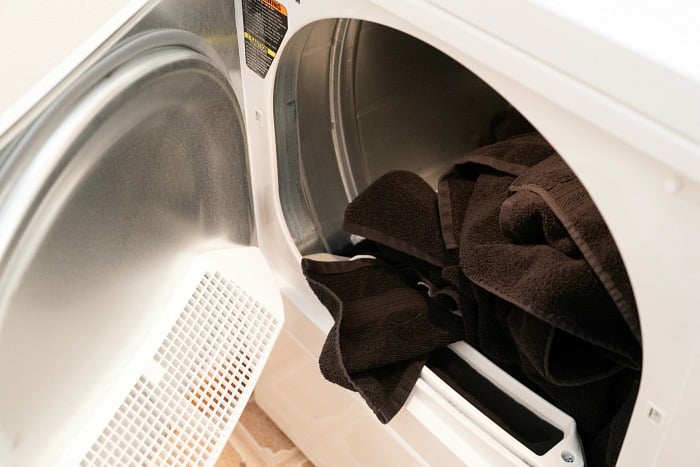 Combine like laundry detergent – Of course never mix chemicals, I'm talking about combining half boxes of dry Tide detergent etc..into 1 container.
Cleaning the inside of your washing machine

– Always good to do a few times a year. You can use this washing machine cleaner, pretty inexpensive and comes with several which will last you a while.
Keep an extra laundry bin in the laundry room – When clothing that you know no longer fits your children comes out of the dryer throw it in this basket.
When it is full, empty it into a garbage bag and drop it off at your local donation center.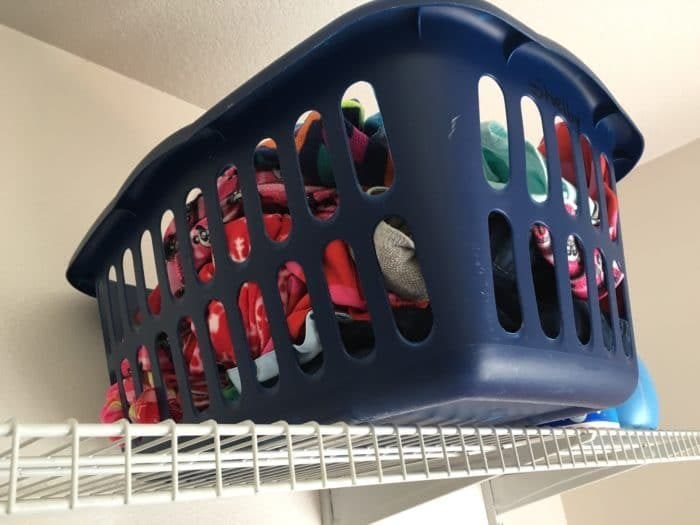 ** If you missed my other deep cleaning house checklist printables here's a link to my monthly cleaning schedule ebook with ALL of them for each month of the year.
February cleaning checklist
Time needed: 5 minutes
February Cleaning Checklist
Print

If you'd like the color version you see above you can click on this cleaning checklist and print it with the icon at the top right. If you'd like a black and white version of this February cleaning printable I offer that as well.

Save

If you want to use it over and over again, laminate the sheet and use a wet erase marker so you can wipe it off when done.
Want to see a few of my favorite things that I am totally obsessed with?? Take a peek and see how many you might already have…twinsies!
Looking for more easy family recipes and tips? LIKE The Typical Mom Facebook page?
Then sign up for my free newsletter, and follow me on Pinterest! 😉
***** If you LOVED this recipe give it 5 Stars below and let everyone know what you thought about it. 😉