Here's an easy cake mix crinkle cookies recipe you can make for any occasion. With bright colors they're great Christmas cookies that come out moist every time.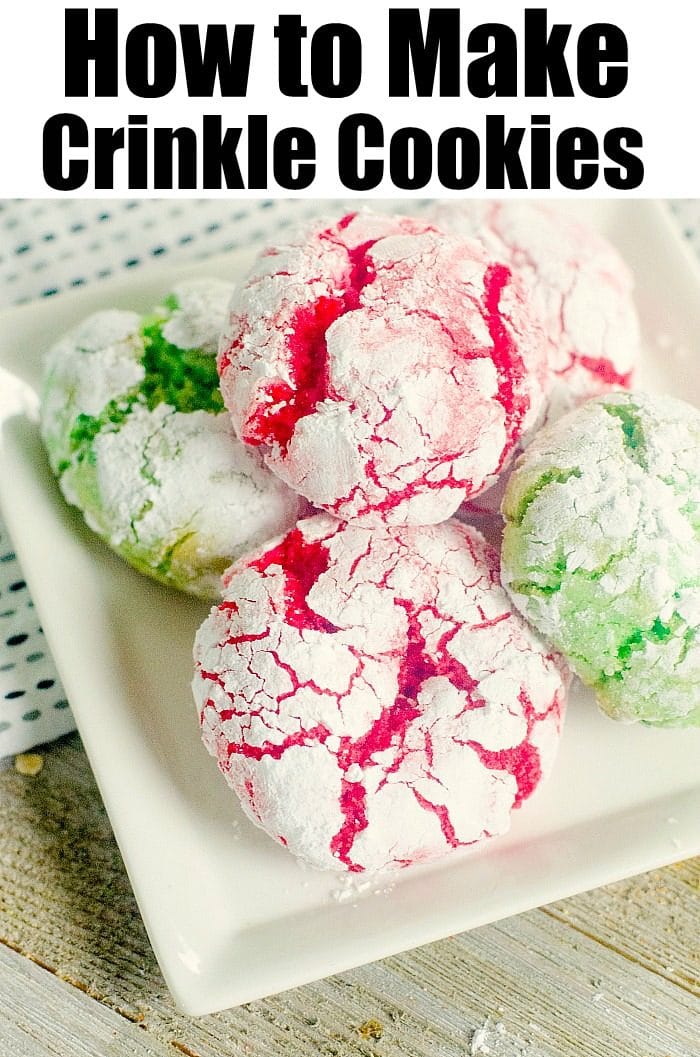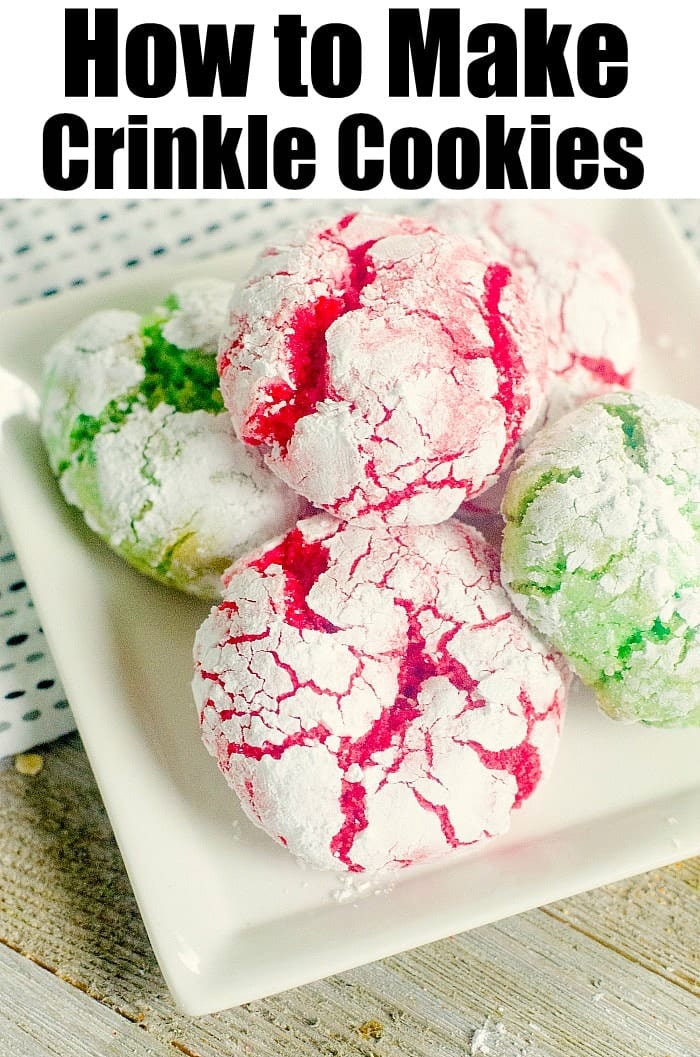 Looking for some fun Christmas cookies to make this year that scream "it's the holidays!" Well this crinkle cookie recipe is a boxed cake mix recipe to that's perfect for any holiday. You can use any colors that fit the occasion, or make chocolate crinkle cookies too. (originally published 11/19, affiliate links present)
Easy Cake Mix Crinkle Cookies
They're fun right??!! Super moist too when they pop out of the oven, and stay that way for days after too. Red and green were used this time because it's almost December but swap them out for red and blue for the 4th of July and they were be a hit at your party.
All you need is a box of your favorite flavor and color of cake mix and a few other ingredients. White works best if you are adding colors of course. Overall a really cheap dessert that will surely impress your guests.
Christmas Crinkle Cookies
If you've never made cookies made with cake mix they are really easy and turn out super soft. We will share a homemade version below too.
Another reason I love using cake mix as a base for a variety of recipes is that it minimizes the amount of ingredients you need to have.
Unlike our homemade lemon crinkle cookie recipe that has many items necessary you only need a few here.
This makes it convenient in case you need a last minute holiday dessert you know you'll have everything in the cupboard ready to whip together!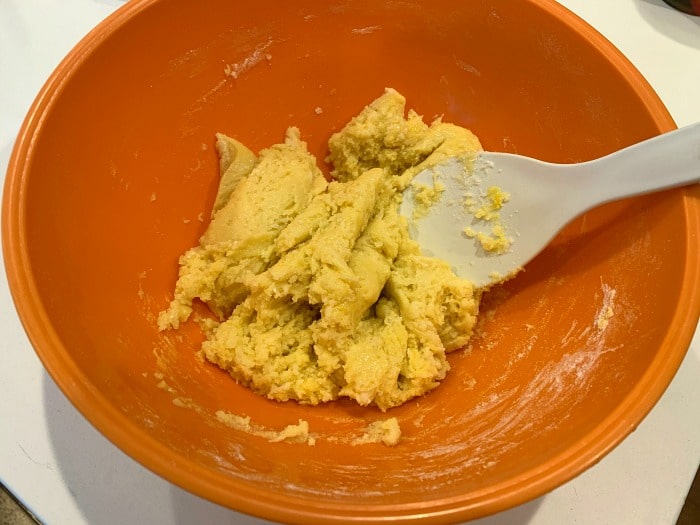 Cake mix crinkle cookies
The 4 ingredients you need are here, not counting colors if you want that. I like the Wilton gels better than the thinner liquid type of colors so it doesn't change the texture. The colors are way more brilliant with those as well so just go with that.
Bowl for wet and dry ingredients
Box of white cake mix
Eggs
Oil
Powdered sugar
Food coloring – will differ depending on the holiday you're celebrating, or leave white

I like these Wilton gel colors

Stand mixer – or use elbow grease
Vanilla extract or peppermint extract is optional
I mean any flavored extract works but you just need a small dab. A little goes a long way with those. It is great though because you can make a few different types for your cookie exchange and not cost much at all.
Easy Crinkle Cookies
I have made a variety of different colored crinkle cookies. I would have used Christmas colors but all I had on hand was yellow and blue this batch so that's what I went with. With kids who knows where the others went this time. 😉
Feel free to leave them white or take on the color of the cake mix you used.
You could make chocolate crinkle cookies using devil's food cake mix if you wanted a fast method. I have a homemade version for those below as well.
Whether you add food coloring or not you'll want to chill it in the refrigerator for 45 minutes to an hour before baking. This will allow them to keep their shape a bit better and not spread out like others like our cowboy cookies.
Just separate the dough into the amount of colors you want. Then cover with plastic wrap and put into your fridge.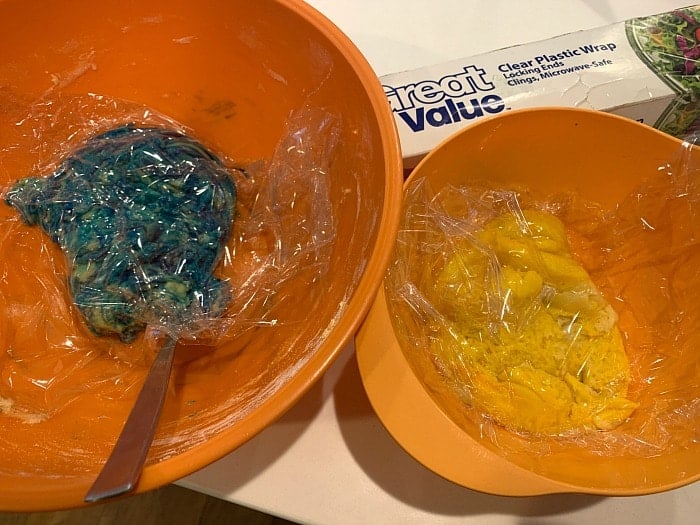 After that time is up you can take out a heaping tablespoon full and form into balls. Put on to a cookie sheet and into a preheated 375 degree oven. Vanilla crinkle cookies are just so good!
What is a crinkle cookie?
If you've never made these before you'll know when your first batch comes out of the oven why they're called this! These don't come out smooth on the top like sugar cookies, rather the tops break up and look like they're crinkled!
The look is further exaggerated because of the powdered sugar you roll them in.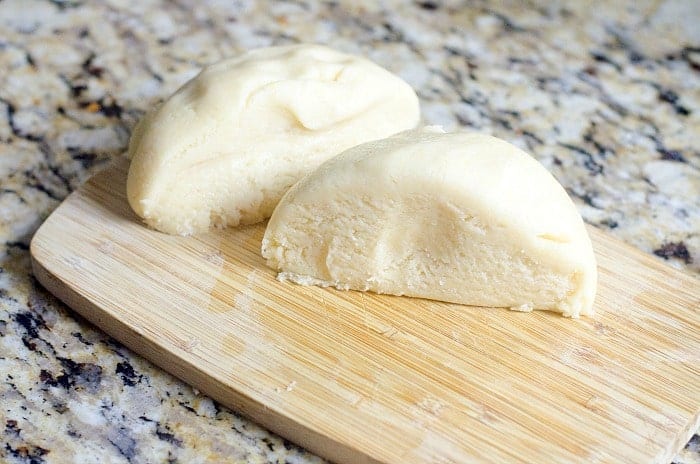 Crinkle cookies recipe
Time needed: 10 minutes
Crinkle cookies recipe
Preheat

First preheat oven to 375 degrees.

Mix and prepare

Beat in eggs with your cake mix and oil. Stir in food coloring and/or extract. Can separate batches to make multiple colors if you want.

Wrap dough balls or sheets with parchment paper. Chill the dough in your fridge for a few hours, room temperature dough will be too sticky. Then, make into balls and roll in powdered sugar

Bake

Place on baking sheet and bake for 8 – 12 minutes timing will vary depending on altitude and size of cookies. Check at 8 min. you do NOT want to over-bake them. Take out when edges are firming.
They're just as easy as our fun Christmas tree sugar cookies.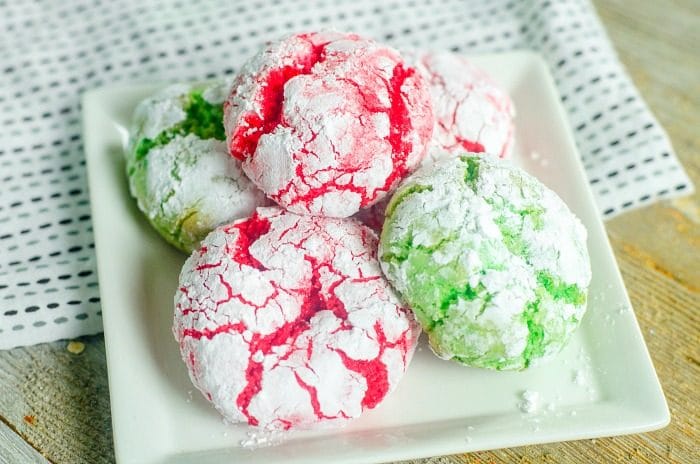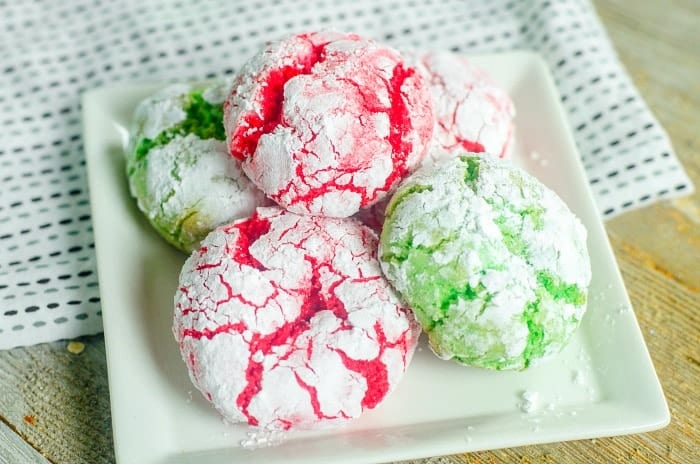 Chocolate crinkle cookies
No problem, we have a homemade version here with instructions. This is what you need:
2 cups sugar
4 eggs
1/2 cup vegetable oil
1 cup cocoa powder – unsweetened
1 tsp vanilla extract
2 cups flour – all purpose
2 tsp baking powder and salt (a pinch) is optional
1/2 cup powdered sugar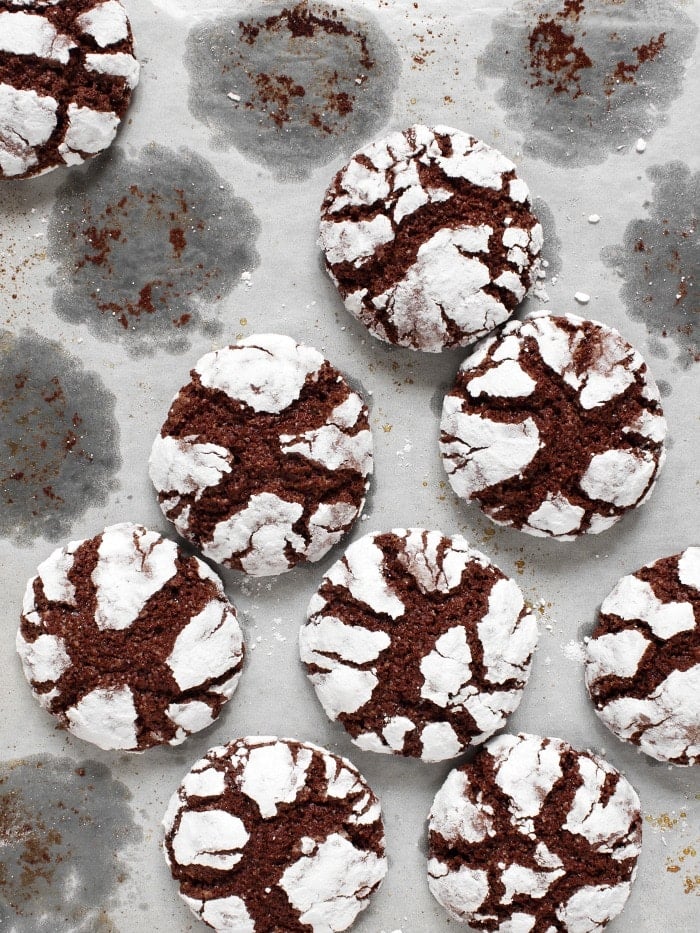 Directions for chocolate cake mix cookies are below, you can also make our brownie crinkle cookies version too.
Preheat oven to 350 degrees
Mix together cocoa powder, white sugar and vegetable oil.
Beat in eggs and vanilla one at a time with your mixer
Mix together the flour, baking powder, and salt in another bowl
Then stir into your unsweetened cocoa mixture.
Cover your dough or wrap it in some parchment paper. Put it into your refrigerator for at least 4 hours to get cold and stiffer.
Roll into balls, then into powdered sugar and put on parchment paper lined baking sheet
Bake for 10 – 12 minutes
After you make these you should try our other easy Christmas cookie recipes as well as a bunch of easy cake mix recipes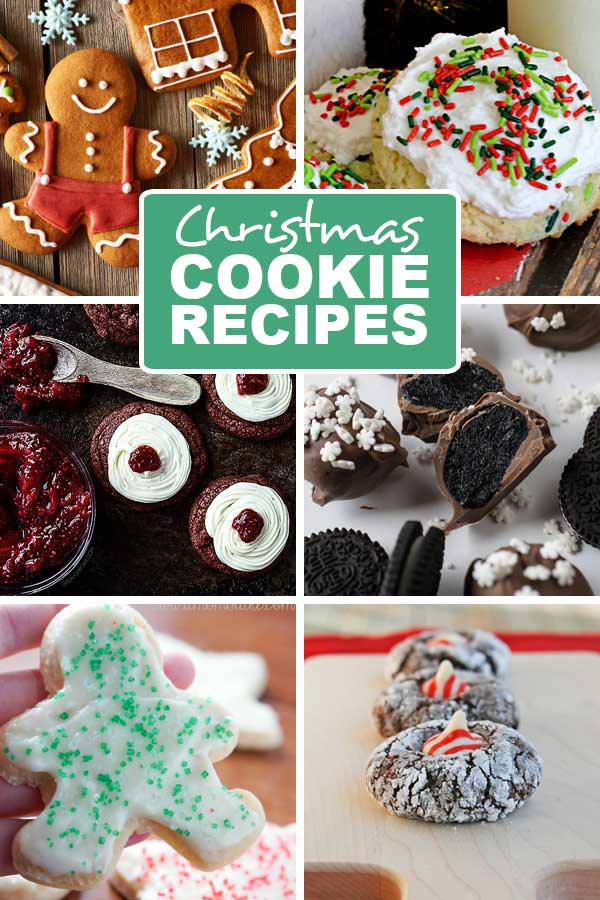 Lebkuchen is our favorite German spice cookie to make during the holidays too!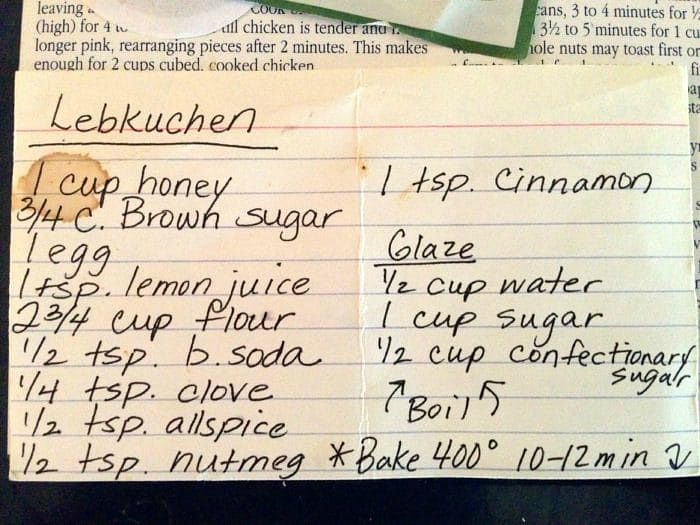 How do you keep homemade cookies fresh?
Let your homemade cookies cool completely
Transfer them into an airtight container or freezer bags free from air.
Place sheets of parchment paper between the layers of cookies.

This will ensure they don't stick together when they're chilled.

Put a piece of white bread in the cookie container to keep them fresh too.

This is a cheap baking hack you should keep in your back pocket for storing cookies.

Keep the cookie container at room temperature to stay as fresh and moist as possible.
Can you freeze crinkle cookies?
Before freezing you'll want to measure and roll the cookie dough into balls. Then freeze them on a baking sheet. Once they're frozen solid you can transfer them to an air tight container or freezer bag.
Also like the baked cookies, the cookie dough can be frozen for up to three months.
Vanilla Crinkle Cookies Recipe
Want to see a few of my favorite things that I am totally obsessed with?? Take a peek and see how many you might already have…twinsies!
Looking for more easy family recipes and tips? LIKE The Typical Mom Facebook page?
Then sign up for my free newsletter, and follow me on Pinterest! 😉
***** If you LOVED this recipe give it 5 Stars below and let everyone know what you thought about it. 😉
Crinkle Cookies Recipe
Here's an easy crinkle cookies recipe you can make for any occasion. With bright colors they're great Christmas cookies that come out moist every time.

Instructions
Mix cake mix, oil, and eggs in a medium bowl. Once mixed well cut dough in half and dye to desired color.

Place dough in the fridge covered with plastic wrap or lid for at least thirty minutes.

Preheat oven to 375 F.

Roll tablespoon size balls in powdered sugar. Place on baking sheet with parchment paper.

Bake for 8 minutes at 375 degrees F. (timing will vary depending on how large they are)

Remove and let cool before serving.
Nutrition Facts
Crinkle Cookies Recipe
Amount Per Serving (2 oz)
Calories 237
Calories from Fat 72
% Daily Value*
Fat 8g12%
Cholesterol 27mg9%
Sodium 324mg14%
Potassium 30mg1%
Carbohydrates 38g13%
Protein 2g4%
Vitamin A 40IU1%
Calcium 95mg10%
Iron 1mg6%
* Percent Daily Values are based on a 2000 calorie diet.