This is the best chocolate mug cake no milk recipe ever that takes just one minute in the microwave to cook and is perfect for one or make a batch and enjoy with a group of people making them to order. Topped with Jello pudding frosting they are a little bite of heaven and super moist too. Our favorite mug cake.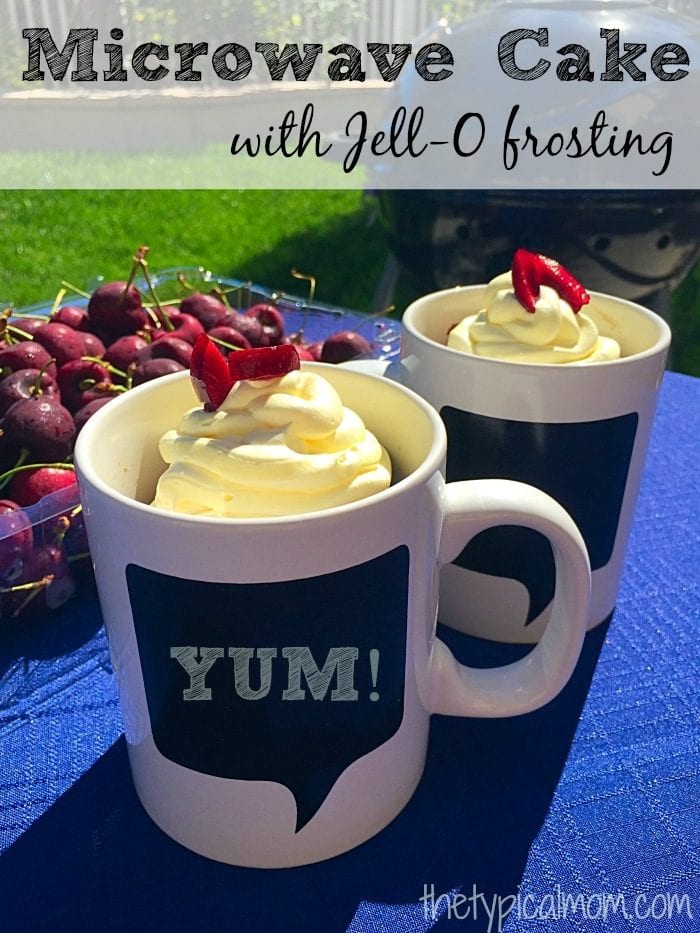 Have you ever made chocolate cake in the microwave. It's seriously SO easy and fun to do! You have got to try this chocolate cake recipe with mayonnaise here. It is seriously the moistest cake you will ever try)!! Here's how you make bake cake in a mug with pudding frosting to top it off. 😉 This shop has been compensated by Collective Bias. (originally published 8/15, affiliate links present)
Chocolate Cake in Microwave
If you've never made cake in the microwave this will be a real eye opener and you may not go back to turning your oven on during the Summertime ever again to bake one!
It literally takes ONE minute to cook and let's just say the kids LOVE it this way (ok I am partial to it myself too)! First thing first, let's head to the store to get what we need! When you head into Walmart you can see they are all set up for Summer grilling season!
1 container Kraft Real Mayonnaise (regular, not low fat variety)
Small box of Jell-O instant pudding mix (vanilla works best for this chocolate cake recipe, found in baking aisle)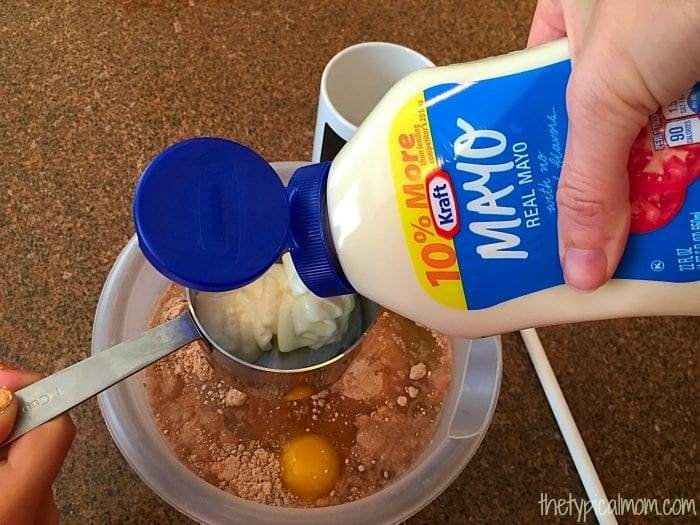 Mug Cake No Milk
There's a video down below so you can take a quick look at how we make it. Watch and then come back. Now that you have the general idea, let's get to baking the best chocolate mug cake with mayonnaise! This is dairy free too so that is another plus.
Microwave Cake
Powdered sugar
Box cake mix (chocolate flavor for this one)
Eggs
1 cup mayonnaise
Water
And 1 Tub Cool Whip (found in the freezer section of Walmart near the frozen pie crusts) + pudding mix if you want to make the pudding frosting
First you want to combine your boxed cake mix with 2 eggs, 1 cup of water, and 1 cup of Kraft Real mayonnaise. That is ALL you need to make your cake! Now get out a coffee mug (traditional size) and fill about 1/4-1/3 way full (if more than that it will overflow).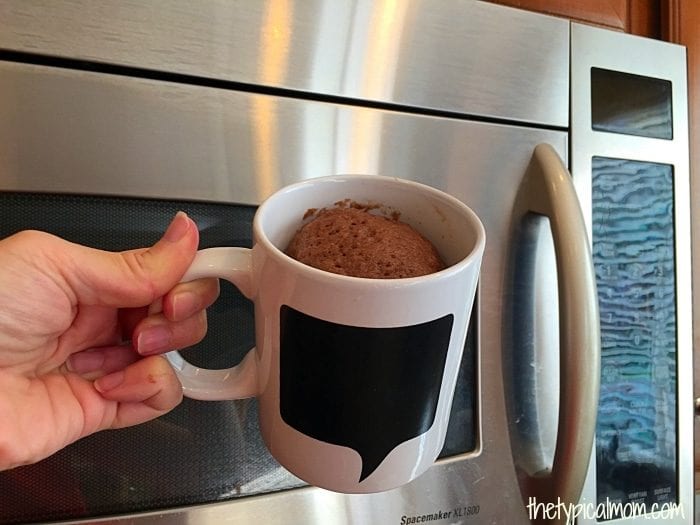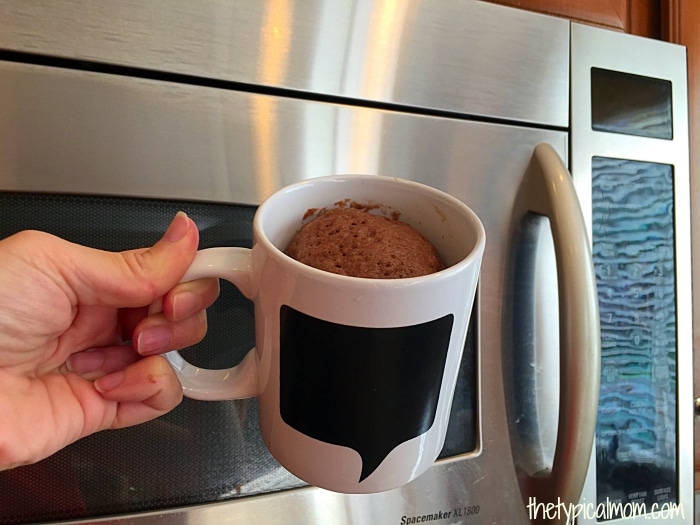 Dairy Free Mug Cake
You do not have to make the pudding frosting if you need a lactose free version but we loved it. My husband had to skip this step.
Now….put your mug in the microwave (about 1/3 c. batter) with a paper towel underneath (to catch spills) and cook for 1 minute.
Make sure to watch it especially when you put the first one in to make sure they don't overflow. If they are beginning to just pause the microwave, check on it and on your next one just put a bit less batter in.

It will rise high like in the video but typically won't overflow if it's only filled 1/4 of the way, then it will deflate and look like this when you take it out. This chocolate cake with mayonnaise recipe is seriously so easy and the moistest cake you will ever try!
Jello Pudding Frosting
Now this is how you make Jell-O pudding frosting to go on top. I have made this for other cakes and it is seriously SO tasty and simple to do….the kids can help too. 😉
Just combine 1 cup of cold milk with the package of Jell-O instant pudding and whisk together for a good minute or so.
Then, empty the entire tub of Cool Whip together with your Jell-O mixture and you're done!!!

You can just put a dollop on your cakes right then and there or if you are saving for later or want to make then swirly pretty then scoop the mixture into baggies, zip them shut and when you're ready just squeeze them on top.
I put baggies in the refrigerator for a bit while I am cooking my meal to get them cold and they swirl better that way too.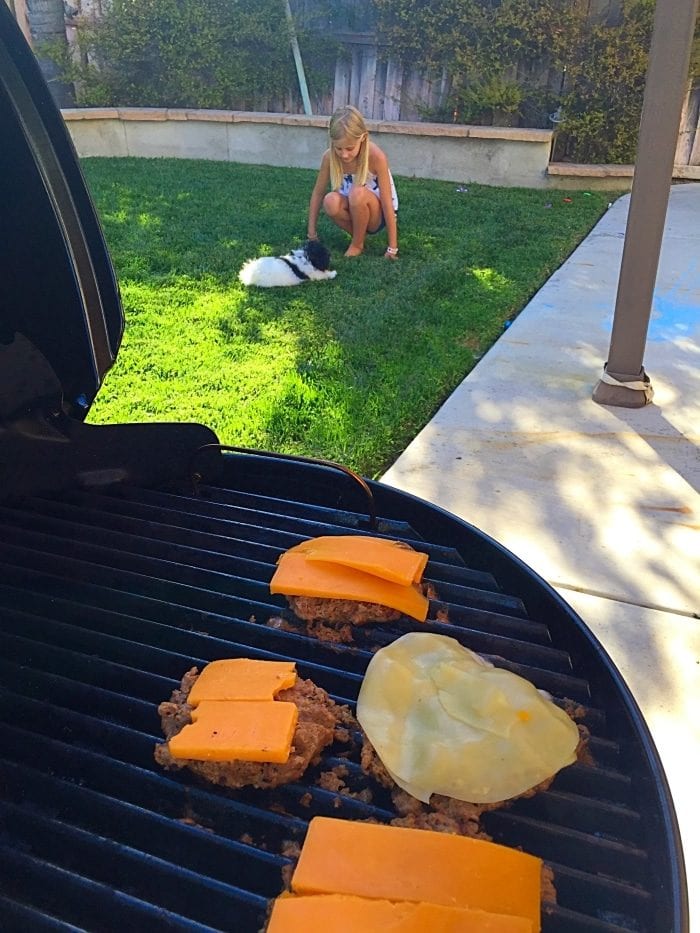 Now….enjoy yourself outside while you're grilling. Eat some yummy food on the barbecue, and when you're done the cakes will be already done.
Just grab the frosting you've made out of the refrigerator (it will be nice and chilled by now). Squeeze a dollop on top with a little fruit slices if you choose. Just wait for the Oooohhhhhhhs and Ahhhhhhs!!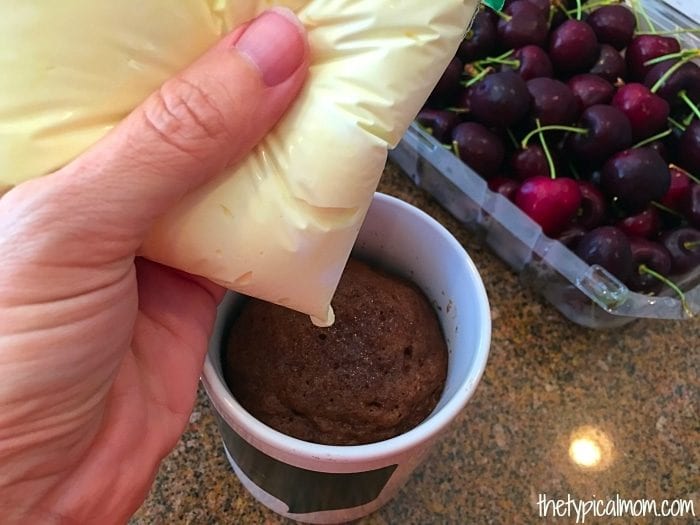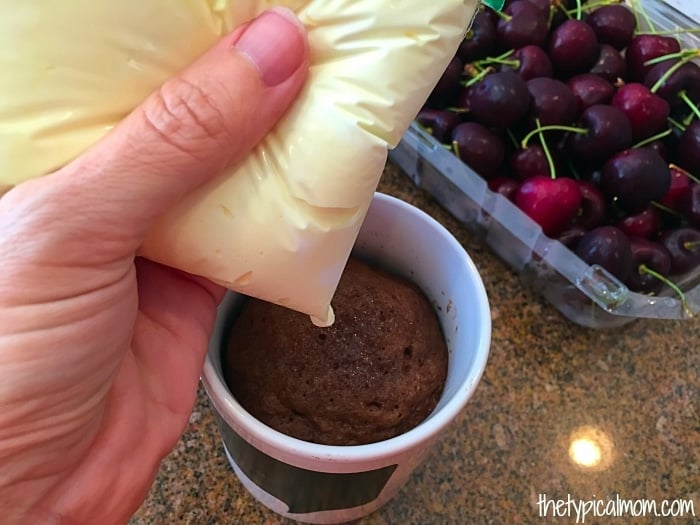 Microwave Cake
I like to put a few slices of fresh fruit on top of desserts I make and these fresh cherries from Walmart I grabbed during my trip were just the ticket for this dessert….added a really nice touch and tasted delicious on top too!
If you only use half the batch of the best chocolate mug cake just cover it and put it in the fridge to make the next day too.
For more great recipes featuring Kraft products make sure to check out their website for a digital cookbook there. And check out our other mug desserts below too:
Want to see a few of my favorite things that I am totally obsessed with?? Take a peek and see how many you might already have…twinsies!
Looking for more easy family recipes and tips? LIKE The Typical Mom Facebook page?
Then sign up for my free newsletter, and follow me on Pinterest! 😉
***** If you LOVED this recipe give it 5 Stars below and let everyone know what you thought about it. 😉
Mug Cake No Milk
Chocolate mug cake no milk is easy to bake in your microwave. Just a few minutes for dessert in a cup with pudding frosting.
Instructions
In a bowl combine all ingredients together. Spray inside of a mug with non stick spray. Spoon in batter so it is 1/3 way full (more will overflow). Microwave for 1 minutes and enjoy.
Video
Nutrition Facts
Mug Cake No Milk
Amount Per Serving (1 oz)
Calories 148
Calories from Fat 72
% Daily Value*
Fat 8g12%
Cholesterol 18mg6%
Sodium 222mg10%
Potassium 17mg0%
Carbohydrates 18g6%
Protein 1g2%
Vitamin A 26IU1%
Calcium 49mg5%
Iron 1mg6%
* Percent Daily Values are based on a 2000 calorie diet.