If you're into aromatherapy and looking for a portable essential oil diffuser here is a product that offers that with no electricity needed.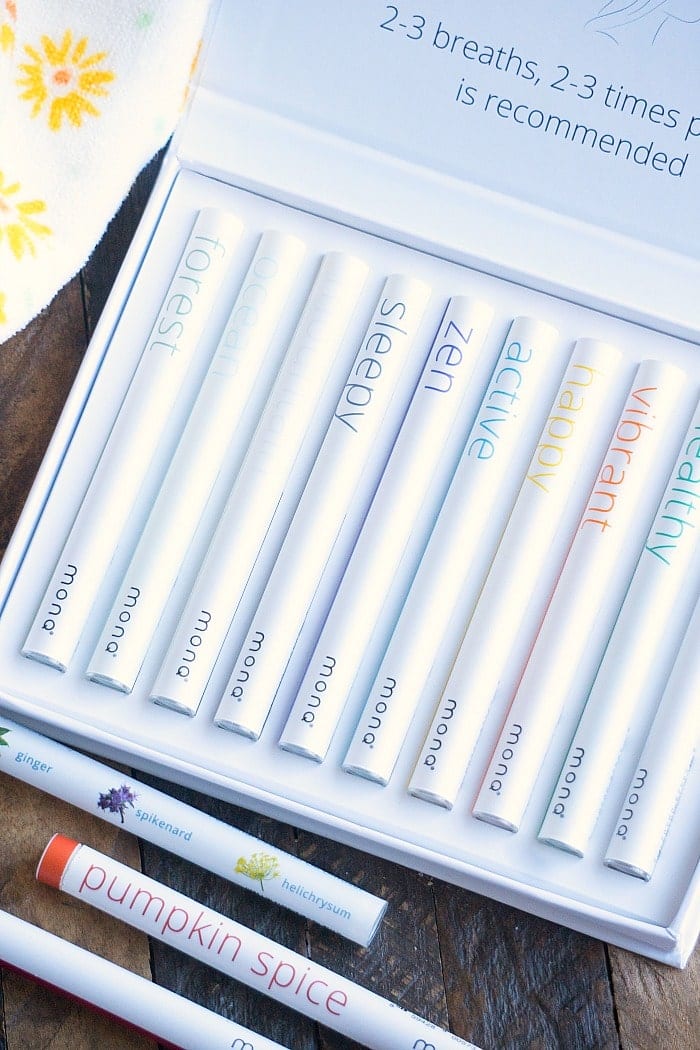 Aromatherapy has been around for quite some time but has gained popularity in recent years. I never knew quite what it was about but in the past year or so I've become curious about it and have been trying to learn more. There are tons of options out there as far as diffusers go but there aren't a lot of portable essential oil diffuser products so I asked MONQ to send me theirs so I could check it out, see how it worked, and share my findings with all of you. We thank them for sponsoring this post so I could share what MONQ is all about.
Above is the package I received + 3 separate scents that came outside of the box set.
Each one has a mood to focus on, as other aromatherapy bottles do, but on the back it shows what's included which is interesting.
I'm learning all about it so I like to have all the information I can find regarding essential oils.
MONQ is unique as it offers seasonal scents such as pumpkin spice during the Fall months, it is October now so anything pumpkin goes now.
The containers holding each portable essential oil diffuser is a hard plastic so you can store each one using a stopper at the end.
There are a bunch of different ways you can order them, separately if you enjoy just one particular type or as a set like you see here below.
Many of the popular ones are put together into a box you can use to store them or use the set as a gift during the holidays if you knew someone who was a MONQ lover and loved having portable essential oil diffusers.
This is what makes MONQ unique:
The essential oils are kept inside each container, you do not drip them out as other diffusers might have you do
You have the option of inhaling the essential oils in, or just sucking some out and blowing it into the air around you to inhale that way
They are totally portable essential oil diffusers that do not require batteries
MONQ has a large array of different essential oil diffusers including unique seasonal scents you can choose from
Here are the instructions on how they work. As I said, you can inhale or just suck it into your mouth and it blow out, that is totally up to you. Either way it requires a breath in rather than dripping the essential oils into a diffuser and having the machine do the work for you.
And that is what I mean my MONQ being a portable essential oil diffuser!
Have you tried it yet…if so, what are your thoughts??!!