These parmesan rosemary mushrooms are such a great vegetable side dish or appetizer that even my kids love and they're easy to make!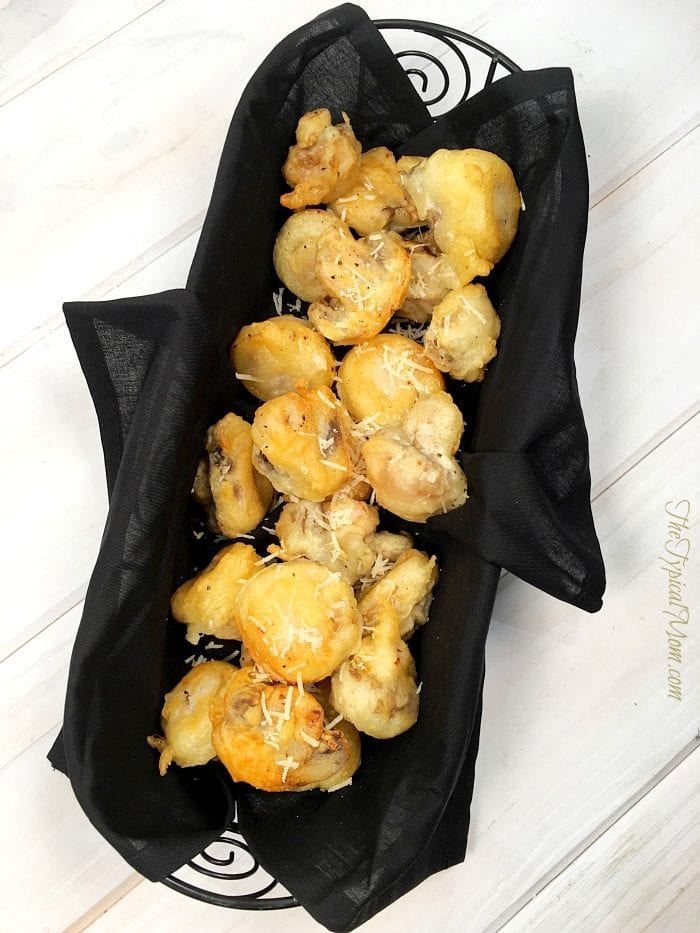 We try to serve fresh vegetables each night at dinner and these parmesan rosemary mushrooms are our new favorite vegetable side dish! After years of doing so my kids are pretty much accustom to it and actually like just about every vegetable we put in front of them now! If you struggle with this, this is how we got our kids to love vegetables. 😉
I started with zucchini and made salt and pepper zucchini chips using this same method and they were so fabulous I decided to move on to mushrooms which we all love! All you need other than the parmesan and rosemary are a few things to make the tempera batter.
Just mix 2 egg whites, 1 c. flour, and 2/3 c. cold water in a bowl and stir. If you like a lighter batter just add a bit more water so it's a bit thinner….less if you like a thick breading. You can print the recipe for this tempura batter here.
Rosemary parmesan mushrooms
I quickly wash the mushrooms in cold water and then cut the bigger ones in half or fourths and leave the smaller ones whole. If you're eyeing my paper thin cutting boards they're my favorite!! Then put them all back in a bowl and mix with 2 tbs. melted butter, some minced garlic (if you like garlic), and some salt.
Put some salt or garlic salt into your tempera batter too. Then dredge the mushrooms in your batter and once your oil is hot enough to sizzle a drop of the batter then it is hot enough to start cooking these.
Once you take the mushrooms out put in a bowl with a paper towel on the bottom so it can absorb the oil.
Sprinkle salt, rosemary, and parmesan on them and serve! Parmesan rosemary mushrooms are a great vegetable side dish or you can serve them as appetizers too.
Try my salt and pepper zucchini chips another night and our air fryer mushrooms, and let me know which one you and your family like best!
For more easy recipes and crafts please sign up for my newsletter and follow me on Pinterest!