How to cook pan fried asparagus perfectly is here. As well as how to blanch asparagus spears first or tips on pan frying vegetables with butter as is.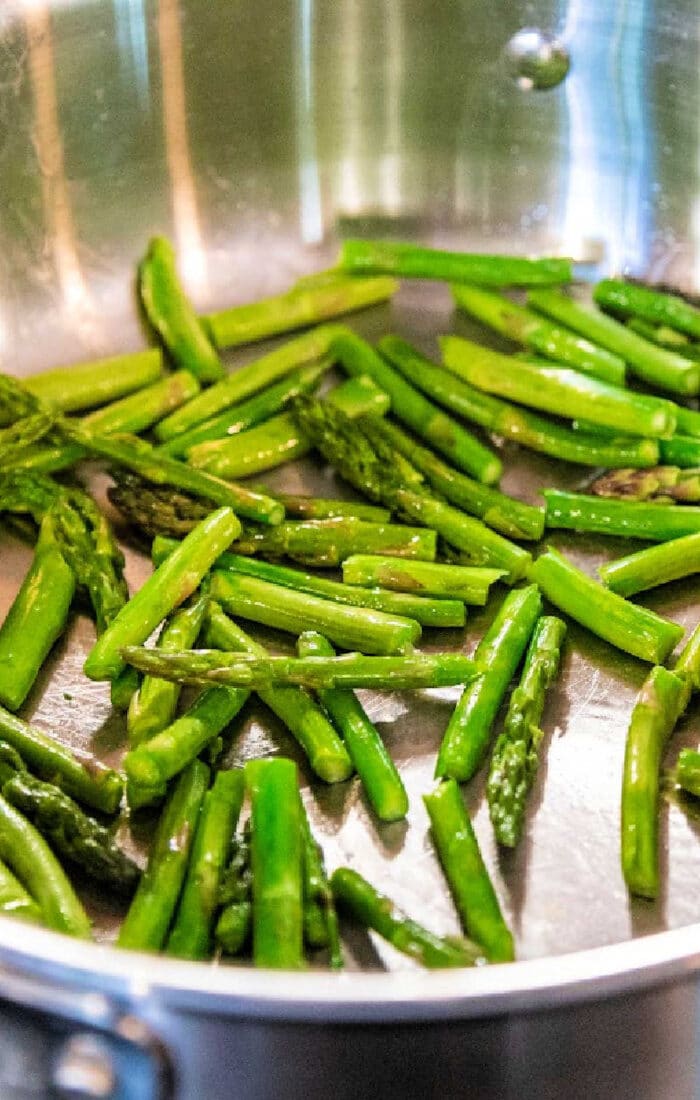 We're here to talk about cooking roasted asparagus on the stovetop today in about 15 minutes. An easy, quick and healthy side dish everyone loves with dinner. Fresh produce is always best but I do have help on how to cook frozen asparagus here too if that is all you have right now. (affiliate links present)
Pan Seared Asparagus
We did just share how long to cook asparagus in oven perfectly this week. I don't always want to cook that way, especially during the summertime when I'm trying to cool my house down. Especially if you are already cooking on the stove it is easier to just add another pan, turn on another burner, and get it all done in the same space.
How to Cook Asparagus on the Stove is quite simple once you get the hang of it. There are two options, one takes a bit longer but worth it. You can blanch the pieces first real quick and then saute or just throw it in with some butter and get it tender as is. I will speak about them both in the recipe card below.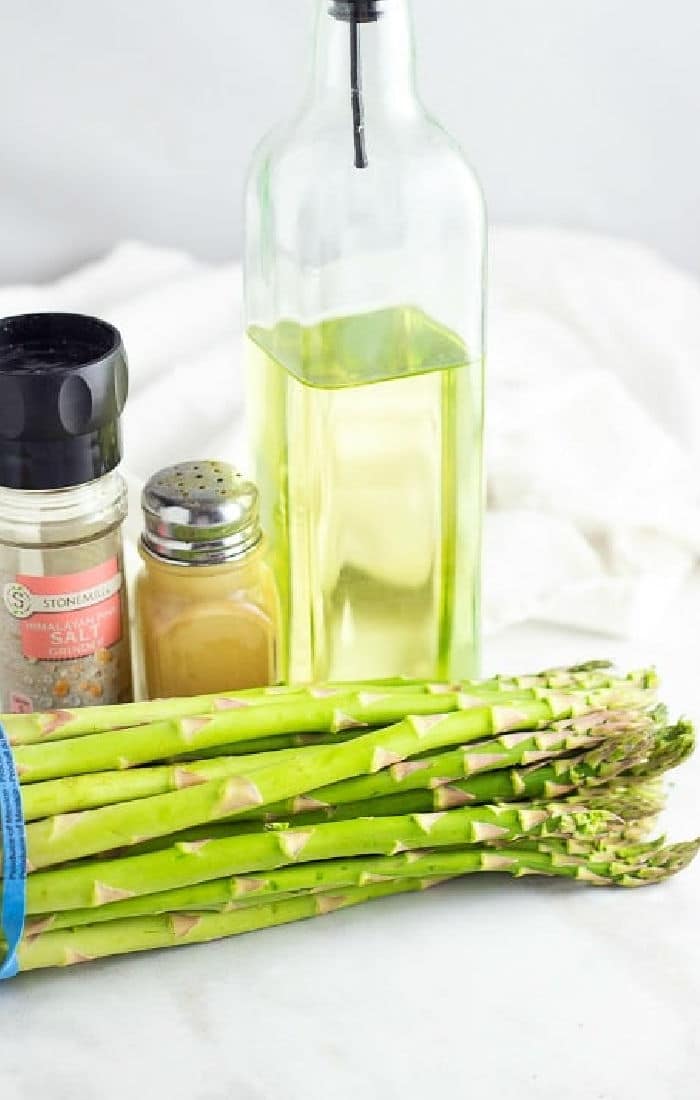 Can you Fry Asparagus Without Boiling First
You can but the overall texture will be better if you almost blanch them first on the stovetop. Just bring to a boil 1 inch of water and 1 teaspoon salt. Add asparagus stalks or cut pieces, cover, and boil until bright green and crisp yet a bit tender, about 3 minutes.
Next you should submerge in ice water for 1 minutes and transfer to a wad of paper towels to dry. THEN transfer into a pan over medium heat filled with melted butter (or olive oil) and a bit of minced garlic to to make perfectly sautéed asparagus. If you do it this way the cook time in the pan will only be about 3 minutes since they have already tenderized a bit.
How to Cook Asparagus on the Stove with Butter and Garlic
Melt salted butter in a large skillet over medium to high heat. Add your whole or cut spears, minced garlic and maybe a shake of garlic powder if you love those flavors. Then use your lid to cover the pan and cook until they become as tender as you would like, usually 3-5 minutes will do it. Squeeze fresh lemon juice on top and serve!
When I do this many times I will use another skillet to fry a whole fish for the main protein. They take close to the same time so it can all be served together and so healthy!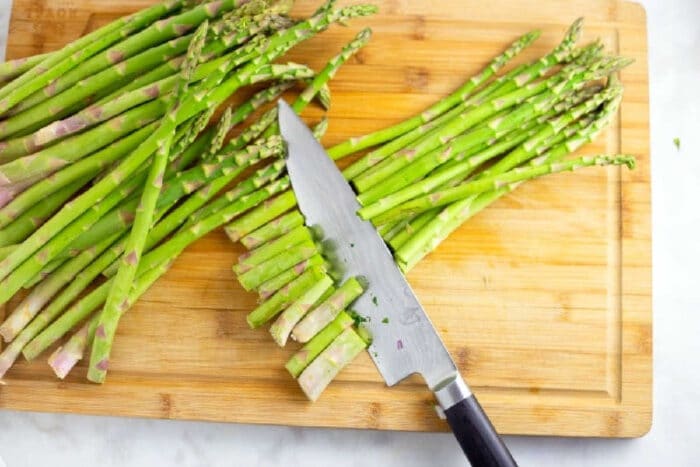 How to Cook Vegetables without Butter
Vegetable oils, such as canola, olive, and sunflower oil, are great for cooking as they have a high smoke point, which means they can be heated to high temperatures without burning. You could use coconut oil as well as an alternative to butter especially in vegan cooking. It will add a bit of that flavor into your dish so keep that in mind if choosing this one.
Ghee is a form of clarified butter, but dairy free so it is great for those who need a lactose free choice. It is commonly used in Indian cooking. It has a nutty, rich flavor and a high smoke point, making it great for frying. Margarine is made from vegetable oil and has a similar texture and taste to butter, but is lower in saturated fat overall.
How to Trim Asparagus
Rinse your whole stalks under cold water and pat them dry with a clean towel or paper towels is usually my choice.
Instead of slicing the ends off you can hold the spear at both ends and bend it gently until it snaps. This will separate the tender, edible part of the asparagus from the tough, woody stem.
Discard the tough ends. Alternatively, you can save the ends to use in asparagus soup or stocks for added flavor.
If desired, you could use a vegetable peeler to peel the tough outer layer to make it super tender but generally it is left as is.

This is generally only necessary if the asparagus is particularly thick or woody.

Your green veggies are now ready to cook. You can steam, sauté, grill, or roast depending on the asparagus recipe you are going for.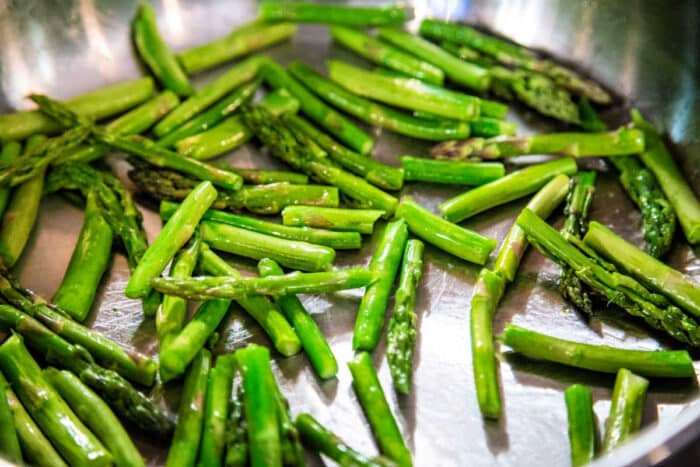 What Can You Cook with Asparagus
There are two things I always think of when I am cooking this as a side dish. We do love bacon, with all the things and precooked diced pieces or real bacon bits taste wonderful together. A few tbsp will do to give it a bit of salt and smoky flavor. If you do add some I would skip the table salt all together.
Along the same lines if it is after the holidays I might add some precooked diced leftover ham into the pan!! OMG this is probably my favorite option of all. With both it is sometimes nice to pair it with another type of poultry like sliced mushrooms as you see here or onions of course work with all the things.
As for seasonings salt and pepper are a given. In our house I would extend that to garlic, in all the things. That is a love or or leave it kind of food so I kept it simple in the recipe card below but 1 tsp of minced cloves really is great for your heart and gives it a lot of flavor.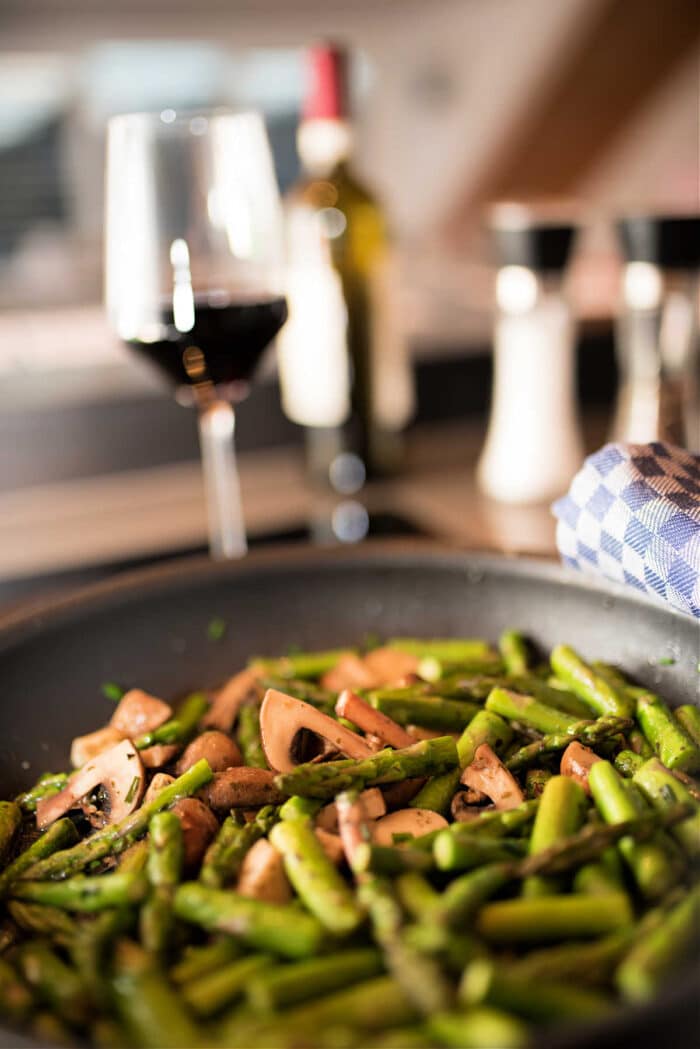 Recipes with Asparagus
Ok so I have made these babies other ways, and you might want to try those as well. For a crispy exterior asparagus in air fryer with parmesan is mouth watering. Then it may come to what to do with leftovers if you don't finish everything you have cooked. I hate wasting so I get your mindframe.
Usually what I do if I have fresh left I will just blanch and make our cold asparagus pasta recipe with it. You don't need it cooked, you do want some crunch still but just a bit more tender is a nice add in for a picnic.
Want to see a few of my favorite things that I am totally obsessed with?? Take a peek and see how many you might already have…twinsies!
Looking for more easy family recipes and tips? LIKE The Typical Mom Facebook page?
Then sign up for my free newsletter, and follow me on Pinterest! 😉
***** If you LOVED this recipe give it 5 Stars below and let everyone know what you thought about it. 😉
Pan Fried Asparagus
How to cook pan fried asparagus perfectly is here. How to blanch asparagus spears or tips first or just pan fry vegetables with butter as is.
Instructions
Rinse your stalks and cut off the end 1.5" and discard. Then I prefer to cut the upper stalk into thirds, it is easier to eat that way and faster to cook.

To get the best overall texture it is best to blanch first, but this can be skipped if you choose to.

To blanch, in a pan add 1.5 cups water over medium high heat until it reaches a boil. Add asparagus trimmed and cut into thirds into the boiling water for just 2 minutes, then remove and transfer into a bowl of ice water for just 1 minute. Use a slotted spoon to remove and move on to a few paper towels to dry outsides.

Use a different pan, or wipe the one with water in it dry and heat over medium flame with your butter until it melts.

Add asparagus pieces, sprinkle with seasonings and cover with a lid and "fry" for about 3-4 minutes (5 if you don't blanch first) or until they are as tender as you'd like.
Nutrition Facts
Pan Fried Asparagus
Amount Per Serving (1 oz)
Calories 73
Calories from Fat 54
% Daily Value*
Fat 6g9%
Cholesterol 15mg5%
Sodium 47mg2%
Potassium 229mg7%
Carbohydrates 4g1%
Protein 3g6%
Vitamin A 1025IU21%
Vitamin C 6mg7%
Calcium 29mg3%
Iron 2mg11%
* Percent Daily Values are based on a 2000 calorie diet.