Easy no bake recipe for Scotcheroos are the best peanut butter and butterscotch dessert recipe ever that has chocolate in it too. Easy to make with rice krispies.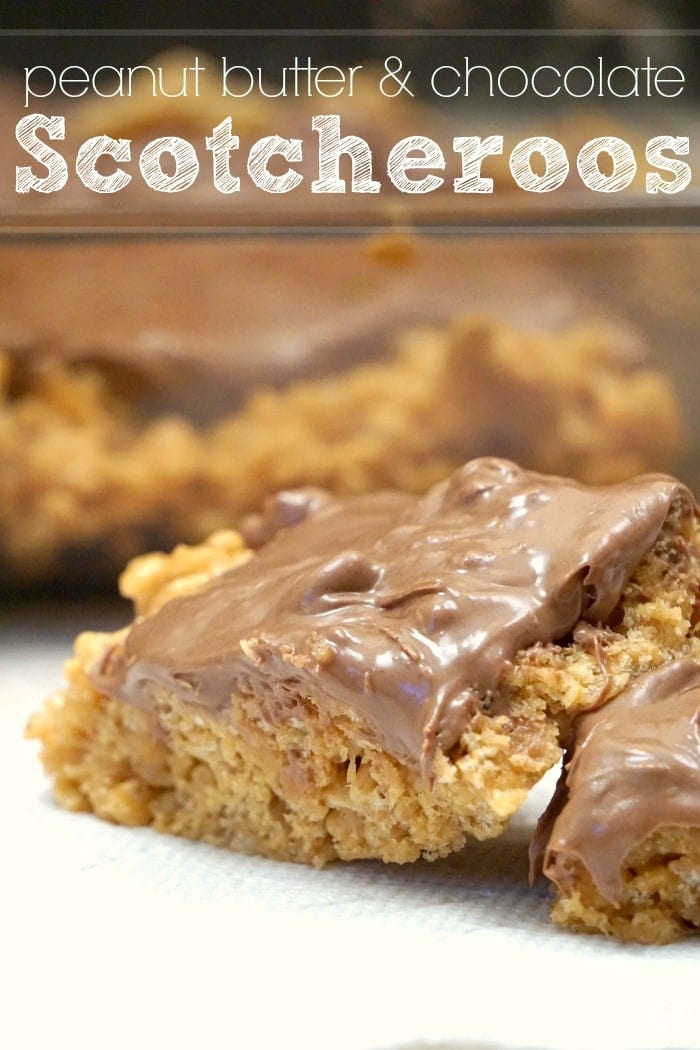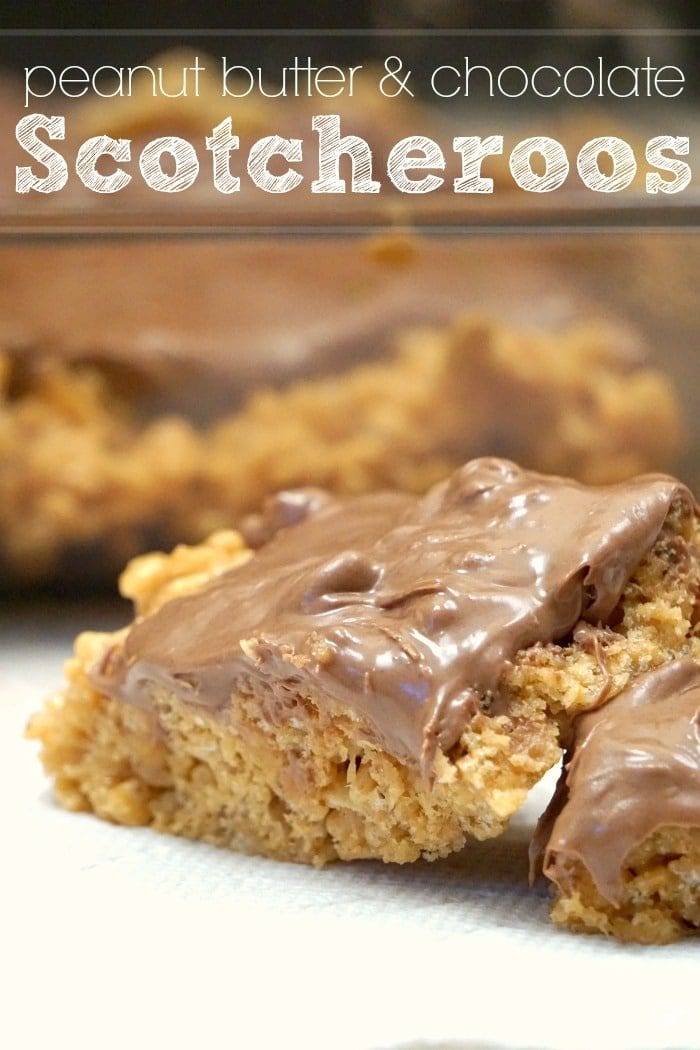 Have you ever made Scotcheroos? They are amazing and so easy to make! If you like peanut butter and butterscotch you will be in love with these. They are quick to throw together and a heavenly chocolate dessert that's perfect to take to someone's house if you're invited over. We have made these no bake recipe for scotcheroos using either Rice Krispy or Cheerios cereals, every Thanksgiving and now they are a yearly tradition (and expected). 😉 (originally published 2/16, affiliate links present)
Especially during the holidays I love things that are easy to make, do not require an oven, and everyone thinks they are amazing.
Here's our no bake recipe for scotcheroos so you can make them with Cheerios or Rice Krispy cereal yourself.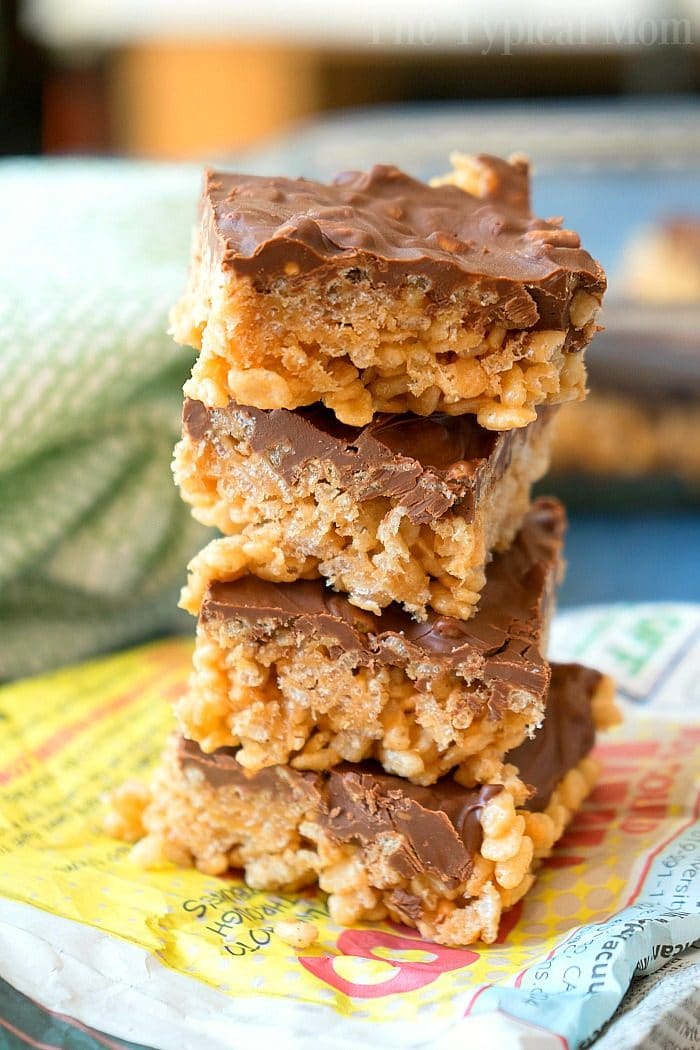 You can find the scotcheroo bars recipe on the back of some Rice Krispy cereal boxes. They're super easy to make.
The first thing you'll want to do is spray some non-stick cooking spray to your pot, bowl, and the 9×12 pan you will use to complete your scotcheroos (you will thank me later for this suggestion)! Then you'll start with your pot and add 1 cup of sugar as well as 1 cup of karo syrup. Stir this mixture occasionally and wait until it comes to a rolling boil.
Then you're going to add 1 cup of creamy peanut butter (yes it will be messy and sticky but no worries, it's so worth it) and stir until it is all dissolved and smooth.
Just before your mixture on the stove is ready, take a second to measure out 5 1/2-6 cups of Cheerios or Rice Krispy cereal into a large bowl and get ready to stir your hot peanut buttery mixture on top.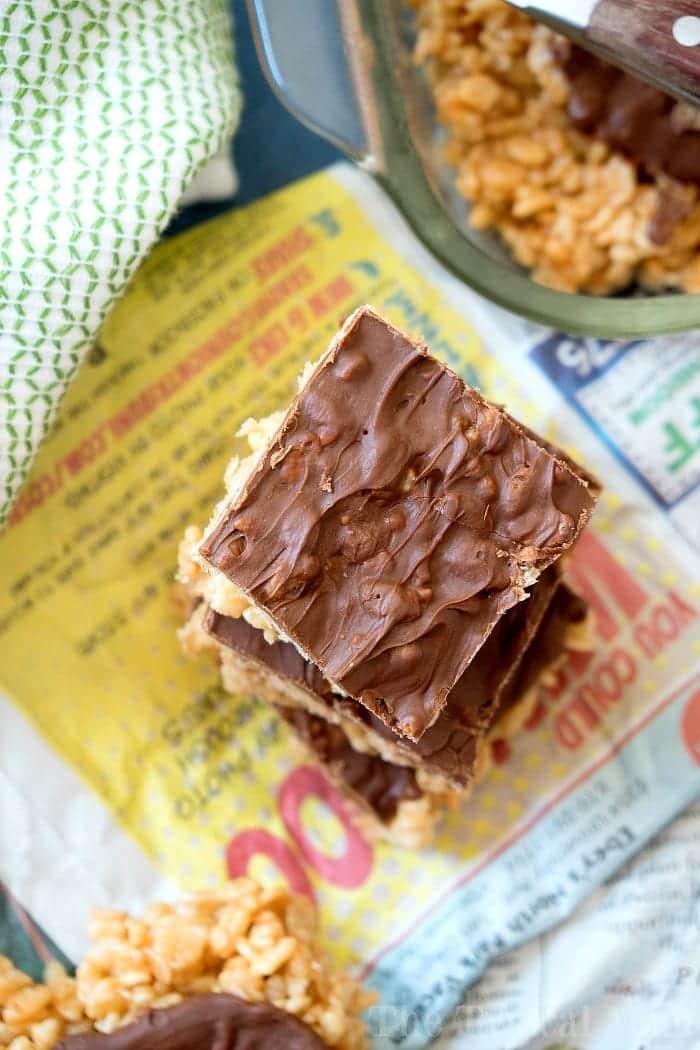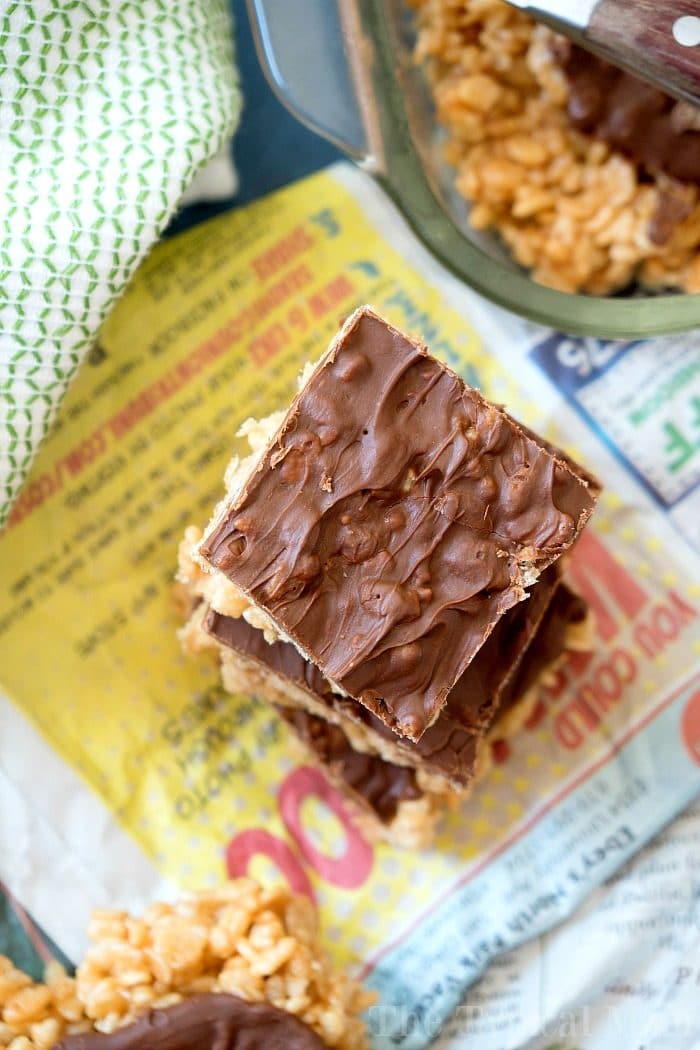 Mix everything together until all the Rice Krispies are coated well, then empty the contents into your greased 9×13 size pan…..now it is time for the chocolate and butterscotch topping for these scotcheroos. All you have to do to make the topping is melt 1/2 a bag of chocolate chips and 1/2 a bag of butterscotch chips.
No bake scotcheroos recipe
Karo syrup
Smooth peanut butter

these two will be heated on the stovetop

Rice Krispies or Cheerios
Chocolate chips
Butterscotch or peanut butter chips
Piece of waxed paper
The best to make the topping in the microwave is to use a paper bowl and plastic spoon (lends to a much easier clean up). Or you can use a saucepan over medium heat and stir until smooth.
put chocolate and either butterscotch or peanut butter chips in a microwave safe bowl for 30 seconds
stir
put in for another 30 seconds
stir until it is all melted smooth
have your cereal mixture ready beforehand, we use crispy rice cereal which is gluten free
pour and smooth on top of your prepared pan, refrigerate and cut into squares once it has hardened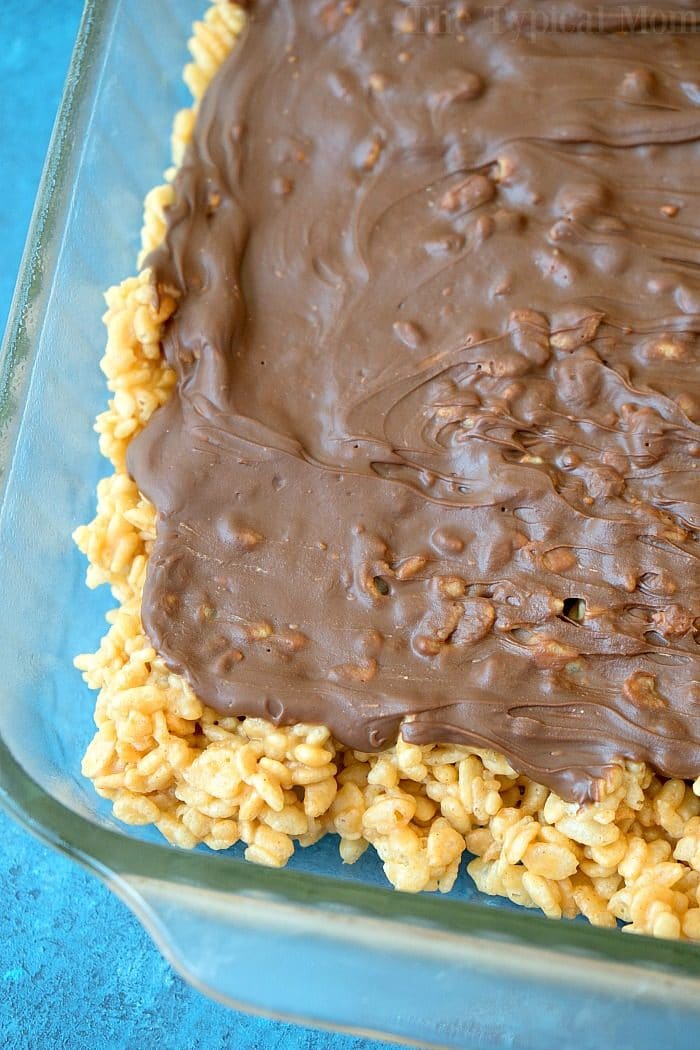 Once you have all of the chocolate/butterscotch topping on let it set until it is cooled and hard.
Then pop it in the fridge for about 20 minutes so the topping can harden, and then it can be room temperature after that.
It is a great treat to bring to a get together, for a holiday (we always have this at Thanksgiving), or just for a treat! We recently made these for Christmas and instead of melting chocolate and butterscotch chips I melted red and green Wilton candy melts and drizzled some on top for fun!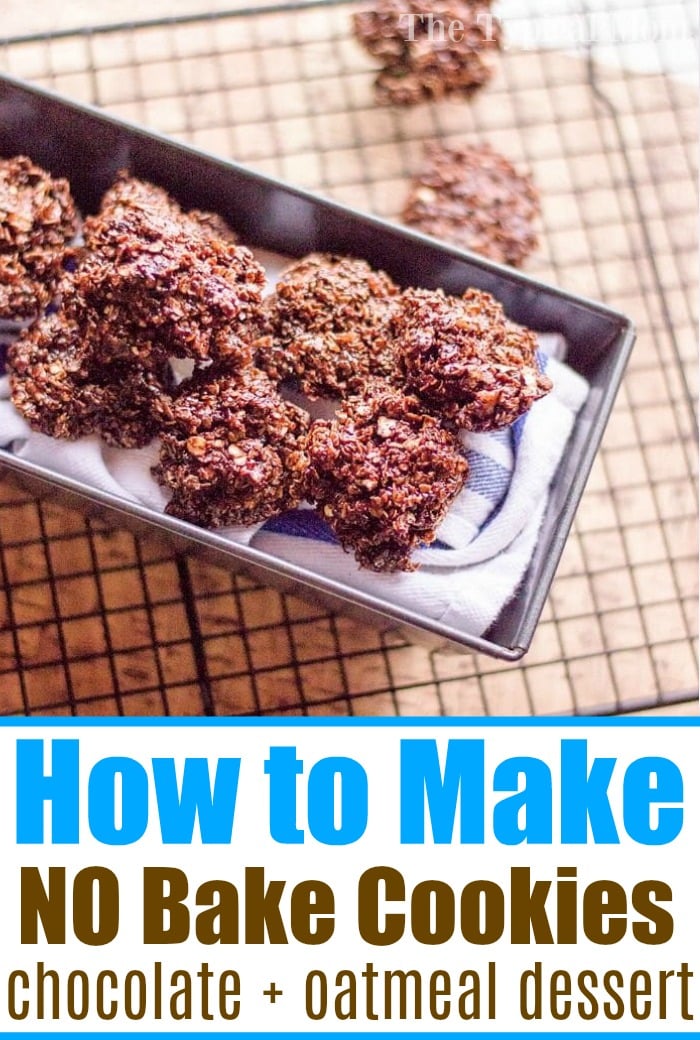 If you're looking for more easy desserts here are a few:
Here's a video showing you how we make scotcheroos and the printable recipe
For more tips and recipes sign up for my free newsletter and follow me on Pinterest.
No bake recipe for Scotcheroos
Easy no bake recipe for Scotcheroos are the best peanut butter and butterscotch recipe ever that has chocolate in it too. Super easy to make with cereal.

Instructions
Have your 5-6 cups of rice krispy cereal ready in a bowl to pour mixture on top of this immediately. I use 5 c. because I like them really ooey gooey. Also have a 9x13" pan ready that has been sprayed with non stick spray. This whole process will move quickly.

In a small saucepan bring karo syrup to a low rolling boil and then add peanut butter. Stir until it reaching low rolling boil again and then remove from heat and immediately pour it into your bowl with cereal. Stir quickly until all cereal is well coated.

Pour cereal mixture into a greased 9x13 pan and press flat with a piece of wax or parchment paper. 

Melt your chocolate chips and butterscotch chips in a microwave safe bowl until melted. Put in for 30 sec., stir, 30 sec. stir until melted and then pour on top of rice krispy mixture.

Smooth over the top and put in fridge to harden top coat, then cut and serve. You can use cheerios too, but rice krispies are our favorite for scotcheroos!!!
Video
Nutrition Facts
No bake recipe for Scotcheroos
Amount Per Serving (3 oz)
Calories 257
Calories from Fat 126
% Daily Value*
Fat 14g22%
Cholesterol 3mg1%
Sodium 164mg7%
Potassium 139mg4%
Carbohydrates 27g9%
Protein 6g12%
Vitamin A 50IU1%
Vitamin C 0.1mg0%
Calcium 27mg3%
Iron 0.6mg3%
* Percent Daily Values are based on a 2000 calorie diet.