Chex muddy buddies recipe is great for a party or gift idea. Add variations such as different mix ins for every holiday to add some color to this crunchy peanut butter dessert. If you've never made this addicting snack some call puppy chow you are in for a real treat.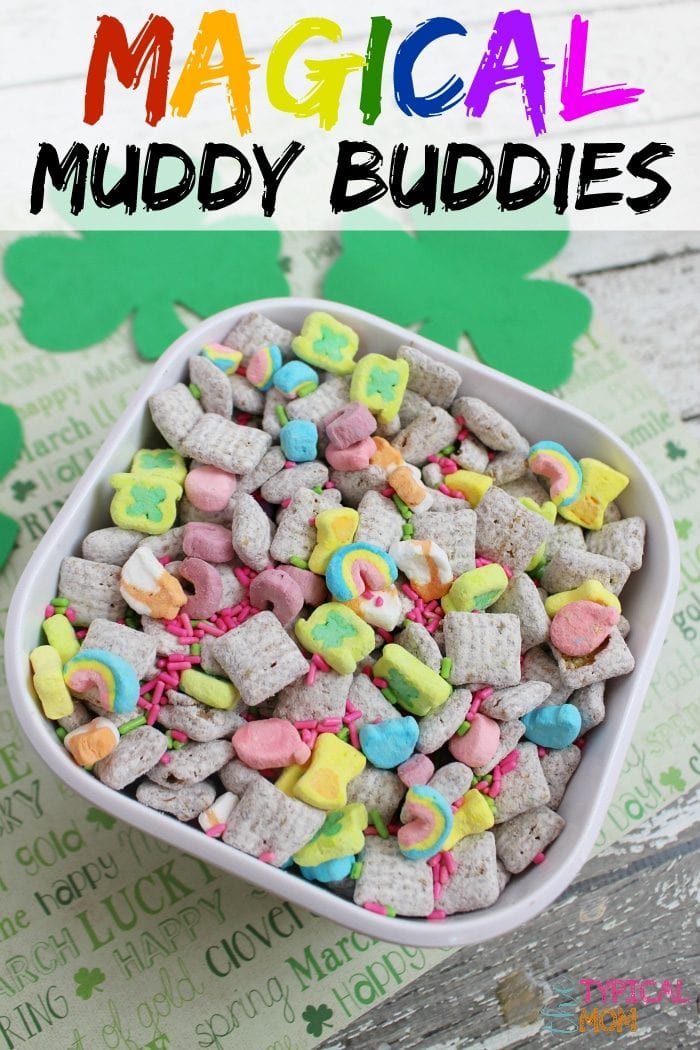 Have you ever made muddy buddies or puppy chow as some people call it? It is a great peanut butter snack that can be made into gifts or served at a party. This one was made for St.Patricks Day using Lucky Charms, add pink for Valentine's Day or any other holiday. (originally published 2/16, affiliate links present)
Chex Muddy Buddies Recipe
I love throwing together quick easy desserts like this one. They're mouth watering and simple enough for my kids to make with me. We modified it by adding mix ins. If you just want to make a smaller batch you can just half the recipe you see here and enjoy.
There is NO cooking really required to melt all the items together and coat the outsides. I use my microwave so the kids can basically make them. Works great, but you could melt in a small saucepan if you'd rather. These can be dressed up for the holidays too, which is super fun as you can see above.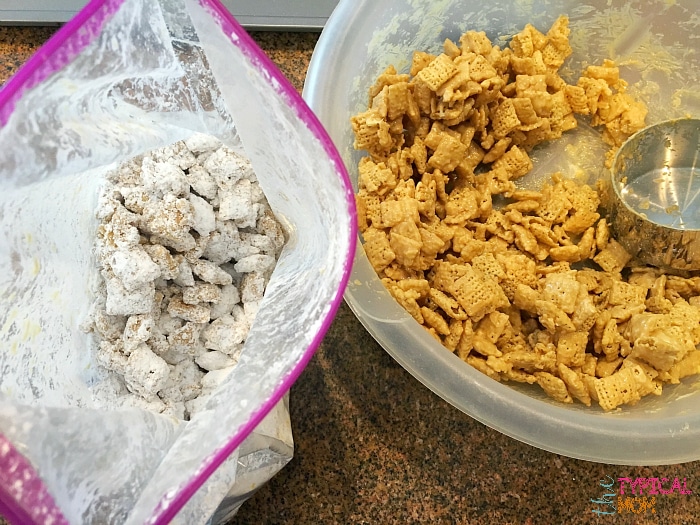 Gluten Free Chex Muddy Buddies
This muddie buddie recipe is so yummy! When put in a mason jar with a cute tag it makes a great gift idea for Teachers and anyone else who likes sweets too! If you didn't know it, the rice version of this cereal is actually gluten free. If you choose a GF peanut butter and chocolate your celiac disease friends can enjoy it too.
Peanut Butter Chex Mix Recipe
There are in fact other variations and boxes too such as corn and chocolate Chex cereal nowadays. Store brands tend to have their own type that are almost identical too and cost less, so you can use whatever you'd like as far as that is concerned. We call it muddy buddies but others refer to it as puppy chow.
Why is it called puppy chow
I suppose it is because it closely resembles dog food?? As you can see, it starts with Chex or Crispix cereal (rice or corn varieties, both are gluten free.
It's then coated in a mixture of peanut butter, chocolate, butter, and dusted with powdered sugar which gives it a dog food look. 😉 I like to use a microwaveable bowl to microwave chocolate so the kiddos can help out too. It's a no bake dessert which we love because that means quick!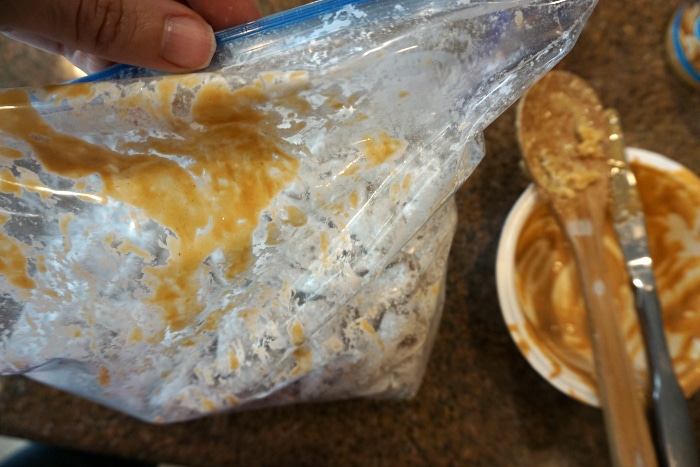 Muddy Buddies Recipe Variations
The best way to change this up is to add sprinkles, mini marshmallows like we did here, or small candies like Nerds. With these you can make them for every holiday. Just use the colors you love to make them more festive. Another way to change it up is using different types of chips. Mint and butterscotch are yummy too.
Rice Chex cereal

or any other variety they offer like corn chex or chocolate works

Creamy peanut butter

don't use natural that separates

White chocolate chips

haven't tried with semi sweet or milk chocolate chips but you could
or mix chocolate chips and peanut butter chips 1/2 and 1/2

Butter
Powdered sugar
Gallon Zipper Bag
Add ins

Lucky charms marshmallows
Jimmies
M&Ms
Nuts we use when making Chex Mix
Pretzels
The original recipe can be found on the side of the rice Chex cereal box. It will take you about 15 minutes to make with melting chocolate in microwave safe bowl. You'll need more time to allow it to cool down on some parchment or waxed paper at the end though.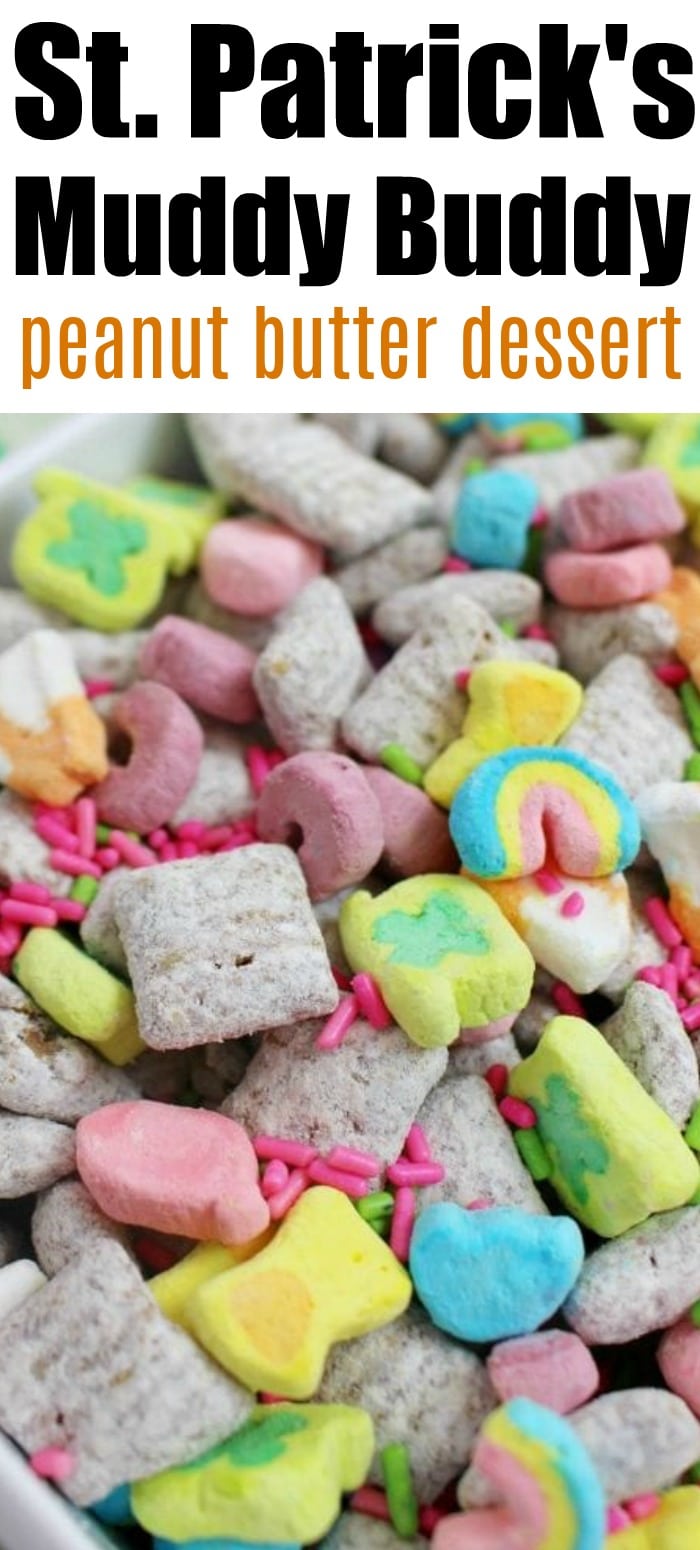 Peanut Butter Recipe no bake
We have a printable recipe card at the bottom of this post but check out how we made them in photos below. You could even use Bugles chips for a little bit of salty sweet flavors!!
Pour Chex into a large bowl so it's ready for you to pour mixture over cereal and stir.
Put butter, chips of chocolate and peanut butter in a bowl and microwave about 30 seconds uncovered on high.
Stir contents, then heat for 30 seconds longer, then stir again. Do this another 30 seconds longer or until mixture is liquidy.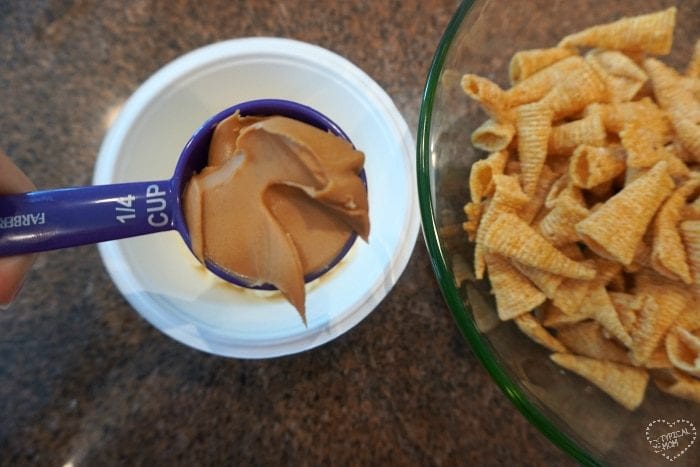 Dairy Free Muddy Buddies
I have used a plant based vegan butter product in this so my husband could enjoy it too. The kids didn't even notice that it was different so if you need an alternative, Country crock has a great version.
Stir in vanilla extract now, then drizzle over cereal.
Gently stirring until evenly coated with your cereal or Bugles chips (seen above), you'll then pour this into a gallon ziploc baggie.
Add powdered sugar, seal closed and gently toss together.
Pour into bowl and enjoy!
Store in airtight containers at room temperature if you have leftovers.
How long does muddy buddies last?
Puppy chow stays pretty fresh in an air tight container for 1-2 weeks but it is definitely better enjoyed fresh! Make sure you suck all the air out of the bag or container or it will not stay crispy on the outsides.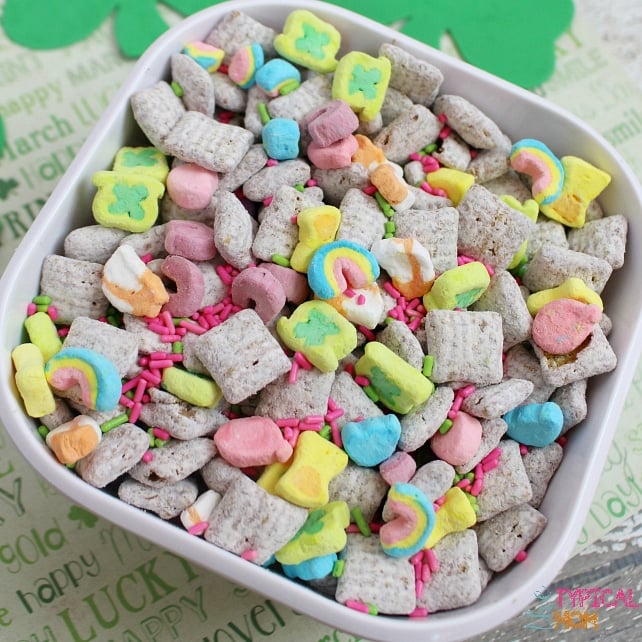 Where did muddy buddies originate?
This powdered sugar homemade sweet snack originating in the United States, we believe in the Midwest.
It goes by other names too such as; Monkey Munch, Reindeer Chow, the list goes on and on really.
If you jazz yours up for the holidays you should come up with your own creative name like "heart bark" for Valentine's Day??
Just by adding different sprinkles, marshmallows, candies, and/or snack mix ins like peanuts or pretzels can alter this mix in a variety of ways.
We hope you like our fun muddy buddy recipe variations shown here.
You can also try our unicorn muddy buddies.
Looking for another drooling treat to try?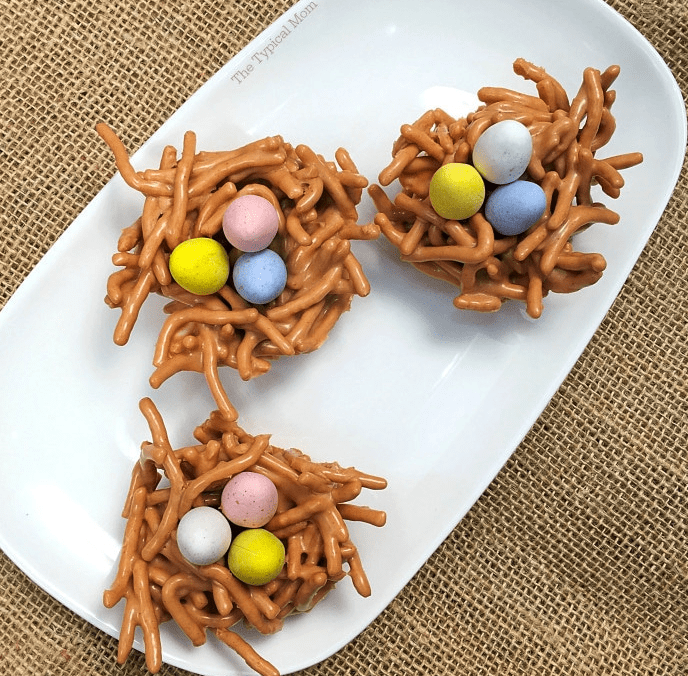 Want to see a few of my favorite things that I am totally obsessed with?? Take a peek and see how many you might already have…twinsies!
Looking for more easy family recipes and tips? LIKE The Typical Mom Facebook page?
Then sign up for my free newsletter, and follow me on Pinterest! 😉
***** If you LOVED this recipe give it 5 Stars below and let everyone know what you thought about it. 😉
Peanut Butter Muddy Buddies Recipe
Easy peanut butter muddy buddies recipe that is great for a party or gift idea. Add mix ins for every holiday to add some color to this crunchy peanut butter dessert. If you've never made puppy chow you are in for a real treat.
Instructions
Add Chex cereal in a large bowl, and then put the chocolate chips, peanut butter and butter in another bowl and microwave it for 1 minute. If not smooth and melted, microwave for another 30 seconds until melted and smooth.

Add the vanilla to your chocolate mix and stir. Pour that mixture over your cereal and coat it thoroughly. Put the coated cereal into a large baggie (gallon size) and add your powdered sugar. Gently shake until all the cereal pieces are evenly coated.

Pour all of that on parchment paper that's been placed on a baking sheet to cool.

Once it is cool it will stick and be hardened a bit, then you can transfer it into a bowl and add you add ins like Lucky Charms or something else.
Nutrition Facts
Peanut Butter Muddy Buddies Recipe
Amount Per Serving (2 oz)
Calories 376
Calories from Fat 153
% Daily Value*
Fat 17g26%
Cholesterol 16mg5%
Sodium 335mg15%
Potassium 177mg5%
Carbohydrates 52g17%
Protein 6g12%
Vitamin A 597IU12%
Vitamin C 5mg6%
Calcium 133mg13%
Iron 8mg44%
* Percent Daily Values are based on a 2000 calorie diet.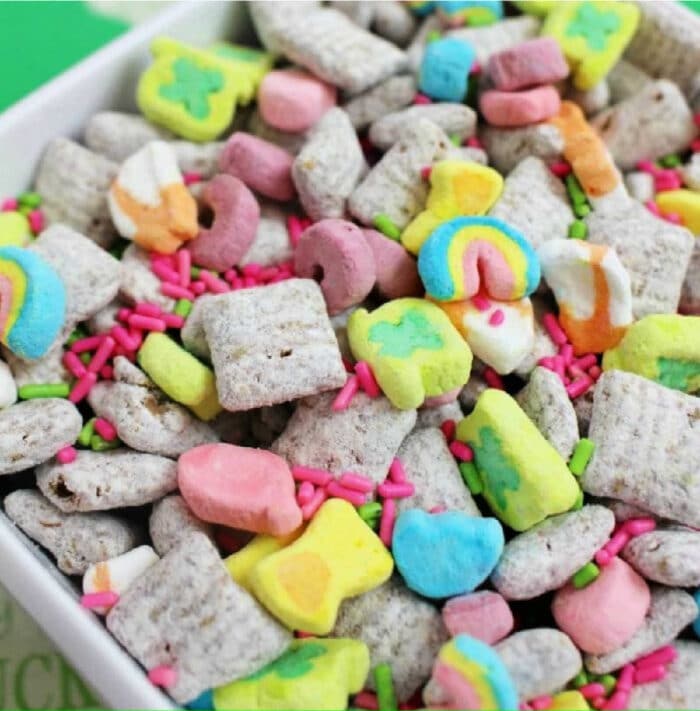 Some people call this puppy chow, but either way you name it it is one of the most delicious (and a bit addicting) snack / dessert mixes ever!! Have you ever had it…if so what have you added in to make it special for a gift or holiday??
Jazz it up for Christmas time, just use colored jimmies and small candies you find where the sprinkles are in the baking aisle! For Easter you could use small peeps, jelly beans, or these small marshmallows….use your imagination!