Unicorn horn muddy buddies are peanut butter treats with no baking required. Whip this dessert together for your next unicorn party and enjoy.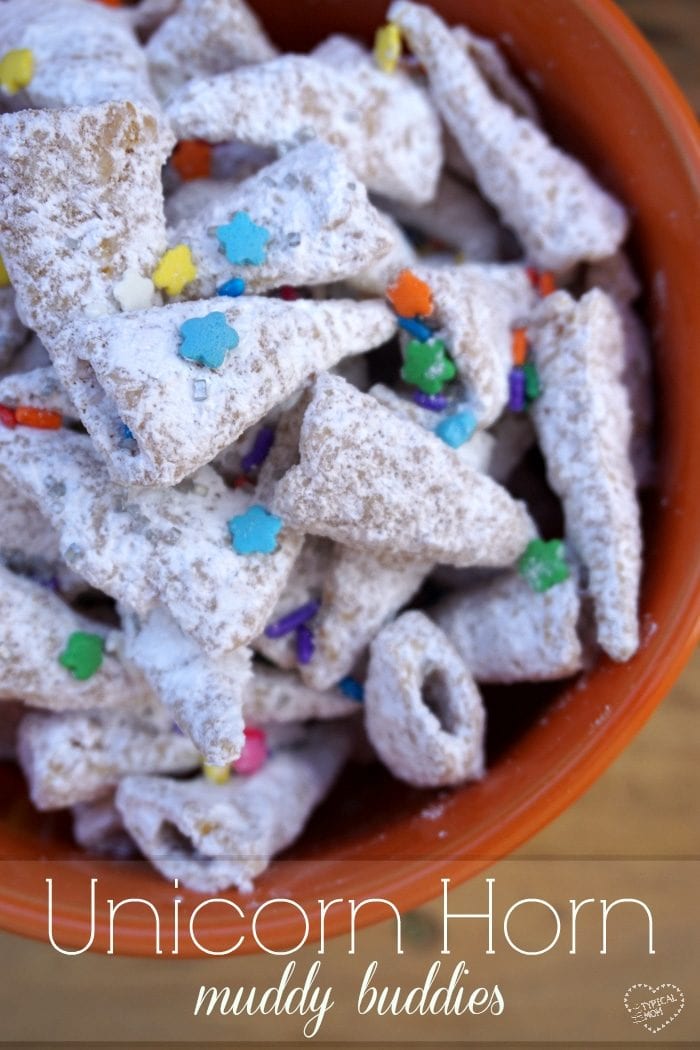 We have been thinking of unicorns this week and thought we'd put a fun twist on the traditional puppy chow or muddy buddy recipe and make unicorn horn muddy buddies this week! It only requires a few ingredients and is so delicious you will want to make them over and over again. Let us share our recipe with you.
Unicorn Muddy Buddies
Aren't these fun??!! Everyone loves unicorns, I mean who wouldn't! There are a few distinct features to a unicorn for us and those are the beautiful white horns and rainbows. So we thought we would go with those thoughts.
First you're going to make the mixture for muddy buddies that you can find on the side of any Chex mix box.
You can also use our original muddy buddies post where we had a St.Patrick's Day theme to them.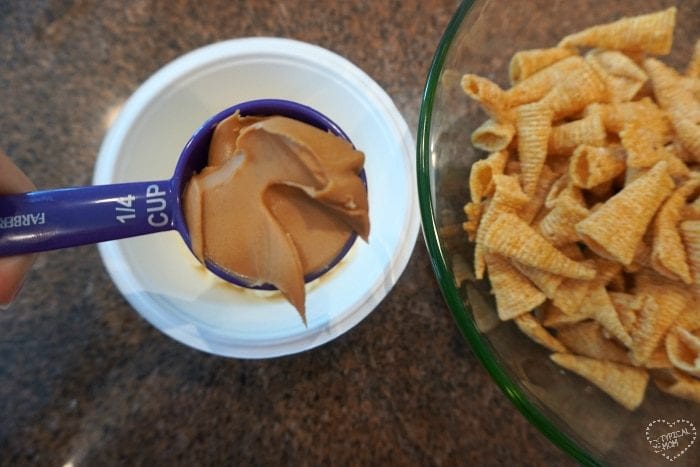 Unicorn Muddy Buddy Recipe
This time I wanted to make a small batch muddy buddies so I cut the recipe in half.
I used just
Butter
Peanut butter
White chocolate chips
Bugles chips as the unicorn horns
Powdered sugar with a large baggie
Traditionally this is made with rice Chex but those aren't the right shape so Bugles worked perfectly!
I used about 4 cups of those but you can mess around with the amounts. That depending on how drenched you want your puppy chow to be.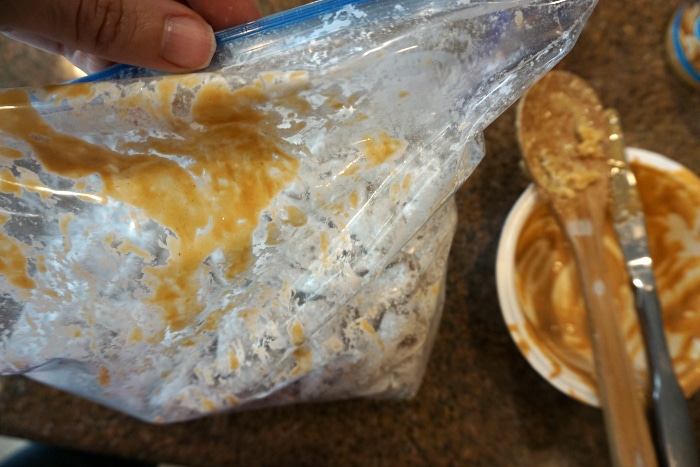 This part is great for the kiddos. Put 1 cup or so of powdered sugar into a large zipper bag with your mixture. Slowly toss to coat them then add whatever you'd like to make it rainbowish!!
We added some sprinkles and silver sugar to make our unicorn horn muddy buddies shine.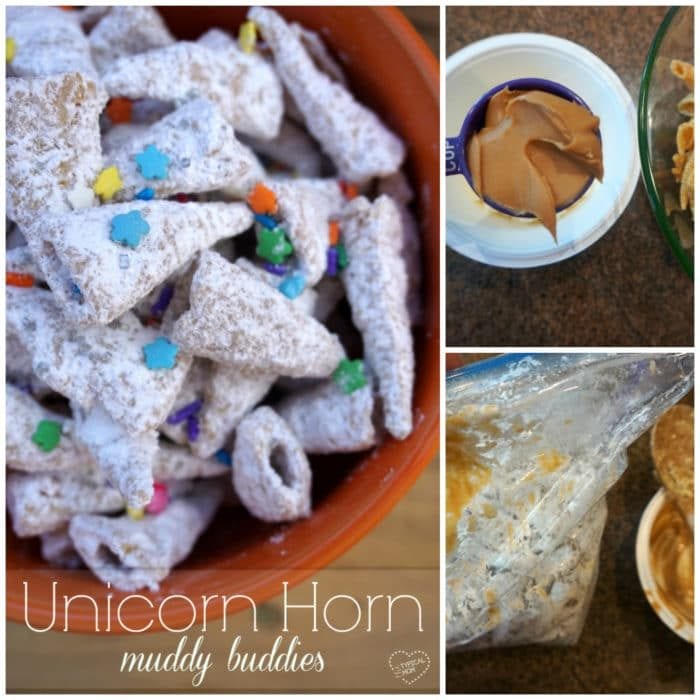 If you love unicorns too try our unicorn poop bark recipe that is really fun for a party or to wrap up and give it to someone as a treat!
Unicorn Muddy Buddies
How to make unicorn horn muddy buddies. Great for a birthday party or just for fun. Peanut butter salty sweet treat.
Instructions
In a bowl melt butter and white chocolate chips until smooth. On high in microwave in 30 second intervals stirring in between until smooth works well.

Take out and stir in peanut butter, warm for 30 more seconds. Put bugles in a bowl and pour this mixture over the top. Stir to coat well.

Pour powdered sugar into a gallon baggie. Pour bugles in bag, zip closed, and gently roll around so outsides get coated with white powdered sugar.

Pour in a bowl with colorful sprinkles and enjoy.
Nutrition Facts
Unicorn Muddy Buddies
Amount Per Serving (2 oz)
Calories 414
Calories from Fat 171
% Daily Value*
Fat 19g29%
Cholesterol 16mg5%
Sodium 111mg5%
Potassium 158mg5%
Carbohydrates 60g20%
Protein 4g8%
Vitamin A 127IU3%
Vitamin C 1mg1%
Calcium 66mg7%
Iron 1mg6%
* Percent Daily Values are based on a 2000 calorie diet.