Ok so the whole idea of unicorn poop is all the rage and quite frankly it makes me laugh every time I see something of the sort….so it was about time to make some unicorn poop bark of our own. Here is the recipe for this chocolate treat with a unicorn twist to it.
You will need a couple different colors of meltable chocolate. I like using Wilton melts (affiliate link) because they come in every color imaginable and melt really easily without any chunks. Pick whatever colors you want but the base of this unicorn poop bark will be white so you will need at least one bag of white Wilton melts. You will use Bungles (our favorite chips – affiliate link) for the unicorn horn, large candy eyes (aff. link) and sprinkles for embellishments.
To make the unicorn horns just melt white chocolate, dip your bugles in, set on some parchment paper and then decorate them to your liking. I use a fork to cover them and lift them out of the chocolate to get rid of excess.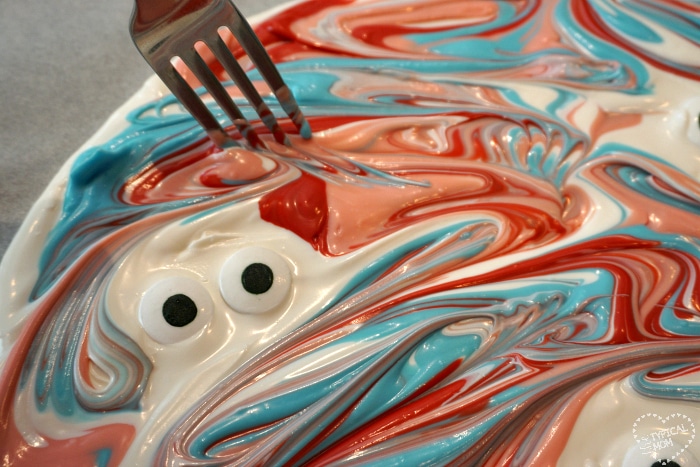 Now you will have to work quickly. Melt your bag of white chocolate and pour it on to a cookie sheet with parchment paper on it. Immediately when you take your white chocolate out of the microwave and it is melted put your other bowls with colored chocolates in so they can quickly melt too. I put the eyes in the white chocolate once it's spread so they have white surrounding them and don't get lost in the colors.
Once the colored chocolate is done blob it on different spots and then when all the colors are on then use a fork to swish them together and around the eyes. Then place the horns you made near the eyes. We added a bit of silver sugar (aff. link) around before it hardened. When it is cool just break apart however you wish and serve or put in a clear treat bags (aff. link) with some ribbon and give out at a party.
If you love this idea check out our fun cupcake ideas that have been a huge hit on my blog like our monkey cupcakes and many more!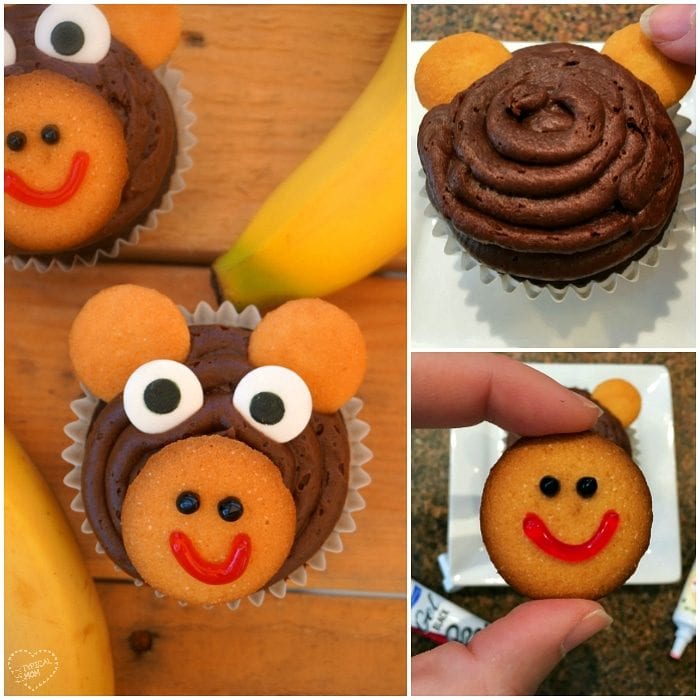 For more easy recipes and crafts please LIKE The Typical Mom on Facebook, sign up for my newsletter, and follow me on Pinterest!