How to microwave broccoli to tender in no time! You just need a bowl, plate and some water. You'll get fork tender vegetables in no time. Make our carrots in microwave and this with butter, salt and pepper for your next quick side dishes.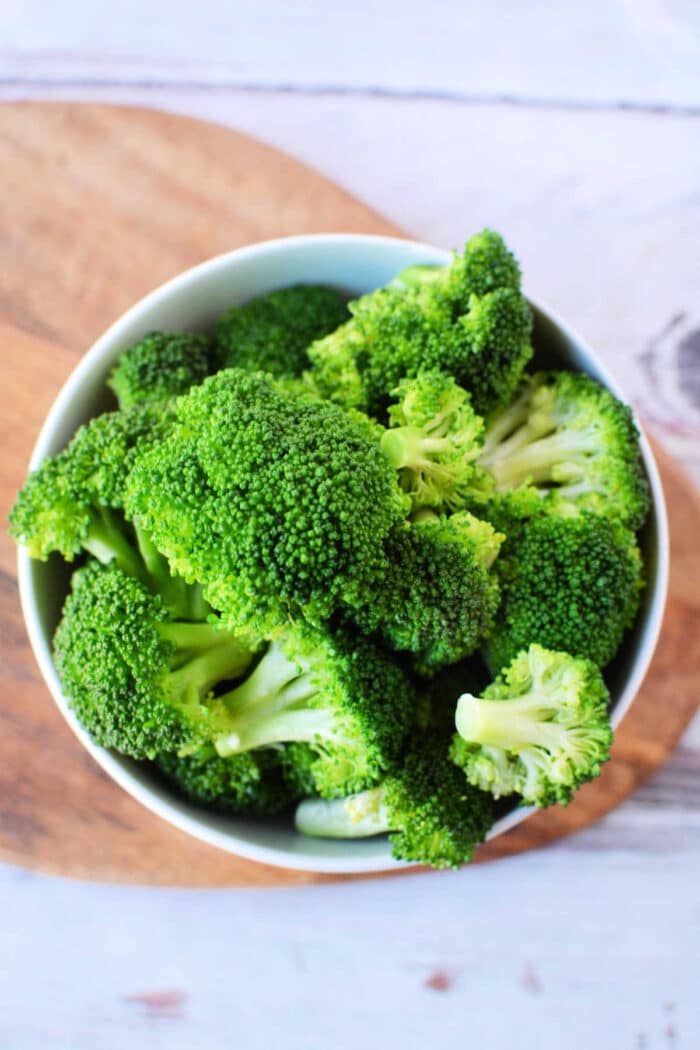 We love steaming vegetables in a microwave nowadays! This is how to microwave broccoli easily, quick, and to tender. You just need a bowl, a plate and some water to get this done. NO need to wait for water to boil, you can steam it in this countertop appliance. (affiliate links present)
How to Steam Broccoli in Microwave
There isn't a huge difference between these florets or cooking broccolini. You'd just need a larger flatter glass dish instead of a bowl. Why would you cook this way?? Well there are a few instances where it would be very helpful. If your stovetop is already full, you live in an RV or hotel room, or just want veggies tender fast.
I mean we have always been there. The thought of boiling broccoli and waiting 15 minutes just to get the water to boil is just not what you want to do. You loose a ton of nutrients submerging into liquid too, that is a no go. Instead, steam with just a bit of water in an enclosed container to get even better results, and more nutritious to boot.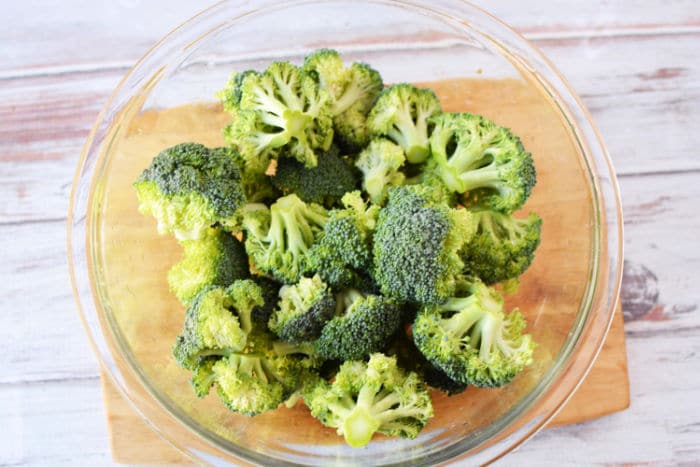 How to Cook Broccoli in Microwave
So when you buy a whole head of broccoli you only really want to eat the top florets. To prep you want to use a sharp knife and cut off large bite size pieces. If you couldn't fit it into your mouth, it needs to be cut in half.
Keep every one the same size too so they cook at the same rate. Of course if they are right out of the freezer then the prep is already done for you. Just like how to bake frozen broccoli it doesn't really take more time than fresh. Here are a few questions you might have;
Broccoli in Microwave
Do I need to add water when microwaving broccoli?
Yes, well you could use broth instead for more flavor if you would like but you do need a bit of liquid. The water creates steam, which helps in the cooking process and prevents the broccoli from drying out.
Should I cover the dish while microwaving broccoli?
Yes, covering the dish is beneficial when you microwave broccoli. It helps to trap the steam, which aids in the cooking process and keeps the vegetables moist. Use a microwave safe lid, plastic wrap, or an upside down plate to cover your microwave safe bowl.
Can I microwave frozen broccoli?
Yes. Follow the same steps as directed below, but you may need to add a bit more cooking time compared to fresh (depending on their size). Most of the time frozen florets are quite small so there is no difference in cook time but the texture will be softer.
Just like with how long to cook corn on cob in microwave there will be slight variances as some people like it firmer than others.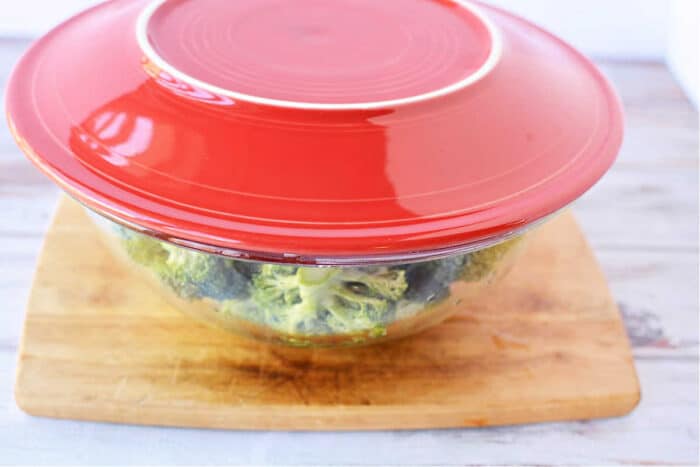 How Long do you Cook Broccoli in Microwave
Microwaving broccoli is a quick and convenient way to cook this nutritious vegetable while preserving its vibrant color and crisp texture. Here's a simple step by step guide on how to microwave broccoli:
Start by rinsing the broccoli under running water to remove any dirt or debris. Trim off any tough stems and separate the broccoli into florets of similar size. You can also peel and slice the broccoli stems if desired.
Transfer the broccoli florets to a microwave-safe dish. Choose a dish that is large enough to accommodate the broccoli in a single layer, allowing for even cooking.
Add a small amount of water to the dish to create steam. This helps in the cooking process and prevents the broccoli from drying out. You only need a couple of tablespoons of water to generate sufficient steam.
Place a microwave-safe lid or cover on top of the dish to trap the steam. If you don't have a suitable lid, you can use microwave-safe plastic wrap or a microwave-safe plate inverted over the dish. The cover helps to retain moisture and speeds up the cooking process.
Set the microwave to high power and cook the broccoli for about 2-4 minutes, depending on the quantity and desired tenderness. Start with the shorter cooking time and check for doneness before adding additional time if needed. Keep in mind that cooking times may vary based on the wattage of your microwave.
Carefully remove the dish from the microwave and uncover it, taking caution as hot steam will escape. Insert a fork or a knife into the broccoli to check for the desired level of tenderness. It should be crisp-tender, meaning it still has a slight bite but is not raw or overly soft.
Fastest Way to Cook Broccoli
If you wanted some crispy texture on the outside you could. Lay on paper towels to dry. Toss with olive oil and seasonings and then pop it in to finish as air fryer broccoli.
Once the broccoli is cooked to your liking, drain any excess water and season it with salt, pepper, herbs, olive oil, soy sauce or a drizzle of cheese sauce. Toss the gently to evenly distribute the flavors. Serve it as a side dish, add it to salads or stir-fries, or incorporate it into your favorite recipes.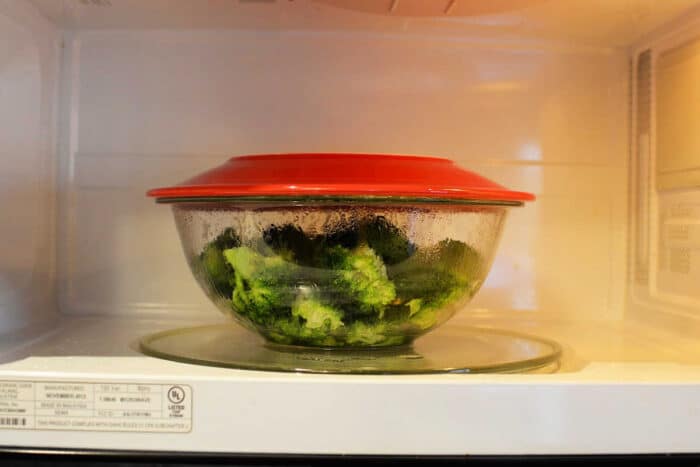 How to Microwave Broccoli
Microwaving broccoli is a quick and easy way to enjoy this nutritious vegetable as a side dish or as an ingredient in various recipes. Even faster than Instant Pot broccoli. With these simple steps, you can have perfectly cooked broccoli recipe in a matter of minutes, adding a healthy and vibrant element to your meals. Here are a few tips for success:
Use fresh broccoli for the best flavor and texture. The florets should be firm and vibrant in color.
Cut the broccoli into similar-sized pieces to ensure even cooking.
Experiment with the cooking time to achieve the desired level of tenderness. Remember that the cooking time may vary based on the power of your microwave.
Be cautious when removing the lid or cover from the dish to avoid steam burns.
Feel free to customize the seasoning according to your taste preferences. Lemon zest, garlic, and chili flakes are popular additions to microwave-steamed broccoli.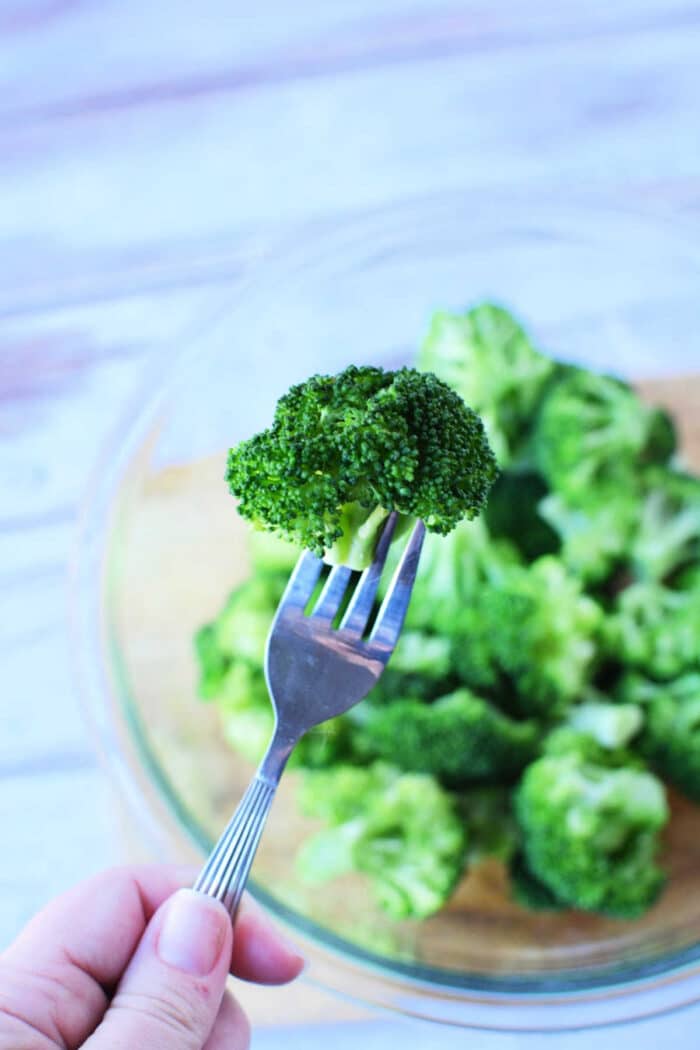 Want to see a few of my favorite things that I am totally obsessed with?? Take a peek and see how many you might already have…twinsies!
Looking for more easy family recipes and tips? LIKE The Typical Mom Facebook page?
Then sign up for my free newsletter, and follow me on Pinterest! 😉
***** If you LOVED this recipe give it 5 Stars below and let everyone know what you thought about it. 😉
Microwave Broccoli
How to microwave broccoli to tender in no time! You just need a bowl, plate and some water. Once fork tender just add butter and season.
Instructions
Rinse head of broccoli and cut into smaller florets, bite size. Put into glass or microwave safe bowl.

Pour water into the bowl. Sprinkle with salt and pepper, can add pat of butter to the top.

Put bowl into microwave, best if you already have a rotating plate in machine. Place a microwave safe plate on top of your bowl.

Heat at regular, high, power for 4 minutes. Then use a fork to test tenderness. If you want softer put plate on top again and add 1 minute at a time, testing in between until done.
Nutrition Facts
Microwave Broccoli
Amount Per Serving (1 oz)
Calories 77
Calories from Fat 27
% Daily Value*
Fat 3g5%
Cholesterol 8mg3%
Sodium 73mg3%
Potassium 481mg14%
Carbohydrates 10g3%
Protein 4g8%
Vitamin A 1034IU21%
Vitamin C 136mg165%
Calcium 73mg7%
Iron 1mg6%
* Percent Daily Values are based on a 2000 calorie diet.