The best low carb lunch ideas that are easy to make, healthy, and high in protein while incorporating vegetables in them too. Simple healthy lunches!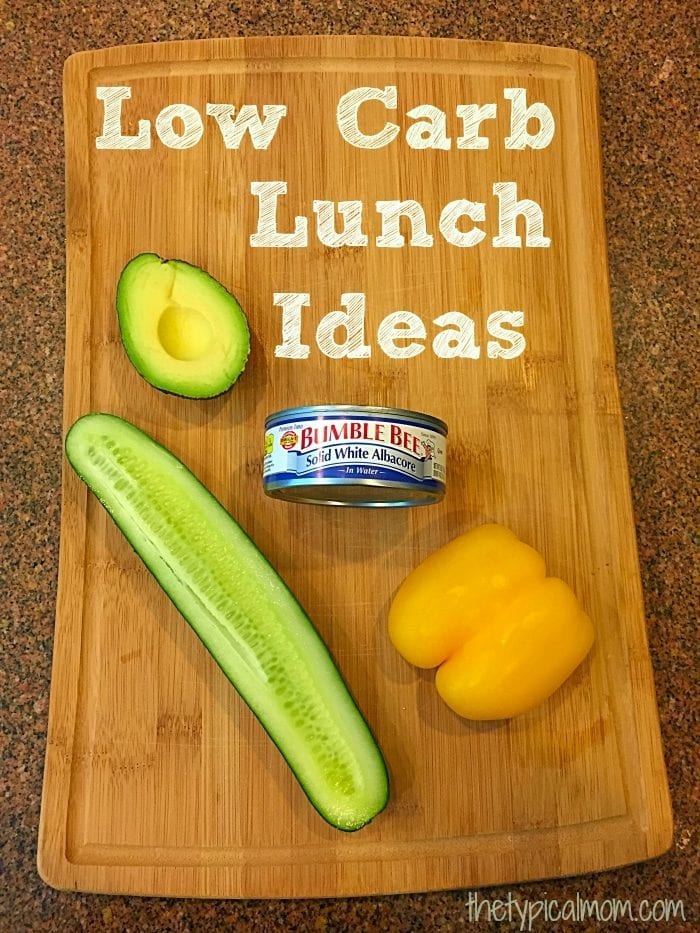 Even though I'm a very busy Mom I still try to eat as healthy as possible, and get my kids to do the same. Whether we are going on a little road trip on the weekends or I am eating lunch at my desk (I work from home), I love finding new low carb lunches I can enjoy while on the go or when I have a minute to myself (rare). Here are a few go to options that are really tasty, healthy, and do not require bread (and it's actually better without it). Let me show you a few low carb lunches. Special thanks goes out to Bumble Bee for sponsoring this post. (originally published 9/15)
Low carb lunch ideas
Like I said…..I am super busy! I have 3 kids going to 2 different schools this year and work at home full time during the hours they are away. There isn't a minute that isn't accounted for, so many times I eat lunch at my desk.
When I find a lunch that tastes great, is easy to make, and adds nutrients to my diet all at the same time I am ALL in. First I start with a can of solid white albacore Bumble Bee tuna in water. Then I get creative with the veggies I use. If I deserve a little carbs I will make air fryer tuna melts but these keep it as low carb as we can below.
High Protein Low Carb Lunch
There are two ways I do this.
If I want to make a really low carb meal I skip the mayo entirely and mix 1 can of Bumble Bee tuna with 1/4 cup salsa and 1/4 cup feta cheese.
If I am going to "treat myself" I instead mix about 2 tbsp. mayo with about 2 tbsp. sweet relish…depending on my mood. once that is mixed we will move on to the veggies.
Tuna Stuffed Avocado
Low Carb High Protein Meal
This time I mixed a bit of mayo and relish for my mixture….but both are fantastic! One healthy way to make low carb lunches is to scoop your tuna mixture into an avocado sliced in half!
Seriously…..anything avocado just makes my mouth water! Avocados and Bumble Bee tuna have healthy fats that are great for you (and your skin). Plus, the mixture is a great source of protein so it will keep you satiated throughout the afternoon!
Just grab a fork/spoon and scoop out your lunch.
Here is another one of my favorite things to do with this tuna mixture!
Just cut a cucumber in half. Then slice in half lengthwise and scoop out the middle. Scoop the mixture in…..and there's your easy and delicious lunch!
This last idea I did when we took a day trip up to Big Bear, Ca. last weekend. I made my tuna mixture and put it in a container with a lid. Then cut a yellow bell pepper in half (scooped out middle seeds), and when we were ready for lunch!
I actually only got to eat half. My 8 year old asked for a bite and ate the rest of it! All of these easy low carb lunches are easy to do with Bumble Bee tuna and your favorite veggies. Here are some healthy snacks for kids you can use while you're out too!
What are your favorite low carb lunches ??
We love this no noodle lasagna, maple glazed salmon and low carb air fryer recipes too.