There's nothing quite like the combination of luscious strawberries, fluffy meringue, and tangy lemon to give your taste buds a heavenly treat. And that's exactly what we're doing today. Baking a scrumptious Lemon Meringue Strawberry Shortcake. Yes you loved our easy 2 ingredient strawberry cake but homemade is best and that's why we are here.
In this delightful twist on a classic dessert, we're infusing every layer with touches of bright citrus notes with our strawberry shortcake with meringue. Starting from the cake base, where the zesty lemon juice meets rich, creamy butter, to fresh strawberries with a dash of lemon extract is amazing. Add the light-as-air meringue topping for added wow. This is more than the best strawberry shortcake your taste buds will love. (affiliate links present)
What makes this recipe extra special is the addition of lemon zest and extract, adding a zing that complements the sweetness of the strawberries and the richness of the meringue. Each bite of this cake gives you a burst of flavor that's truly unforgettable. Now, let's get to the delicious details.
Strawberry Shortcake Lemon Meringue
We first made a batch of chocolate meringue cookies, those were so good. With these other flavors you wouldn't want this cocoa flavor but rather one that is more on the vanilla end of things.
As a quick rundown, you're going to need some basic ingredients for this heavenly dessert: butter, sugar, eggs, flour, baking powder, vanilla extract, milk, lemon zest, lemon extract, and of course, the stars of the show, strawberries and egg whites for the meringue. You actually don't even need any heavy cream for this one!
Homemade Strawberry Shortcake
As with any other baked good you want to work with the wet ingredients in one bowl and dry in another. It is important to separate in order to keep it light and fluffy without weighing it down with the heavier flour mixture. The topping will be made on the side while this bakes too.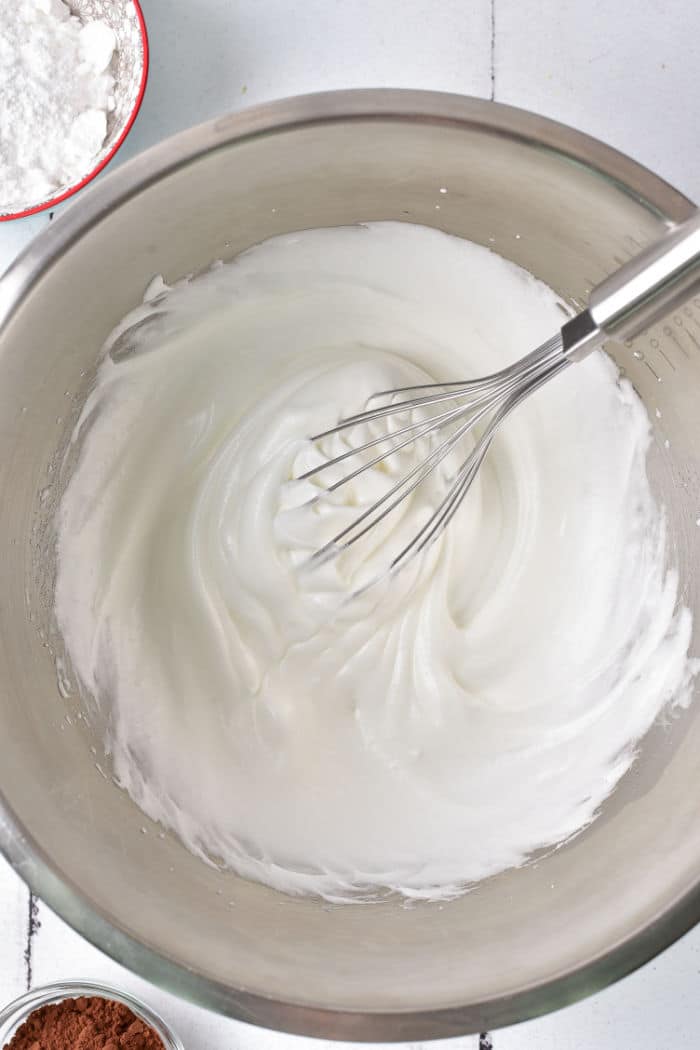 Strawberry Shortcake with Meringue
The process starts with cream sugar with the softened butter, followed by adding the eggs one at a time. Do this in a large bowl to make sure you'll have enough room for everything. Vanilla and lemon extracts are added next for that extra flavor. The dry ingredients, which are already mixed with the lemon zest, are then gradually combined with the wet ingredients along with the milk.
Once everything is well-blended, the mixture is placed in a baking dish lined with parchment paper and is baked until golden brown. This usually takes around 30 minutes. Don't bake on a flat baking sheet! It'll totally wreck it! BUT this is how long to bake mini cupcakes if you want a quick bake, and so cute too.
Now comes the fun part – making the homemade meringue. Egg whites are beaten until soft peaks form, and then sugar is gradually added until the mixture becomes fluffy and dense. The meringue is then piped onto the cake.
Can I Use Store Bought Meringue to Make Strawberry Shortcake Meringue?
Yes, you can use store bought meringue for this recipe if you're short on time. But I recommend making homemade meringue for a more authentic taste and texture. Strawberry recipes are just the best aren't they? We love strawberry bread pudding with pie filling or strawberry cake in a mug.
While the cake is cooling, prepare the meringue. Start by beating the egg whites until they start to form soft peaks. Add in the sugar gradually, continuing to beat the mixture until it forms a dense, fluffy meringue. This process should take around 15 minutes. I recommend an electric mixer to save your arm a workout!
Using a piping bag fitted with a star nozzle, pipe the meringue onto the cooled cake, creating beautiful swirls and peaks. The contrast between the golden brown cake and the stark white meringue is simply mouthwatering. Or you can just gently smooth it on with a rubber spatula like we do with our Duncan Hines lemon bundt cake.
Now, if you're a fan of a little extra crunch in your desserts, here's a fun tip. Before you pop the meringue-topped cake back into the oven for a quick bake to set the meringue, consider adding a sprinkle of sugar on top.
As it bakes, this will caramelize slightly, giving your meringue an attractive golden touch and an extra burst of sweetness. Moreover, it adds a wonderful textural dimension, a pleasant crunch that compliments the fluffy meringue and the tender, moist cake beneath it. It's a little extra step that can take your strawberry shortcake to new heights of deliciousness.
Lemon Meringue Shortcake
The tangy lemon zest and extract in this cake really set it apart from other strawberry shortcake recipes. The brightness of the lemon is a wonderful contrast to the sweet strawberries and whipped cream, making this dessert refreshingly different.
One tip to remember while baking this cake: don't rush the baking process. Allow the cake to cool fully before piping the meringue. If the cake is still warm, the meringue may melt, which would be a disaster!
Another pro tip: if you're craving that delicious toasted meringue flavor, you can briefly put the cake under the broiler until the meringue is lightly golden. Just make sure to keep a close eye on it to prevent burning.
Once you've tasted this Lemon Strawberry Shortcake, you'll understand why it's quickly become one of my all-time favorite recipes. Not only does it taste divine, but it's also a show-stopper of a dessert, making it perfect for special occasions or just when you want to treat yourself. If you love fluffy treats I would try this Instant Pot angel food cake too!
Baking can be a lot of fun, especially when the end result is as delicious as this Lemon Meringue Strawberry Shortcake. Whether you're a seasoned baker or just starting out in the world of baking, this recipe is easy to follow and yields a dessert that is sure to impress.
Remember, the key to a successful bake is patience and following the recipe closely. Always let your cake cool down completely before adding your meringue, or you might end up with a melted mess! And don't be afraid to get creative with your meringue piping – the more swirls and peaks, the better.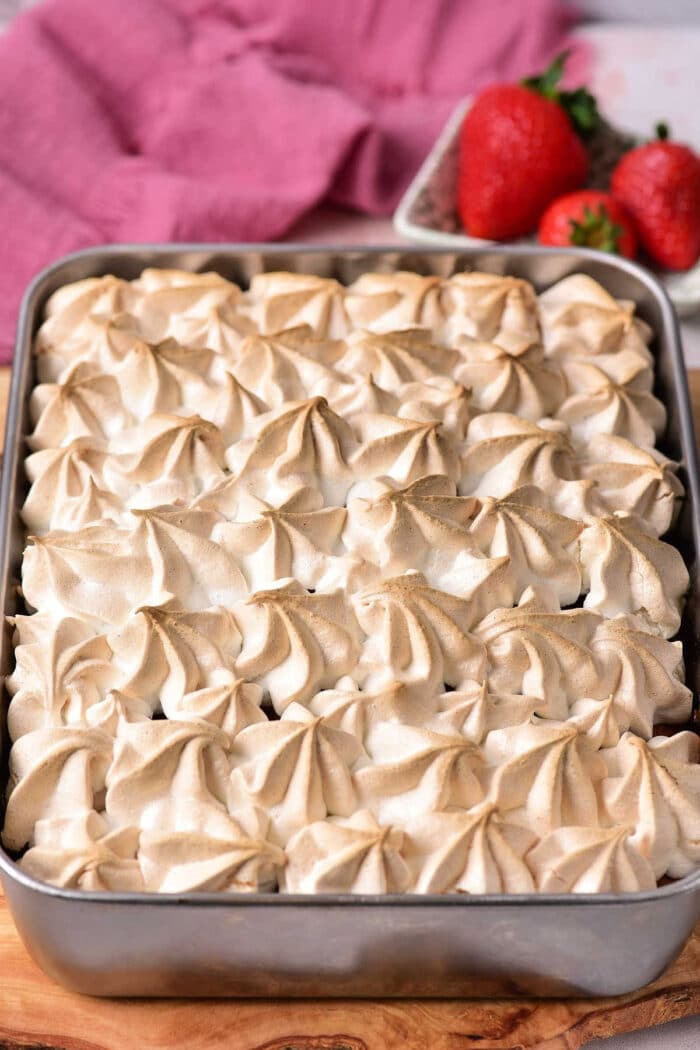 If you loved this lemon meringue twist on a classic strawberry shortcake, then why not try your hand at some other classic recipes with a twist? Baking is all about experimentation, and who knows, you might just stumble upon your new favorite dessert. So put on your apron, preheat the oven, and get baking!
How to make meringue
This is not just a cake; it's a celebration of flavors and textures in every slice. Each bite is a perfect harmony of the buttery cake, tangy lemon, sweet meringue, and fresh strawberries. So the next time you're in the mood for a dessert that's out of this world, remember this recipe. Happy baking, everyone!
Thanks for stopping by! If you try out this recipe, I'd love to see your creations. Feel free to share them on social media and tag me. I hope you love this recipe as much as I do. Here's to more sweet treats and happy baking!
Want to see a few of my favorite things that I am totally obsessed with?? Take a peek and see how many you might already have…twinsies!
Looking for more easy family recipes and tips? LIKE The Typical Mom Facebook page?
Then sign up for my free newsletter, and follow me on Pinterest! 😉
***** If you LOVED this recipe give it 5 Stars below and let everyone know what you thought about it. 😉
Lemon Meringue Strawberry Shortcake
Homemade lemon meringue strawberry shortcake recipe with fresh fruit is the best summer dessert ever. Fluffy meringue cake.
Equipment
1

9×13 pan

or 9×9 if you want it thicker
Instructions
Preheat oven to 360 F. In a bowl add flour, lemon zest, salt and baking powder. Stir with a whisk.

In another bowl blend with whisk attachment on low your soft butter and brown sugar. Add the eggs one at a time to the butter bowl, then vanilla and lemon extract. Blend until smooth.

Add dry ingredients in portions, as well as milk. The dough should be smooth without lumps. Line a 9×13" baking dish with parchment paper and place the batter inside. (if you want it thicker than 2" in the middle, put into a 9×9 pan instead) Bake for 30-35 minutes or until middle bounces back when touched gently.

Cool the finished cake without removing it from the baking dish. Beat the egg whites for two minutes with a whisk attachments with electric mixer, then add sugar in portions and make a fluffy dense meringue. The whisk should have strong meringue peaks.

Transfer the meringue to a piping bag fitted with a star nozzle. Pipe the meringue on to the surface of the cake.
Nutrition Facts
Lemon Meringue Strawberry Shortcake
Amount Per Serving (1 oz)
Calories 97
Calories from Fat 36
% Daily Value*
Fat 4g6%
Cholesterol 31mg10%
Sodium 69mg3%
Potassium 53mg2%
Carbohydrates 13g4%
Protein 2g4%
Vitamin A 151IU3%
Vitamin C 0.2mg0%
Calcium 22mg2%
Iron 0.4mg2%
* Percent Daily Values are based on a 2000 calorie diet.