Here are some easy glitter arts and crafts ideas to use in the classroom or just a fun craft for kids at home. Rainbow crafts are fun during St. Patrick's Day or any time of year and these are perfect for all ages from Kindergarten up to school age children.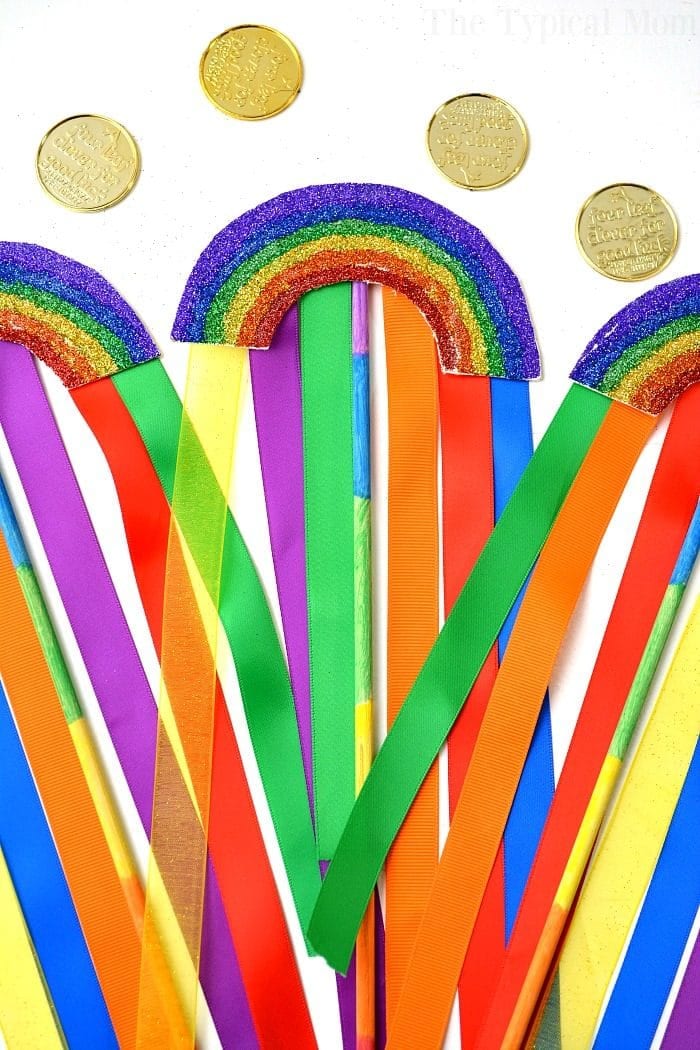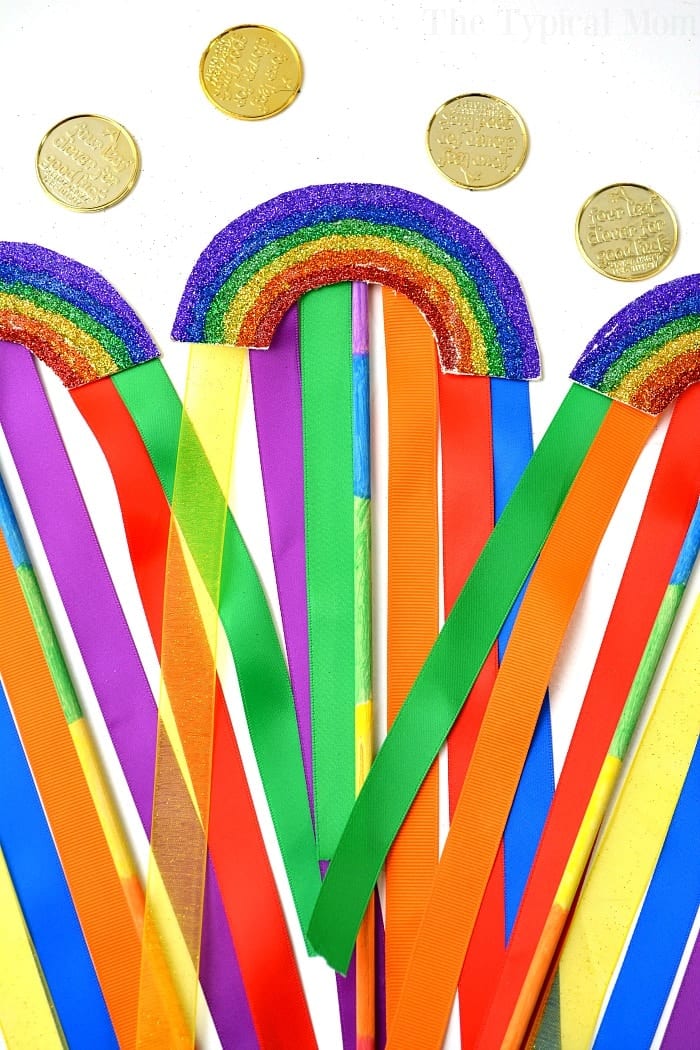 If you're looking for some easy rainbow glitter arts and crafts this is a fun one. Most children of all ages can make them. If it is St. Patrick's Day this ribbon craft is fun to make. Then take outside and let the breeze do the rest while the kids are running and letting the rainbow wand flow in the wind. If you have a Kindergarten class this is fun. A little messy for sure with the glitter, but nothing a vacuum can't clean up. 😉
Easy Glitter Crafts
If you use the hot glue gun the rest of the craft is simple enough for grade school kids or even Preschoolers if you have a parent helper. Cheap for a large group, just have an adult willing to do this with them in a craft station and let them take it all home.
I know when I was a teacher I was always looking for cheap crafts for kids for each holiday that came up and would have definitely made this if I was still in the classroom.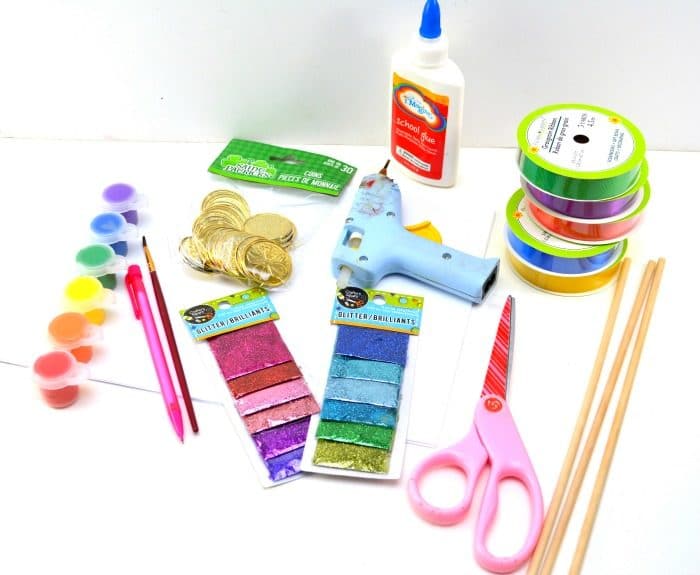 If you want to omit the glitter you could do so and substitute markers or coloring the rainbow with crayons if you prefer. It does take some accuracy as far as creating the glitter rainbow is concerned so it is up to you and the ages of the children you're working with for sure.
Glitter arts and crafts
This is great if you're throwing a rainbow birthday party.
Craft paint
Paint brushes
Thick card stock – white
White glue
Glitter – or markers
Wooden dowels – or tongue depressors
Ribbon – rainbow colors
White paper
Pencil
Directions: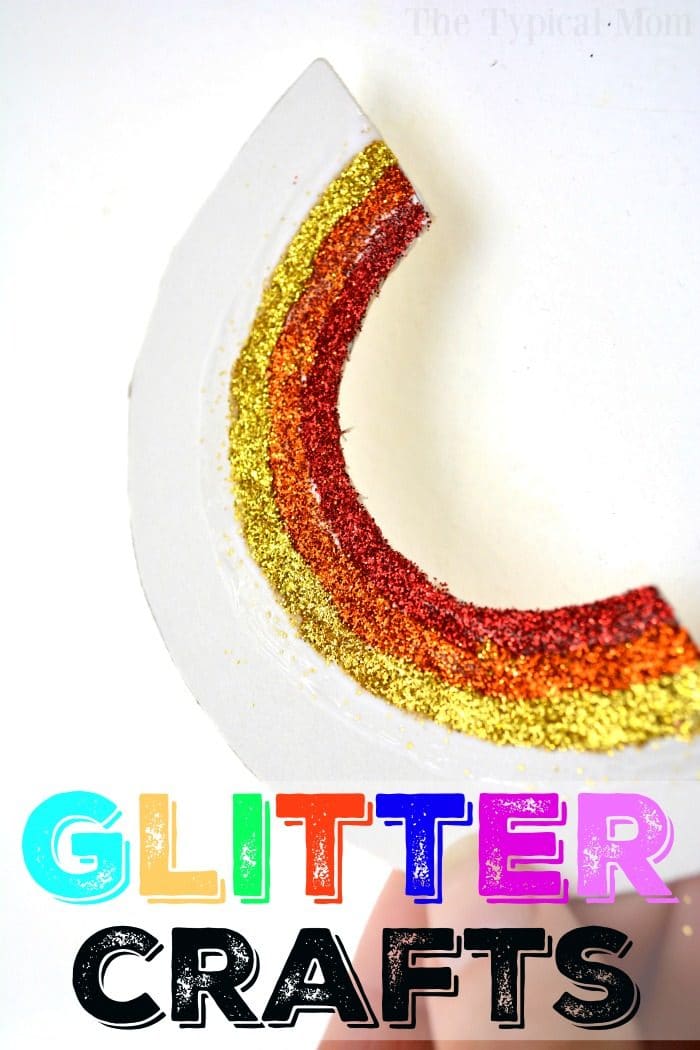 What do you do with glitter for kids
Draw a rainbow shape on to a piece of paper, as large as you want it to be after attaching it to your dowel or stick.
Cut out the rainbow and trace it onto the thicker card stock, or cardboard.
Then cut out the rainbow shape.
Use a paintbrush to paint a thin layer of glue to the very inside of your rainbow shape, sprinkle one color of glitter on to that line of glue and allow to dry.
Create a second line of glue and sprinkle the 2nd color of glitter, dry…so on and so forth.
Once it is completely dry glue (hot glue is best) your dowel or tongue depressor on to the back of your glitter rainbow.
You'll want to cut out different lengths of rainbow ribbon and glue (hot glue is best) to the back of the rainbow so they hang down.
Enjoy!
Easy Glitter Crafts for Kids
Looking for more fun rainbow and glitter arts and crafts ideas, here are a few