This edible raw cookie dough is egg free and dairy free but not free of all the flavors you love when licking your fingers when making cookies! Requires no baking so your kids can help too. Try them!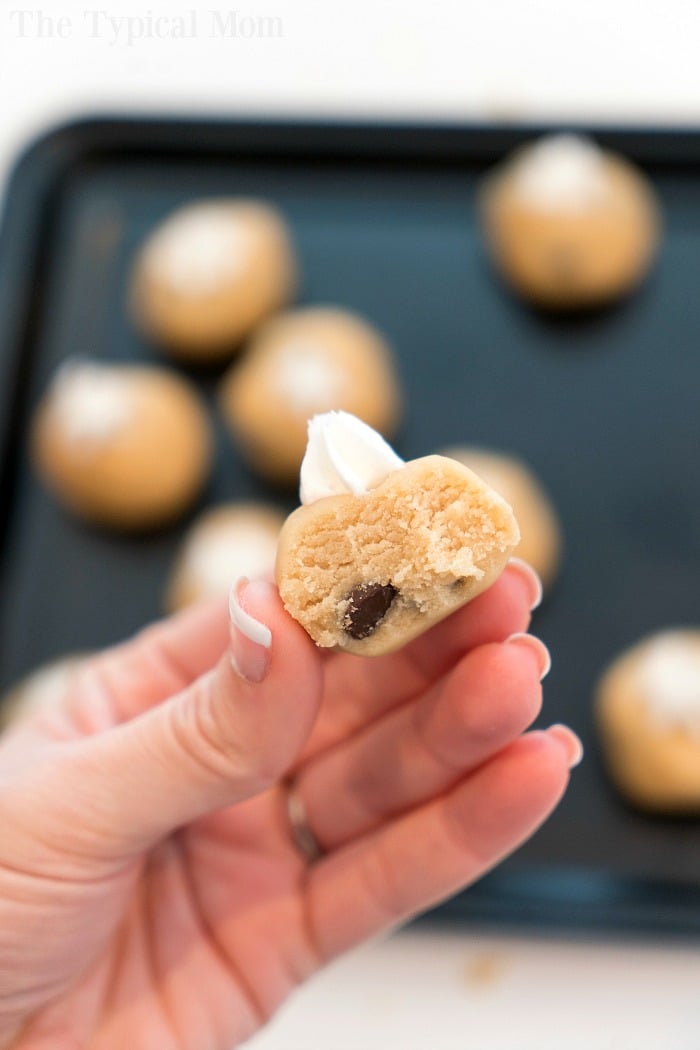 Do you love the taste of cookie dough but know you shouldn't eat it because of the raw egg in the batter? Well now you can make this batch of edible raw cookie dough and not worry about that! Full of all the chocolate chip cookie flavors you love but egg free and dairy free, you can now have a guilt free bite. What are you waiting for? If you love eating raw cookie dough, try our cookie bites tonight. (affiliate links present, originally published 4/19)
Homemade Edible Cookie Dough
We made these into a chocolate chip edible cookie dough recipe but you could use peanut butter chips or make our edible brownie batter too! Love toffee, add 1/2 cup of crushed bits. Heck, add them both and have a sinful bite after dinner. (I won't tell).
This is what ours looked like (above) once they were done. Actually my youngest two daughters made these without my help at all!! That's what's great about this edible chocolate chip cookie dough recipe. NO oven, egg, or milk are required. So…let the kiddos help you in the kitchen when you make these treats.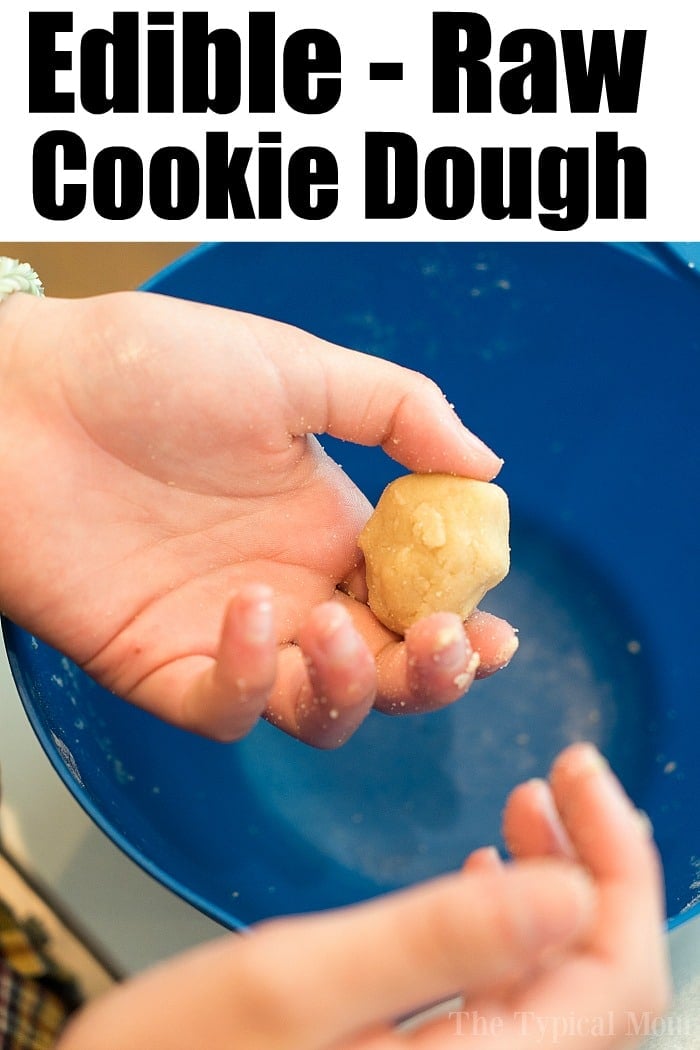 Edible Chocolate Chip Cookie Dough Recipe
Here she is rolling them up into balls with her hands. No, they don't have to be perfect. It is nice to have them about the same size, bite sized so you can pop one in but that's not required.
My girls love to get in the kitchen and create new yummies. I let mine experiment together and make whatever they wanted using what we had in the pantry and this is what they came up with after a few initial test batches.
They knew the basic ingredients needed to make no bake cookie bites since Miss. middle is taking home ec. in school now. So, they started from there and this is what they came up with.
It's not every time that they have success but these came out so yummy (and pretty) that I thought I'd share with all of you.
Edible Raw Cookie Dough Recipe
One decided to leave them plain and my youngest decided to doctor them up with a little frosting spot at the top. These are great for experimenting with in the kitchen for all ages really.
Baking sheet

just for refrigerating purposes

Electric mixer

if you'd rather have your kids use a spoon that is fine, just comes out smoother this way

Room temperature salted butter
Vanilla Extract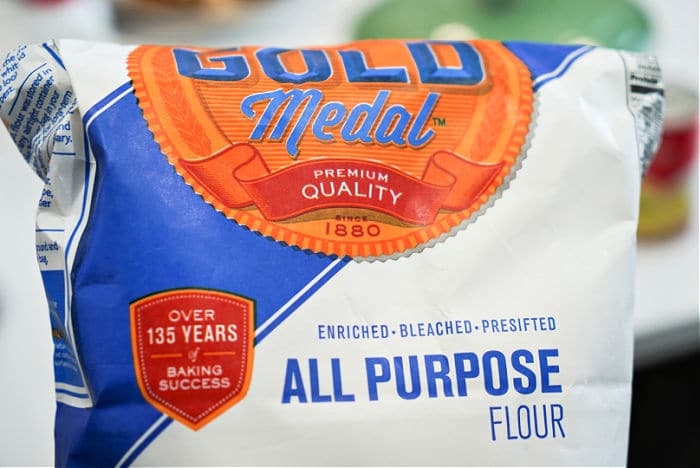 Can you eat cookie dough raw?
Consuming raw cookie dough carries a potential risk of foodborne illness. Packaged in the refrigerated section that is supposed to be baked contains raw eggs and uncooked flour in it. Those can contain harmful bacteria like Salmonella and E. coli. Therefore, it is generally recommended to not eat that version as it is not designed for that.
If you want to indulge in cookie dough without the risk of food poisoning, you can make edible cookie dough that is specifically formulated to be consumed raw, like this. Using heat treated flour and no raw eggs we will show you how to make just that.
Here will provide instructions on how to make safe and delicious dough that can be eaten right out of the bowl without heating beforehand. Alternatively, you can bake the cookie dough into cookies to eliminate the risk of foodborne illness.
No Egg Edible Cookie Dough
All purpose flour

if concerned about eating this raw here's how to cook your flour
it just takes 5 minutes at 350 degrees in a preheated oven

Large bowl
Mini chocolate chips

or peanut butter chips, butterscotch, toffee bits etc…

Rubber spatula
Sugars, brown and white
Notes when making these bites
Make sure to mix your butter and sugar well so they are as smooth as possible

ensuring your butter is room temperature is the key to this

Use smaller chips if possible, it makes biting into and eating them easier
Create bite size pieces that are all relatively the same size
Store in the fridge

if keeping for longer than a day put them in an air tight plastic container

One or two is plenty

keep in mind there is still raw flour inside. There have been recalls in the past so cook flour to help avoid any issues
What goodies will you add inside of yours?? Want to try other easy dessert recipes?
This is how to make ice cream at home using baggies! Fun to do with kids.
Peanut butter cookie brownies are fun using cake mix.
Here are my printable recipe notes:
How to Store Raw Cookie Dough
If you're not planning on using it immediately, you can store it in the refrigerator or freezer for later use. To store in the refrigerator, wrap it tightly in plastic wrap or aluminum foil, or place it in an airtight container. Store it in the coldest part of your refrigerator for up to 3-4 days.
To store in the freezer, wrap it tightly in plastic wrap or aluminum foil, or place it in an airtight container. Freeze it for up to 3 months. When you're ready to use it, thaw it in the refrigerator before consuming as it will become very hard and will hurt your teeth if bitten.
It's important to label the cookie dough with the date it was made and the type of dough, so you can keep track of how long it's been stored. Before using always inspect it for any signs of spoilage, such as an off smell or unusual texture. If in doubt, it's always best to discard it to avoid any potential food safety issues.
Want to see a few of my favorite things that I am totally obsessed with?? Take a peek and see how many you might already have…twinsies!
Looking for more easy family recipes and tips? LIKE The Typical Mom Facebook page?
Then sign up for my free newsletter, and follow me on Pinterest! 😉
***** If you LOVED this recipe give it 5 Stars below and let everyone know what you thought about it. 😉
Edible Raw Cookie Dough
This edible raw cookie dough is egg free and dairy free but not free of all the flavors you love when licking your fingers when making cookies! Try it!
Instructions
First preheat your oven to 350 and pour flour on a baking sheet, bake for 5 minutes. Allow to cool. (this step is optional but we prefer to do it because of past recalls on flour) Then use a mixer on low speed to blend together your softened butter, brown sugar and white sugar until smooth.

Add your vanilla and cooled flour. Mix until well blended. Add chocolate chips and use a spoon to combine well.

Refrigerate for about 30 minutes to stiffen up a bit. Then take a heaping tbsp. full and roll it into your hands to make a ball.

Place equal sized, bite sized balls on a cookie sheet. Can create a divot on top of each one and squeeze a bit of vanilla frosting on top if desired.

Keep in fridge on cookie sheet or if keeping for longer than 1 day, put in Tupperware container and enjoy one at a time.
Nutrition Facts
Edible Raw Cookie Dough
Amount Per Serving (2 oz)
Calories 103
Calories from Fat 45
% Daily Value*
Fat 5g8%
Cholesterol 11mg4%
Sodium 38mg2%
Potassium 9mg0%
Carbohydrates 13g4%
Vitamin A 130IU3%
Calcium 11mg1%
Iron 0.3mg2%
* Percent Daily Values are based on a 2000 calorie diet.