Easy homemade macaroni and cheese recipe here that your family and kids will go crazy over. From scratch but simple enough for the busiest moms to make too.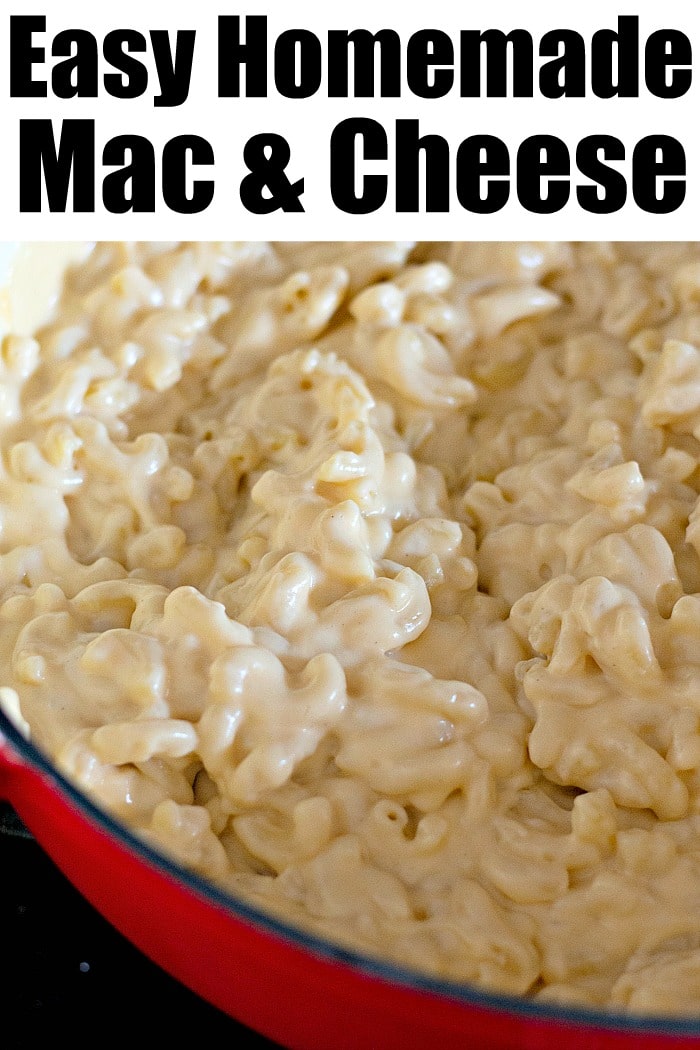 This easy homemade macaroni and cheese recipe may become your go to meal! Creamy white or cheddar cheese mixed with tender elbow macaroni makes my mouth water just thinking about it. Try it yourself! (affiliate links present, originally published 3/20)
How to Make Homemade Macaroni and Cheese
As you know we have shared our love for Ninja Foodi macaroni and cheese over and over again.
I'm not taking anything away from that, but if you need a stovetop option, this is the way to go.
When it comes to from scratch cooking, I am still all about simple. If you can't find it in your local grocery store I won't share it, and probably won't make it myself either. I only post dinner recipes that turn out successfully and my kids love it too.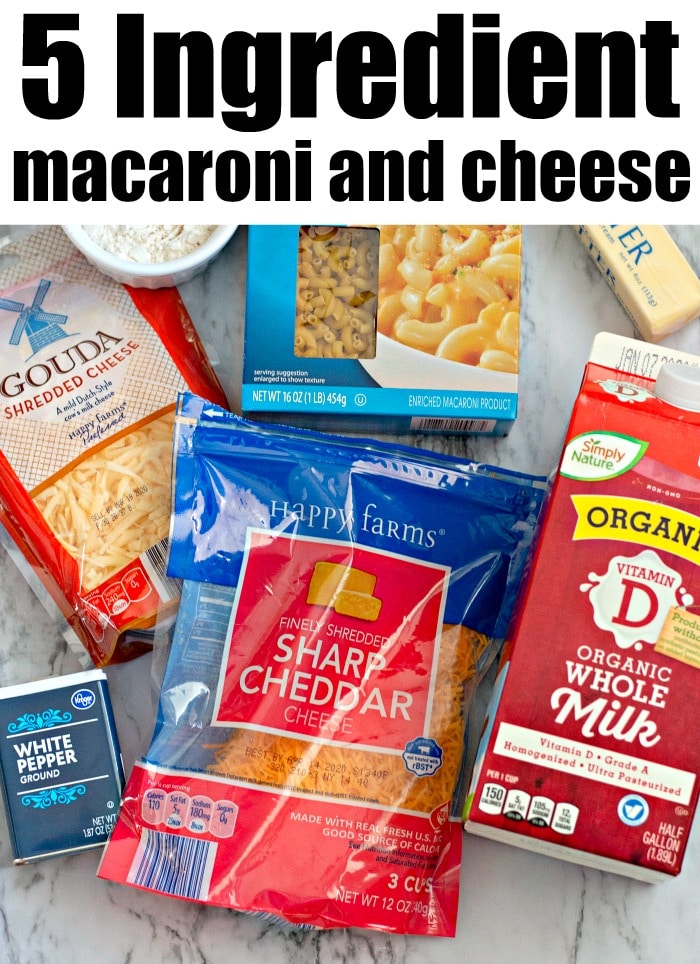 Homemade Macaroni and Cheese Ingredients
Milk

whole is best, I wouldn't use fat free

Salted butter
Cheddar cheese

or a mix of white and American shredded cheese, your choice

Flour, salt and pepper
Now beyond those 5 ingredients are any seasonings you would want in this dish. We used salt, white pepper and onion powder. Garlic salt would be a good add in too. You could add leftovers at the end too like our brisket mac and cheese for a heartier version.
Let me show you a few step by step photos so you can see how this homemade mac and cheese was made. If you want to make a version of our Copycat Chick Fil A Mac and Cheese you can do that too with several different varieties.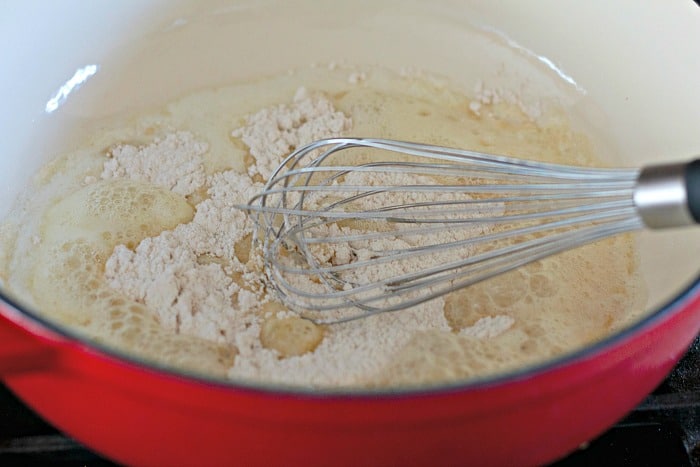 Dutch Oven Macaroni and Cheese
Let's get going with the first step. Of course you're going to need a pot. A pan won't work because of the amount of liquid we're going to use. It will overflow unless you have a hefty lip on the sides like you see here.
I would suggest boiling your noodles when you start the homemade cheese sauce so they're ready all at the same time.
Just cook as you normally would but remove and drain when they are still a bit al dente.

Remember they will continue to cook inside the creamy sauce so you don't want them to go too long and get mushy.
In this second pot melt your butter, then add the flour and whisk together so it becomes a thickening roux.
What is roux used for?
The primary reason is to thicken your sauces. This mixture of equal parts of fat and flour (pronounced "roo") is typically made for thickening sauces and soups. Traditionally it's made with butter, but you can use other types of fats such as lard, bacon fat, or vegetable oil too.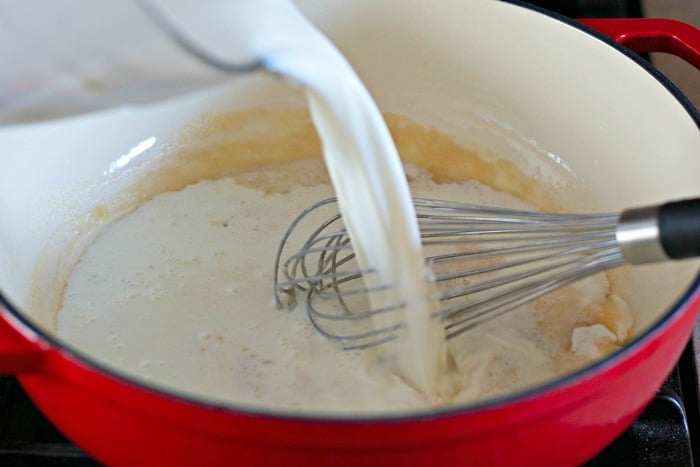 Then add 1 cup of milk at a time, whisking all the while so it continues to be smooth and creamy. Once that is combined well add any herbs and seasonings you want and continue to stir so it doesn't burn.
Stir in your cheese(s) so they melt, then you'll want to remove it from the heat and get ready for the final step.
This is when your al dente pasta comes into play. It should already be tender, drained and ready for it's cheesiness.
Just pour your cooked macaroni into your cheese sauce and gently stir. For best results I would allow it to sit, all mixed together, for 5 minutes so noodles can soak up some of the sauce, get more tender, and allow the sauce to continue to thicken a bit more.
Baked Mac and Cheese
If you wanted to get a browned ooey gooey layer on the top you could pour it into a casserole dish. Sprinkle cheddar over the top and bake at 425 for 10 minutes or broil for just 2-3 just until the top bubbles and browns real light, then pull it out and serve.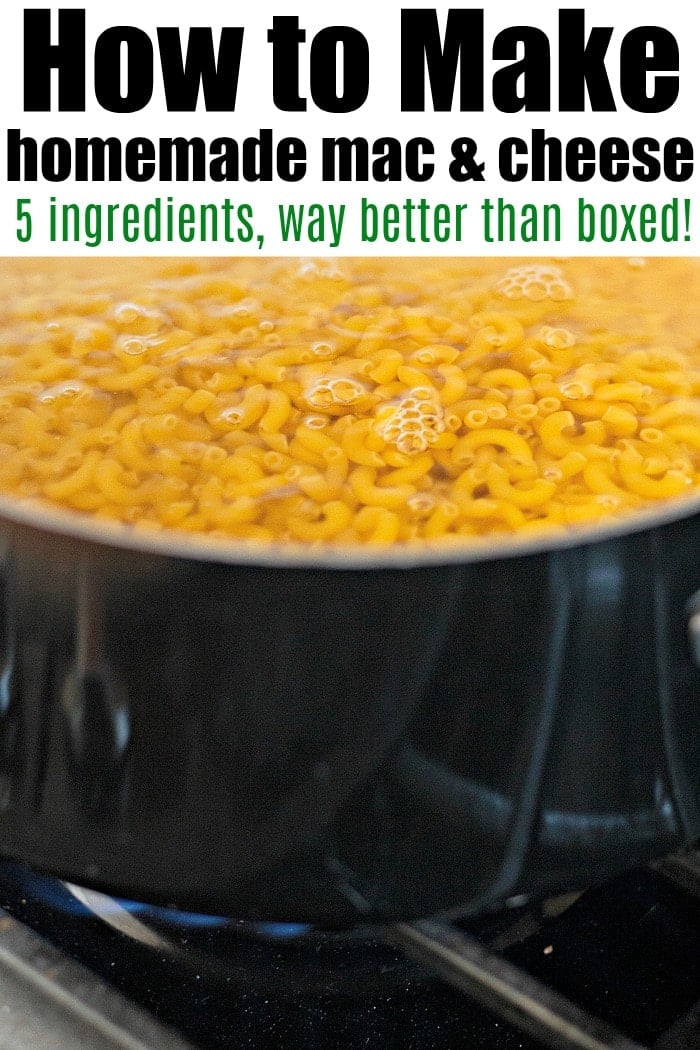 What can I add to mac and cheese to make it better?
Pre cooked crumbled bacon
Bread crumbs are fun to sprinkle on the top of each serving
Grated Romano cheese can be added to the top of each bowl too
Want a bit of heat? A few dashes of hot sauce will do the trick
Ketchup is something kids tend to like on anything
Stir in some chopped hot dogs or leftover ham bits like we do when making boxed Instant Pot mac and cheese
If you want to make more of a baked mac and cheese recipe just pour your prepared dish into a baking dish and layer on another layer of cheese.
Bake in your oven at 375 degrees until the top is golden brown, bubbly and amazingly gooey.
This is a great recipe when serving kids, or guests from out of town and it's chilly outside.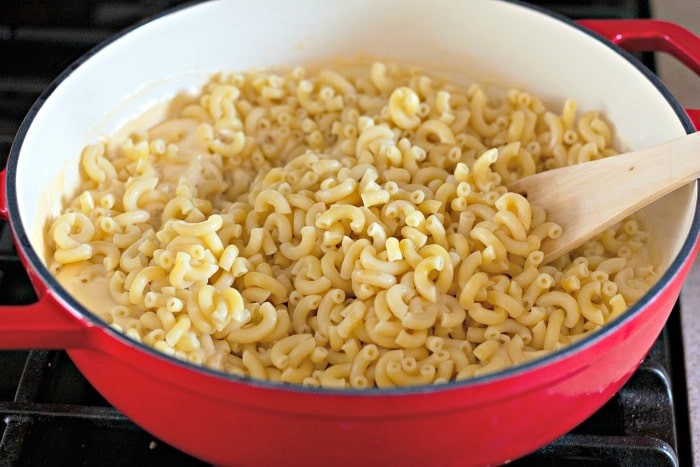 Pure comfort food if you ask me and still an easy mac and cheese dish that takes under an hour to make, even if you are continuing on to this additional step.
What is the best cheese to use in macaroni and cheese?
You would probably get different answers depending on whom you asked but these are known to be the most popular:
Classic sharp cheddar is always a crowd pleaser and probably the most common
Gruyere is delicious and gives you that ultimate cheese pull you see in the magazines
If you've never tried grated smoked gouda, it's probably one of my favorites
A mixture of white cheddar and Monterey Jack was used this time
Parmesan can be added in with another but doesn't melt well
What two cheeses go well together?
If you want to combine a few to give your pasta an untraditional flavor try; sharp cheddar, and a hard version like parmesan or gruyere. Or maybe a cheddar, soft brie, and a cup of gouda.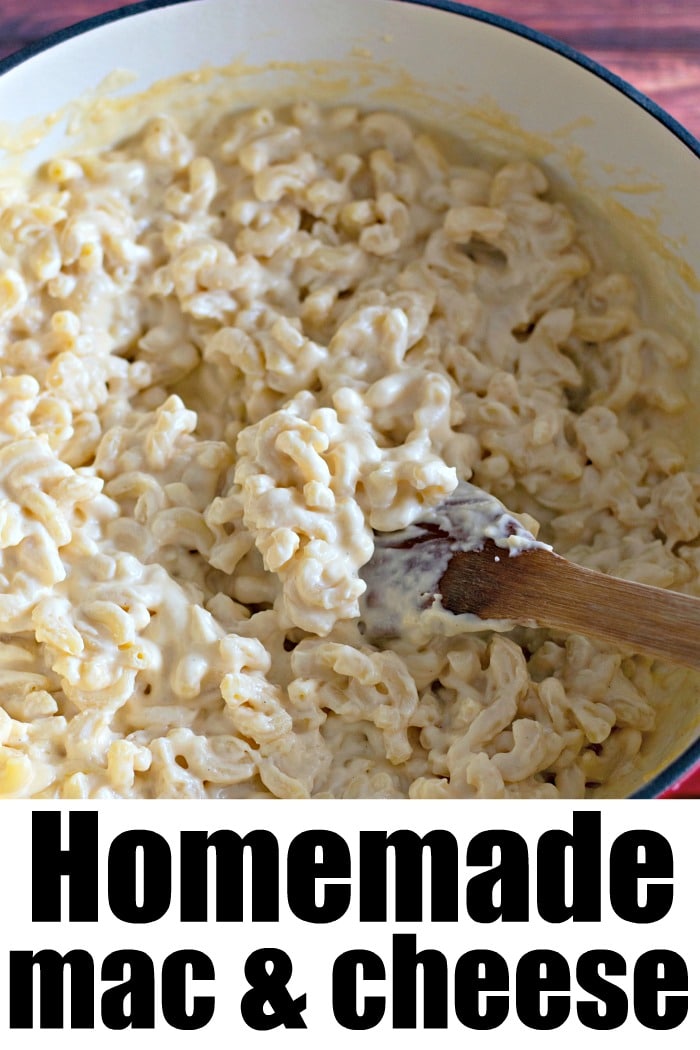 How do you make mac n cheese from scratch?
It's super easy and I guarantee you'll get thumbs up from everyone at the table.
Need other methods to see which is your favorite?? Try our Instant Pot macaroni and cheese recipe, or this crockpot pasta version.
Side dishes you might enjoy with this dish are:
How do you make leftover mac and cheese better?
Whether you make it this way, in your pressure cooker or air fryer mac and cheese these rules below stay the same. You can make a smaller quicker version by reading our how to make mac and cheese in the microwave post.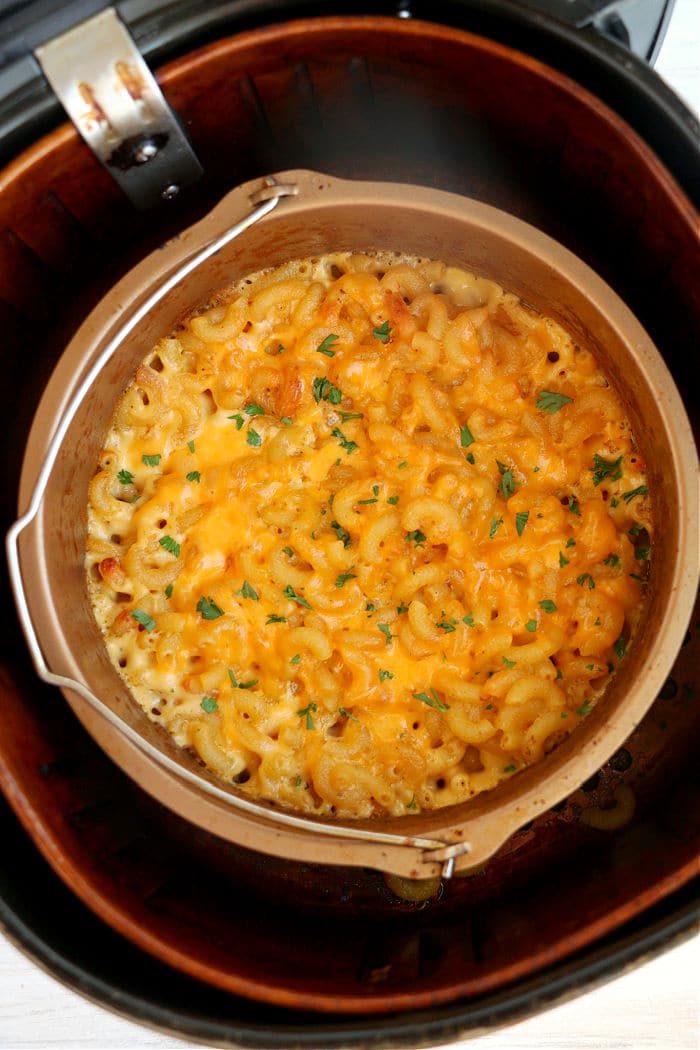 Use a microwave safe bowl filled with your leftover cheesy noodles
Add 1-2 tbsp of milk, enough so when you stir it together the pasta becomes damp again and cheese starts to get liquidy again
Cover with a paper towel
Heat it up in 30 second increments stirring in between times until it's as warm as you'd like

Key is to not overheat it or it will dry out once again
Could add more shredded cheese to top for last 30 seconds for more gooeyness

You could also make leftover macaroni balls if you wanted.
Below is a printable version of this recipe including nutritional information such as calories, saturated fat etc… BUT just enjoy it y'all.
Want to see a few of my favorite things that I am totally obsessed with?? Take a peek and see how many you might already have…twinsies!
Looking for more easy family recipes and tips? LIKE The Typical Mom Facebook page?
Then sign up for my free newsletter, and follow me on Pinterest! 😉
***** If you LOVED this recipe give it 5 Stars below and let everyone know what you thought about it. 😉
Easy Homemade Macaroni and Cheese
Easy homemade macaroni and cheese recipe here that your family and kids will go crazy over. From scratch but simple enough for the busiest moms to make too.
Instructions
Bring a pot of water to a boil and cook noodles as normal until al dente. Can add salt

In a large pot melt the butter over medium heat. When melted add flour and whisk to combine and form a roux.

Add the milk slowly one cup at a time, whisking each addition into the butter and flour until well combined.

To the sauce, add the onion powder, white pepper, and salt.

Allow the sauce to simmer over medium heat for 3-5 minutes until thickened, stirring often to prevent the sauce from sticking and burning.

Add the cheeses and whisk into the sauce until completely melted. Remove the cheese sauce from the heat.

Add the cooked macaroni noodles and stir well. Serve the macaroni and cheese immediately.
Nutrition Facts
Easy Homemade Macaroni and Cheese
Amount Per Serving (2 oz)
Calories 525
Calories from Fat 234
% Daily Value*
Fat 26g40%
Cholesterol 73mg24%
Sodium 632mg27%
Potassium 287mg8%
Carbohydrates 53g18%
Protein 19g38%
Vitamin A 821IU16%
Calcium 348mg35%
Iron 1mg6%
* Percent Daily Values are based on a 2000 calorie diet.