Cheesy chicken broccoli casserole with rice recipe that is easy to throw together! This is my kids' all time favorite casseroles that's quick to make and inexpensive. If you're a mom you're probably all about easy chicken recipes, this is up there in simple.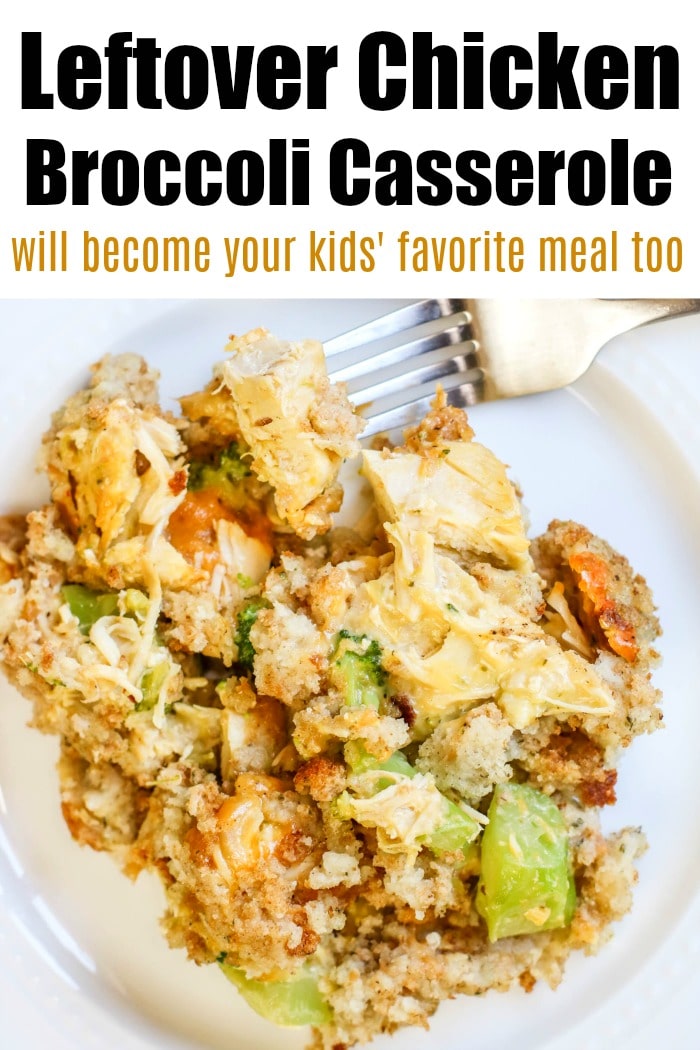 This cheesy chicken broccoli casserole is one of my kids' favorites and so easy to make. I used to omit the veggies but over time I added some and they liked it so it was a good way to incorporate vegetables into our meals too. We love this recipe, it's one of our favorite quick and easy casseroles. (affiliate link present, originally published 4/17)
Cheesy Chicken Broccoli and Rice Casserole
I mean this one is a great leftover chicken recipe, or something you can throw together and make for under $20. Just like any other chicken casserole, you can make it to your liking. If you prefer green beans instead of broccoli then please swap that ingredient out.
BUT Grandmas chicken broccoli bake is just amazing and a family fave. I use frozen broccoli florets or cuts in this one and they come out great. Mixed with chicken or mushroom condensed canned soup, it comes out great every time.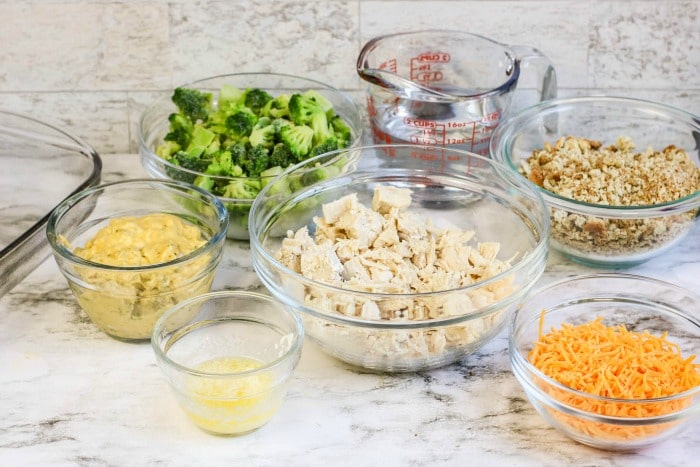 Chicken broccoli stuffing casserole
Ok so you can a bunch of options as far as the meat part goes. If you wanted to make this vegetarian you could leave that part out I suppose too. To make this dairy free you can use plant based butter product and make homemade condensed soup with almond milk instead.
Precooked chicken

about 2 diced precooked chicken breasts, or boiled shredded chicken
that's why this makes a great leftover chicken casserole recipe

how long is leftover chicken good for? 1-2 days is the general rule, discard after 7.

you can dice up rotisserie chicken from the store too

Frozen broccoli cuts or florets

fresh broccoli may become too soft and mushy

Condensed broccoli cheese soup

or cheddar cheese soup if you can't find that

Stuffing mix
Butter
Broth or water

use homemade chicken broth if you want

Cheese is optional but a great addition
9×13″ baking dish / casserole dish
Can you put raw chicken in a casserole?
I would say NO. Adding raw meat into a casserole is pretty risky because it's likely that the internal meat temperature won't reach a safe level. I think it's easier to use precooked meat so you're sure it is safe to eat once it is done. You really could use leftover pork or even beef in this dish too.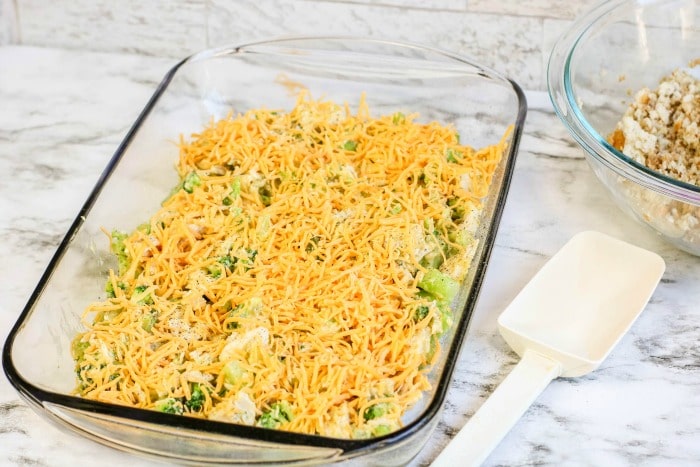 Broccoli cheddar chicken casserole
It's a great one pan meal that my family loves and is inexpensive to make. It stays good for quite some time in the oven safe dish so if we are getting home at different times throughout the day we can all enjoy it. Instead of broccoli and rice we used seasoned stuffing mix. I've tried using rice before and it just isn't as easy to ensure that every piece becomes tender.
Preheat oven to 350 degrees
In a bowl mix your broth (or water), melted butter and stuffing. Toss so mix becomes damp and set aside
Inside another bowl mix together your diced chicken, condensed soup and add the broccoli that's frozen in too

if you want it really creamy, add 1/2 cup sour cream too

Dump this chicken mixture into the bottom of your casserole dish and spread out evenly
Sprinkle your cheese on now
Top with a layer of your stuffing mix
Pop it into your oven to bake for 30 minutes until it's golden brown and slightly crunchy on top
Allow to sit for 10 – 15 minutes so it solidifies and then serve!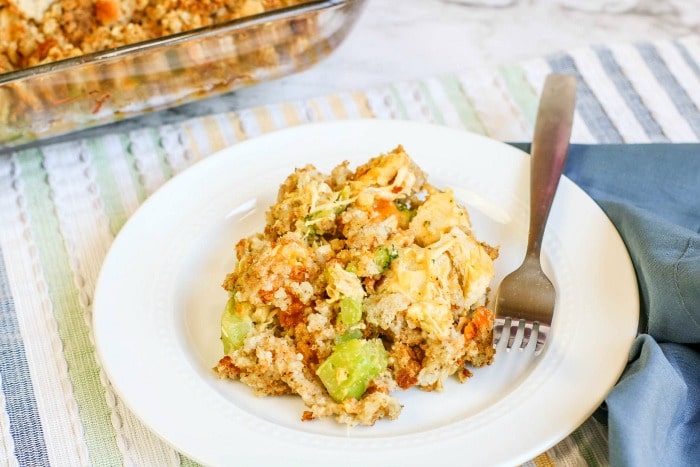 What are the three main parts of a casserole?
Each one typically includes some sort of cubed, pre cooked meat, poultry, or fish. Browned, drained ground beef can be used too like we did in our ground beef casserole and potatoes.
The second part would include shredded and/or cubed cheese.
Last but not least would be the extender, that means a filler or carb of choice to fill in between the first two ingredients.

Typically the choices are

potatoes
rice
stuffing mix
bread crumbs
Easy casserole recipes
Chicken tortilla bake is great too if you have diced chicken that needs to be used up.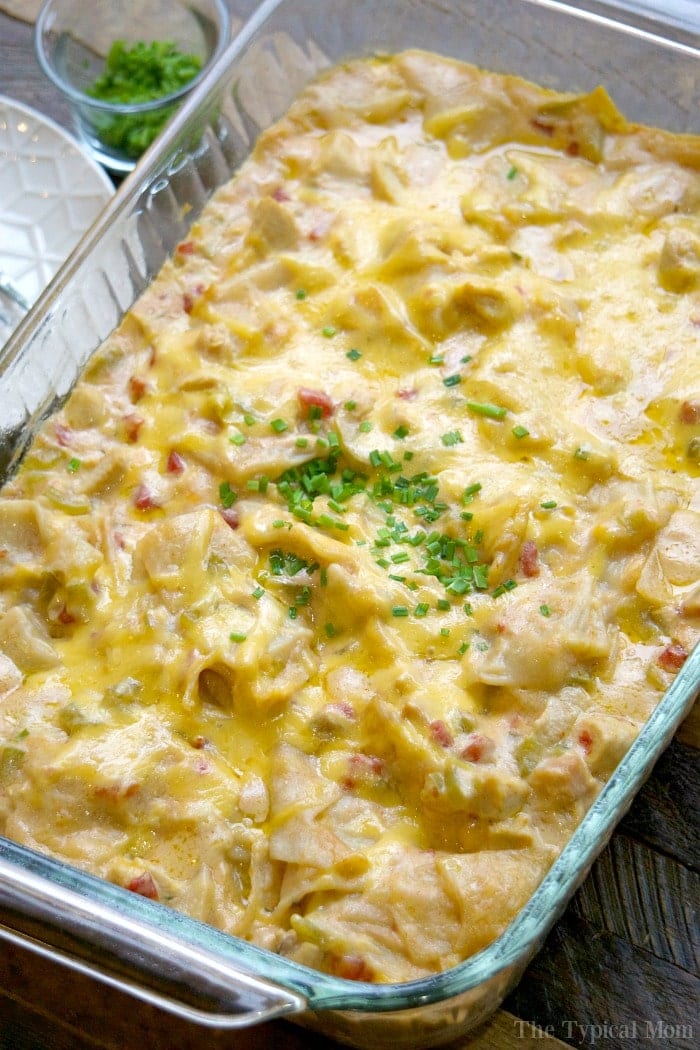 How do you make chicken casserole from scratch
I hope we answered this question for you here! I mean there is a ton of ways to tweak it to your liking. If you would rather have green beans for the vegetable that would work instead. It just needs to cook at the same rate in a sense so it doesn't break down and get mushy.
Can you keep casserole in a fridge?
The general rule for storing a leftover casserole is 3 to 4 days. Make sure to that it's cool before refrigerating. I typically will remove what's left from the dish and transfer it into meal sized airtight containers so they'll reheat easier.
Why shouldn't you put hot food directly into the fridge?
Food needs to become room temperature before putting it into the fridge. If not, the salmonella bacteria can spoil it very easily in the refrigerator and make you sick.
How do you freeze a casserole and reheat it?
You can do this with a cooked or uncooked dish, either way it works pretty well. Same thing goes for our frozen leftover turkey pot pie recipe. Low and slow in the oven is key so the inside is warmed evenly while browning the outside without burning it. It's a fine balance but baking it is your best bet.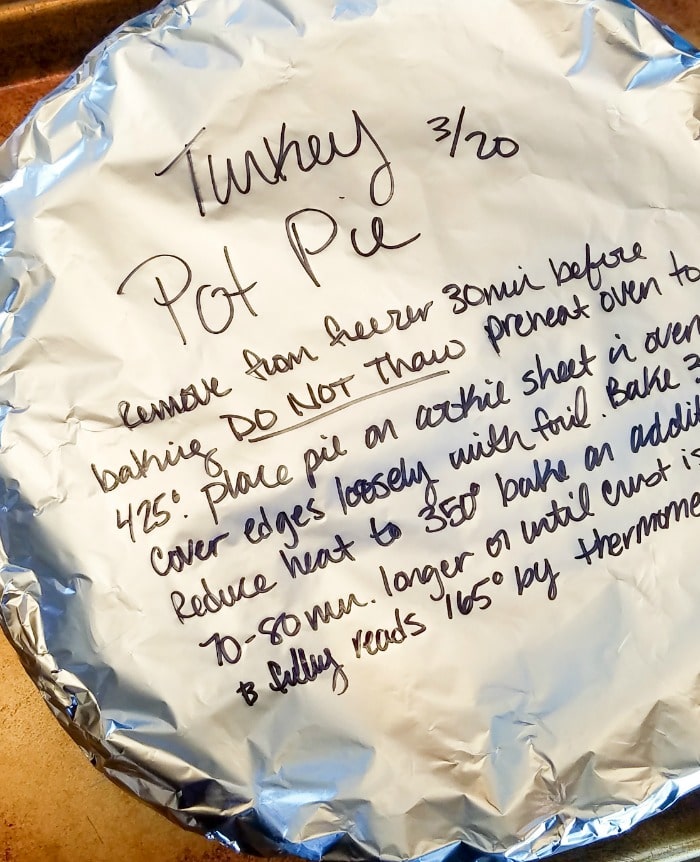 Prepare your casserole as stated and put it into your dish as you normally would.
best if you first line your dish with parchment paper so you can remove it easily later
Now place your dish into the freezer until completely frozen.
Then, lift the frozen dish out of the pan and wrap the entire thing in freezer proof plastic or foil.
When you're ready to reheat, unwrap the food and place it back in the casserole pan for reheating in the oven.

I think it is best if you allow it to thaw out before cooking or the texture will be off
Want to see a few of my favorite things that I am totally obsessed with?? Take a peek and see how many you might already have…twinsies!
Looking for more easy family recipes and tips? LIKE The Typical Mom Facebook page?
Then sign up for my free newsletter, and follow me on Pinterest! 😉
***** If you LOVED this recipe give it 5 Stars below and let everyone know what you thought about it. 😉
Cheesy Chicken Broccoli Casserole
Cheesy chicken broccoli casserole recipe that is easy to throw together! This is my kids' all time favorite casseroles that's quick to make and inexpensive.
Instructions
Preheat oven to 350 degrees. Prepare a 9×13 casserole dish with nonstick cooking spray.

In a medium bowl, mix together stuffing mix, butter, and water. Set aside to allow the stuffing to absorb the water.

In a large bowl, stir together the chicken, soup, and broccoli. Transfer to the casserole dish and make a single layer.

Top the chicken mixture with cheese and then the stuffing mix. Bake for 30 minutes or until the stuffing mix is slightly crunchy on top and the edges bubble.

Remove, allow to sit for 10 minutes and then serve!
Nutrition Facts
Cheesy Chicken Broccoli Casserole
Amount Per Serving (4 oz)
Calories 536
Calories from Fat 180
% Daily Value*
Fat 20g31%
Cholesterol 61mg20%
Sodium 1554mg68%
Potassium 513mg15%
Carbohydrates 65g22%
Protein 21g42%
Vitamin A 564IU11%
Vitamin C 1mg1%
Calcium 234mg23%
Iron 3mg17%
* Percent Daily Values are based on a 2000 calorie diet.