This is how you can plan affordable Disney vacations for your family! Get a free day at Disneyland or adult tickets for the kids price and hotel deals too!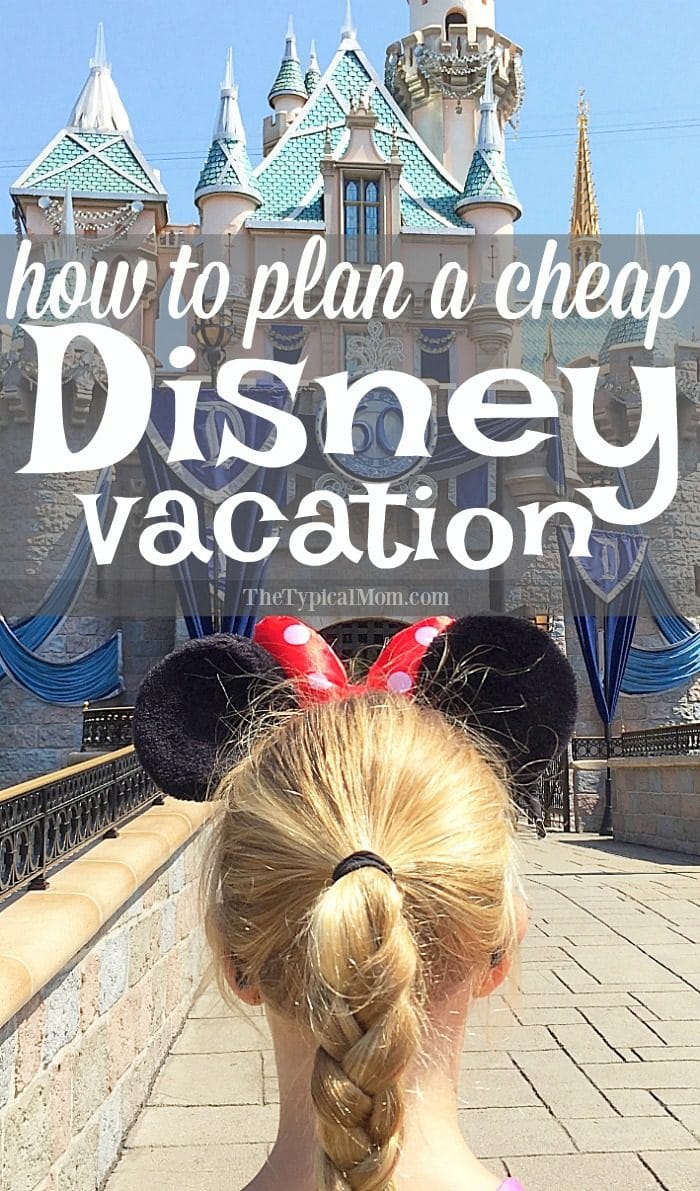 Believe it or not there are ways to plan affordable Disney vacations and we've done them often! I have lived in Southern California almost my entire life and have visited Disneyland more times than I could count. Now that I have three daughters of my own I love taking them to visit Mickey Mouse, ride the Matterhorn, and see the parade at night!
We are a family of five and don't have a lot of extra money. It does take some planning and saving to be able to take a trip to Disney, but we usually visit once a year or so.
Finding affordable Disney vacations are key whether you live in California, or you're visiting out of state and want to stay for several days. We are all looking for ways to save a dollar (or a few hundred) right??
Cheap Disneyland Tickets
I will tell you there aren't many places to find discount tickets to Disneyland. But it is possible! You can even get free Disneyland tickets if you plan ahead too! This is perfect if you're planning on visiting both parks, staying in a hotel nearby, and want to spend a few days at both parks.
It really is hard to see everything in just one day at just one of the Disney parks. You really need two days at California Adventure and two days at Disneyland to see absolutely everything (well close to everything at least).
The offers change depending on the season but they are always discounted more than if you purchased them at the park. You can skip that line too!! A great way to plan affordable Disney vacations for your family.
Discounts for hotel rooms near Disneyland
While you're grabbing your discount Disney tickets online you can save even more if you combine those with a hotel room! You can find discount hotels near Disneyland here and many times you get your 3rd or 4th night for free too!
Combining the purchase of your tickets and your hotel room will save you even more as everything is given an added discount once you checkout.
There are many hotels to choose from so if you don't want to drive at all there are locations within walking distance to the parks, or they have discount tickets to stay at the Great Wolf Lodge which we've stayed at twice and absolutely love!!
You can grab a deal for Disneyland tickets AND if you use code TYPICAL10 you get an extra $10 off of the already discounted price too. Every dollar helps right!
Affordable Disney vacation
We use this method to earn free car rentals when we travel all the time, and grab a few free Starbucks gift cards as well to use on our trips too!
Sign up for a free Swagbucks account here
Change your browser to Swagbucks instead of Google to earn points daily, here's how you do that
Shop thru their site when shopping online to earn points (I buy almost everything off Amazon etc…. so I earn points for everything including toilet paper, school supplies, clothing, and Christmas presents)
Redeem points for free gift cards = free car rental gift card you can use on your vacation
How to save money at Disneyland
If you're staying several days this will save you a ton of money! Food and drinks can become a tremendous cost, and everyone will want a souvenir to take home too! Here are a few tips on how to save money at Disneyland.
Bring bottled water and/or water bottles to refill to keep everyone hydrated and save money on beverages
Eat a large breakfast before you enter the park (take advantage of the free breakfasts offered at your hotel)
Use your Swagbucks points to get free Disney gift cards (they can be used for food and souvenirs inside the parks)
When buying meals find locations that serve large portions and split meals. We always buy 3 bread bowls filled with chili that is enough for all 5 of us…..yummy too!
Pack a backpack full of items you may need so you don't have to purchase them like:

sunglasses
sunscreen
lip balm
cell phone charger
water
light jacket
hat
I have more Disneyland tips here for you to read before you enter the park 😉
How get free plane tickets to visit Disneyland
Cheap Disney vacations
I talk about this all the time!! I fly a lot for business and we like to do it for pleasure when we can. We haven't paid for a plane ticket in I don't know how long…too long to remember.
Sign up for a credit card where you earn airline miles (earn 40,000 points just for signing up which = about 3-4 round trip tickets)
Transfer bills you're able to to be automatically billed on this card
Make every day purchases on this card (pay off at end of the mo. to avoid interest charges)
Redeem points for free airline tickets!!
I kid you not these are some of the best ways to travel for free including free car rentals, plane tickets, and highly discounted tickets to Disneyland.
It just takes a little bit of planning and knowing the right resources for getting the best deals but it is very possible!