Have you had a Culver's ButterBurger yet?? Well it's National Hamburger Month which makes it a perfect time to try one. Paired with cheese curds, onion rings, and followed by some of Culver's ice cream made with custard and topped with goodies it's a meal you'll come back for over and over again for sure.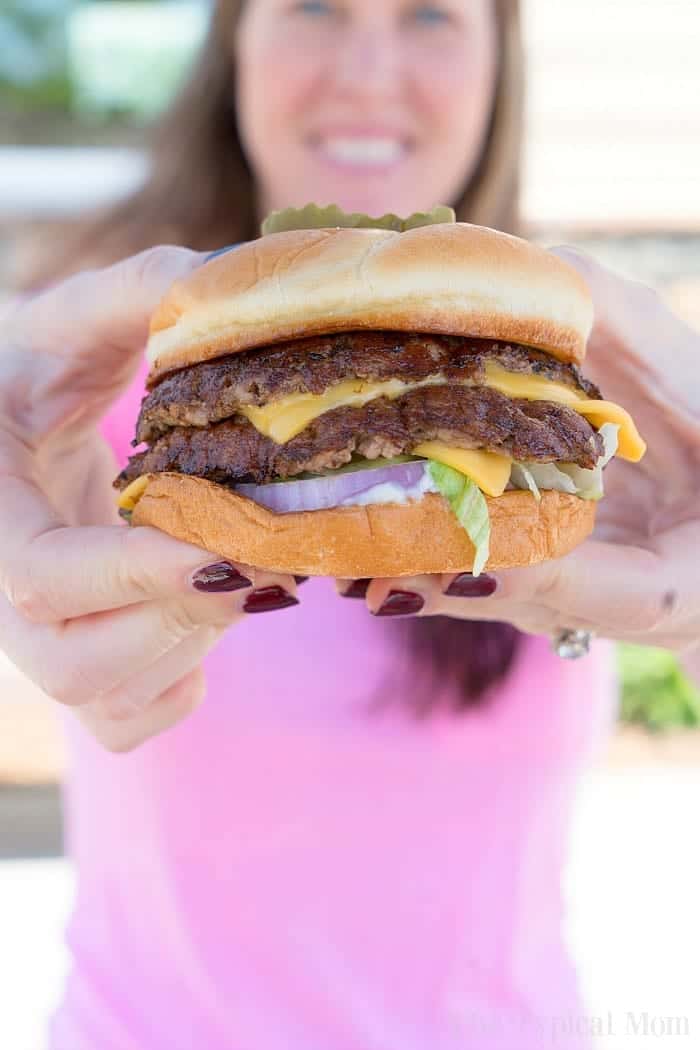 My husband and I don't get to go out to eat lunch together very often, but when we do it's gotta' be something really good…and worth it!! Since it is National Hamburger Month we thought we'd try the restaurant others were talking about. We dove into a Culver's ButterBurger and OH MY. Sponsored by Culver's. (originally published 5/18)
Culver's Cheddar Butterburger
I noticed Culver's when we moved last month to a new city and state. It said frozen custard on the sign and that definitely peaked my curiosity.
We are all about frozen treats at our house so I made a note to myself that we had to visit there when it was time for an after school treat. My husband and I beat the kids to it. 😉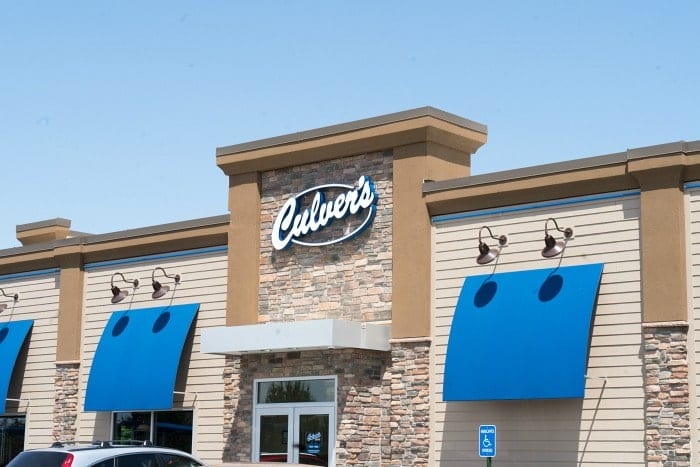 How to Order a Burger at Culver's
We were first timers to a Culver's you might say but I will say there was a whole lot to choose from! Of course they never use frozen hamburgers either, they're always fresh. I chose the double cheeseburger with all the fixin's, and my husband got the same but with bacon on top, but sides and desserts too!
After a few go arounds we found a few favorites and learned how to build our own best burger with the side dishes on the menu. Yes as is is pretty incredible but you can't stop there. NO, putting a few onion rings and cheese curds INSIDE make it over the top, and keep going from there….
Substituting is encouraged there, which I love. Never enough pickles? Add extras, or omit the tomatoes, or only get mayo under the bun…whatever you want!
The patties were super moist probably because every burger is made to order from fresh, never frozen 100% Midwest beef and can be customized with any of these items:
Crisp lettuce
Ripe tomatoes
Crunchy pickles
Sweet red onion
Two strips of bacon
sautéed mushrooms
Cheddar, Swiss or American cheese
Signature mayo
Ketchup
Mustard
Culvers Hamburgers
When you order a Culver's ButterBurger basket like you see here you not only get the whopping burger with the softest bun ever (they call it ButterBurger because they lightly butter the crown of the bun for an extra touch of goodness) loaded with toppings and any sauces you'd like, but you also get a choice of sides and a drink (I chose cherry Pepsi, my fave):
Ok, so we just moved from the West Coast and I had heard of cheese curds and had a small bite of one on a trip. Being a huge cheese lover myself I opted for those. My husband chose the onion rings and since "what's mine is mine and what's his is mine" I got to have both. 😉
No but seriously…the cheese curds were like little bites of heaven. I even stuck a few inside my Culvers ButterBurger and OH MY…….yep, amazing.
With a Pepsi drink included it was the perfect little lunch date. Then came dessert. That custard I saw on the sign……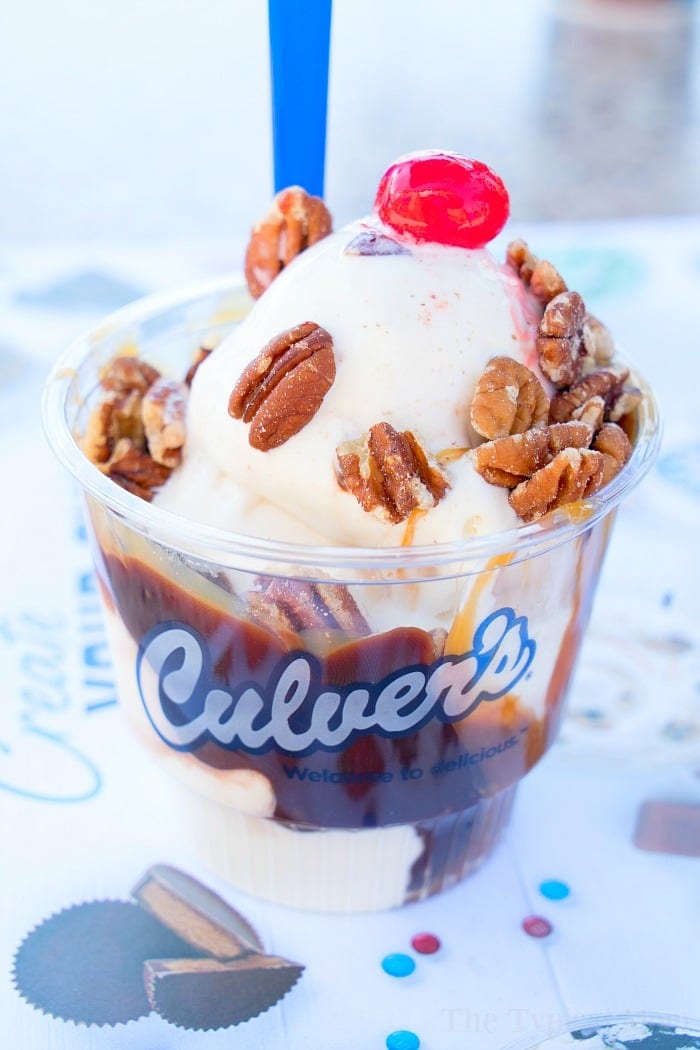 There are tons of variations you can create yourself with any sauces, nuts, candies, chocolate treats etc….inside and mixed in. I opted for a good ol' sundae with vanilla custard ice cream topped with nuts and hot fudge.
I will say it is different from other frozen treats I've tasted…creamy, sweet, and very smooth!
This is a sponsored conversation written by me on behalf of Culver's. The opinions and text are all mine.