It looks like the Temecula Special Needs Park is complete and open!! I shared a proposed plan and picture of the park last year and according to The City of Temecula this project on Margarita Road and now have pictures to share with you! What a great idea and creation for the children in Temecula and Murrieta with special needs as well as other children. Not only will it provide accessible equipment for them to play and swing on, but there is a Splash Pad there too!! It is called Temecula Eagle Soar Park and Splash Pad and although it was designed with special needs children in mind it is open to everyone.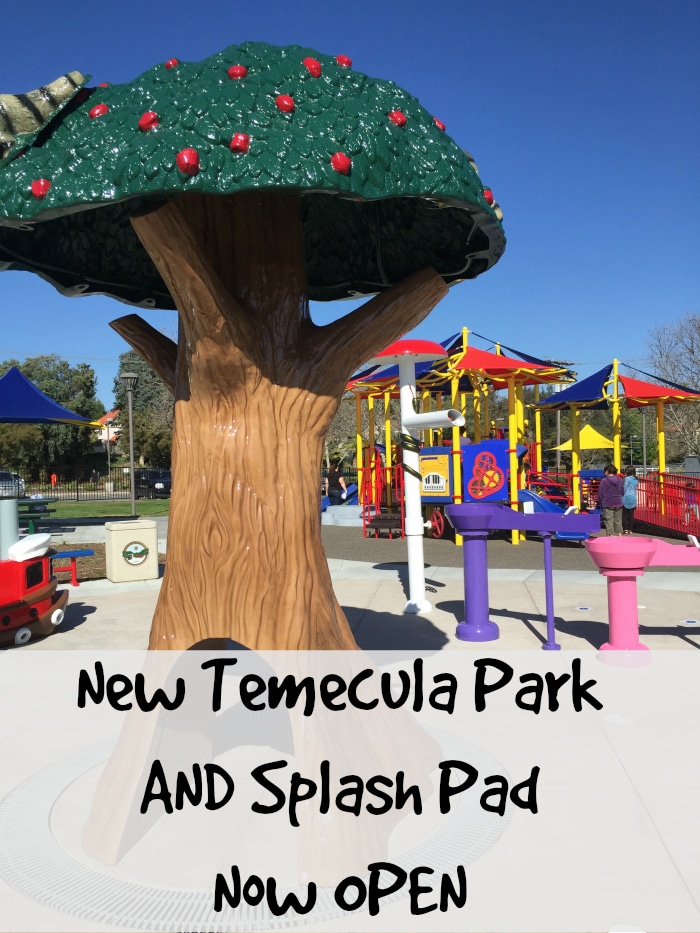 You can see how it all started here with this article from The Valley News, and see here what it has become! I was surprised at just how big it is! It is surrounded by a nice gated fence so little ones cannot "escape", benches all around for parents to sit and chat, and there is a splash pad area for water fun and hands on experiences right in the middle of it too! Here are the rules of what is allowed and not allowed at this park as well as the hours you can visit.
Temecula special needs park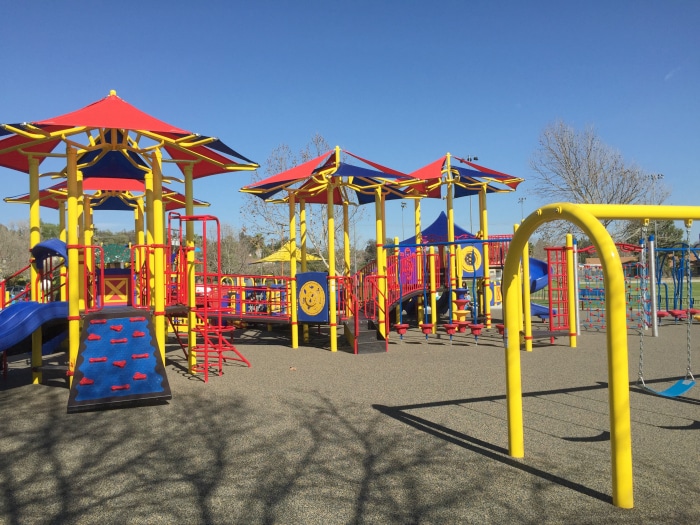 The Temecula special needs park resides at 29119 Margarita Rd. right next to Temecula Elementary School (on the same side of the street), you really can't miss it with the bright yellow equipment and big umbrellas you see here. There are bathrooms right next to it which is nice, and what looks to be a skate park down the hill a bit too. There are swings adapted for special needs children to strap them in and ramps that go up to the equipment as well as small stairs so all children can play together!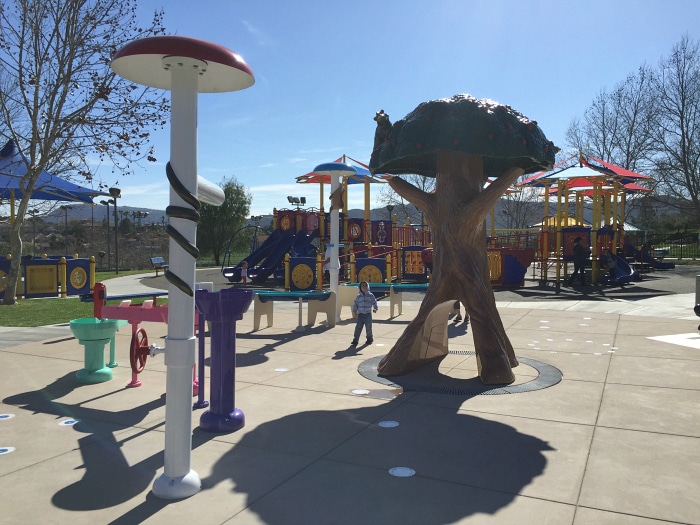 This is a picture of the splash pad area which is great! The other splash pad that most of us frequented before is at Lake Skinner, you can see my post about that one right here, but it will be nice to have one a bit closer even though it is a bit smaller. 😉 It looks like it has a sprinkler tower, water that comes up from the ground, and a flowing water table to the left here where it flows from the purple apparatus down to the aqua tub. Have you been yet??? If so, or if you do later on please share a picture with us here or on Temecula Qponer's Facebook page so we can see it!!
The Eagle Soar Temecula splash pad and park is closed on Tuesdays from 3-5 to give smaller groups of families an opportunity to enjoy it with less people. If you would like to sign up to participate you must register here thru the City of Temecula and enter the code below for the session you want (ages 5-12). Just set up a profile or login, choose Temecula Eagle Soar Park and choose a date. Sessions run thru July 28th, here are the codes:
July 7th  – 9260.203
July 14th  – 9260.204
July 21st  – 9260.205
July 28th  – 9260.206
If you're looking for more special needs resources thru the city you can read about S.K.I.P a bit more here and learn how to get involved with that. 😉