Easy slow cooker rice pudding recipe you can make quickly with Minute rice and a few other ingredients. If you love a good creamy Crockpot dessert, this is it.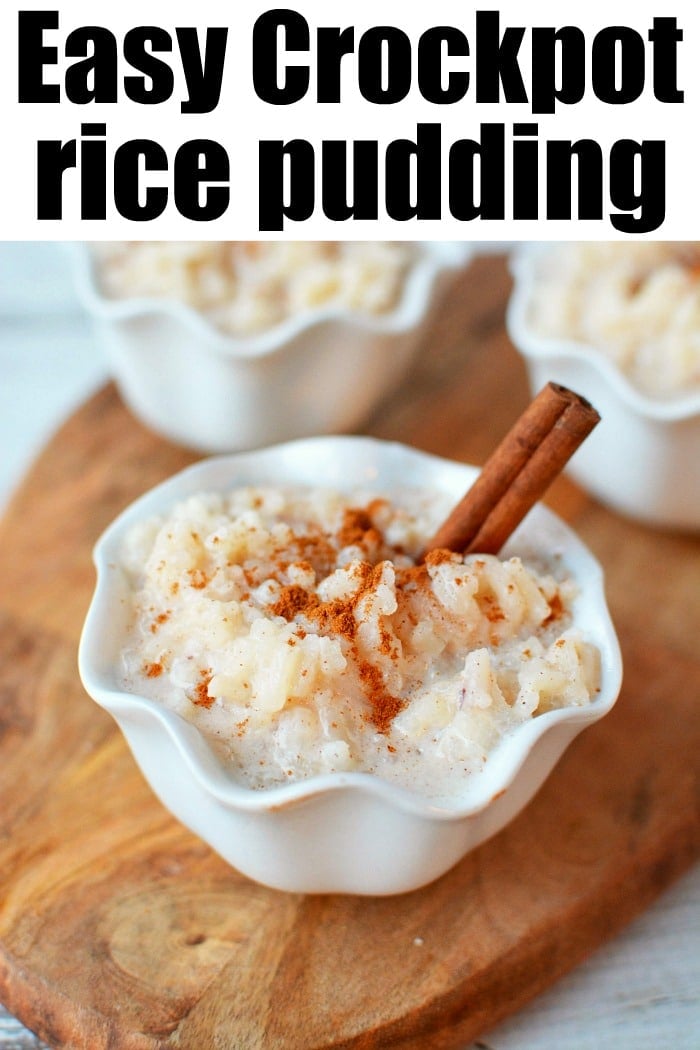 This slow cooker rice pudding only requires a handful of ingredients. It's a great holiday dessert you can make in the morning and have ready for brunch or dinner. Ready for an easy Crockpot recipe this week, try this! (originally published 12/19, affiliate links present)
Crockpot Rice Pudding
So we made Instant Pot rice pudding a few years ago. I will tell you that it is fabulous made that way and is usually our go to but I wanted to try something different. I like offering our favorite dessert recipes in every form so no matter what kitchen appliance you have, your family can enjoy them.
If you love using your low and slow porcelain pot for all the things you really need to try some sweets too. No more standing by the stove to make sure things don't bubble over. Using quick rice this doesn't even take all day and can be doubled if you're having a crowd over.
FIRST – You should sign up for my free newsletter so you get new posts emailed to you twice a week and never miss out on anything! Let's talk a little bit about slow cooking shall we?? First off I have a few different varieties and I love them all. Each one has an occasion to be used like….
This is my favorite 6 quart programmable one with a locking lid so it's great for bringing to a potluck too.
If you just want to serve a few appetizers you should get this one that sit side by side one another.
I prefer not to use liners, but rather just spray olive oil inside before adding my food for easier cleanups.
Let me give you a peek of my pretty thang I bought recently. It goes with my kitchen so I can just leave it out on the countertop all the time. 😉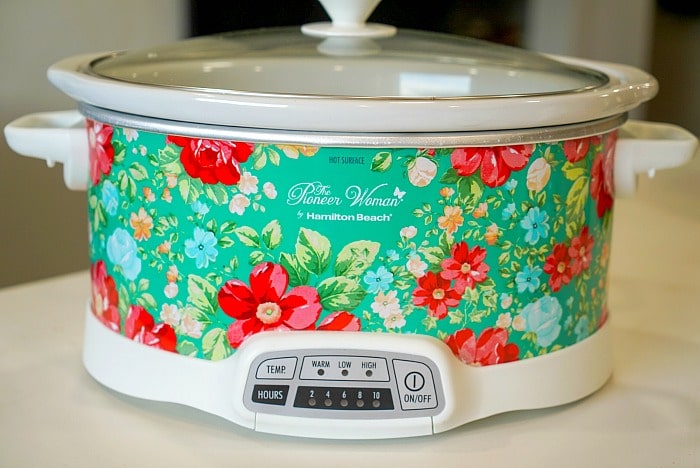 Crockpot rice pudding using Minute rice
This is super simple to throw together. I have directions below to use long grain rice too if you'd rather make that. Let's start with what we used. For the one in the recipe card you will NOT use long grain, instant is best. I have even made this for my husband who cannot have lactose and it works too. You can find many milk alternatives nowadays.
I have made this for him using coconut milk as I also have done with our stovetop version of black rice pudding. If you want to add fiber into this old fashioned favorite treat you should try that grain too with the hull still attached.
Dairy Free Slow Cooker Rice Pudding
Ok so I have had to alter many dishes over the past year so he can enjoy them first. For dairy I like vanilla almond milk. I have found a plant based lactose free butter product that comes in sticks too. I use it in lots of dishes and most of the time you can't even tell the difference once it is done.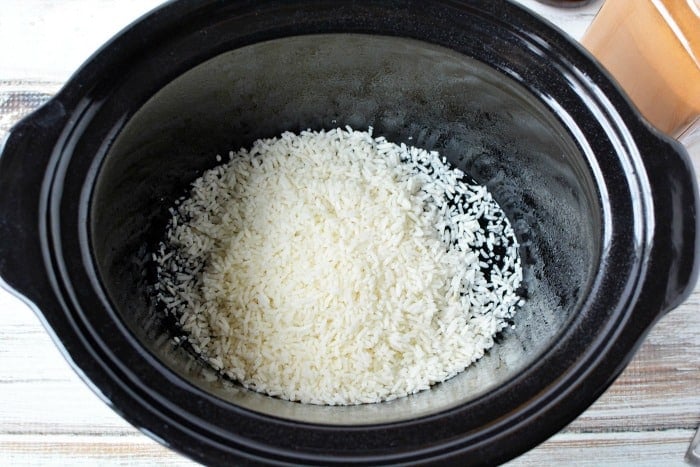 Rice Pudding in a Crockpot
Do not ask if you can use long grain because the answer is no, not the way I have made it time and time again. If you want to just make traditional Crockpot white rice with that type then follow these directions. For a treat after dinner quick rice is what you do want.
Minute rice – or store brand instant rice is fine
Sugar
Cinnamon
Vanilla extract
Whole milk is necessary, don't try it with anything lower in fat

coconut milk could be a good dairy free alternate

Brown sugar
Butter
6-8 quart slow cooker
We have a few step by step photos here so you can see how it's done. It is ideal if you are able to gently stir or fold ingredients together 1-2 times throughout the cook time. If you can't though don't worry about it too much. This just helps rotate ingredients so rice is tender in all areas of the Crock pot.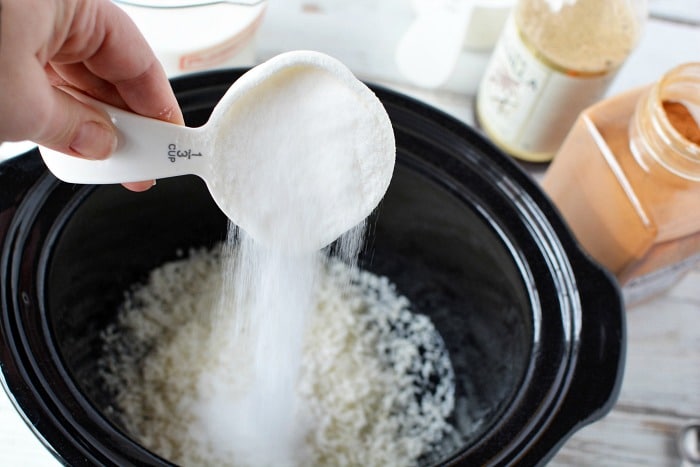 Why is it important to use whole milk?
It's kinda' obvious but creaminess is key. You need that added fat to create the smooth nature you want. Yes you can use a thickener as well but I prefer to leave those out at all possible.
If this is the only thing you're going to use with Vitamin D milk, just buy a small container of it. Generally I'm a fan of 2% or fat free for drinking myself so I get it.
What can you use to thicken pudding?
You can use an alternative starch based thickener such as arrowroot powder, tapioca powder or rice starch.
Combine it with the sugar called for in your rice pudding recipe. These alternative starches are similar to cornstarch but twice as potent as wheat flour. Measure accordingly or it will be thicker than you want. A little goes a long way.
What do you have with rice pudding?
As far as rice pudding add ins I stick to:
Raisins
Cinnamon
Added brown sugar for sweetness
Whipped cream is sometimes good before serving on top
How long does homemade rice pudding last?
You can serve your rice pudding immediately. I prefer to let it cool to room temperature and put into the fridge overnight. This gives it a chance to really thicken up. Then you can have a cold, fruit topped breakfast or snack.
The pudding will keep in your fridge for about 4 days. Unlike that bowl of cooked rice though I bet it probably won't last that long.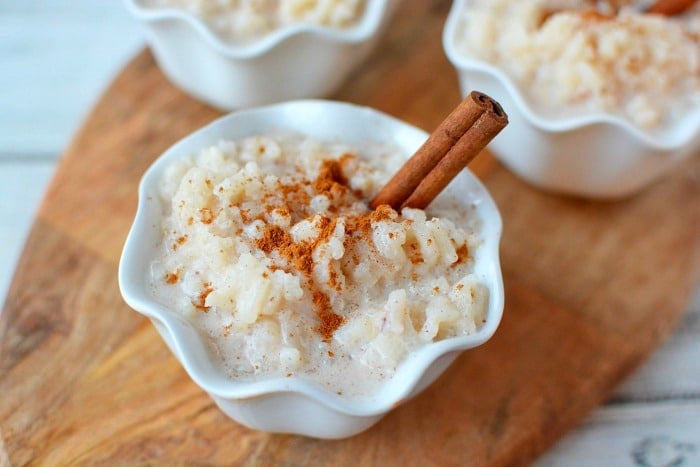 Rice Pudding in the Crockpot
Looking for a dairy free rice pudding recipe? Use directions for our pressure cooker coconut rice pudding for that. It comes out deliciously rich with coconut milk and arborio rice that isn't instant.
I don't have issues drinking milk products but I almost think this is better than the traditional method! Freezing rice pudding is possible too if you have leftovers! We never do, but let's go with it shall we….
First off, place leftovers in a freezer safe container and seal tight so there's no air left inside.

Using containers that are not freezer safe can cause freezer burn and impact the quality of the dessert.

You can freeze rice pudding for up to three months. It is best the sooner you eat it though.
To defrost, leave on the countertop until it is still cold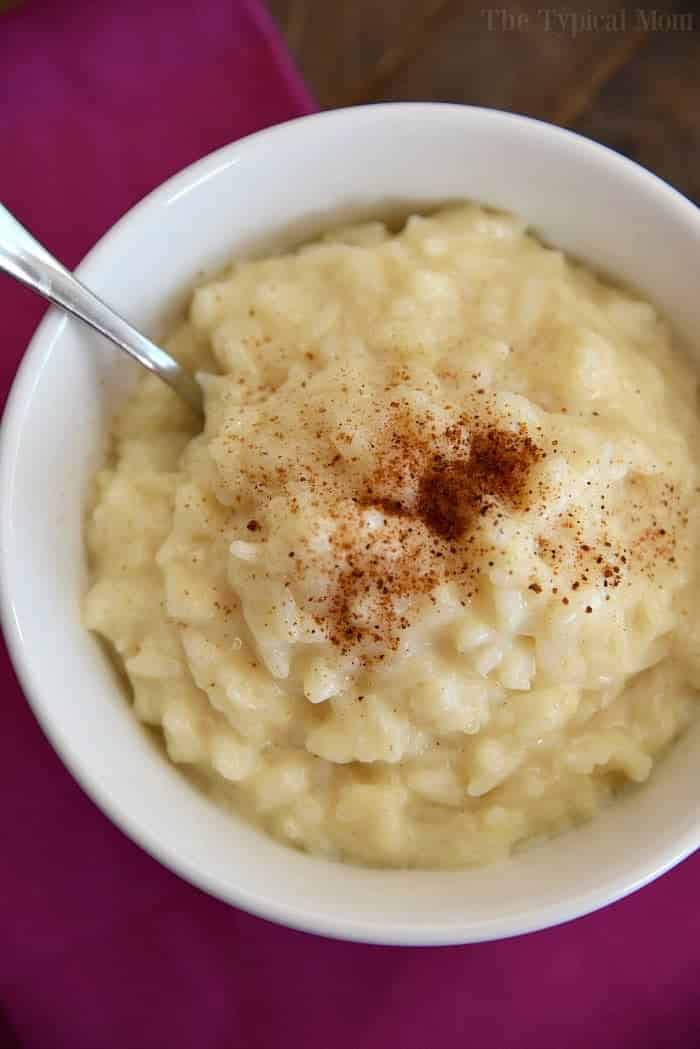 If you too love rice pudding, here are the basic steps to follow:
Add all ingredients except butter and stir.
Slice butter and evenly distribute on top.
Cover and cook on low for 3-4 hours until as tender as you'd like.

I'd suggest not to cook on high as it needs low and slow to come out rich and creamy

When done allow to cool. (it will cool faster if transferred to a separate large bowl)
I prefer to divide this into smaller dishes and refrigerate overnight so it really thickens up.
Let's jump to recipe here shall we? It's printable and has nutritional information on it so you can keep it handy too. Looking for other quick easy desserts?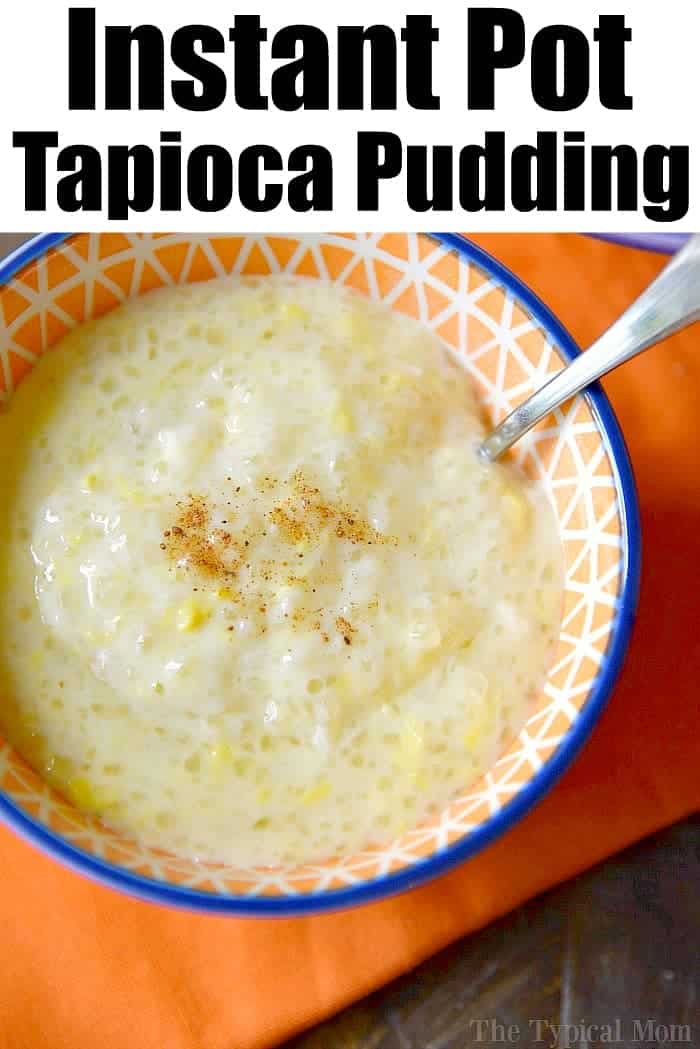 Slow cooker rice pudding with long grain rice
You should try our Instant Pot tapioca pudding after this one. If you do insist on using the "regular" version you can try it and see which you prefer, we like the other, you will need:
3/4 c long grain white rice
21 oz. can of evaporated milk
2 1/2 cups of milk, 2% or whole
1/4-1/2 c. white sugar – depending on how sweet you like it, if you add raisins I think 1/3 is enough
3 tbsp butter
1/4 tsp cinnamon
1/2 tsp vanilla
1/3 c raisins is fantastic
Make SURE you spray your Crockpot with non stick spray, it sticks!
Rinse your rice and add into your pot.
Add in all other ingredients other than your butter, stir to allow sugar to dissolve.
Slice butter into small slivers into pot
Cover and cook on high for 2 – 2 1/2 hours, check after 2, stir, and see if it is tender and thick enough
Transfer to smaller bowls and enjoy, or allow to cool and then chill in fridge.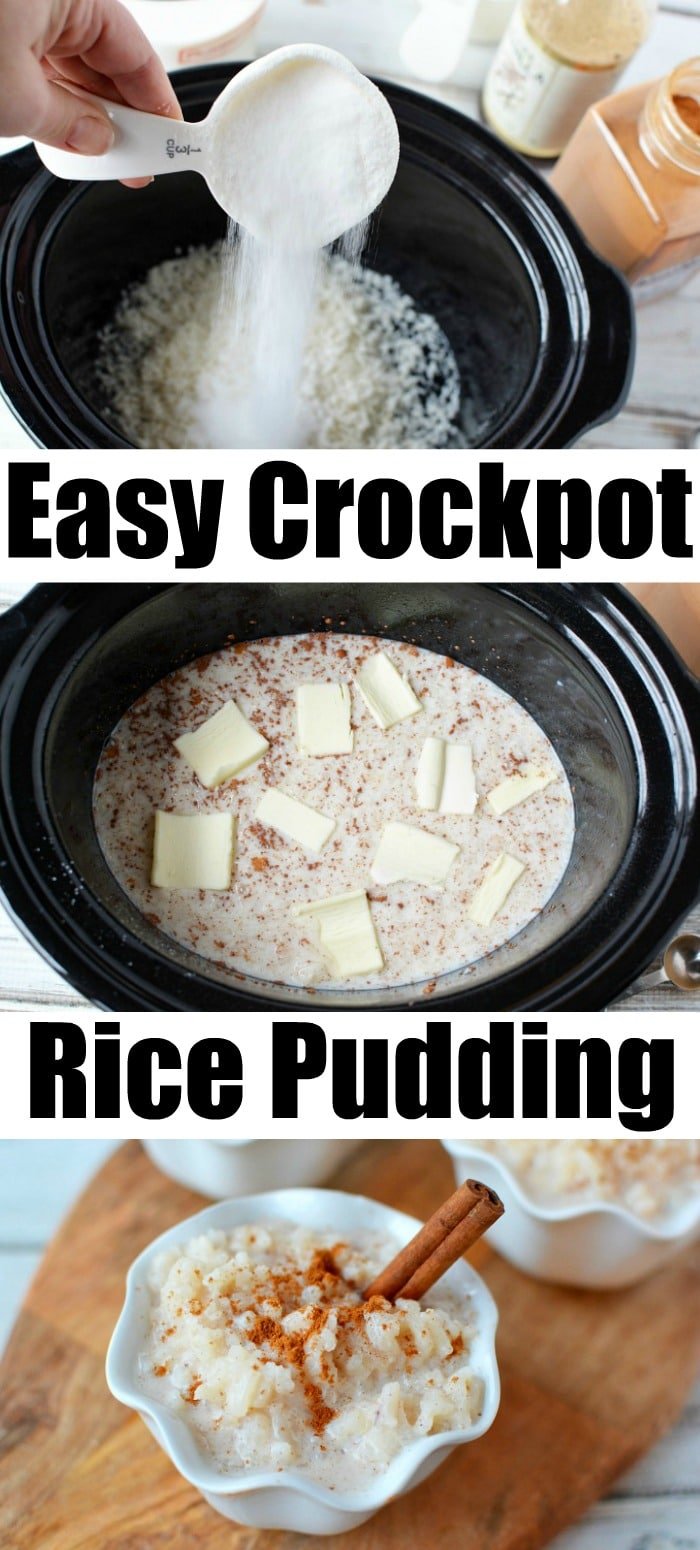 Want to see a few of my favorite things that I am totally obsessed with?? Take a peek and see how many you might already have…twinsies!
Looking for more easy family recipes and tips? LIKE The Typical Mom Facebook page?
Then sign up for my free newsletter, and follow me on Pinterest! 😉
***** If you LOVED this recipe give it 5 Stars below and let everyone know what you thought about it. 😉
Slow Cooker Rice Pudding
Easy slow cooker rice pudding recipe you can make quickly with Minute rice and a few other ingredients. If you love a good Crockpot dessert, this is it.
Instructions
Spray inside of slow cooker with non stick spray.

Add all ingredients and stir well. Top with sliced butter.

Cover and cook on low for 3 – 4 hours until rice is tender. Remove lid and turn pot off. Allow mixture to sit and thicken up at least 15 minutes before serving. Top with cinnamon and serve.
Nutrition Facts
Slow Cooker Rice Pudding
Amount Per Serving (2 oz)
Calories 223
Calories from Fat 72
% Daily Value*
Fat 8g12%
Cholesterol 22mg7%
Sodium 185mg8%
Potassium 161mg5%
Carbohydrates 33g11%
Protein 5g10%
Vitamin A 314IU6%
Calcium 144mg14%
Iron 1mg6%
* Percent Daily Values are based on a 2000 calorie diet.