This Roasted Chili Corn Salsa is a perfect combination of sweet, spicy, and tangy, all in one. The best part is that you can whip it up in no time with ingredients you probably already have in your kitchen. It's a spicy roasted jalapenos dip with tortilla chips, mild without them, and a great addition to your homemade burrito bowls.
Can't get enough of that delicious Chipotle corn salsa? Same here. It's so good that I decided to figure out how to make it at home. Guess what? It's super easy to make, and today I'm going to share this favorite canned corn recipe with you all. (post may contain affiliate links)
Chipotle Corn Salsa
Copycat Chipotle Corn Salsa is an all-time favorite. Not only does it serve as a delicious side dish, but it also adds an extra zing to Air Fryer Nachos and other meals. This homemade version tastes just like the salsa at Chipotle. It is gluten-free, so it's perfect for those with dietary restrictions. Also, if you're a fan of sweet corn, this recipe is definitely for you.
This is super versatile. Enjoy scooped up with chips as an appetizer or I like it also on top of tacos with our chicken poblano meat inside too.
Copycat Chipotle Roasted Chili Corn Salsa
The ingredients for this delightful salsa include corn, jalapenos, red onion, cilantro, lime juice, minced garlic, poblano peppers, and salt. Each ingredient adds its own unique flavor, culminating in a salsa that is bursting with flavor. Great with chips or on top of our chicken birria tacos recipe.
Roasted Corn Salsa
Chipotle's corn salsa recipe is now at your fingertips. It is a perfect complement to any dish. So definitely check out these pressure cooker black beans! They pair perfectly with this salsa.
Can I use fresh corn instead of frozen corn?
Absolutely! Fresh corn will give your salsa an even more authentic taste. Just remember to cook it before you add it to the mix.
I'm sure you're eager to learn how to replicate the delicious taste of Chipotle's Roasted Chili Corn Salsa in your own kitchen. It's surprisingly straightforward and requires only a few simple steps. No baking sheet needed but you will need to grab a big bowl.
Start by prepping your corn – if using frozen corn, place it in a deep bowl and pour boiling water over it, letting it sit for 7 minutes. If using canned corn, simply drain it. Next, transfer your corn to another bowl, add your chopped red onion, minced garlic, finely chopped roasted poblano peppers, salt, chopped cilantro, and lime juice. Give it all a good mix and let it sit for a while. This allows the flavors to blend together beautifully. I recommend that for most of my salsas actually! Try it for: pico de gallo or qdoba salsa verde.
I must mention a crucial step – removing the seeds from the poblano peppers. This ensures that your salsa won't be overly spicy. It's just one of those little tips that can make a big difference in your cooking.
Here's another tip: make sure to let the salsa sit covered in the fridge for at least 30 minutes before serving. This allows all the flavors to meld together, resulting in an even tastier salsa. Then make tacos or add a dollop on top of our Chicken Poblano Soup.
Corn Salsa
Here's how to whip up your own Corn Salsa in a nutshell. After preparing, you'll want to combine it with chopped red onion and garlic in a large bowl. Then you'll add finely chopped roasted poblano peppers (don't forget to remove the seeds!), a pinch of salt, a generous helping of chopped cilantro, and a splash of lime juice.
Just remember to take your time when chopping your ingredients. The finer you chop, the better the flavors will mix together. And as a plus, it'll look just like the chipotle corn salsa recipe you know and love.
We really love copycat recipes over here so you'll want to check out this Chipotle barbacoa beef recipe. It's perfect for really getting that chipotle flavor too!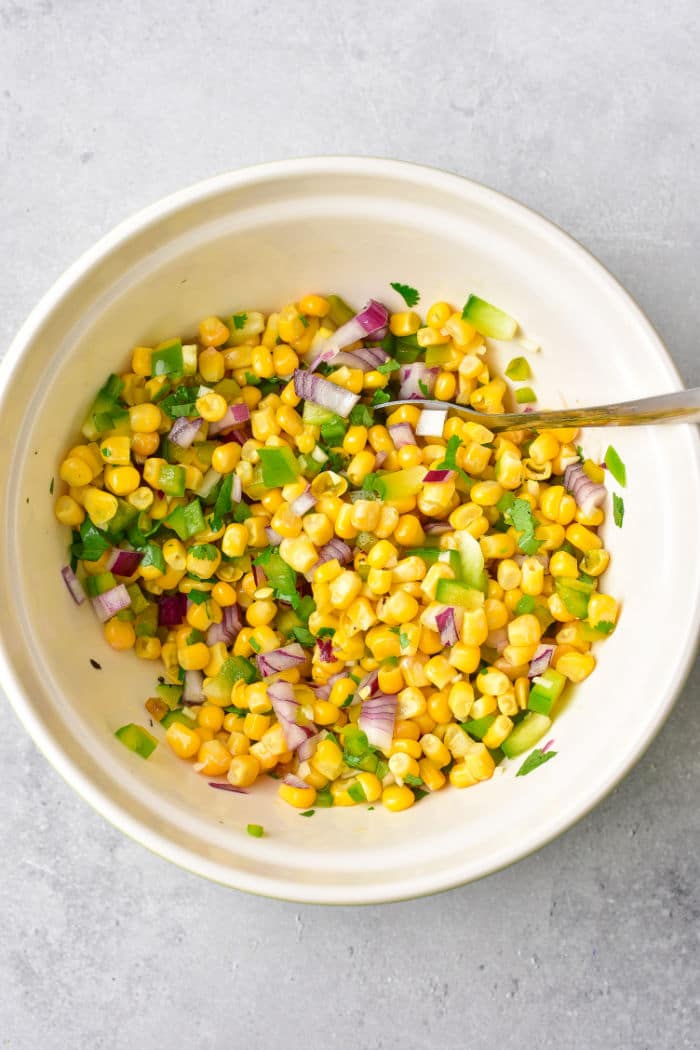 For those with a sweeter palate, feel free to add a touch more honey. The beauty of this recipe is that you can adjust the ingredients to your liking. A little more lime juice, a little less cilantro – whatever your taste buds prefer!
Next, you'll want to cover your bowl and let the salsa chill in the fridge for at least half an hour. This rest period is essential; it allows the flavors to really come together. It's a step you definitely don't want to skip.
If you're planning on hosting a party, this corn salsa is an absolute crowd pleaser. It pairs wonderfully with tortilla chips, a topping for nachos or inside birria quesadillas. In fact, it makes a great accompaniment to any Mexican themed meal.
Roasted Chili Corn Salsa Chipotle
We've reached the final act of our culinary journey – the serving of the salsa. After it has chilled in the refrigerator, it's time to bring it out and impress your guests. The vibrant colors of this salsa make it a visual treat, and its refreshing taste is sure to make a mark.
One thing to note about this recipe is its versatility. You can serve it as a stand-alone dip, or use it as a topping for a variety of dishes. Try it with nachos, inside an air fryer frozen burrito, or as a refreshing side to grilled chicken or fish. The possibilities are endless.
As a bonus, this Roasted Chili Corn Salsa is gluten-free and packed with nutrients. It's a great way to incorporate more veggies into your meals. But the best part? It tastes just like the corn salsa at Chipotle Mexican Grill!
In the unlikely event that you have leftovers, don't worry – you can store this salsa in an airtight container in the fridge for a couple of days. It tastes just as good the next day! You could leave it in the bowl and cover overnight as well.
So why wait? Bring the delicious taste of Chipotle's Corn Salsa into your own kitchen with this easy-to-follow recipe. You won't be disappointed!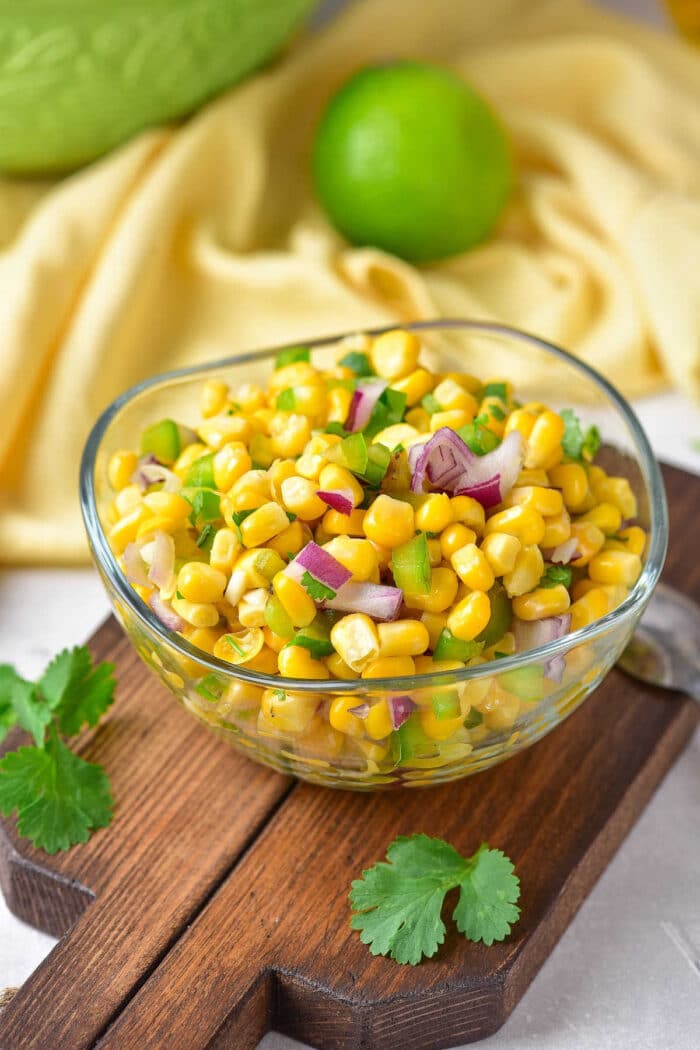 Copycat Chipotle Roasted Chili Corn Salsa
There you have it, the secrets to making a perfect Copycat Chipotle Roasted Chili Corn Salsa. It's a straightforward recipe that produces a salsa full of vibrant flavors and textures. And the best part is, you can tweak the recipe to suit your taste buds. So don't wait, get cooking and add some spice to your meals!
Remember to share your culinary creations with us. We'd love to see how your Roasted Chili Corn Salsa turned out! And if you have your own tweaks to the recipe, we're all ears. After all, the best part of cooking is making a recipe your own. Happy cooking, folks!
Want to see a few of my favorite things that I am totally obsessed with?? Take a peek and see how many you might already have…twinsies!
Looking for more easy family recipes and tips? LIKE The Typical Mom Facebook page?
Then sign up for my free newsletter, and follow me on Pinterest! 😉
***** If you LOVED this recipe give it 5 Stars below and let everyone know what you thought about it. 😉
Roasted Chili Corn Salsa
Roasted chili corn salsa like a copycat Chipotle salsa recipe that can be spicy with jalapenos or mild. Serve in tacos or burritos.
Instructions
Transfer the frozen corn to a deep bowl, pour boiling water over it and leave for 7 minutes. (or use canned corn, drained)

Drain all the liquid from the corn and transfer it to another deep bowl. Add chopped red onion and garlic. Remove the skin from the roasted poblano and chop it finely. Add peppers, salt, chopped cilantro, and lime juice into the bowl.

Finally mix everything, cover the bowl with cling film. Put in the refrigerator for half an hour or longer and then serve.
Nutrition Facts
Roasted Chili Corn Salsa
Amount Per Serving (1 oz)
Calories 32
Calories from Fat 4
% Daily Value*
Fat 0.4g1%
Sodium 50mg2%
Potassium 114mg3%
Carbohydrates 7g2%
Protein 1g2%
Vitamin A 198IU4%
Vitamin C 25mg30%
Calcium 5mg1%
Iron 0.2mg1%
* Percent Daily Values are based on a 2000 calorie diet.