I think everyone loves rice krispy treat anything right! We have made varieties of these favorite treats for Christmas in the shape of ornaments, gingerbread men, and now here are some cute pink (or any color you wish) rice krispy treat pops! Perfect for a baby shower, Valentine's Day treat, or a birthday party. Need them for a boy, just use blue chocolate and sticks! Here is what you will need to make them and the recipe too. SO easy to do and design with any colors and decorations you wish so they match your party theme! (affiliate links present)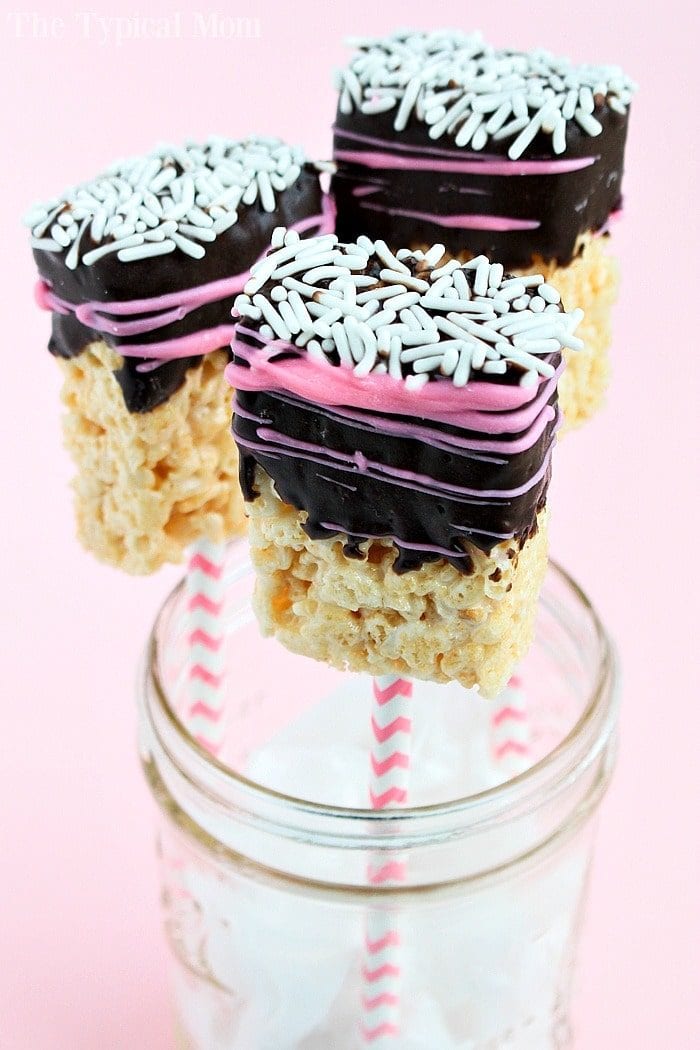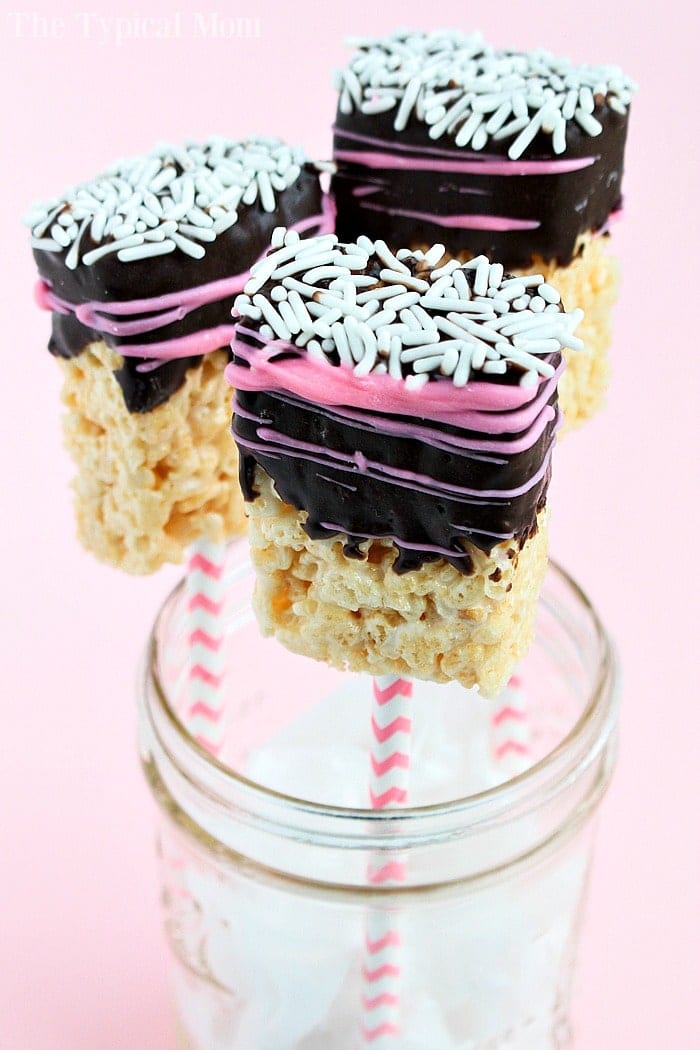 Simple idea right…but most of the time the simplest ideas are the cutest (and least expensive to make too) right??!! There are a lot of ways you could make these desserts for a pink baby shower let's say and not only have them out for a treat but use them as centerpieces too! Use mason jars like this in the middle of each table with tissue paper or colored gems inside, stick your rice krispy pops inside and it's part of your diy baby shower decor! Same goes with a birthday party. Here is what you will need and how to make them.
Rice Krispy Treat Pops
Rice Krispy cereal
Marshmallows
Butter
Wilton chocolate melts (in colors you want to use)
Sprinkles
Instructions
Make rice krispy treats as directed on side of box
Allow to cool in pan and cut into shape desired
Hold in hand and push stick 3/4 way in
Melt chocolate (brown shown here) by adding 1 c. melts with 1/2 tsp. coconut oil and microwaving in 30 sec. increments until it is smooth, dip treat into chocolate, allow excess to drip off
Put sprinkles on a plate and gently press end with melted chocolate into sprinkles
Put on cookie sheet with parchment paper down to harden
Melt chocolate color desired to garnish the same way as above
Use a fork to dip into colored chocolate and drizzle over rice krispy treat pops to add color if desired
Allow to harden
Put into mason jars with tissue paper or colored glass if desired
If you're looking for more inexpensive DIY baby shower decor check out the many ideas here.

For more easy recipes, tips and free printables please LIKE The Typical Mom on Facebook and follow me on Pinterest! You can also sign up for my free weekly newsletter which is packed with goodies I know you'll love. 😉