Easy Mardi Gras cake recipe! A fun way to celebrate with your kids or friends at a party and see who gets the baby in their slice for luck!
I lived in a small town North of Louisiana for a few years and went there often for shopping and, well, fun! While I was there I learned and saw the fun festivities surrounding Mardi Gras. Years later when I taught Kindergarten one of the room moms ordered an authentic king cake for us to enjoy and it was really fun! I'm all about easy recipes here at The Typical Mom, so I thought I'd create an easy Mardi Gras cake recipe so you could try it at home and celebrate it too! Here's how you make it. (originally published 1/17)
Typically king cakes are more of a danish consistency but I really just wanted to have an easy way to share the celebration with my kids so I used boxed cake mix instead….I told you, I like easy.
Of course you need the traditional purple, yellow, and green colors….and a little plastic baby to hide inside the cake for one lucky person to find (they say that person will have luck the rest of the year).
What you need to make an easy Mardi Gras Cake
Bundt pan I have
White cake mix (and items needed to make it, on box)
1 tub vanilla frosting
If you're making Mardi Gras cupcakes (shown below) or you want to layer the colors inside your bundt pan for this easy Mardi Gras cake recipe you'll need yellow, green and purple food coloring
Here's a quick rundown of how to make it:
You can find all items at Walmart as well if you don't shop online…but that is how I do almost all my shopping nowadays!
Options for including the Mardi Gras plastic baby into the cake
Push it into the batter like I did in the video above
Bake the cake, then push the baby into the bundt cake, and then flip it over on to a cake plate
Frost the top
Allow cake to fully cool, flip over on to a cake plate.
Then melt frosting in microwave for about 45 seconds and pour on to cake. Wait until frosting has slid all the way down the cake and then add sprinkles like you see here, done! If you love this easy Mardi Gras cake and you're celebrating with your kids you should check out our post on Mardi Gras crafts for kids too!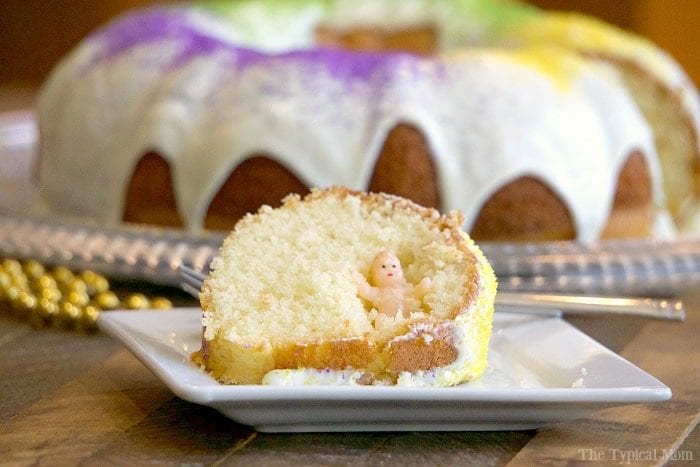 ** Warning – this is obvious to most of us but cut pieces small so you can see which slice has the baby as you're passing it out if you are serving it to children especially. You do not want anyone to swallow the baby or bite down on it and hurt their tooth. The best way is to slice, look on both sides for the baby, and when you see it whomever was next to be passed out to is "the lucky one", show them the baby is inside their slice.
You can make Mardi Gras cupcakes too this way:
Make white cake as directed
Separate batter into 3 bowls
Add food coloring to each bowl (yellow, green and purple traditionally)
Stir
Put bowls into the fridge
When batter is cold and thick spoon one color into the bottom of each cupcake liner
Follow that by the 2nd color
Top each one with the 3rd color
Bake immediately
Colors shouldn't run into each other this way
For more easy recipes, tips and crafts please LIKE The Typical Mom on Facebook and follow me on Pinterest! You can also sign up for my free weekly newsletter which is packed with goodies I know you'll love. 😉