So you want to make your favorite Ninja Foodi macaroni and cheese but in the oven at 400 degrees this time. This isn't just any dish though, it's Mac and Cheese with Heavy Cream. This recipe takes the classic comfort food to another level, promising a dish that's extra creamy, extra cheesy, and sure to satisfy even the most discerning of taste buds.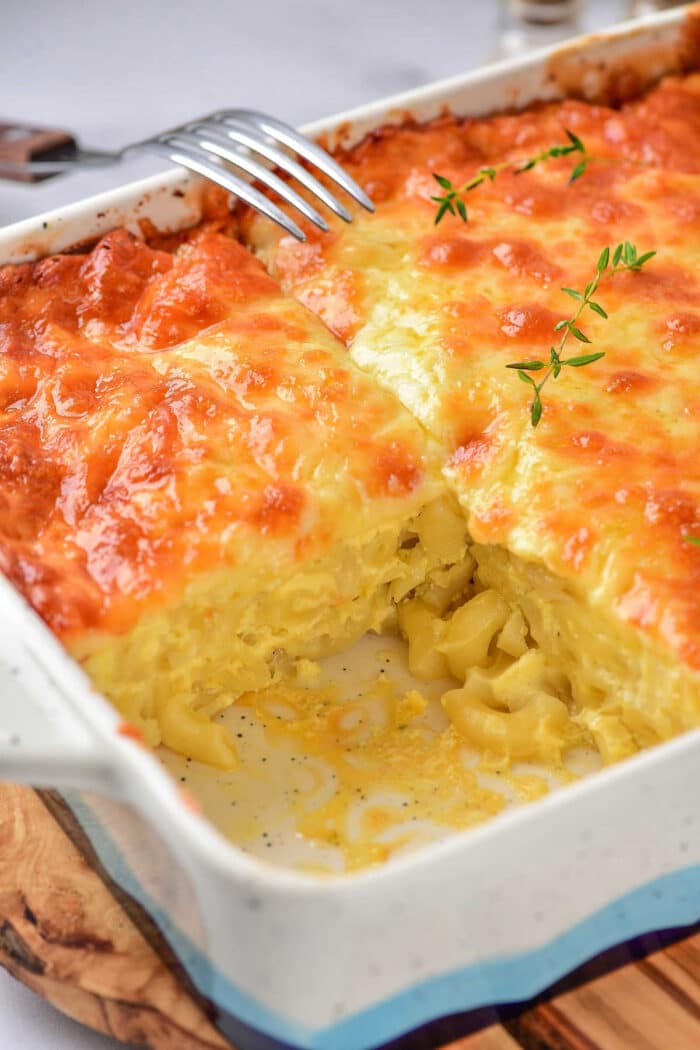 Taking a bite of this mac and cheese is like diving into a pool of pure creaminess. The texture is so velvety, so rich, it's an absolute delight. And the taste? With just the right balance of cheddar and heavy cream, it's savory, it's salty, it's heavenly. Let's talk about how you can create this masterpiece at home.
How Long to Bake Mac and Cheese at 350
You might be wondering how long to bake mac and cheese at 350. The standard cooking time for most baked macaroni and cheese recipes is around 30 minutes. But this can vary based on your oven, the size of your baking dish, and how crispy you like your mac and cheese. A good rule of thumb is to check it after about 25 minutes to see if it's reached your desired level of golden, bubbly perfection. If not, let it bake a bit longer.
Baking your mac and cheese at a lower temperature like 350 can result in a creamier texture as it allows the cheese sauce to slowly melt into the pasta. This is a good option if you like your mac and cheese extra gooey. But for this recipe, we're baking our mac and cheese at 400 degrees to get a nicely browned, crispy top layer. This adds a wonderful contrast to the rich and creamy interior.
In the world of mac and cheese, texture is everything. So, the al dente pasta is key. Overcooked pasta can turn your dish into a mushy mess. So, remember, when you're boiling your elbow macaroni, aim for al dente – firm to the bite but not hard.
Baked Mac and Cheese with Bacon
Adding bacon to your mac and cheese can take it from great to absolutely irresistible. Like our meat lovers mac and cheese you really can add any bits of precooked meats into the mix to make heartier. Here's what you'll need for a delicious macaroni and cheese with bacon:
Macaroni
Heavy cream
Eggs
Salt and pepper
Shredded cheddar cheese
Bacon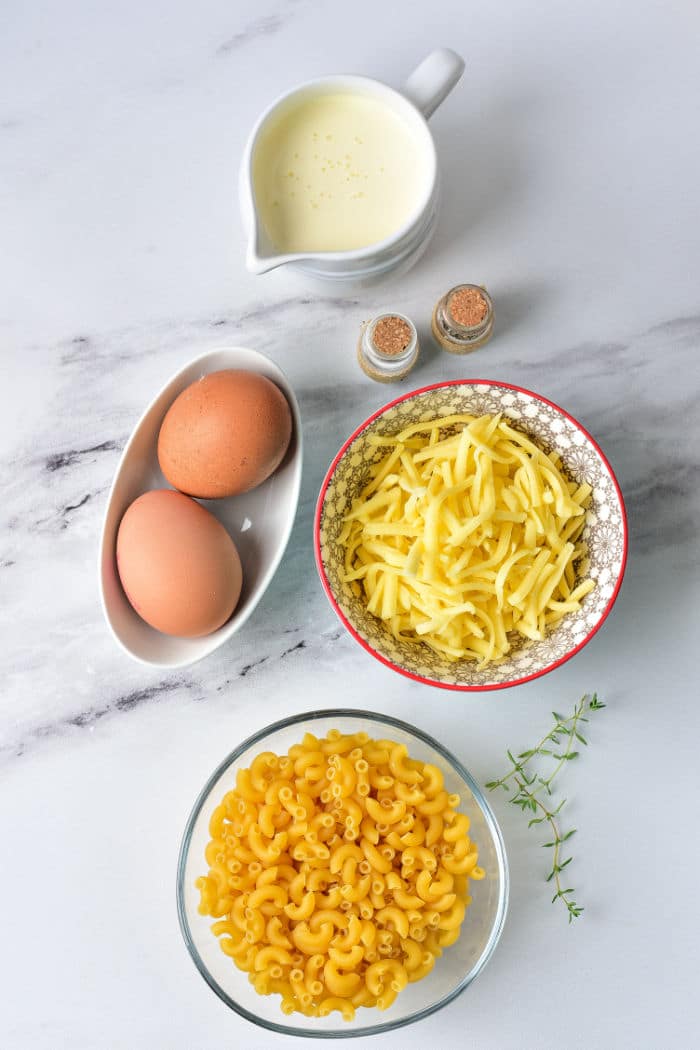 Can I use pre-shredded cheese to make homemade mac and cheese?
Absolutely! While freshly grated cheese often melts more smoothly, pre-shredded cheese is a great time saver. If you're in a pinch, pre-shredded cheese will work just fine in this recipe. Just be sure to check the ingredient list – some brands add anti-caking agents or preservatives that can affect the texture and taste of your dish.
Adding bacon to your mac and cheese can take it from comforting to absolutely decadent. It adds a smoky flavor that pairs beautifully with the creaminess of the cheese. Not to mention, the crispy bits of bacon add a delightful crunch that contrasts nicely with the smoothness of the pasta.
Dairy Free Baked Mac and Cheese
If you're dairy-free but still craving that creamy mac and cheese, don't fret! You can still enjoy this classic comfort food with a few simple swaps. Instead of heavy cream, try a non-dairy milk like almond or soy. There are also plenty of vegan cheeses available these days that melt just as well as regular cheese. You'll still get to enjoy the creamy, cheesy goodness of mac and cheese – just without the dairy.
To make this recipe dairy-free, you'll need to make some modifications. This will require some experimenting to get the flavors and textures just right. As a tip, nutritional yeast can be a wonderful addition as it provides a "cheesy" flavor. Also, a blend of cashews and non-dairy milk can create a velvety texture that closely resembles a traditional cheese sauce.
And since this recipe doesn't require you to melt butter, that's actually one area you won't have to worry about.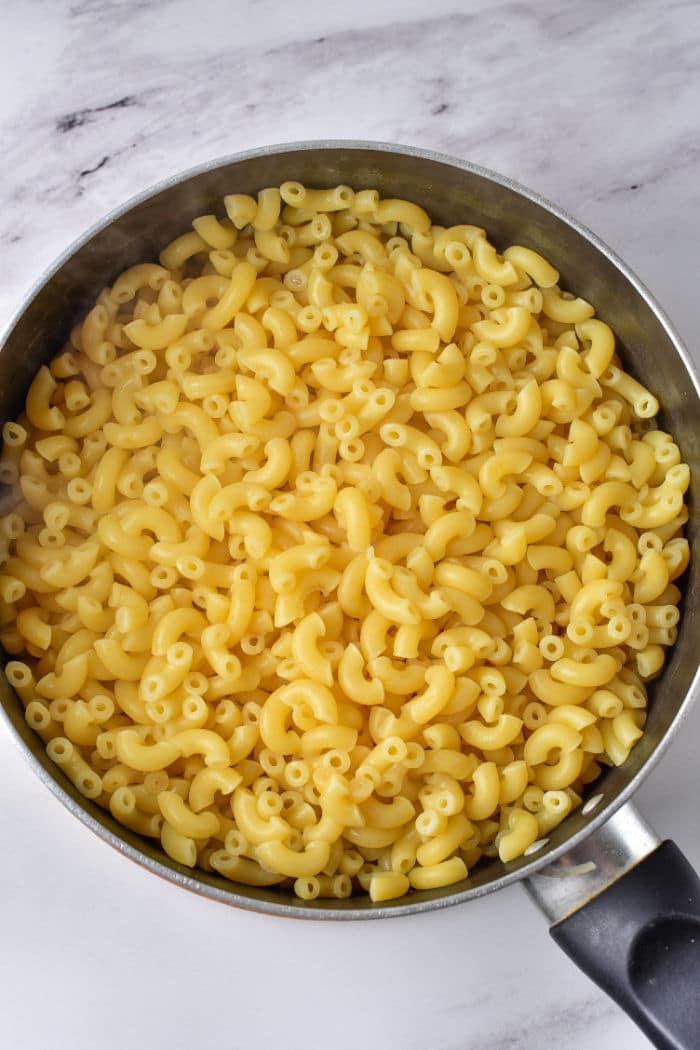 How Long to Bake Mac and Cheese at 400
Now, we're getting to the heart of our recipe: baking mac and cheese at 400 degrees. With the increased temperature, you get a wonderful crispy top that complements the creamy interior of the dish. That's the beauty of this Mac and Cheese with Heavy Cream recipe; it has a delightful contrast of textures that will leave you craving more.
When you preheat your oven to 400 degrees and bake your dish for 20 minutes, you allow the cheese to melt fully and start developing a nice golden-brown color. Once you've achieved this, you then sprinkle on some more shredded cheese.
Then bake for another 10-15 minutes until it's perfectly melted and has a beautiful golden hue. This baking time ensures you get a mac and cheese that's fully cooked through, piping hot, and just the right level of crispy and creamy.
I just love creamy baked macaroni and cheese recipes so can't get away without mentioning a few of them to you: air fryer mac and cheese, cast iron pizza mac and cheese, and copycat Chic Fil A mac and cheese.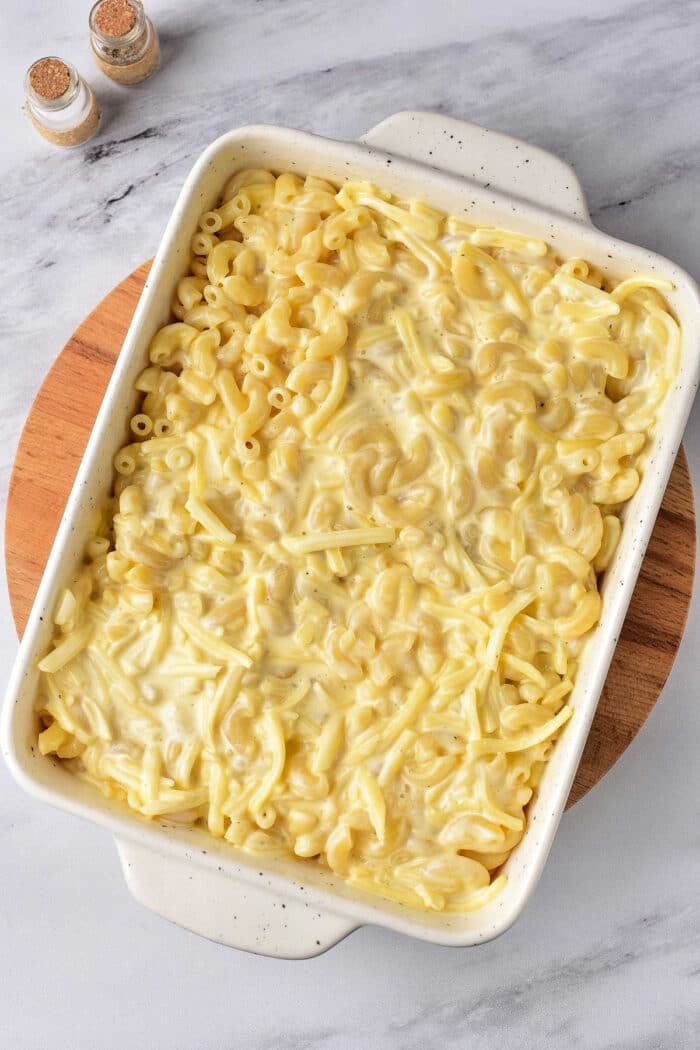 How to Reheat Mac and Cheese in Oven
We all know mac n cheese is delicious fresh out of the oven, but how about the leftovers? Reheating mac and cheese in the oven is an excellent way to retain its creamy texture. Preheat the oven to 350 degrees, cover the baking dish with foil to prevent it from drying out, and reheat for about 20 minutes or until it's heated through.
When reheating, you might also want to add a splash of milk or cream to bring back some of the creaminess that may have been lost in the refrigerator. Just a little stir, and your leftover mac and cheese will be as good as new. Have some meat from the night before in the fridge too? Throw some in there like our brisket mac and cheese.
Creamy Baked Mac and Cheese
Now that we've covered all the technical details let's get to the exciting part – making our mac and cheese recipe. While the recipe has all the specific instructions, here's a quick run-through. First, you'll preheat your oven and start cooking your elbow macaroni until it's al dente. Then, you'll mix your heavy cream, eggs, and some of your shredded cheese in a separate bowl.
Once your macaroni is ready, transfer it to a baking dish and top with your cream-egg-cheese mixture. Into the oven it goes! After the first 20 minutes of baking, sprinkle on the remaining cheese and let it continue to bake until it's melted and golden brown. The result? A creamy, dreamy mac and cheese that will make your taste buds sing.
This Mac and Cheese with Heavy Cream is a dish that promises and delivers indulgence. With its velvety texture and hearty flavor, it's a comfort food that you'll want to make again and again. Whether you're cooking for a cozy night in or feeding a crowd, this recipe is sure to be a hit. For more comfort food inspiration, check out these other delicious recipes on our site. Happy cooking!
Want to see a few of my favorite things that I am totally obsessed with?? Take a peek and see how many you might already have…twinsies!
Looking for more easy family recipes and tips? LIKE The Typical Mom Facebook page?
Then sign up for my free newsletter, and follow me on Pinterest! 😉
***** If you LOVED this recipe give it 5 Stars below and let everyone know what you thought about it. 😉
Mac and Cheese with Heavy Cream
Baked mac and cheese with heavy cream is delicious. This is how long to bake macaroni and cheese at 400 that is homemade and gooey!
Instructions
Preheat the oven to 400 F. Pour cream into a bowl and add one cup shredded cheddar. Add eggs, salt and pepper. Mix thoroughly.

Boil macaroni and drain when it is al dente but tender. Transfer pasta to a baking dish. Top with cream-egg-cheese mixture. Place in a preheated oven and bake for 20 minutes.

Top with the remaining cheese and bake for another 10-15 minutes until melted and golden brown on top.
Nutrition Facts
Mac and Cheese with Heavy Cream
Amount Per Serving (1 oz)
Calories 214
Calories from Fat 144
% Daily Value*
Fat 16g25%
Cholesterol 86mg29%
Sodium 350mg15%
Potassium 71mg2%
Carbohydrates 8g3%
Protein 10g20%
Vitamin A 561IU11%
Vitamin C 0.1mg0%
Calcium 218mg22%
Iron 0.4mg2%
* Percent Daily Values are based on a 2000 calorie diet.