If you've been following my blog at all you know how much I LOVE Leapfrog! I am a former Teacher and Mom to 3 so I know just how well their DVDs and learning games help kids learn and have FUN too(so many times they don't even know they're learning)!! I was really thrilled when I was chosen to be a Leapfrog Mom this year! What that means is I was chosen amongst other Mom bloggers to review and give feedback to Leapfrog regarding toys that are out now, and some they are in the process of developing….I know, super exciting right??!! Special thanks goes out to Leapfrog for providing these items to use so we could share our experiences with you. Let me show you what we thought of the LeapPad Platinum and Imagicards that came to our doorstep today.
50% off LeapFrog items including the Platinum today
One of the exciting things in our Leapfrog box full of goodies was the new and exciting LeapPad Platinum! We already had a bag full of 2 Leapsters (1 for each little girl in this house), 1 LeapPad, and TONS of games for each one…..but this was NEW!!
LeapPad Platinum
There were 3 boxes of Imagicards in the box too. These were new to us and wanted to see how they would interact with the new LeapPad Platinum as it said you would use them as an integral part of this handheld learning system. My youngest (7, in the 2nd grade) got the Spelling Imagicard tin and my 3rd grader got the one focusing on Math facts (exactly what she needed to study right now). I was familiar with the Letter Factory as I recommend it to parents in my post regarding things children should know before they go to Kindergarten, but was curious as to what these new cards were all about.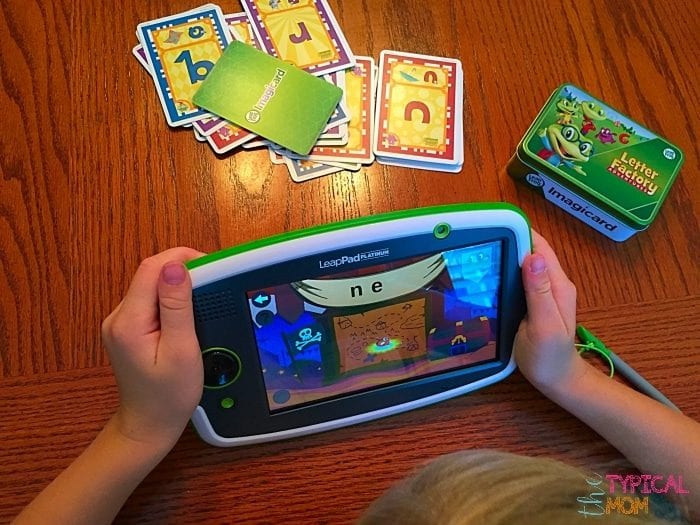 Here's how it worked. There were several fun spelling games. She chose the one she wanted to play which involved earning "treasures" at the end, and when there was a letter missing she found the correct one in her set of Imagicards.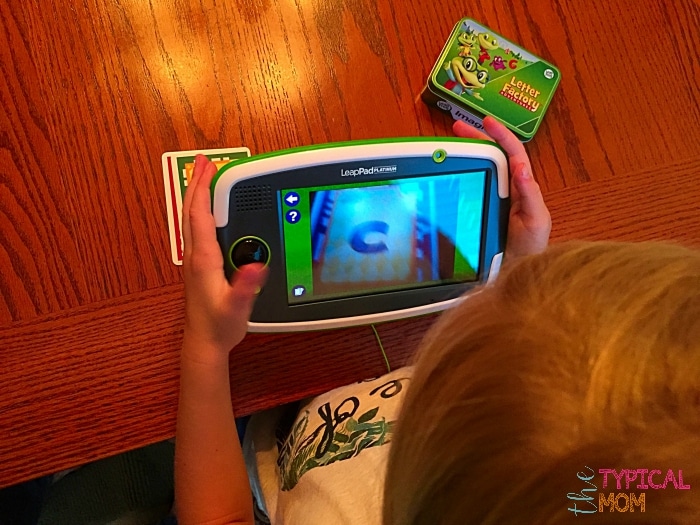 Once she found it she took a picture of the correct Imagicard in order to spell the word correctly…..seriously, SO cute!! She loves to take pictures so this is a great feature for her. Unlike any other LeapPad before this one connected to wifi too!
With wifi now instead of having to purchase physical games for this new device you can download them automatically…..we love that don't we busy Moms??!!
Of course bigger sister wanted to get in on the fun when she noticed what her sister was doing so they played together and made it easier to find what they needed by spreading the cards out on the table. It was a great activity for them to do after homework as I allow them a bit of time to decompress after their work is done but they must choose a learning activity if they're on an electronic device. Since it is portable it is perfect for taking in the car when we're headed off to soccer practice and my youngest needs to be entertained for that hour….now I know she's doing an activity she loves while having fun at the same time. Best of both worlds I say. You can find the Leapfrog LeapPad Platinum here as well as several different sets of Imagicards specific to age and subject.