Kitchen measurement conversion printable to help you know just how many tablespoons or cups to add into your recipe so you get it just right.
Occasionally when I bake I find a recipe I like that says something like 3oz but I am not sure how much of a cup that is. When you are dealing with ingredients I think it is easier to know just how many tsp, tbsp, or portions of a cup you need. This kitchen measurement conversion printable takes the guesswork out of that for you. Just print it out, keep it in your drawer and take it out when you're not sure how much of this or that to add.
I can't be the only one who has had to Google how many teaspoons in 1/3 cup, or something like that.
Honestly I was done doing that and took the time to create this kitchen measurements printable to help me and to share it with you as well. If you love to bake, or fool around making different recipes in the kitchen this should really help and eliminate the guesswork.
Kitchen measurement conversion printable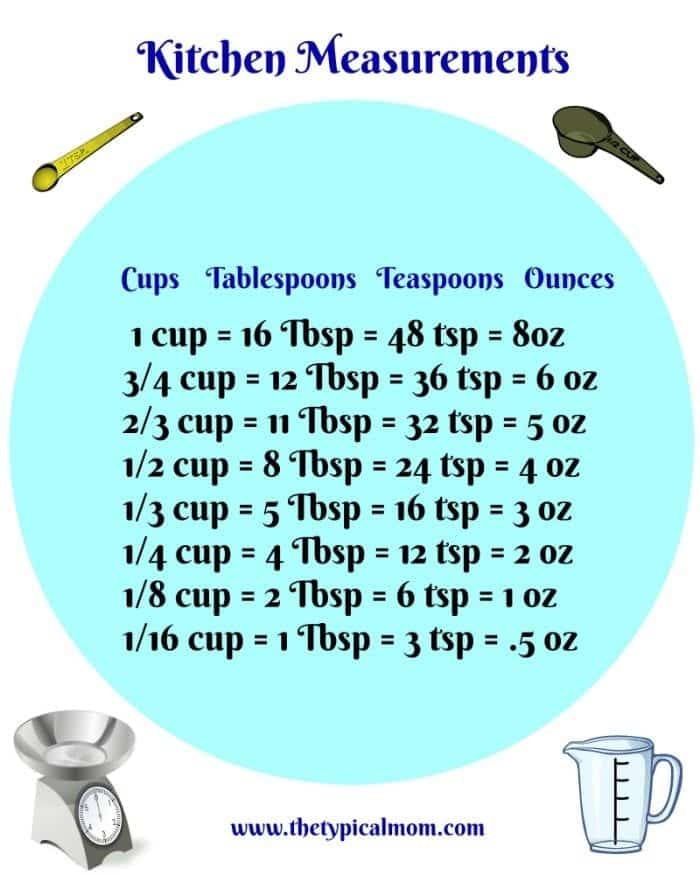 Printable Kitchen Conversion Chart
This chocolate chip cookie in a mug recipe is one of our favorites that we make pretty often! It's a fun one to make because it's quick, serves one, and the kids think it's a fun mug recipe that's just for them!
What is your favorite thing to make at home and whether this free printable helped you out. If you love this feel free to check out all of our other free printables like our printable measuring tape, word searches and more on The Typical Mom. We hope those are helpful too!
Have fun and keep cooking. 😉
For more easy recipes, tips, and crafts please LIKE The Typical Mom on Facebook and follow me on Pinterest for a lot more goodies. You can also sign up for my free weekly newsletter which is packed with goodies I know you'll love. 😉