This is how to dye Easter eggs in your Instant Pot! If you have a pressure cooker and love hard boiled eggs but also want to color them during the holidays this is a fun and easy way to dye them in just 5 minutes! Beautifully colored with little no no mess this will impress anyone.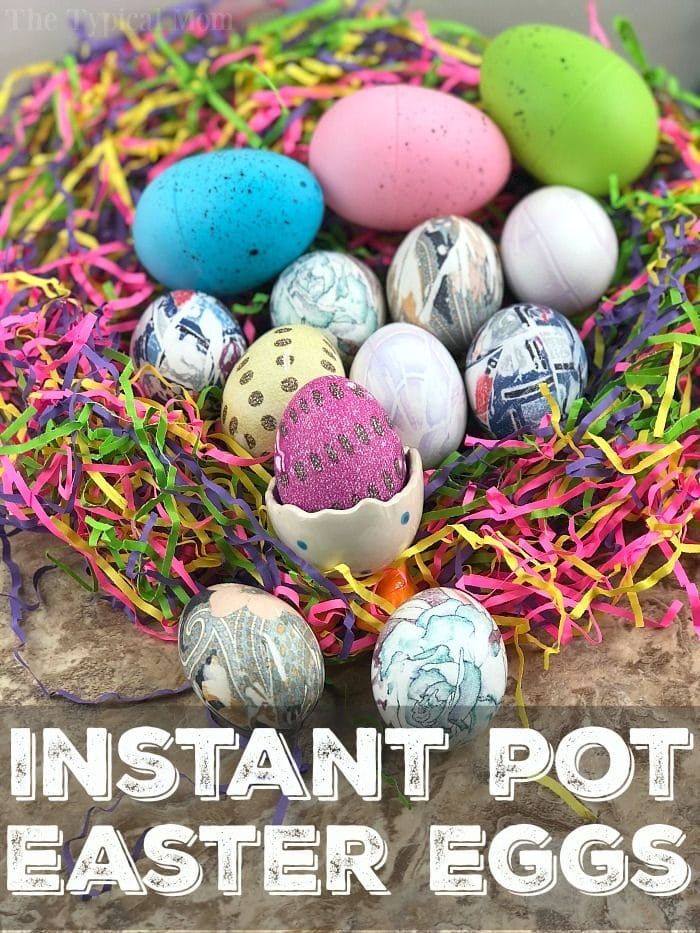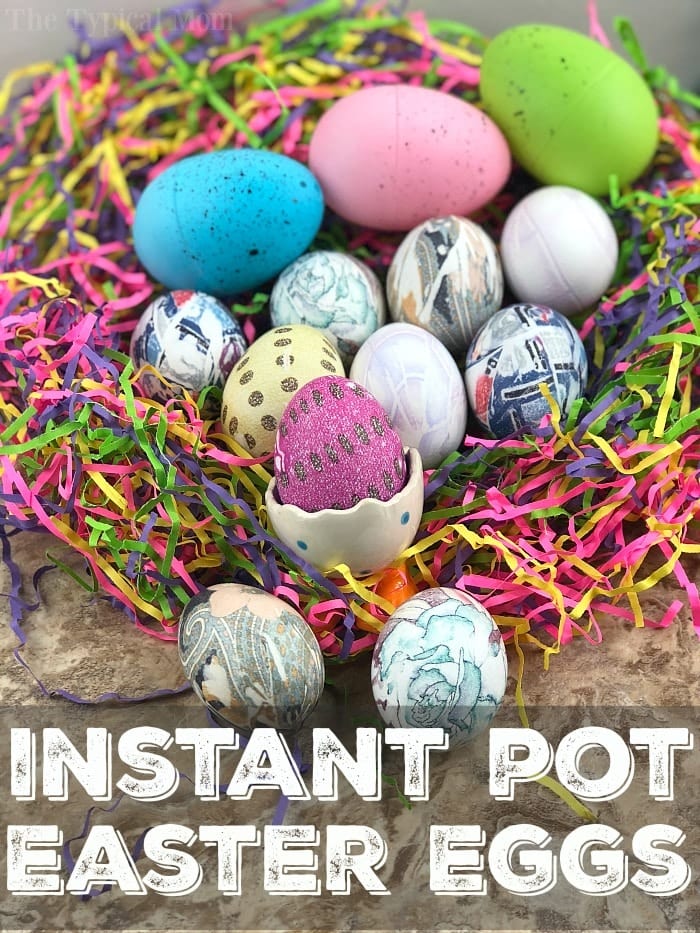 Have you wondered how to dye Easter eggs in your Instant Pot yet? Well the closer it gets to this fun holiday I am sure you will. No matter what time of year it is this can be a fun craft for kids. Even though it isn't a recipe per say we are adding it to our list of favorite Instant Pot recipes because it's just so much fun! (originally published 2/18, affiliate links present)
How to Dye Easter Eggs
With just a few pieces of fabric, white vinegar, and your pressure cooker you too can get eggs to look amazing! You can use your Ninja foodi pot too.
I am sure you've made Instant Pot hard boiled eggs. We did that when we made our yummy deviled eggs and Instant Pot potato salad the other day.
Let's start with a few basic tips:
Make sure to Bookmark our InstaPot recipes page. We add new ones each week!
Then PRINT this —–> Instant Pot cooking times cheat sheet that will help you understand how long meat, vegetables and beans take to cook in your pressure cooker.
For reference, this is the pressure cooker I have and use for all recipe creations.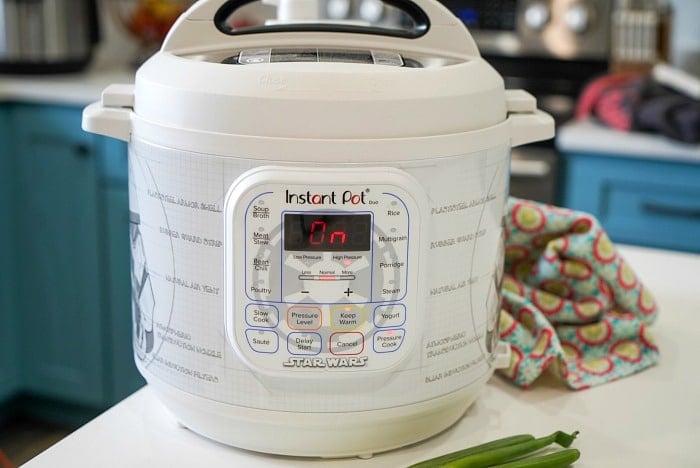 You can make them any pattern you want really. If you want tye dye Easter eggs then use a tye dye shirt to initially wrap it in. For polka dots use a polka dot pattern but they must be 100% silk material to work.
We also show you how to dye eggs with Kool Aid here. NO food coloring necessary for either of these natural Easter egg dyes.
Instant Pot Easter Eggs
Scraps of silk fabric – 100% silk shirts – silk ties or anything with this material you can take apart and don't care about
Eggs – white eggs so it turns out more brilliantly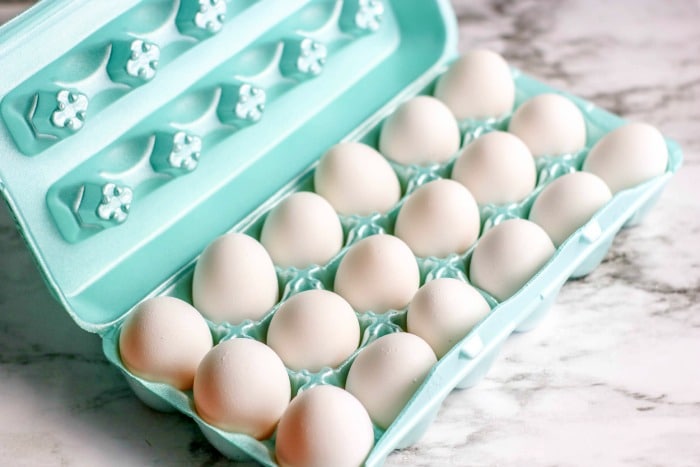 Plain fabric for outside – neutral color like the light gray, or white shirts are fine you see below on the outside
Rubber bands
Pressure cooker – this is the Instant Pot we have
Water
Note: For safety if any color bleeds under the shell and on to the egg do not consume those!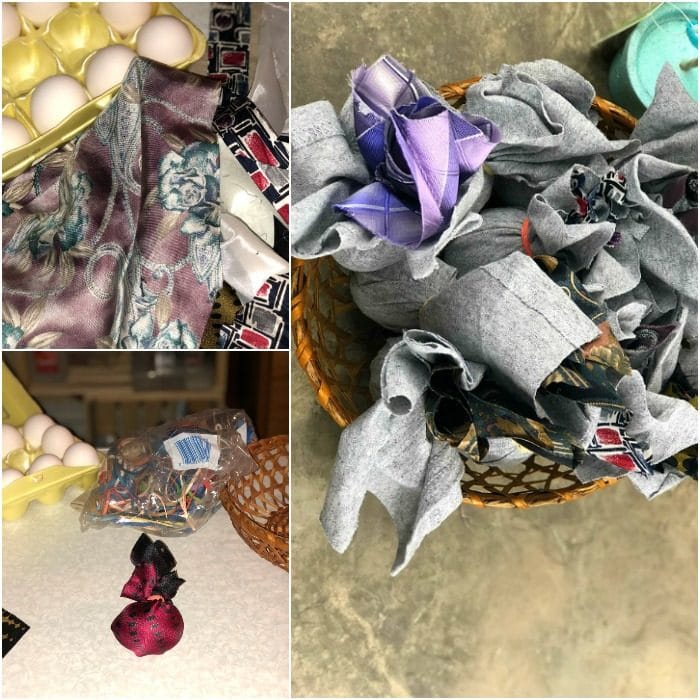 Now the directions for dyed Easter eggs in your Instant Pot are quite simple. Look at the photos above.
Pressure Cooker Easter Eggs
Use a white egg and wrap with a piece of busy silk fabric -use the full color patterned side of the fabric to touch the egg
Rubber band are used to secure at the top. Wrapping the egg completely but be careful it is not too tight so the egg doesn't break
A neutral piece of fabric is ideal to wrap the egg again. Covering the busy fabric and secure again at the top with a rubber band.
Do this with all the eggs you want to use, enough to fill the bottom of your Instant Pot (6 at a time)
Pour enough cups of water into your pressure cooker to cover all the eggs
Pour 1/2 c vinegar into that water
Put lid on and close steam valve
Set Instant Pot to manual, cook on high pressure for 5 minutes
Naturally release steam for approx. 5 minutes
Pressure release remaining steam
Make an ice bath in your sink, or in large bowl
Immediately submerge all eggs in ice bath for approx 5 minutes
Carefully unwrap each one and set aside to dry
Colored eggs you have now!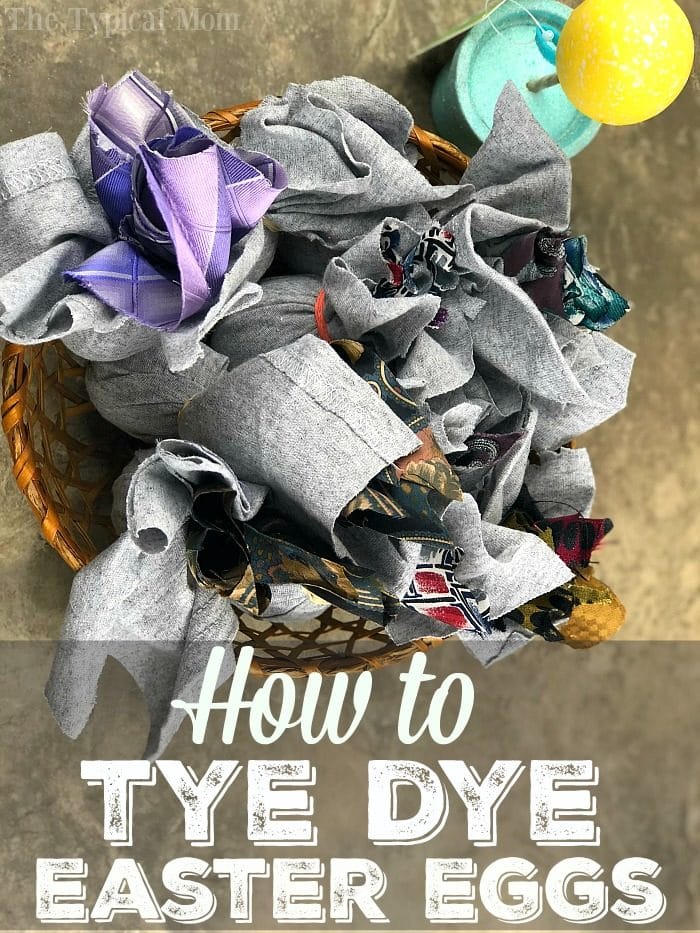 Dyeing Eggs in Instant Pot
Depending on the type of fabrics you have you can really create some amazing Easter eggs like you see here. If you don't have any old silk blouses that are really colorful, head over to your local thrift store. Then grab a plain white or light plain colored shirt to use on the outside and you are set!
This is a great way to make naturally dyed Easter eggs in the Instant Pot. Eliminate the big mess of the traditional method for sure and much prettier!
You can do this all at the same time since it will take a while for the pressure to build up. Get this going, then start baking together. Something easy could be our Italian Easter cookies or butterscotch haystacks desserts.