Easy DIY Halloween home decorating ideas using wood and sticks from your yard to create wooden pumpkins and home decorations for the Fall you'll love.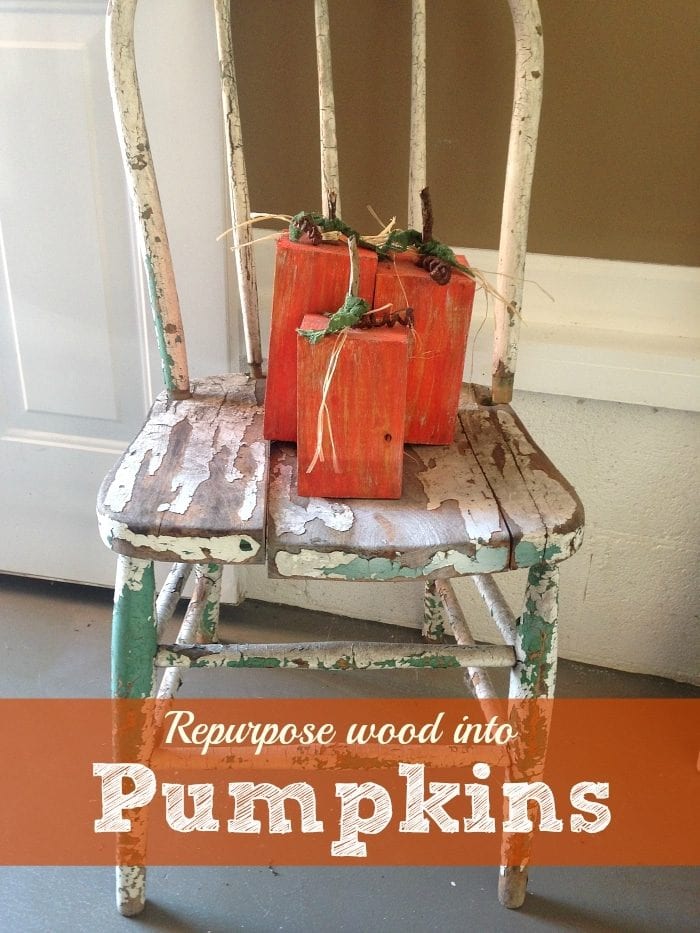 Do you love repurposing as much as I do?? This is just one of several Halloween home decorating ideas I have to share with you…the others are below. (originally published 9/15, affiliate links present)
DIY Halloween Home Decorating Ideas
I love looking at things that are laying around unused and thinking about how it could be used to make someone smile.
Take this pile of wood….what do you see? I have come up with several fun things for the kids and I to create with "scraps" like these……and love the ideas below using wood pieces just like these.
Easy Fall home decorating ideas are the best! When I saw these pumpkins made out of a piece of wood and sticks from nature (and a lot of imagination) I fell in love with them! I asked if the creator would like to share them on my site and she was thrilled to do a guest post. Let me share her creations with you. 😉
DIY Halloween Decorating Ideas
These are the materials you will need to make the pumpkins you see above, and will need the turquoise/white paint if you'd like to make those you see below.
4×4 post, cut into three lengths

orange craft paint

white craft paint

turquoise paint

brown glaze

1 ½ – 2 inch stick or branch

drill and 1 inch spade bit

hot glue

burlap fabric

raffia ribbon

grape vine wire (got at Hobby Lobby)

g

reen (lace) fabric or ribbon cut into 6 in strips

sand paper

dry rag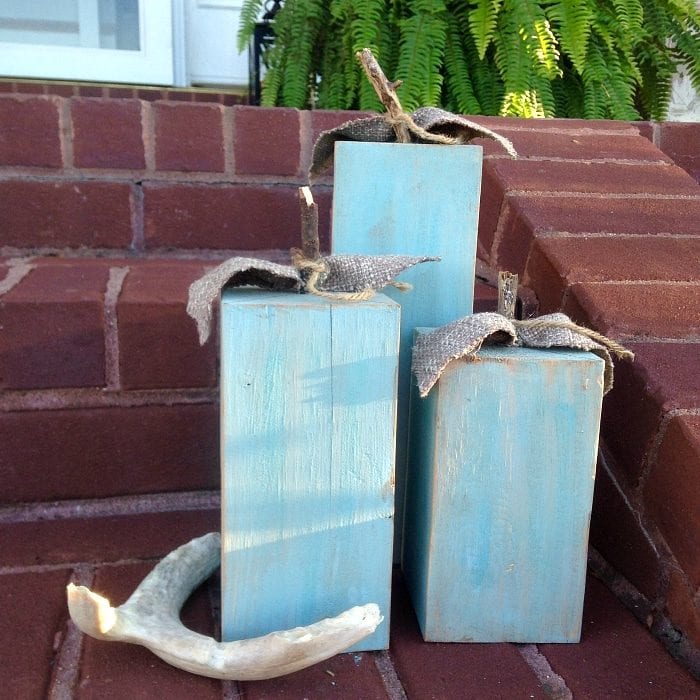 Halloween Home Decorating Ideas
The first step is to paint your wood the base color. I painted 3 orange, 3 turquoise, and 3 white. Let it dry completely.

While drying cut out leaf shapes or cut strips of green fabric.

Lightly and gently sand the wood. More so on the edges. Wipe excess dust.

Dab a dry paint brush into the white craft paint. Very lightly brush on several strokes on all 4 sides. Dry completely.

Dip a rag into brown glaze and rub gently over pumpkin and then wipe off. I left more glaze on the corners.

Drill ½ hole in the top center. (I think I used ½ in drill bit)

Hot glue end of stick and insert into hole for the stem.
Wrap green strips of fabric or ribbon around the stem or hot glue burlap leaf shapes to the stem. I added the green strips of fabric to the orange pumpkins…nice contrast of color, and I added the burlap leaves o the turquoise pumpkins. Again, I liked the color combination. For my white pumpkins, I tied raffia ribbon around the stems.
I curled grape vine wire around a pencil…about 2 inches and cut with wire cutter.

I hot glued these onto ea pumpkin
Either of these turquoise or white home decor ideas could stay up for quite some time!
Created with the same ideas as the pumpkins up above but in a more neutral way so they can last all Fall in your house and before Halloween and/or Thanksgiving arrive.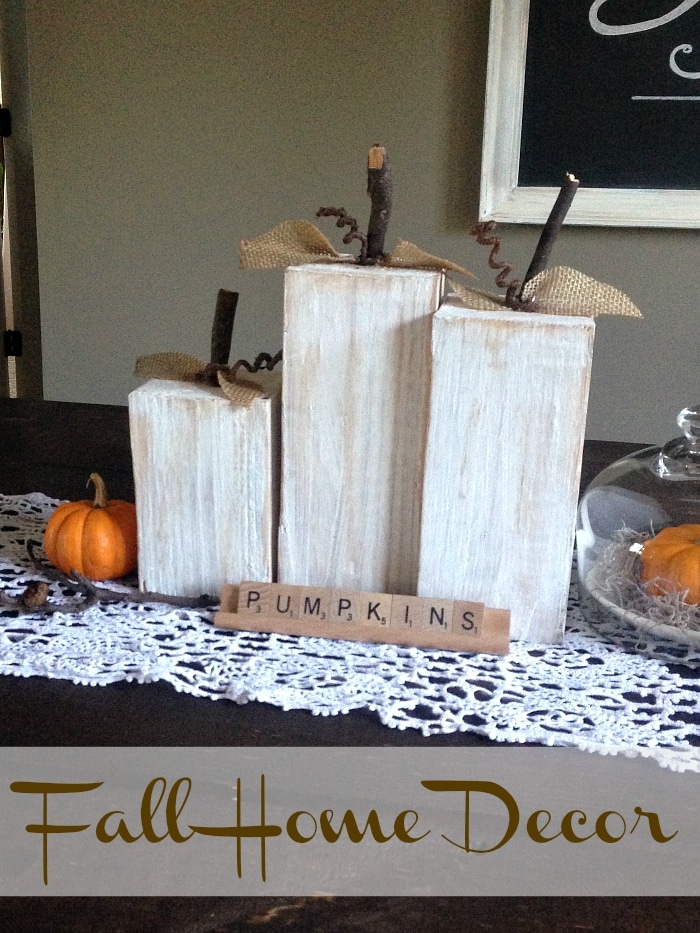 DIY Pumpkin Patch sign
– wood paint stirrers (saw off curved edged handle to make even and then drill 2 small holes)
– wood burner or brown sharpie
I wrote the words Pumpkin Patch. Then I went over the letters with my wood burner, a brown Sharpie would work also. Tie a knot and threaded twine through one hole on the sign. Then wrapped the twine around all three pumpkins and threaded the second hole and tied remaining knot.
Looking for some more cute and easy Halloween home decorating ideas?
Tissue paper Halloween wreath
Yarn ghost garland
Halloween spider web mantle scarf
Burlap garland (dress it up with plastic spiders and web)
Special thanks goes out to Lori Campbell for this guest post and her wonderful ideas! For some Christmas room decor ideas check out this post too.