If you loved our other easy 3 ingredient pie crust recipes you are going to love this sweet graham cracker crust for cheesecake, pumpkin pie or apple pie! This is how long to blind bake before filling your best desserts so you can make it homemade from scratch from now on.
Few desserts compare to a creamy well-made cheesecake. Better yet pair it with a homemade graham cracker crust and you have yourself a bite of perfection. We'll share how to bake the crust so you can then fill with your choice of fillings like apples or pumpkin pie too. (affiliate links present)
Mini Graham Cracker Crust
Slightly crunchy contrast to the smooth, luscious filling. In this article, we'll delve into the world of graham cracker crusts for cheesecakes, layered Pumpkin Cheesecake in Mason Jars and other pies. How to create the perfect base for your baked goods and the nitty-gritty of how to make it tasty and the perfect texture too;
Graham Crackers – You'll need about 1.5 to 2 cups of graham cracker crumbs. You can use store-bought graham cracker crumbs or crush whole graham crackers in a food processor or by hand.
Granulated Sugar – To sweeten the crust, you'll typically need around 1/4 to 1/2 cup of granulated sugar, or half brown sugar depending on your sweetness preference.
Unsalted Butter – Melted unsalted butter binds the crumbs together. You'll require approximately 1/2 to 3/4 cup of melted butter for a standard cheesecake crust.
Seasonings (optional) – A pinch of salt, cinnamon or even pumpkin pie spice can enhance the overall flavor by balancing the sweetness of the crust. Use it if desired.
Now that you have your ingredients, let's dive into the step-by-step process of crafting a graham cracker crust. If you are making muffin tin cheesecakes you can just cover the bottom of each hole or cover the whole inside like you see here in these tiny pans.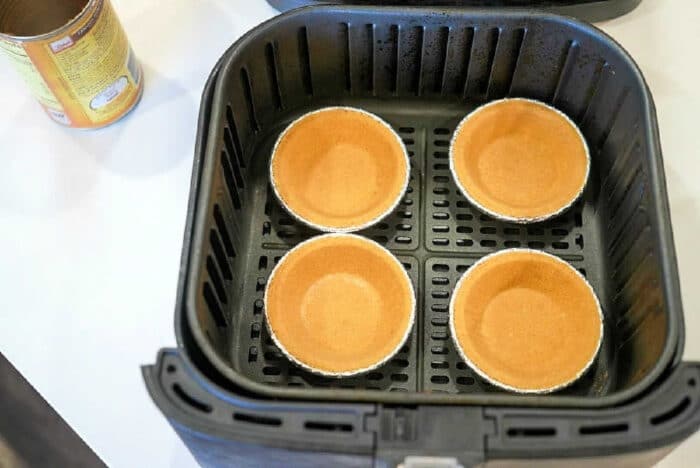 Graham Cracker Crust for Apple Pie
There are other things you can use instead for a graham cracker crust recipe too though. For chocolate you can find them in this flavor OR crush just the chocolate cookie part of Oreos without the filling and use that !! In this case you'd need; 2 c Oreos cookies, crushed into crumbs + 1/2 cup of melted butter.
BEST case scenario is to use a food processor so that your main ingredient is crushed evenly without any larger chunks. You want a sand consistency. Using cinnamon sugar version or plain out of the box works just fine, up to you.
The same steps go for if you use other cookies for a pie crust like Nilla wafers, gingerbread men or Oreos (without the cream), we will talk more about other options below.
How to Make Graham Cracker Crust
These are the steps you need to follow no matter what cookies you decide to use. Pulse pulse until you get a consistent sand-like texture and beyond that you can fold together with elbow grease. Combine and this is how to blind bake pie crust before adding your filling.
Prepare Your Pan – Start by choosing the right pan. A springform pan is commonly used for cheesecakes because it allows you to remove the sides easily once the cake is set. Grease the bottom and sides of the pan with a bit of butter or cooking spray to prevent sticking.
Crush the Graham Crackers – If you haven't already, crush your graham crackers into fine crumbs. You can do this by placing them in a plastic bag and rolling over them with a rolling pin or using a food processor.
Combine the Ingredients – Just like our pot pie crust recipe you'll incorporate everything into a mixing bowl. Combine the graham cracker crumbs, granulated sugar, and a pinch of salt (if desired). Mix them together until they're well incorporated.
Add the Melted Butter – Gradually pour the melted butter over the crumb mixture. Stir the mixture as you pour to evenly distribute the butter. Continue mixing until all the crumbs are coated and the mixture resembles wet sand.
Press into the Pan – Transfer the crumb mixture into your prepared pan. Using a flat-bottomed glass or a measuring cup, firmly press the crumbs down to create an even, compact crust. Make sure to press the crumbs evenly along the bottom and up the sides if you want a taller crust.
Bake – Some recipes call for pre baking graham cracker crust for about 10 minutes at 350°F (175°C) before adding the Gingerbread Cheesecake. Baking can enhance the crust's stability and flavor, but it's not always necessary.
Add Your Filling – Once the crust has cooled or been baked, you're ready to pour in your prepared Philadelphia Cream Cheese Cheesecake filling and continue with the cheesecake recipe as directed.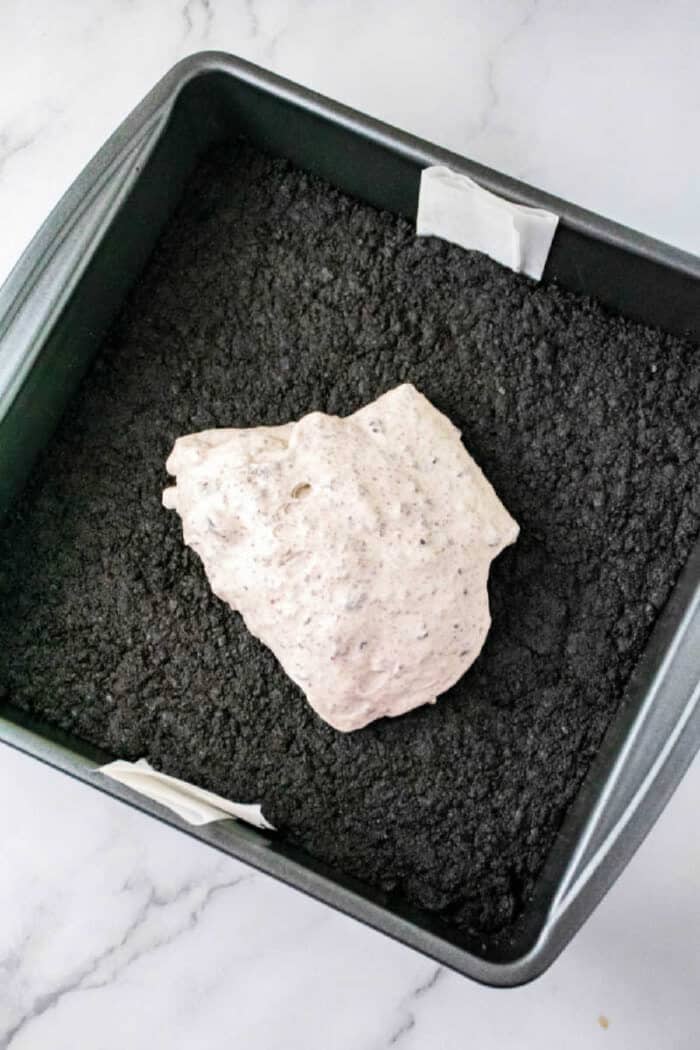 Graham Cracker Crust 9×13 Pan
You will want to increase the amount of crumbs to 2 cups and to 1 whole stick of melted butter to account for that. Same goes for if you were making a savory dish in our quiche crust and wanted to use a larger dish. Basically you'll increase by about 50% or so. There isn't an exact size. If it is too much just press up on to the sides.
What Else Can You use Instead of Graham Crackers to Make Graham Cracker Crust?
You really can use any other sort of cookie, the biggest tip is to ensure that they are crushed without any large chunks. Your best bet is to use a food processor to pulverize your cookies of choice into fine crumbs. Popular choices are Nilla wafers or Oreos (minus the filling).
Cookies You Can Use to Make Graham Cracker Crust
While graham crackers are the classic choice for making a crust, there are several alternatives you can use to create a crust with a unique flavor and texture. Here are some popular substitutes for graham crackers in a crust:
Cookie Pie Crust
Shortbread cookies create a buttery and crumbly crust with a hint of sweetness. Crush them and mix with melted butter to form one for your Pumpkin Custard Pie.
Oreo cookies can be used to make a chocolate-flavored crust. Simply remove the cream filling (or use it in another recipe) and crush the chocolate cookie wafers into crumbs. Mix with melted butter and press into your pan.
Vanilla wafer cookies can be used for a slightly sweeter crust. Crush them into fine crumbs and combine with melted butter.
Gingersnap cookies add a warm and spicy flavor to your crust. Crush them and mix with melted butter. This is especially great for pumpkin or spiced cheesecakes.
Crushed pretzels create a salty-sweet contrast in your crust. Combine them with a little sugar and melted butter for a unique twist.
For a tropical flavor, consider using coconut macaroons. Crush the macaroons and combine them with melted butter. This works well for coconut-flavored cheesecakes.
Almond-flavored cookies, like amaretti cookies or almond biscotti, can add a delightful nutty flavor to your crust.
Some breakfast cereals, like cornflakes or Rice Krispies, can be used to create a crispy and crunchy crust. Crush them and combine with melted butterCrushed nuts, such as almonds, pecans, or walnuts, can be used to create a nutty and crunchy crust. Mix them with a little sugar and melted butter for binding.
Panko bread crumbs can work as a neutral base for your crust but won't be sweet. If you're looking for a lighter option, just combine them with melted butter for consistency. Another blander choice would be digestive biscuits. They have a similar texture and flavor to grahams, but not as sweet.
Copycat Keebler Graham Cracker Crust
Remember to adjust the sugar content based on the sweetness of your chosen substitute. Experiment with different alternatives to match the flavor profile of your dessert, and don't be afraid to get creative to achieve a unique and delicious crust.
A well-executed easy graham cracker crust sets the stage for cheesecake perfection. It complements the creamy filling, adding texture and sweetness that harmonizes beautifully with the flavors of your cake.
Whether you're crafting a classic New York-style or experimenting with unique flavor combinations, remember that the crust is a crucial element that deserves the same attention to detail as the rest of your creation.
Homemade Graham Cracker Crust
You can use this for cold fillings too. If using a can of pie filling then after baking let it cool and pour that baby right in.
1 and 1/2 cups of crumbs (which is about 12 full sheets of graham crackers)
1/4 cup white sugar
6 Tablespoons of unsalted butter, melted
This is a typical size pie pan, 9 inches. I don't like deep dish as you get less filling. All you do is mix together and press into your pie pan and bake in a preheated oven at 350 F for 10 minutes. Then pour in your filling and bake cheesecake or if your filling is cold then just pour in and let it set in the fridge.
Want to see a few of my favorite things that I am totally obsessed with?? Take a peek and see how many you might already have…twinsies!
Looking for more easy family recipes and tips? LIKE The Typical Mom Facebook page?
Then sign up for my free newsletter, and follow me on Pinterest! 😉
***** If you LOVED this recipe give it 5 Stars below and let everyone know what you thought about it. 😉
Graham Cracker Crust for Cheesecake
Homemade graham cracker crust for cheesecake or apple pie is here. From scratch pie crust with graham crackers, butter and sugar. 3 ingredient.
Instructions
Crush the graham crackers or you can use other cookies like Nilla wafers, gingerbread cookies etc… in a food processor or in a bag until you get a fine sand like consistency.

Melt butter and add other ingredients into a bowl. Incorporate with the back of a fork until you get a wet sand consistency. * add seasonings into mix if you choose to add cinnamon etc…

Preheat oven to 350 degrees F. Dump mixture into nonstick pie pan and use your hands or the bottom of a mixing cup to press firmly into the pan so it is the same thickness all the way across and up on to the sides if you want.

Bake for 10 minutes. Remove and let cool for 15 minutes if you are going to fill with a filling that then needs to be baked again. If filling with a cold filling allow to cool completely and then fill.
Nutrition Facts
Graham Cracker Crust for Cheesecake
Amount Per Serving (1 oz)
Calories 114
Calories from Fat 63
% Daily Value*
Fat 7g11%
Cholesterol 15mg5%
Sodium 119mg5%
Potassium 22mg1%
Carbohydrates 13g4%
Protein 1g2%
Vitamin A 175IU4%
Calcium 11mg1%
Iron 0.5mg3%
* Percent Daily Values are based on a 2000 calorie diet.